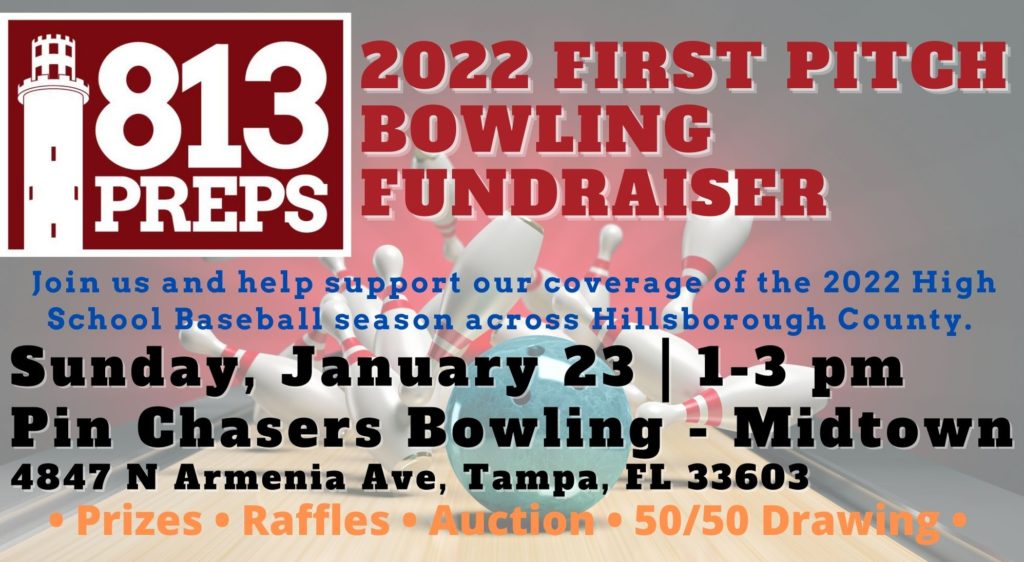 As we gear up for our sixth season bringing you the best across-the-board media coverage of high school baseball in Hillsborough County at 813Preps, we hope you and your team of athletes can enjoy us for a fun afternoon of bowling, food, and good times at our inaugural 2022 First Pitch Bowling Fundraiser on January 23, at Pin Chasers – Midtown (4847 N Armenia Ave, Tampa, FL 33603) from 1-3 pm.
In 2021, our 813Preps team brought you coverage from 130-plus games, provide more than 50 nightly roundups of ALL the action across Hillsborough County, weekly rankings and notebooks, players of the week, features, district, region and state previews. While also providing THE ONLY coverage of the complete playoff action, Western Conference and FACA post-season honors, hundreds of photos, and the 813's only All-County list, along with the state semifinal runs for Durant and Jefferson, and the 2021 state championship run for the Bloomingdale Bulls – and we loved every minute of it.
HOWEVER, we can't do any of it without support from the local community, our fans and the parents of our area student athletes. All of our employees are compensated for their time and work spent preparing for, traveling to, and chronicling each game and on average the cost per post on our website is $70. This afternoon of bowling will serve as our OFFICIAL fundraiser for the 2022 season, meaning that we NEED you to help make it as successful as possible.

If you are able to attend, we hope you'll invite a friend or two, maybe you can put a team together and get a little bragging rights as we head into the spring season. We are also looking for 30 lane sponsors, selling complete lane packages (which include two drink tickets, pizza and an 813Preps event shirt).
If you can't attend, but are looking for a way you can help support us, we are looking for any prizes, area restaurant or event gift certificates and auction items, to help us make this event as fun and rewarding as possible.
If you have any further questions, or would like to learn more about sponsoring, supporting or volunteering at our event, please contact our editor – Jarrett Guthrie at (813) 951-6865 or jarrettguthrie@813preps.com.