By Jarrett Guthrie


Editor



TAMPA – It would be hard to find a hotter team in the county than the Hillsborough Terriers.
Behind an explosive first two innings and solid combined efforts on the mound Hillsborough reeled off its 13th straight
victory defeating Berkeley Prep 12-2.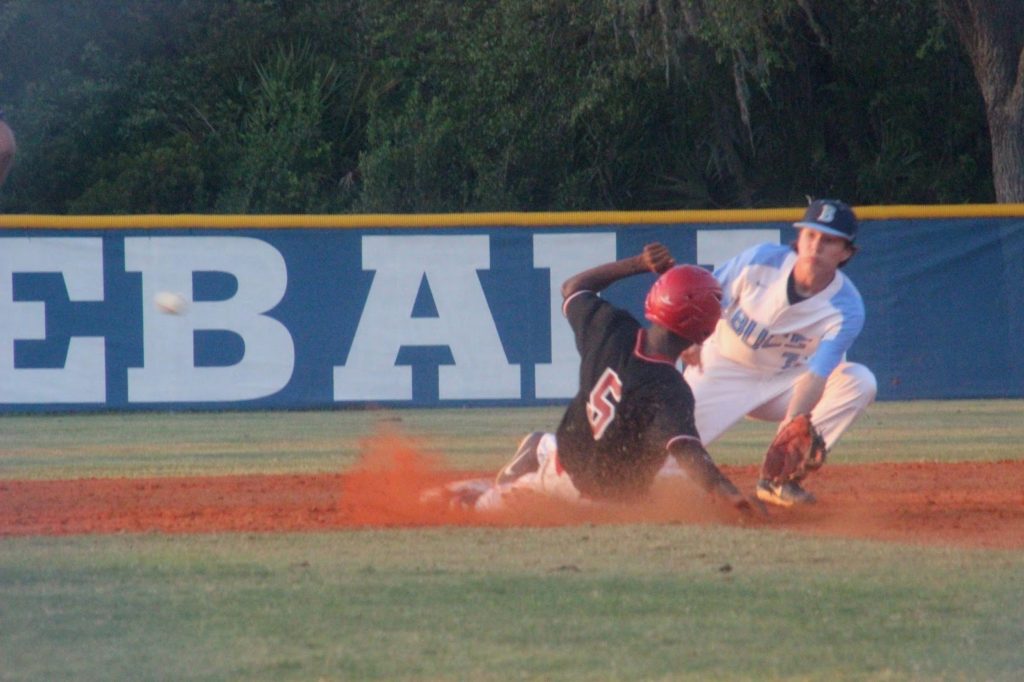 Hillsborough's Terrence Doston drove in two, and stole
two bases in win.
The Terriers jumped on the Buccaneers early as Nick Romano and Terrance Doston singled in a pair each in a six-run opening frame for Hillsborough (18-4). Doston also scored in the second and had two stolen bases.
The offense wasn't quite done adding three more in the second, highlighted by a two-run shot by Ole Miss signee Tim Elko to left and an RBI single by Bryce Blanco. The home run was Elko's second in as many nights and he added an RBI sac fly in the next inning.
— Jarrett Guthrie (@JGuthrieTampa) April 28, 2017
Senior and Santa Fe State College commit Jarrod Cande worked three innings on the mound to pick up the win. Cande, who also went 3-for-4 at the plate with an RBI and two runs scored, struck out three on the mound and allowed one run.
— Jarrett Guthrie (@JGuthrieTampa) April 28, 2017
Romano added a double at the plate in the third, and brother Ryan Romano had a single, two runs scored and an RBI.
— Jarrett Guthrie (@JGuthrieTampa) April 28, 2017
Berkeley Prep got a third inning run as Spencer Myers had a bunt single, moved around on a Julian Bosnic double and scored on a Gordon Stetson single.
Nathan Gustafson worked two innings on the mound in relief for the Terriers allowing one run, and striking out three.
The run, which came on a RBI double by Myers staved off the mercy-rule ending for the Buccaneers.* If you like what you have seen from us and are a local business owner, why not click on the "Support Us" button in the top menu to see if you'd be interested in joining the 813Preps team.
* We are just getting started here at 813Preps.com if you are enjoying our work, or would like to tip us off about stories about your student-athletes, please let us know by commenting, sharing, or e-mailing directly.