Hello Hillsborough County high school sports fans, 
For a long time there was an old shout from the dugout to a hitter as they dusted themselves off, having slid into second after roping a double.
"You got your name in the paper," the coach would yell.
Those days have steadily disappeared as the landscape of local sports coverage has changed. The focus of newspapers in our community has all but eliminated the daily coverage of our kid's athletic pursuits.
At 813Preps.com we wonder: Do you miss it?
My hope is that our site can earn a place in our community where we bring you the kind of coverage that properly reflects the efforts your kids put into their lives as student-athletes.
I've spent nearly two decades covering professional, college, and most importantly youth sports in the Tampa Bay area.
We hope to be your first stop for coverage of Hillsborough County's high school baseball action. Eventually, we hope this site can expanded coverage to include other sports like football, volleyball, boys & girls basketball, and softball. And we'd like to eventually be able to feature stories on Boys & Girls Soccer, Lacrosse, Golf, Tennis and Flag Football.
813Preps.com believes that hard work deserves recognition and that youth sports are a passion for the whole family.
We are hopeful we can become your favorite source for journalistic coverage of Hillsborough County High School Sports. And we promise to give you our best efforts, in support of yours.
Thank you for joining us at 813Preps.com. I look forward to bringing you stories about the youth of this community.
We are a small operation, so we can't do this without you. We'd welcome content creators with a passion for any high school sport to join us. Please feel free to reach out to me at any time.
Jarrett Guthrie, Editor
jarrettguthrie@813preps.com
813Preps, LLC
4139 Quail Briar Drive
Valrico, FL 33596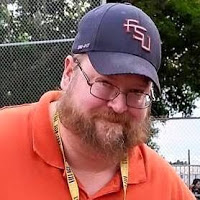 Jarrett Guthrie, Editor
Jarrett has covered college, professional and most importantly, youth sports in the Tampa Bay area for nearly two decades.

Follow on Twitter: @813Preps