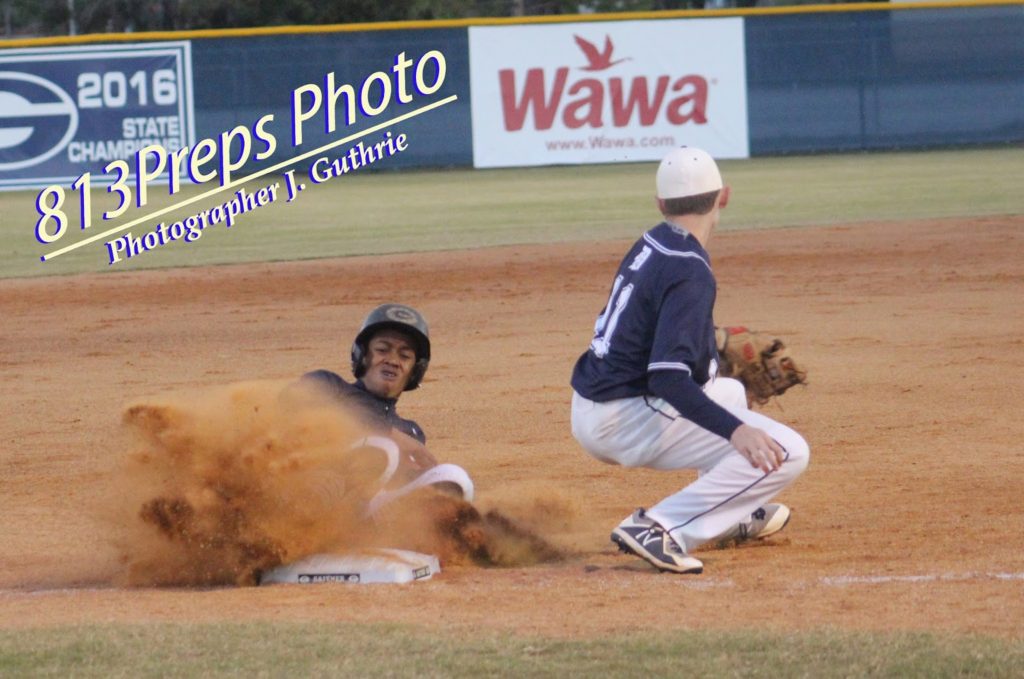 Gaither's Jordan Williams slides into third after his RBI triple in the second inning as Gaither defeated Durant 8-3.
TAMPA – It was a strange ending for Gaither's Saladino Tournament run as the Cowboys jumped out to a solid lead, added to it and topped Durant 8-3 in the closing game of pool-play Wednesday night.
The win seemed well in hand heading into the top of the seventh, but with one Cougars run across in the frame and a pair of runners aboard, Durant pinch hitter Luke Cadwallader looked at a close 2-2 curveball from Gaither starter Austin Grause that was called a ball, and made the most of the next pitch, drilling a two-run single to right.
The runs were meaningless to the game's outcome, but did push Gaither to six runs allowed in the tournament, which meant despite a three-way tie in pool-play with Durant and the Cowboys each at 2-1 in the bracker, the third team – Alonso – advances to the tournament quarterfinals having allowed just five total runs.
"This one is a tough win," junior Jordan Williams said. "I didn't feel entirely secure (in the seventh), I felt like we needed to go back out there and bring it in the last inning. And we did, but it just didn't get the job all the way done."
"But we use this moving forward, as pure motivation."
Gaither (4-3) played a great game, getting a veteran's effort from its freshman hurler Grause, who allowed just six hits, and struck out three in 6 2/3 innings of work.
"Austin pitched a great game, we played a really good game," Gaither coach Nelson North said. "(It was) probably the best game we've played all year, defensively, we swung the bats well, we pitched well, it was all three facets. It's just unfortunate it ended that way."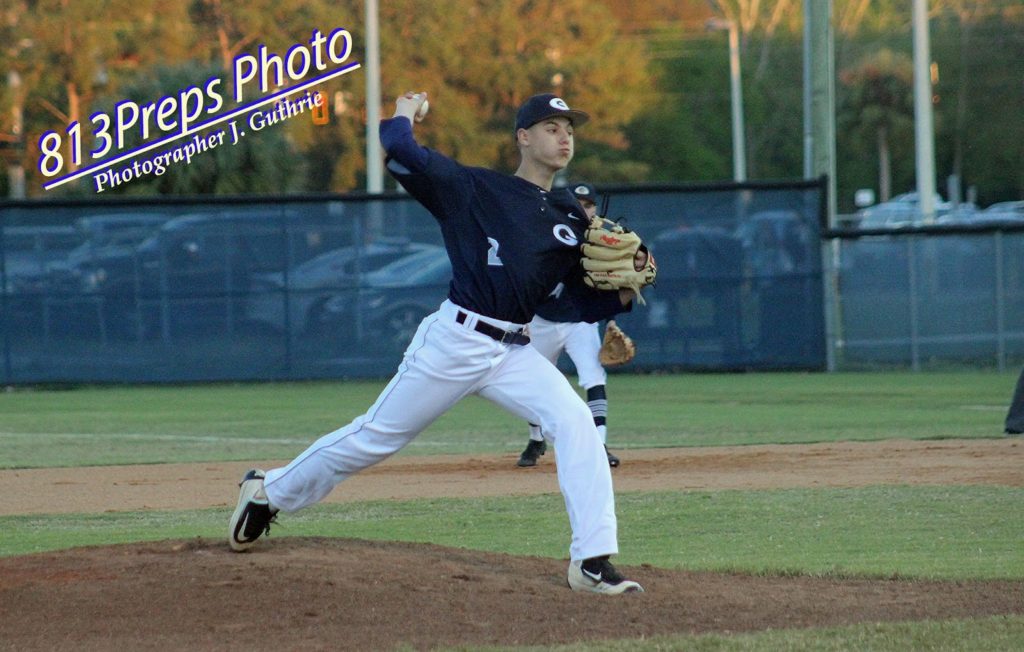 Gaither freshman Austin Grause improved to 2-1 on the season working 6 2/3 innings on the mound.
Grause improves to 2-1 on the mound this season in his three starts, and said after the game he is enjoying having such a key role for a strong Gaither program, just two years removed from a state championship (2016).
"It's a great feeling having my older teammates mentor me through these games," Grause said. "They are great leaders, good role models, and I'm just trying to learn as much as I can."
The Cowboys got run support early as its junior, leadoff hitter Williams walked, stole second and scored on an Orlando Arevalo single in the first. Williams would add to the offensive effort in the second with a ball in gap in right field and motored around for an RBI triple.
"(Jordan) is a good leadoff guy," North said. "If you watch his at-bats throughout the year you see he has that mindset that he's either going to take a bunch of pitches to let our guys see or he is going to go up and ambush them."
"He definitely has a plan, and once he gets on he's going to steal a bag … he is quite a sparkplug and a talent."
Even more support came in the fourth as a wild pitch allowed Williams (who finished with three stolen bases) to again cross the plate, in an inning that also included an RBI single by Grause as Gaither scored three runs.
Durant (4-6) struggled to get things going at the plate leaving runners in scoring position in three of the first four innings. The bright spot on offense came in the seventh as Arpod Zsold singled in a run, before Cadwallader added the two run poke two hitters later.
Gaither spoiled a chance in the bottom of the fifth to end the game early via mercy-rule, with a pair on, one out and three-hole hitter Danny Gutcher at the plate. After adding two more runs on a Chase Ali RBI single and an interference call later bringing him home from third, two more Cowboys made it on base, but a double steal call turned disastrous as Durant catcher Jacob Boully caught the runner at third, then the Cowboys saw its other runner picked off second to erase any chance of an early exit and advancement to the tournament quarterfinals.
——————————————————–
Unlike many independent news organizations, we haven't put
up a subscription paywall – and we hope to be able to keep bringing you the great stories
from high school athletics in the 813 area free of charge. But we are still a small
business with just a handful of people involved, so there are costs including travel, equipment, and other costs associated with running this business.
We are looking for advertising partners, but we also need to count on our
readers for support. If everyone who reads our reporting, who likes it, helps
fund it, we will be able to continue covering these athletes' endeavors.
Support 813Preps.com for as little as $1 by clicking "Donate" button below.