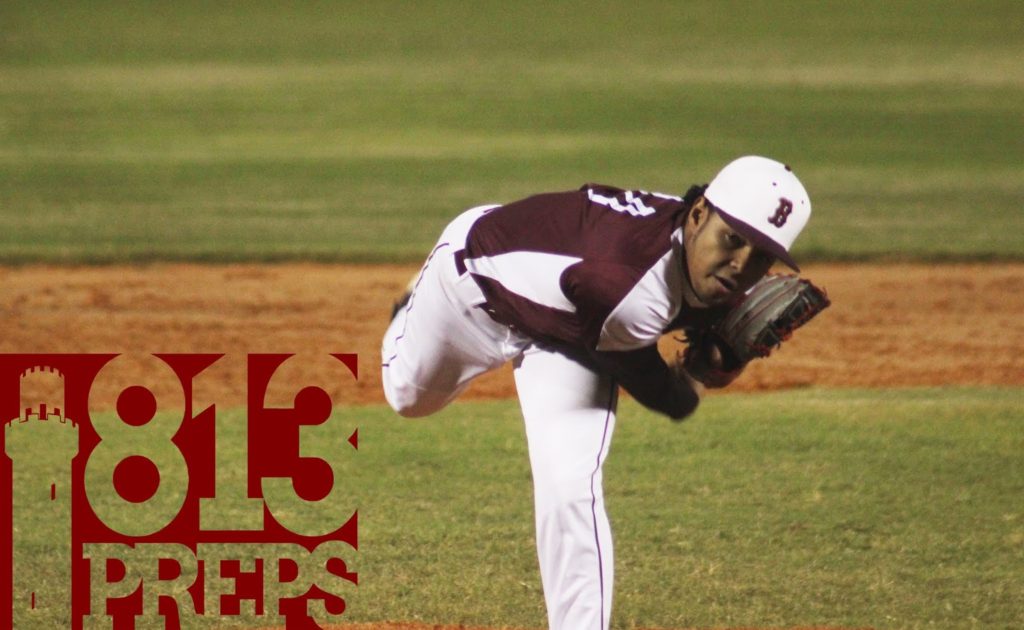 Brandon junior Marcos Herrand tossed five innings and earned the win on the mound for the Eagles.
TAMPA – It wasn't pretty and it wasn't clean, but it was a win. And that's a start for an almost completely inexperienced Brandon Eagles baseball team that claimed its first win of the regular season, 7-5 over King on Wednesday.
Brandon (1-2) had twice this season given spotted early leads against Durant and Steinbrenner, only to see things slip away late in the two previous losses. At King, the Eagles were again spotted a two-run lead only to see the Lions rally and tie the game near the midway point.
However, for coach John DiBenedetto in his first year as the Eagles head coach, the resolve his team showed in regaining the lead, and holding off a late Lions challenge was a great building point moving forward.
————————————————
Unlike many independent news organizations, we haven't put
up a subscription paywall – and we hope to be able to keep bringing you the great stories
from high school athletics in the 813 area free of charge. But we are still a small
business with a handful of paid employees, so there are costs including travel, equipment, and other costs associated with running this business.
We are looking for advertising partners, but we also need to count on our
readers for support. If everyone who reads our reporting, who likes it, helps
fund it, we will be able to continue covering these athletes' endeavors.
Support 813Preps.com for as little as $1 by clicking "Donate" button below.

"Getting over the hump was the biggest thing for us," DiBenedetto said. "We were in a situation last week, where we were at Durant 1-0, and then 4-3 and we game the game away, then against Steinbrenner they cupcaked us four runs and we gave the game back to them. So for us, I think was a big deal learning-wise, for us to bounce back, face some adversity and get that first win."
Brandon took a one-run lead in the fist as a leadoff walk to Marcus Lawrence snowballed after he stole second, then while trying to swipe third drew a throw that sailed down the line to allow the run. Brandon extended its lead in the third as Jalen Wright singled to move DayJuan Lawrence to third and Raekwon Williams drove him in with a ground out.
Through four innings, King junior righty Zan Rose worked steadily, allowing just the two runs (one earned) while striking out eight, before leaving after King had evened the game with a run each in the third and fourth, first on a wild pitch and second on an RBI single from Quentin Meadows.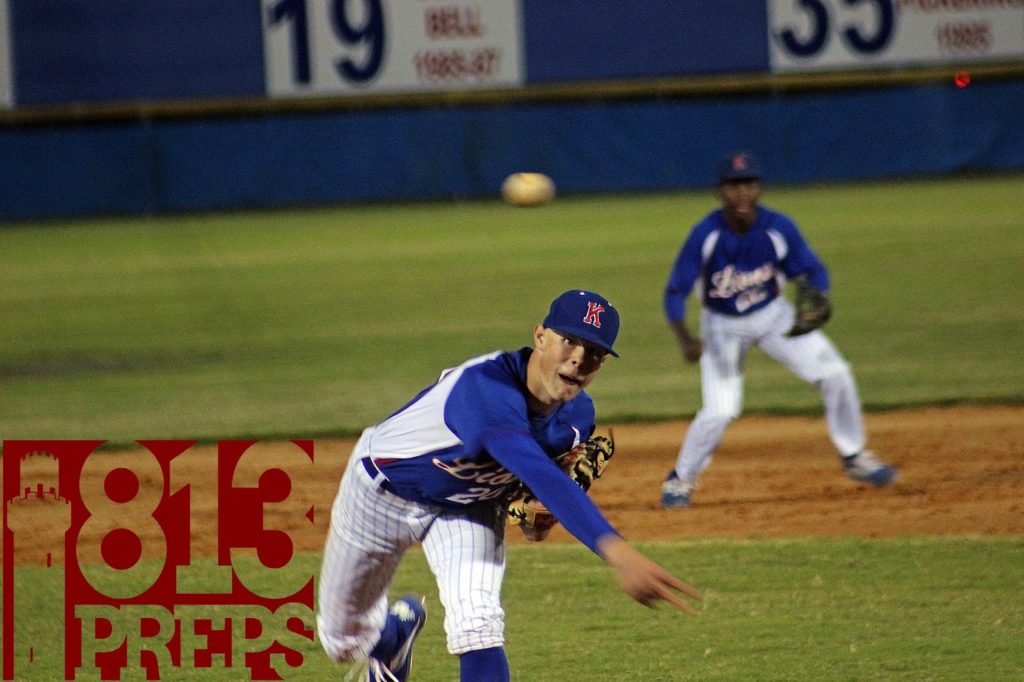 King righty Zan Rose got a no-decision on Wednesday, striking out eight through four innings on the mound. 
The Lions bullpen however, had a challenging go of it after Rose's departure. In the fifth inning King pitchers issued six walks and hitting a batter, and when the dust finally settled Brandon had hung five more runs on the scoreboard.
On the mound for Brandon, junior righty Marcos Herrand started out well striking out four of the first 10 hitters he faced. Herrand made it through five innings – good enough to earn the win – allowing two runs on two hits while striking out six, but did issue six free passes of his own.
"Next time out, I need to come and try and get ahead a little better," Herrand, who struck out 15 against Armwood last week. "I threw too many balls (tonight), I need to do a better job getting ahead in the count."

But pitching as a whole struggled, despite King pitchers' 11 strikeouts on the night, both teams combined for 17 walks, nine wild pitches (including four that allowed the Lions to score runs), five hit batters, and a balk apiece.
The defensive play of the game came in the fourth inning, after Meadows dropped a ball into mid-right field to plate a run, Eagles freshman DayJuan Lawrence came up with a rifle to third base to get a runner trying to stretch things and ended further damage from King.
"His cousin played at King," DiBenedetto said of DayJuan Lawrence. "So, he was amped up, a freshman in a big spot there. That was a big play, that could have been a two-run swing for him. That was stepping up for us by the freshman."