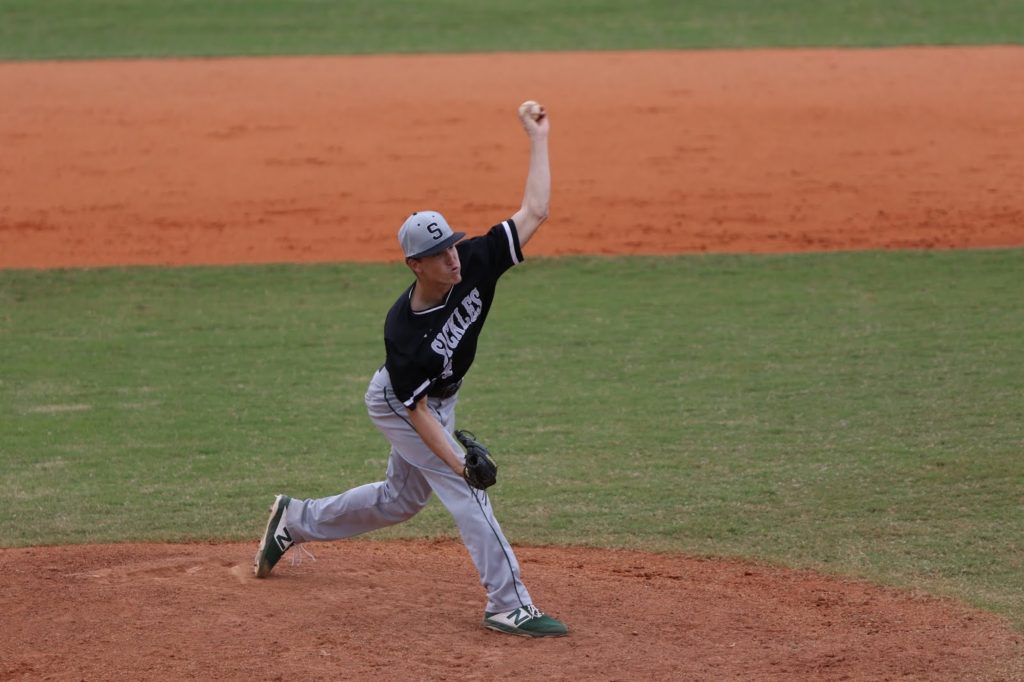 Sickles sophomore Holden Wade earned his second win on the mound in as many starts as the Gryphons topped Armwood on Wednesday. (Photo by Will Turner)
TAMPA – After scoring a single run against Jefferson on Monday night, Sickles turned in a much better performance at the dish, pushing 11 runs across in an 11-5 victory over Armwood on Wednesday afternoon in the final day of pool play in the 39th Annual Saladino Tournament.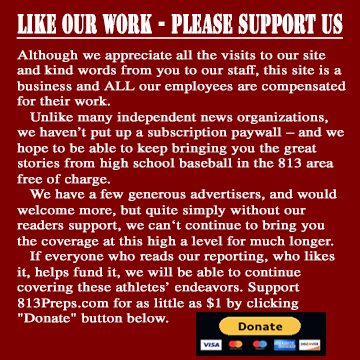 The Gryphons put up three-spots in the fourth and fifth innings, breaking things open early. They held off a sixth-inning rally to hold off the Hawks and finish 2-1 in Pool Four play at Jefferson High.
"The guys kind of flushed what happened the other night," Sickles head coach Eric Luksis said. "We woke up a little bit offensively today."
Sophomore pitcher Holden Wade made his second career appearance and impressed. Wade was perfect in his first three innings as Armwood struggled to get anything off of him. It allowed the Sickles offense to go to work, which started with a passed ball in the third to allow Dylan Eskew to score.
"I didn't throw my slider as much as I had like to," Wade said. "My fastball outside was working great. I was able to dominate my inside corner, which I loved."
Sickles' three spot in the fourth was sparked by RBI singles from Chris Chambers and Dylan Eskew. In the fifth, sacrifice flies from Chris Filippone and Chase Centala paced the offense. Six different Gryphons registered RBIs. Seven different Gryphons scored on the afternoon. Truly a balanced offensive performance.
"It was good to see our guys jump out early," Luksis said. "We're just trying to look to try and put the whole package back together again."
Filippone's second sac fly came in the sixth before Centala poked an RBI single of his own through. Danny Bernstein belted his second home run of the season (and of the tournament) in the seventh – a towering leadoff shot that dropped over the left field wall.

Armwood's rallies in the late innings ended abruptly after loading the bases in the final two innings. The Hawks left eight runners on base in the final three innings. Anthony Veal had a two-run single after Bradley Johnson had an RBI single of his own.
Both times, Sickles' bullpen got them through it. Alex Trepper did it in the sixth and Jacob Gluck did it in the seventh to get the Gryphons the victory. The plethora of arms helped Sickles after using five against Jefferson on Monday night.
"We've got to rely on our bullpen," Luksis said. "We've got a lot of arms and it's trying to figure out which guys to put in at the right times late in those games. We're not scared to keep going to that bullpen because we have fresh arms."
Threes were prevalent for Kohl Robertson, who had a trio of hits, a trio of runs scored, and a trio of stolen bases. Centala and Bernstein both had multi-hit, multi-RBI days. Trey Bacon drew three walks in the victory. Rolando Linares stole four bases. Although surrendering four earned runs, Wade picked up the victory in the decision, his second on the year.
Unfortunately for the Gryphons, the five runs allowed and Durant's dominating win over Jefferson in the nightcap meant the Cougars advanced to the tournament quarterfinals via the runs-allowed tie breaker, edging Sickles 11 to 14.
– Will Turner is a student at the University of South Florida pursuing a double major in mass communications and history. He is the owner of WTurnerProductions.com, a high school sports website covering the entire Tampa Bay Area. Follow Will on Twitter at @TBTurner813 and @WTProTampa.