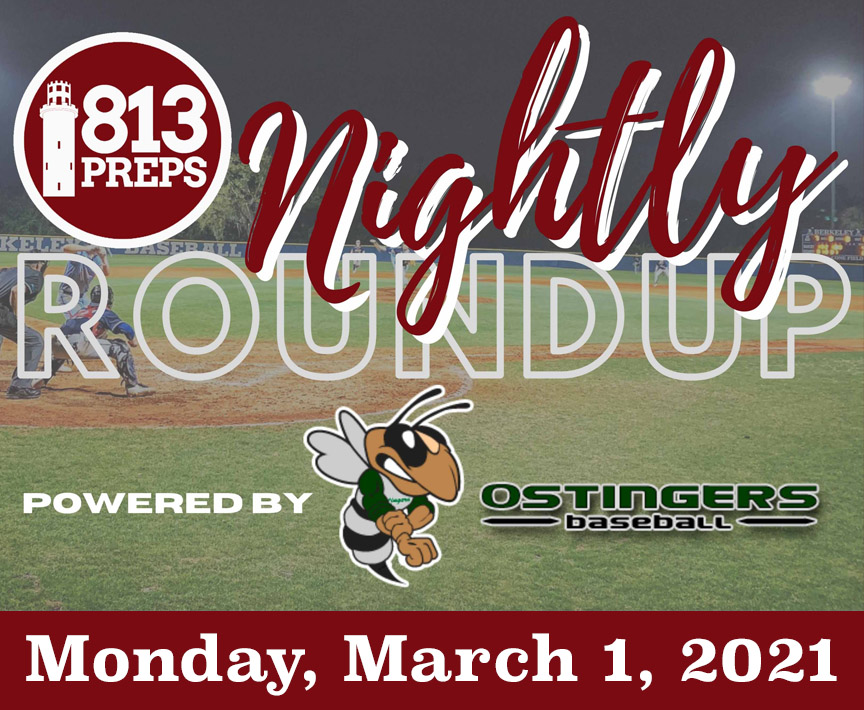 Sickles 7
Steinbrenner 2
Final:

Gryphons 7
Steinbrenner 2

Great pitching performance by Holden Wade. Big offensive nights from Kohl Robertson, Adrian Gutierrez and Chase Conville! Your gryphons are back in action Friday at 7pm at Alonso

— SHSGryphonsBaseball (@SHSGryphonsBB) March 2, 2021
Holden Wade struck out six while limiting district opponent Steinbrenner to just three hits, in his 5 1/3 innings on the mound on Monday picking up the win. Kohl Robertson's RBI double and Chase Conville's RBI single started things off for the Gryphons in the first, and Robertson (3-for-4, 3 runs) would give his team all the runs they'd need an inning later with an RBI single. Senior Adrian Gutierrez was also 3-for-4, driving in three, and Conville later added an RBI double to his night. Steinbrenner scored a pair of seventh inning runs on errors, and Eliecer Martinez had a double in the loss.
Went 2-4, with 2 RBI's tonight against district rival Steinbrenner. Can out on top 7-2 let's keep it going into Friday boys!!! @SHSGryphonsBB @LawsonBaseball pic.twitter.com/rP92uuwFAs

— Chase Conville (@ConvilleChase) March 2, 2021
Si 210|022|0 – |7|11|2
St 000|000|2 – |2|3|2
W – Wade (2-1); L – Daniels.
2B – Robertson, Conville (Si); Martinez (St). Records – Si (3-1, 3-0 in 7A-7); St (1-6, 1-2 in 7A-7).
⚾⚾⚾⚾
Bloomingdale 7
East Bay 3
RBI hits from Dannys Garica and Gabe Garrett keyed a three-run second, which pushed Bloomingdale to a district win over East Bay. Senior David Eckaus earns his third win of the season with two scoreless on the mound, as a combined five Bulls pitchers struck out six Indians hitters. Trey Wilson picked up his second save of the season. Drake Harman drove in a pair in a two hit night, while Dawson Harman and Marlon Bowen (double) each had a pair of hits. For East Bay, senior Riley Linne hit a double and Hans Walker drove in a pair in the loss.
Double in tonight game but a tough lost. We will get back to work @EastBayHighBas1 @813Preps pic.twitter.com/3yrDXLlp3z

— Rileylinnee (@rileylinnee) March 2, 2021
B   131|200|0 – |7|10|2
EB 000|201|0 – |3|3|2
W – Eckaus (3-0); L – Dooley (0-1); S – T. Wilson (2)
2B – Bowen (B); Linne (EB). Records – B (6-0, 1-0 in 7A-10); EB (3-2, 0-1 in 7A-10).
⚾⚾⚾⚾
Bell Creek 22
Bayshore Christian 2 – four innings
Xavier Talbot and Dante Portillo each contributed two hits and three RBI to Bell Creek's win over Bayshore Christian on Monday. Caleb Rodriguez doubled, scored three times and struck out the side in his inning of work on the mound, Isaac Martinez doubled, walked and scored four times, and had two RBI for the Panthers; while Tyler Fritsch worked three innings, striking out seven. For the Faith Warriors, Donovan Kolbe had a double and scored a run, and Caleb Johnson and Niko Fernandez each drove in a run.
Bell (10)03|0xx|x – |22|8|1
Bay   200|0xx|x  –   |2|2|6
W – Fritsch; L – Johnson
2B – Rodriguez, Martinez (Bell); Kolbe (Bay). Records – Bell (3-1); Bay (0-1).
⚾⚾⚾⚾
Bradenton Inspiration Academy 11
Seffner Chritian 2
Score update:
Inspiration- 11
SCA- 2 (2-2-1)

Tough loss tonight but another opportunity to grow and get better. Next game will be Friday at Cambridge Christian @813Preps

— SCA Baseball (@SadersBaseball) March 1, 2021
Records – IA (7-0); SC (2-2-1).