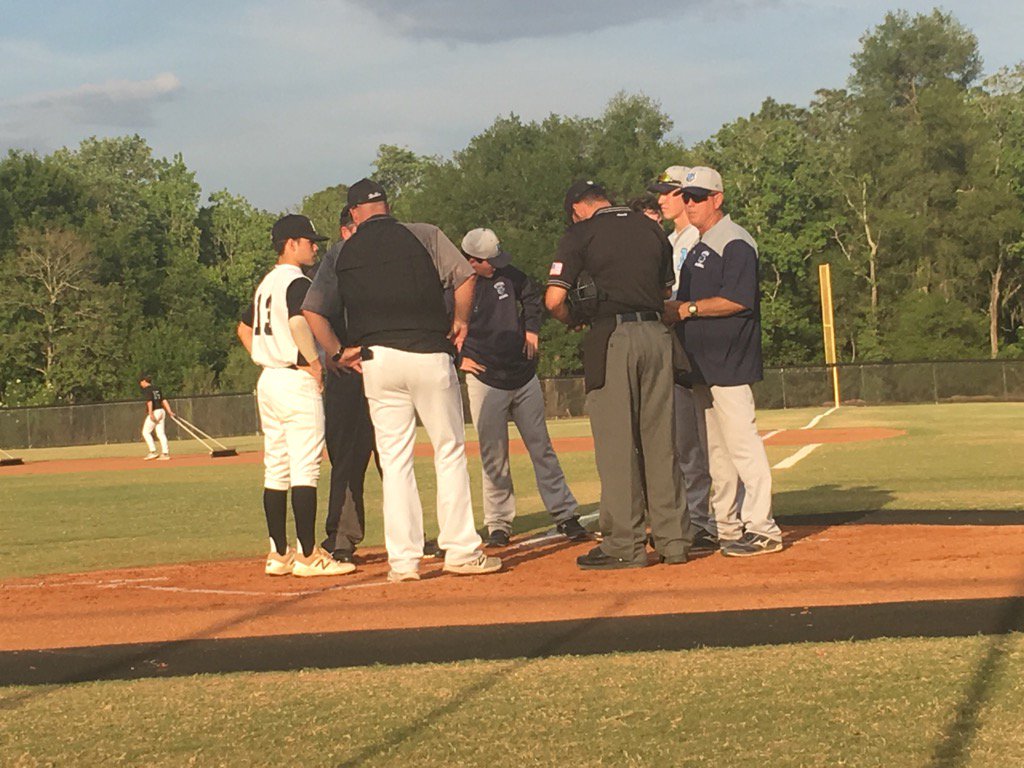 By Jarrett Guthrie
VALRICO – Newsome utilized small ball well against Bloomingdale tying the game in the fourth inning setup by a sac bunt and again laying down a sac to setup a scoring chance in the seventh, but it was patience and power at the plate that proved the difference for the Wolves in a 7-4, comeback win against Bloomingdale on the road on Tuesday.
Trailing by three runs in the top of the sixth an error and an Auston Spires double set things up for senior catcher Joey Raffaele, who tied it with a three-run shot over the left-center wall. Raffaele, a Nova Southeastern baseball commit, said he's had some struggles at the plate with runners on this season, so his focus for the big at-bat was to stay calm.
"Throughout the whole season with runners in scoring position, I've tried to do too much at the plate," Raffaele said. "Coach (Dick) Rohrberg always tells me to relax a little bit, take a deep breath and stay up the middle, and finally it clicked and we get good results out of it."
Newsome Sr Captain and catcher @Joey_Raff19 who tied things with a 3-run HR in the 6th as @NWolvesBaseball charged back for 7-4 win v Bulls. pic.twitter.com/0SV5FS2ioy

— Jarrett Guthrie (@JGuthrieTampa) April 19, 2017
An inning later the Wolves started with a walk to Jacob Phelps, followed by a sac bunt from Tyler Rohrberg, before Tyler Doyle put things away with a no-doubter shot to the same part of the field as his teammate the inning before. Doyle knew the ball was gone off the bat lifting his right hand and pointing to his dugout before making it halfway to first base after hitting his first home run of his high school career.
"We had a game plan at the beginning of the inning that if Jacob Phelps got on we were going to bunt him over," Doyle said. "My goal was to just stay on the ball and hit it as hard as I could."
The Wolves added one more in the seventh as Cody Shook doubled in a run to left field.
Newsome (13-7) starting pitcher Will Ohme ran into some trouble in the third allowing Nate Chevalier to score on a wild pitch after singling with one out in the inning. The problems continued in the fourth as Bloomingdale added three more in the fourth on an RBI hit-by-pitch of Wylie Johnson to score Jett Davis (2-for-3), a Chevalier RBI sac fly and a Bryce Hazzard single would chase Ohme from the game.
The Wolves relievers would keep their team in the game though as first Zach Louden entered with a pair on, walked one, but recorded the final out of the inning.  Louden struck out two in a scoreless fifth, before giving way to freshman Cole Stallings, who worked the final two innings striking out one, fielded two comebackers for outs and got a double play turned behind him started by the third baseman Shook to Spires at second, and onto Dan Neely at first.
"Those big hits come in clutch always," Stallings said. "Our team has got us hits when we needed them."
A win in relief and a post game ice bath for @NWolvesBaseball freshman RHP Cole Stallings as Newsome tops Bloomingdale 7-4. pic.twitter.com/ew1e44PSkK

— Jarrett Guthrie (@JGuthrieTampa) April 19, 2017
Bloomingdale (9-10) got four solid innings on the mound from starter Jacob Hedgpeth, who allowed one earned run on two hits, while striking out three.
Julian Machado had a single and scored a run for the Bulls, as did Johnathan McCary, who also ran down a would-be RBI double in left field in the fourth inning.
* We are just getting started here at 813Preps.com and we really want to hear from you. Please comment, like and share this story. Tell us your story, so we can share it with our community.