Hillsborough Co. Baseball/Softball Roundup 4/20/17
Baseball Roundup
Newsome 10, Plant
City 0 (six innings)
Sophomore Tyler McKenna got things started with a
second-inning solo home run and finished things off with a walk-off RBI single
to finish the mercy-rule as the Wolves defeated Plant City. Newsome (14-7) had
a big seven-run inning as Dan Neely, Tyler Rohrberg, Tyler Doyle, Zach Benson,
Cody Shook and Auston Spires each had RBI singles in the fourth. Senior Beau
Nichols worked five, shutout innings striking out five and allowing just two
hits before Jacob Smith worked a scoreless frame on the mound.
Wharton 10, Robinson 2
Seniors Drew Ehrhard and Clayton Coringrato both homered for Wharton (12-8) in a win against Robinson, while fellow senior Ricky Nieves continued his hot pace at the plate with a 3-for-4 night, scoring three times. Senior righty Aaron Cohn tossed five shutout innings to earn the win on the mound. Alexander Walen and Aaron Scott had RBI hits for Robinson. 


Plant 3, Jefferson 0
Plant senior and Air Force Academy commit Ethan Richards
earned the win with four shutout innings, before junior, Florida commit Connor
Scott worked the final three innings to lock up the save for the Panthers. Matt
Coker went 2-for-2 at the plate with an RBI, and Sam Nation came up with a
pinch-hit RBI in the win.
Riverview 2,
Strawberry Crest 0
Sharks senior Freddy Tarnok earned the win on the mound
striking out 12 for Riverview (17-6). Tarnok, a University of Tampa signee,
picks up his fifth win on the season. Senior Tyler Salomon was 3-for-4 with an
RBI, Javier Rosario was 2-for-3 with an RBI, and Tarnok and Dillon Besnier both
doubled for the Sharks offense.
The Eagles scored three runs in the sixth and two in the
seventh, before holding off a late Leto rally for the win on the road. Gage
Young was 2-for-3 with two RBI for Brandon (16-4), Nico Saladino and Gabriel
Rosado also had a pair of hits each, Tyrek Ball had an RBI, and Arthur Scott
plated a pair. Leto (11-11) senior Jose Martinez drove in three runs in the
loss for the Falcons.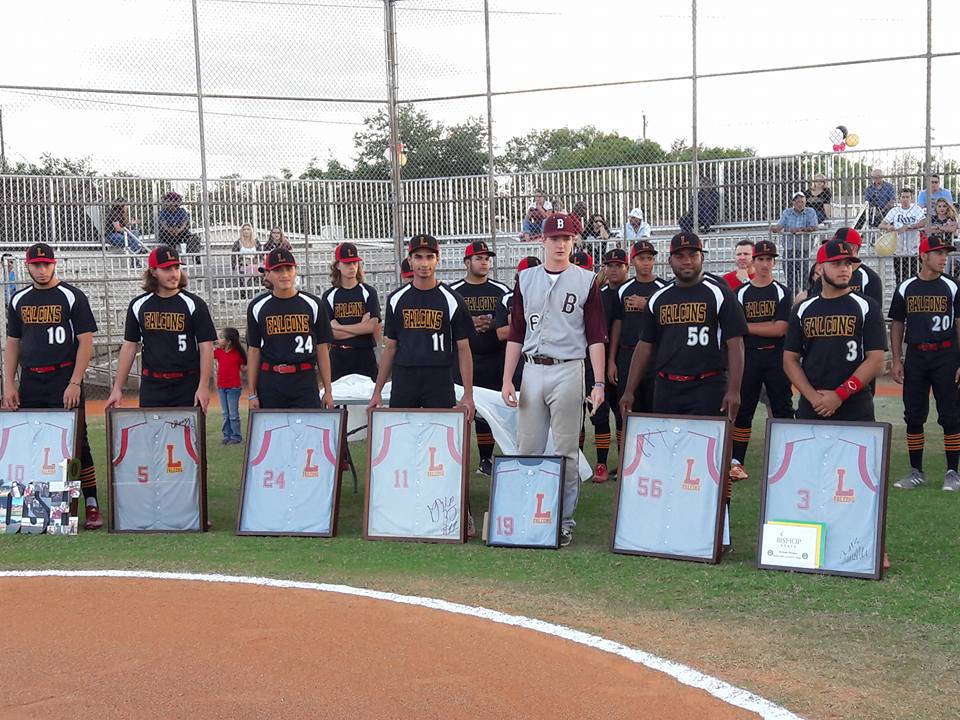 Here is a photo of the pregame ceremony at Leto honoring Falcons' seniors (L toR): Jose Martinez (10),
Chris Ruiz (5),Daniel Irizarry (24), Jeremy Ortiz (11), former Leto player and current Brandon senior Bailey
Carpenter, Felix Rosario (56), and Andreas Morales (2). (Photo courtesy of Kelly Carpenter)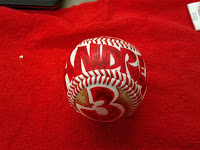 * Some of the awesome custom graffiti baseball's Leto coach John Pizzio made for his seniors tonight.  
Bloomingdale 10,
Freedom 1
The Bulls produced 15 hits, including a 3-for-4, three run
night from Bryce Hazzard in a win on the road at Freedom. Bloomingdale (10-10)
freshman Jackson Hobbs drove in a pair and senior captain Nate Chevalier had
two hits, a stolen base and scored twice. Senior Vladimir Zavala earned the win
with three innings on the mound allowing one unearned run, before Andrew Tubb,
Jesse Hunter and Justin Gross worked shutout innings in relief. Brendan Abel
was 2-for-3 with a run scored for the Patriots.
— Freedom High School (@TheFHSPatriots) April 20, 2017
Berkeley Prep 6,
Lakeland Santa Fe Catholic 5 (nine innings)
Freshman Alex Shear dropped down a bases loaded, squeeze bunt in the
ninth inning to drive in the walk-off winner for Berkeley Prep (12-9). Shear
was 2-for-4 in the win, while Michael Hill had a three-hit game, with a double
and drove in two runs. Junior Julian Bosnic went 3-for-5, while Khalib Bayona
doubled scored twice and earned the win in relief for the Buccaneers. Carson
Weekley also doubled for BP and drove in a run.
Lennard 3, Spoto 1
Lennard has built a solid club and it translated to a
season-best mark 11th win on Thursday. Keith Harden had two hits,
Yaziel Nunez drove in a pair before earning the save on the mound for the
Longhorns. Victor Shilling pitched five quality innings to earn the win.
— Lennard HS Baseball (@LennardBaseball) April 21, 2017
Durant 12, Blake 2
(five innings)
Jake Smith had a pair of hits, Braden Runey drove in three
and four Durant pitchers combined to take down Blake on Thursday.
Alonso 4, Gaither 2
Alonso (16-6) senior Jordan Butler was 3-for-3, with a 2-run
homer and added an RBI single. The UF signee also earned the save in relief. Spencer
Bodanza earned the win tossing 3 1/3 shutout innings with four strikeouts. Derek
Crum doubled and had two RBI for Gaither.
Steinbrenner 10,
Chamberlain 0 (five innings)
Cam Coakley (3-for-3, four RBI, three runs) and Patrick Morris had home runs, and sophomore Jesse O'Rorke went 2-for-3, with a pair of RBI as
Steinbrenner (15-5) topped Chamberlain.
Sickles 6, Tampa Bay
Tech 2
Sophomore Dylan Eskew doubled and drove in two to help lead
Sickles over TBT. Trey Bacon was 2-for-3 scoring twice, and Cole Cooper earned
the win on the mound. TBT's Jaisen Randolph tripled and scored once, Joe Lewis
had two RBI and Jaylen Crumity doubled in the loss.
Hillsborough 4, East
Bay 1
On March 15 the Terriers lost to Plant City, and apparently
they didn't like that feeling as Hillsborough has been on a tear winning 10
straight including a 4-1 win over East Bay on Thursday. Senior and recent HCC
signee Ryan Romano had a pair of hits, swiped three bags and scored twice, and Terrence
Doston had an RBI and a stolen base. Nate Gustafson earned the win on the mound
and Nick Romano, who signed with St. Johns River State College last week earned
the save on the mound.
Armwood 15, Middleton
0 (four innings)
Armwood scored early and often coming away with a mercy-rule
win against the Tigers. Christian Tate went 2-for-3 with a triple, an RBI and
two runs scored, while Bradley Johnson (3-for-3, two runs, RBI), Tyler Castelli
(2-for-3, two runs scored and three RBI), Chris Tavares (2-for-3, two runs, RBI),
and Anthony Digacomo (2-for-4, run, two RBI) keyed the offense. Garreth Johnson
allowed two hits working all four innings and picking up the win on the mound.
Sunlake 5, Brooks
DeBartolo 4
Bayshore Christian 7,
Academy at the Lakes 2
McKeel Academy 5,
Seffner Christian 0
Softball Roundup
Plant City 6, Newsome
5
In the loss Newsome freshman Jada Smallwood had a double and
a home run, while Bayley Cross tripled and Lindsey Harper doubled. The Raiders
scored four runs in the sixth to push the game just out of reach.
Wharton 6, Robinson 1
Juniors Alexandria Dixon (two RBI) and Ysabella Dominguez
each had three hits in the Wildcats win, while Mackenzie Allen and Asia Thomas
each doubled. Sophomore Hana Schwindler tossed a complete game to earn the win.
Bloomingdale 3,
Freedom 2
Katie Zvala, Lexie Chevalier and Trinity Howard each had
doubles, and Alexys Lawson struck out nine on the mound for the Bulls.
— Freedom Softball (@SB_FHSPatriots) April 20, 2017
East Bay 15,
Hillsborough 0 (three innings)
Haley Murphy homered, drove in four runs and allowed just
one hit in a three-inning win for East Bay. Kylan Armstrong went was 2-for-3
scoring three times, and the Indians got doubles from Juliana Uribe and Rachel
Kingery.
Seffner Christian 7,
Tampa Prep 6
Rachel Seifert (3-for-4, double), Addison Brady and
Christina Wellen all drove in a pair to help Seffner Christian get the win
against Tampa Prep.
Chamberlain 2, Steinbrenner 1
It's SENIOR NIGHT‼️ Come out to Steinbrenner at 7pm to support your Warrior softball team as we take on Chamberlain. Ceremony at 6:30!?

pic.twitter.com/EKaY0OJzvz

— Warrior Softball (@gshs_softball) April 20, 2017
Plant 7, Jefferson 4
Canterbury 6, Tampa
Catholic 4
Berkeley Prep 5,
Santa Fe Catholic 3
Land O'Lakes 10,
Carrollwood Day 9
Strawberry Crest 4,
Riverview 3
* Stats compiled by
coaches contact as well as information provided on Twitter, MaxPreps.com and
GameChanger.
* Coaches: If you
would like to provide further information after your games please contact
editor Jarrett Guthrie via:
* We are just getting
started here at 813Preps.com if you are enjoying our work, or would like to tip
us off on stories about your student-athletes, please let us know by
commenting, sharing, or e-mailing directly.