By Jarrett Guthrie
Editor
Keep pushing. Never stop.
Those have been the thoughts constantly rolling through the brain of Carrollwood Day baseball player Leandro Alvarez for the last 16 months.
Last year, Alvarez took to a field of green where a white full-size, four-door Chevy pick-up truck was sitting in neutral. The then 16-year-old took a position behind the truck bed, got low and started pushing the nearly 6,000 pound vehicle in deep grass in need of a mowing.
He moved the truck down the field, then broke from behind, a training parachute attached to his back, and ran down the clearing another 40 yards.
The video on the cellphone of his mother, Maria Perez is one of her favorite things to share. Not because the feat was rare, Alvarez always looked for ways to push his training sessions, and this time was no different. What makes the video so special to his mother was the timing.
A day before, Alvarez was at St. Joseph's Children's Hospital for a round of chemotherapy – his fifth round since his diagnosis of Ewing's sarcoma, a rare disease in which cancer cells are found in the bone or soft tissue.
Exactly a year ago I started chemotherapy. I am truly blessed to be alive and play the sport I love. ✊? pic.twitter.com/E7MLEz9p9v

— Łeo ?? (@itsleo12_) March 18, 2017
"Chemo is hard, but I didn't want it to stop me," Alvarez said. "I didn't want to stop working out, I didn't want to stop playing baseball, and I pushed because I didn't want anything in my life to change. I had to keep pushing, to never stop."
In total, Alvarez went through a surgery to remove the mass in the small of his back near his spine, followed by 14 chemotherapy rounds – each one being between 3-5 days and requiring hospital stays.
"I've been through many hard things in my life, but nothing compares to hearing something like that about your kid," Leandro's father Yosvani Alvarez said. "Nothing."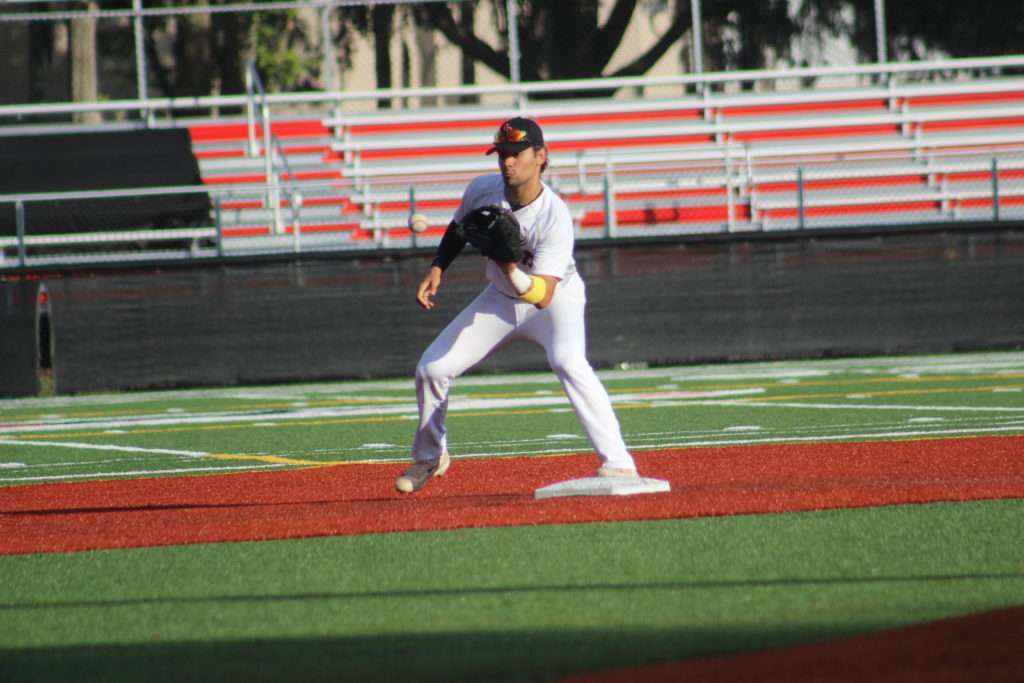 His mother said for a parent there is no way to prepare for something like this, but for her son his time of feeling sorry for himself was short-lived.
"It was a nightmare for me," Perez said. "He was so strong, obviously there was a time when he was very sad, but then there was this point where he said, 'this isn't going to stop me.'"
"At his age kids just want to have fun, this made him get so much stronger, and made him realize that life cannot be taken for granted."
Alvarez said his Carrollwood Day classmates, teammates and coaches were constantly visiting him throughout his treatment stays, and supporting him throughout the whole ordeal, giving him a huge lift emotionally.
"I had a lot of support from the school, my friends, my family, even people I didn't know who heard about me, people were always reaching out," Alvarez said.
"That's an amazing feeling for so many people to find out, and come out to support you when you need it most. "It was just amazing, that's all I can say," Perez said. "The support – from his teammates, from his coaches, from his classmates, from the school – that's something we'll never forget."
During the treatment however, Alvarez continued to find time on the baseball diamond playing the game he loves. Alvarez participated in the Patriots' fall scrimmage season, playing in the games, but keeping to a limited practice schedule.
"When I found out, I was afraid of not being able to be with my family any more," Alvarez said. "But I was also afraid of not being able to pay the sport I love."
"Baseball has been a part of my whole life. My whole family played at some level, it's what I grew up loving. It's in our blood. I love baseball, that's my passion."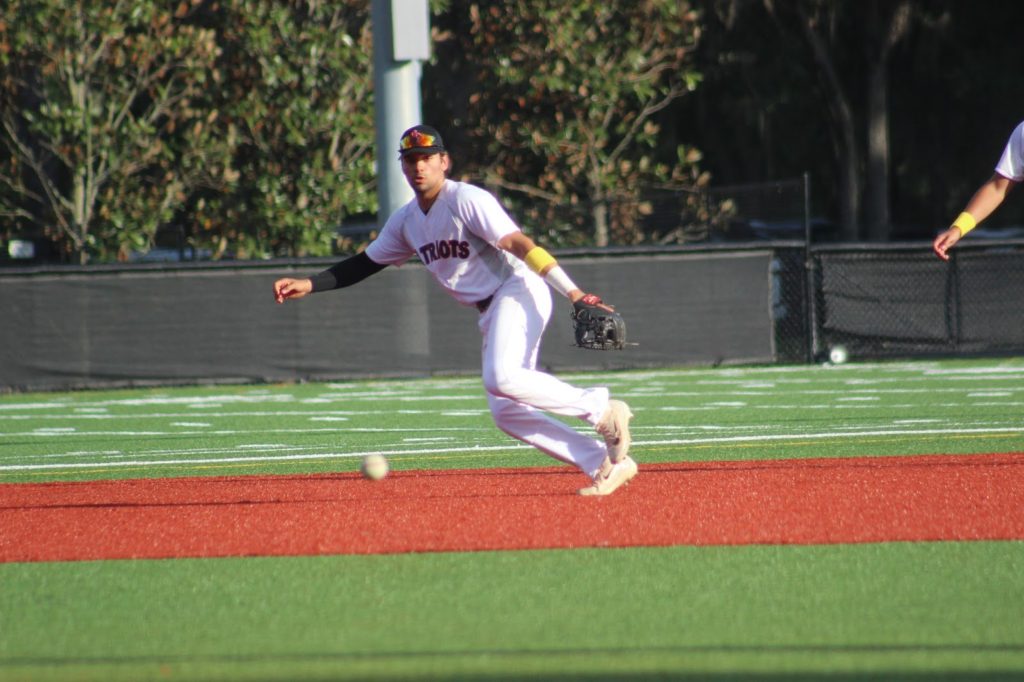 For CDS baseball coach Nick Rodriguez, he said he could see the treatment taking its toll on Alvarez physically, but never saw a diminishment in his heart or effort. In fact, he noticed a change
in the opposite direction.
"He grew up through this process," Rodriguez said. "He was a typical, feisty 16-year-old, and in that process he learned more in a year, than most of these kids will learn before they are 40. And what was really interesting, was how hard he went, but he did it smart. He'd play four or five innings and look at me and say, 'coach, I got more,' or he'd say, 'that's all I got today.'
"He's only been out of the woods here a short time, but his competitive nature never diminished. He's one of our best players right now, and I can't wait to see what he's like in another year."
For Alvarez, returning to the field provided a respite for his mind. Doing what was natural, and for a few hours escaping the feeling there was something wrong.


"Baseball was my escape, I didn't have to worry about the chemo, the radiation and everything else," Alvarez said. "You appreciate the game, your teammates, everything about being a part of something and not focusing on what is going on with you as an individual."
Alvarez is finished with chemotherapy, his hair is full and his frame is fit and healthy. He has been a full participant for Carrollwood Day baseball this spring. Serving as the team's starting second baseman, hitting .261, with 10 runs scored, three doubles and a triple for the Patriots (16-7).
Last Friday, CDS hosted Tampa Prep in its final home game of the regular season, both teams sported yellow sweatbands on their arms – in awareness of Ewing's sarcoma. A faction of Alvarez's care team from St. Joseph's Hospital and his family sported blue shirts with Leandro's name on the front and the words "Cancer will not strike me out," on the back. Rodriguez read a prepared statement, his voice breaking with emotions when he spoke of his junior's strength.
Then Alvarez's parents, his sister Emily, and six St. Joseph's caregivers took to the field – each throwing a ceremonial first pitch to Leandro. Even the daughter of his doctor Erin Cockrell, Tessa made a toss and added a hug for the Patriots second baseman.
"The staff at St. Joe's is basically a second family at this point," Alvarez said. "They're there the entire 14 rounds, being amazing and I'm grateful for all of them."
Alvarez came through with a fourth-inning single and a run scored as the Patriots topped Tampa Prep 6-1. In the crowd a large group of his family, support team and classmates visited and cheered on the team.
His father Yosvani stood near the back of the crowd, arms crossed chatting with friends and family, but wearing a big smile.
"I have no words, I'm just the happiest dad in the world," Yosvani Alvarez said. "He's my hero."
Photo Gallery
* All photos taken by Jarrett Guthrie (unless otherwise noted) and copyright remains with 813Preps.com.