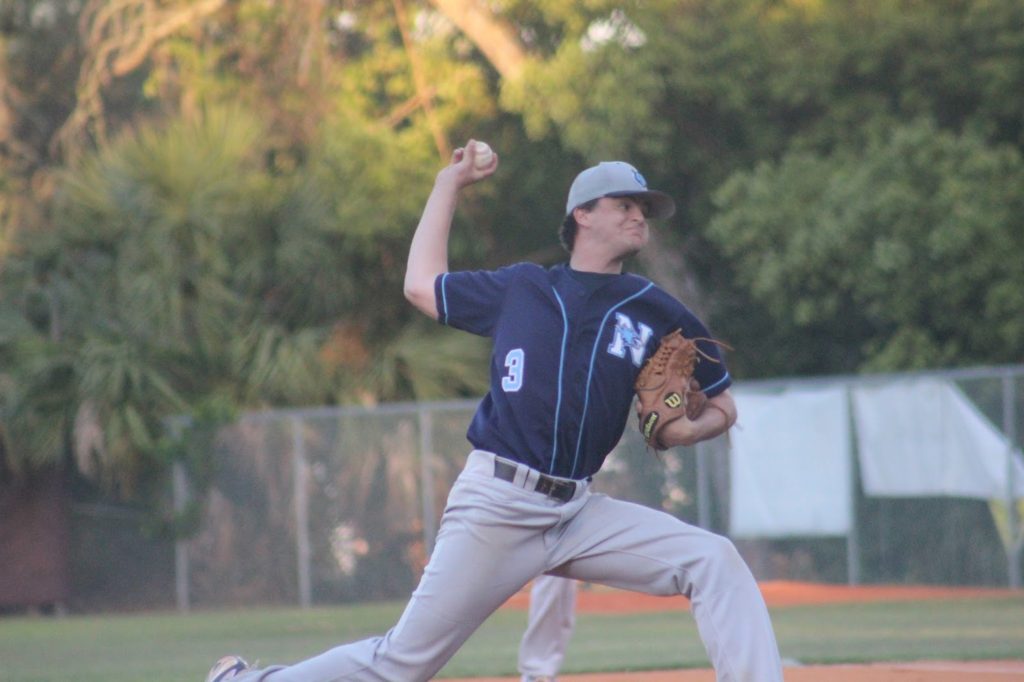 Newsome righty Will Ohme shook off a three-run second inning allowing his offense to back him up as the
Wolves topped Brandon 9-3 on the road.
By Jarrett Guthrie
BRANDON – Newsome baseball players held a team meeting after a lackluster, 3-2 district loss to Sarasota Riverview on April 4th.
The players talked about refocusing and committing to a family mentality.
Since that time, the Wolves have ripped off seven-straight and pounded out nine hits to put down Brandon on the road Tuesday night.
"We had a team meeting, and from then on we've trusted each other, and have been like a family," Newsome starting pitcher Will Ohme said. "We had the team meeting after the Sarasota Riverview game, and ever since we've been rolling."
— Jarrett Guthrie (@JGuthrieTampa) April 26, 2017
Newsome (15-7) struck early as Auston Spires plated the first run with a bases loaded walk scoring Tyler Doyle, who led off with a single.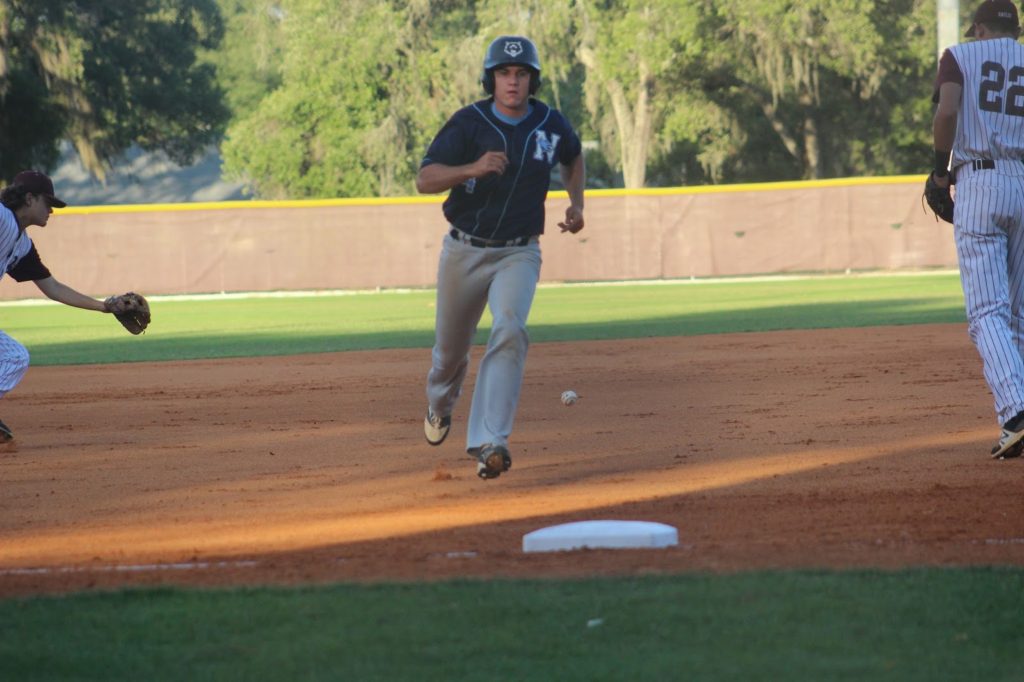 Newsome's Tyler Doyle goes into third in the top of the first. Doyle singled to lead
off the game and scored the first run.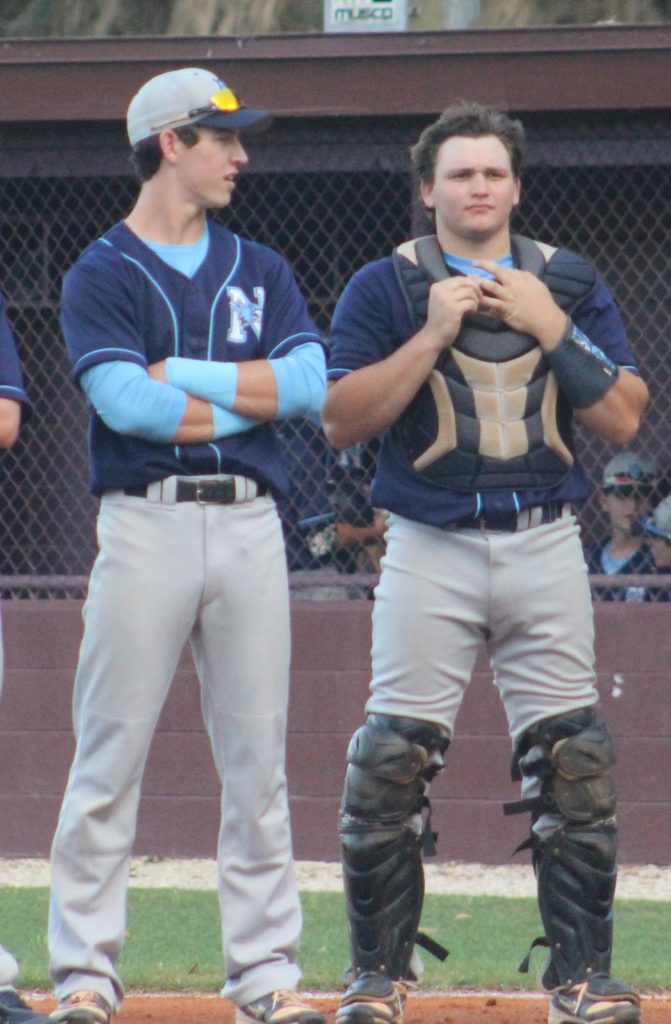 Newsome captains Cody Shook
and Joey Raffaele.
The Wolves added one more scoring on a double play, before Joey Raffaele
doubled in another to hang three runs in the opening frame.
Brandon (16-5) answered in the second added three of its own as Zach Pommier led off with a double, BJ Carter singled and Jermaine White walked, setting up a two-run single by Gabriel Rosado, and the Eagles also added one on a double-play ball.
From there, Ohme kept Brandon off the board working five complete innings allowing the three runs, but striking out four. Zach Louden worked the final two innings of shutout baseball, allowing just one walk.
Offensively, Newsome got what it needed in the third as Zach Benson (three runs) walked stole second, moved to third on an out and score on a wild pitch. The Wolves added two more in the fourth, one in the fifth on an RBI single by Spires, and two more in the sixth on a RBI groundout from Spires and another double by Raffaele.
"This was more of a momentum game because we are on a really good hot streak right now," Raffaele said. "We just wanted to keep everything going."
— Jarrett Guthrie (@JGuthrieTampa) April 26, 2017
Spires worked three good at bats, making sure he produced with players on base.
"Baseball is a failure game and all you can do is try and do your job when it pops up," Spires said. "If there is a guy on base and less than two outs, you just have to get your job done."
— Jarrett Guthrie (@JGuthrieTampa) April 26, 2017
Brandon's offense was led by Zach Pommier, who doubled andscored in the second and added two more hits in the loss, and Gabriel Rosado who singled in a pair of runs.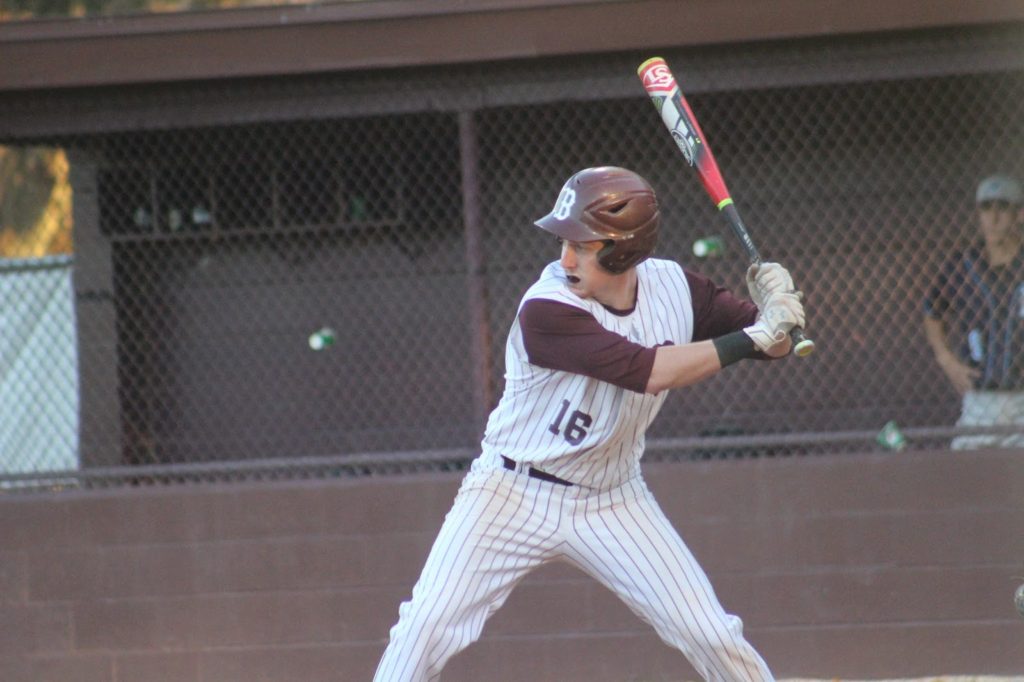 Brandon's Zach Pommier went 3-for-3 with a double and a run scored in the loss for the Eagles.
It was a tough outing for Brandon starter BJ Carter, who struck out five, taking just his second loss on the year.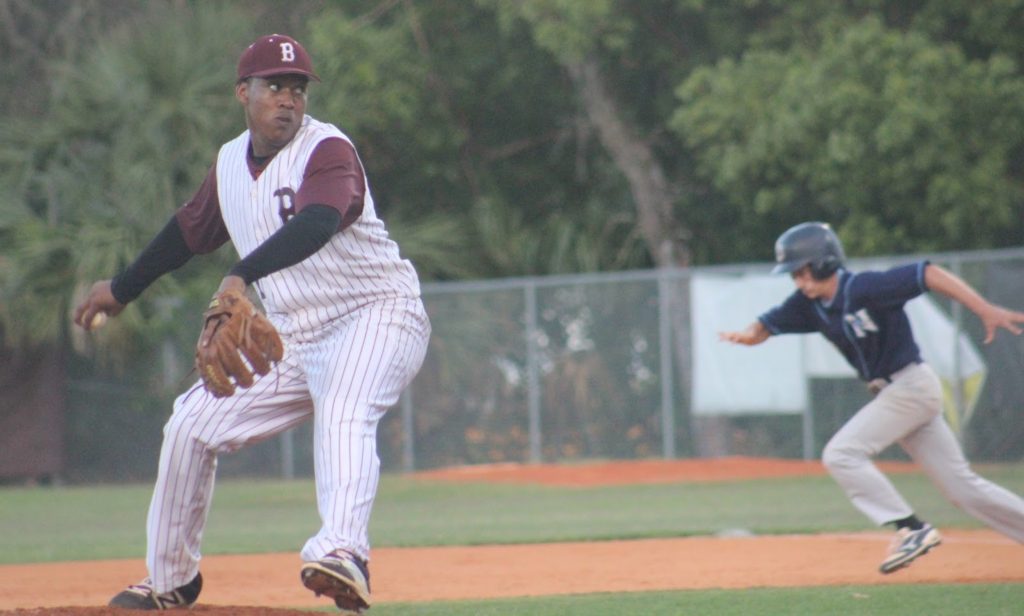 Brandon starting pitcher BJ Carter.
Photo Gallery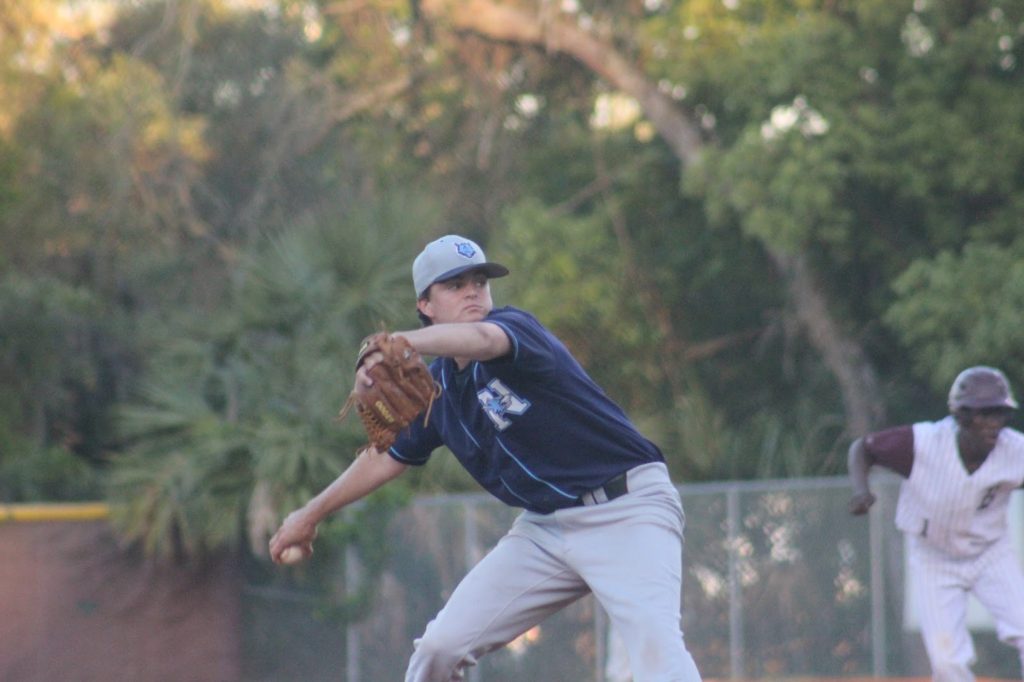 Newsome SP Will Ohme
Brandon SP BJ Carter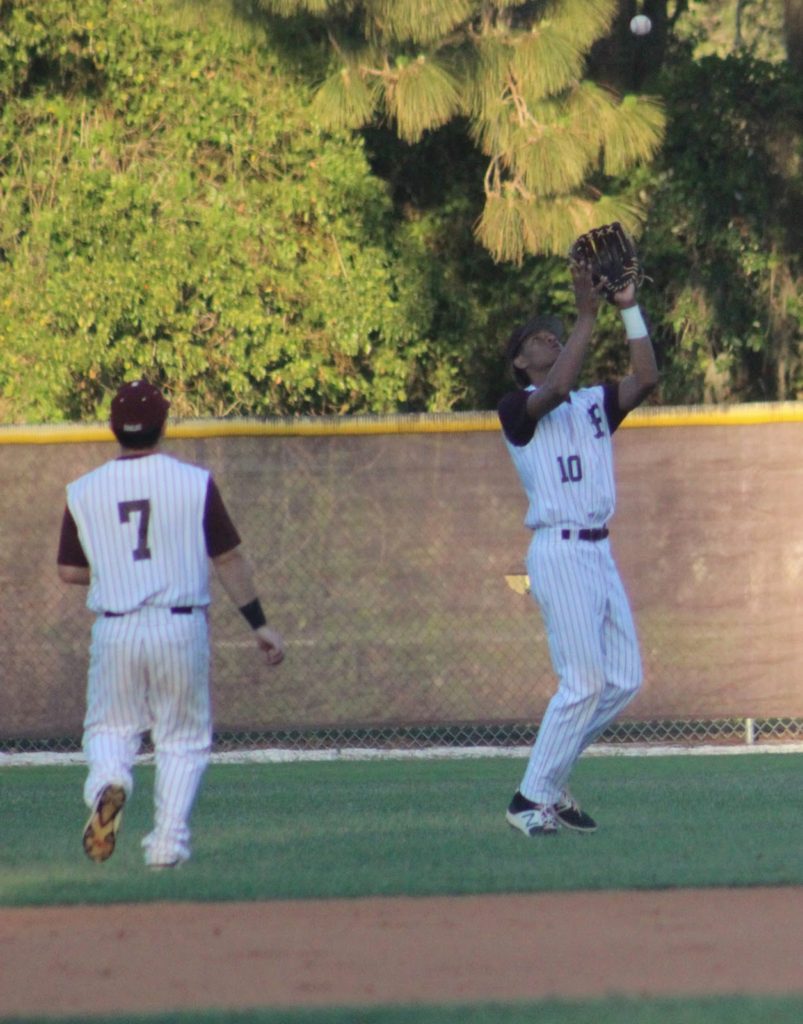 Brandon RF Arthur Scott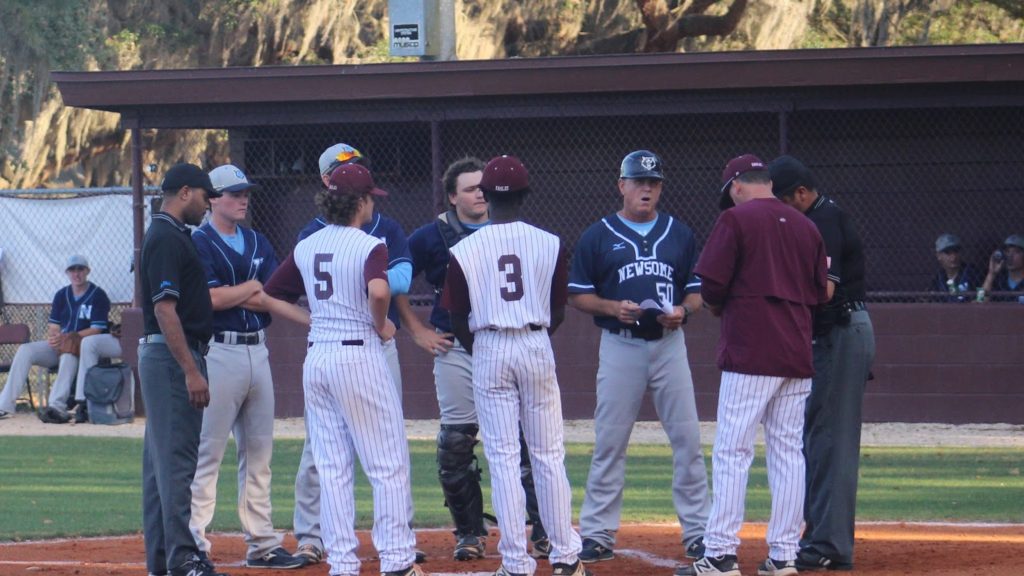 * All photos taken by Jarrett Guthrie and copyright remains with 813Preps.com.