Hillsborough Co. Baseball Roundup 4/27/17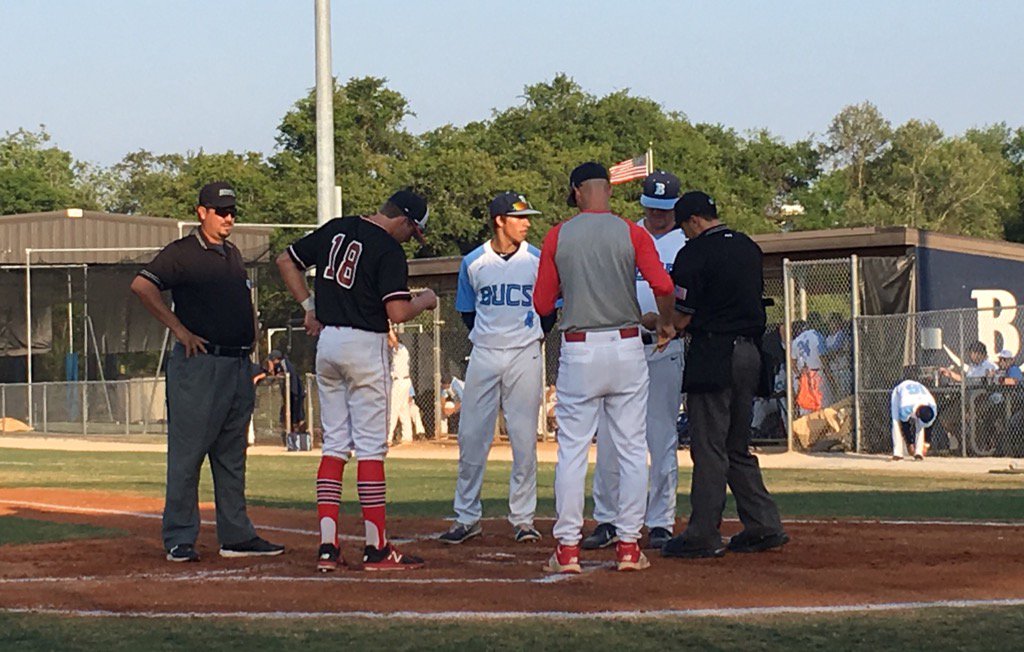 Brandon 8, Gaither 3
Brandon answered a first-inning Gaither run with RBI singles from Zach Pommier and BJ Carter and kept rolling as the Eagles topped the Cowboys. Pommier and Carter added another RBI hit each later in the win. Tyrek Ball scored three times and Gage Young was 2-for-3 with two RBI in the win. Gaither got RBI from Kenny Rodriguez, Orlando Arevalo and Derek Crum.
Wharton 16, Middleton 0 (four innings)
Aaron Cohn (win), Ryan Sherry and Zach Allen combined for the four-inning, perfect game on the mound for Wharton. Leo Alfonzo, Clayton Coringrato and Mike Hudson had doubles for the Wildcats, Drew Ehrhard drove in four runs, and Duncan Pastore scored three times.
Alonso 6, Leto 1
Alonso answered a run from Leto in the first as Jorge Carrero singled in the Falcons' lone run, scoring three in the top of the
second and never looking back. Ravens second baseman Nick Gonzalez had a big night at the plate with an RBI double and an inside-the-park home run to right field. Franco Aleman earned the win for Alonso, working four innings and striking out seven.
Durant 6, Strawberry Crest 5 (10 innings)
Durant (13-9) picked up a run on a Coleton Brogden RBI sac fly in the top of the 10th to top Strawberry Crest (14-8). Brogden had a big night at the plate with four hits and three RBI. Steven Witchoskey cracked his third homer of the season and drove in a pair in the win. Wyatt Hickey worked four, scoreless innings of relief to earn the win for the Cougars.
Plant City 4, Tampa. Bay Tech 2
Errors gave Plant City an early lead and the Raiders held off TBT late to improve to 11-11 to close the regular season. Austin Eldridge went 2-for-3 with a run scored, Dalton Wingo had an RBI, and Brandon Young drove in a pair. Jake Koisa earned the win on the mound working 4 2/3 innings and allowing one run.
Cambridge Christian 15, Saint Stephen's 0 (five innings)
Junior Jacob Krueger (five strikeouts) worked four innings and Ben Block finished the mercy-rule win allowing just one hit. Michael
McCarty was 3-for-4. Sevas Cardona, Jack Palmer, Austin Carter and Duane Drummond had multiple hits in the win. Cambridge Christian is 19-5 with a chance to win 20 games in the regular season at Keswick Christian tomorrow.
Spoto 8, Armwood 6
Spoto pulled ahead early and held off an Armwood challenge
to pick up the win on the road. Nicholas Ariezaga went 3-for-4, with two
doubles and a pair of RBI, Juan Lopez doubled and scored a run, and Eric Lee
had two hits and scored two runs for the Spartans. For Armwood, Bradley Johnson
went 3-for-4, with a double and two RBI, Chris Tavares had a double and Bryce
Blanton drove in two for the Hawks.
Riverview 11, Chamberlain
0 (five innings)
Sharks senior Justin Farmer belted a two-run home run to
left field to finish the mercy-rule win for Riverview (18-6). Riverview,
winners of nine straight, got doubles from Freddy Tarnok, Tyler Salomon, Farmer
and Garrett Thompson. Tarnok had four RBI, and Thompson drove in five. Senior
Manny Martinez earned the win on the mound for the Sharks.
Lakewood Ranch 10,
Tampa Prep 5
Tampa Prep builds a lead, but can't hold off Lakewood Ranch
on the road Thursday. Charlie Vari was 2-for-2, Landon Schabes went 2-for-3,
and Aaron Muench and Nick Castro had RBI in the loss.
Sickles 7, Jefferson
3
Danny Bernstein came up with an RBI single in the first and
a two-run double in the second inning as Sickles scored six runs in the first
two to top Jefferson. Sickles (10-12) had an RBI double from Dylan Eskew in the
first, Connor McTear was 2-for-3 with a trio of RBI in the win, and Zane
Tarrance had two hits and scored twice. Jefferson's Robby Martin continued his
torrid season at the plate belting his ninth home run of the season, a three
run shot in the loss. Martin is hitting .456 with 41 RBI.
Newsome 5, Robinson 3
Dan Neely gave Newsome an early lead with an RBI single in
the first, and the Wolves added three more in the third on an Auston Spires RBI
sac fly and a Jacob Phelps 2-run single. Spires, a junior, added a solo home
run, and Beau Nichols earned the win on his senior night. For Robinson, Andrew
McMillan singled in a pair and also scored a run.
Bloomingdale 10, Lennard 2
Bloomingdale pitcher Vladimir Zavala worked three hitless innings and the Bulls offense supported him early to give him the win. Nate Chevalier walked and eventually scored on a passed ball in the first, he added two more walks and an RBI double in the win. Bryce Hazzard had two hits and an RBI for the Bulls.
Freedom 3, East Bay 0
The Patriots got a solid shutout from Josh O'Clair as the senior allowed just two hits, two walks and struck out eight. Senior captain David Trujeque was 2-for-3 with a double, a steal, and a run scored, Samio Uze was 2-for-4 with an RBI, Zach Booth had a hit, a run and a sac fly, and Kyle Lamphere doubled and had a sac bunt in the Patriots win. 


Hillsborough 12,Berkeley Prep 2
Click here for story about this game.
* If you like what you have seen from us and are a local business owner, why not click on the "Support Us" button in the top menu to see if you'd be interested in joining the 813Preps team.


* Stats compiled by coaches contact as well as information provided on Twitter, MaxPreps.com and GameChanger. 

* Coaches: If you would like to provide further information after your games please contact editor Jarrett Guthrie via: