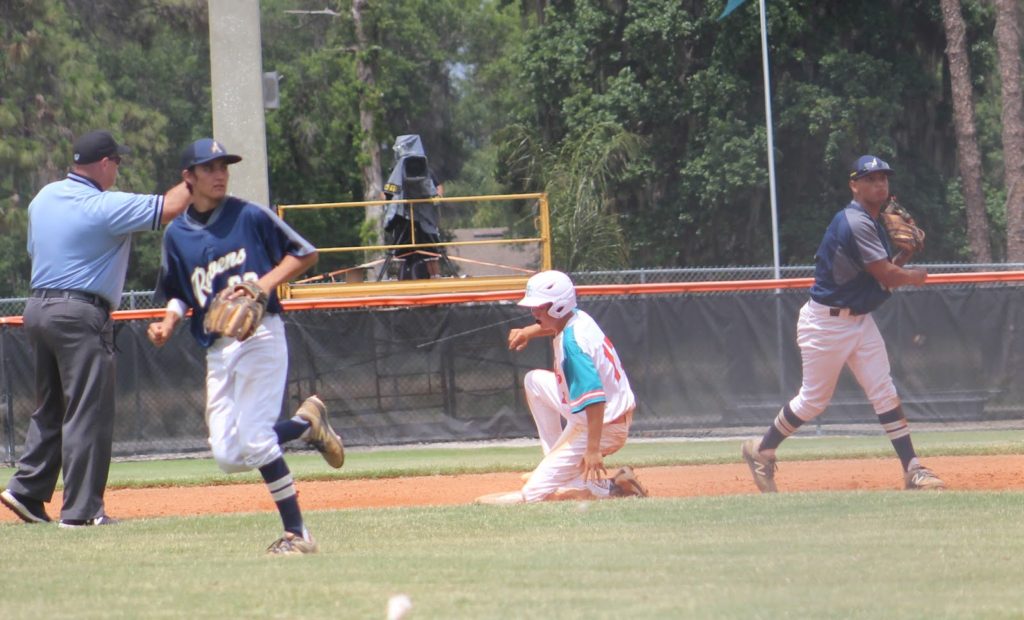 Alonso 2B Nick Gonzalez (left) and SS Jose Ciccarello (throwing) have blended seamlessly in the Ravens infield.
TAMPA – If the adage is to be believed, winning in the postseason comes down to pitching and defense.
The regular season in Hillsborough County has seen plenty of the former already, with prefect games from Riverview's Manny Martinez, Jefferson's Jack Rodriguez, Newsome's Beau Nichols, and Durant's Brien Johnston, mixed in with some other solid work on the mound.
However, with district tournaments set to begin across the county on Monday, 813Preps would like to take a look at just a few of the talented defenders across the county.
Starting with a pair of Alonso Ravens, following in a long line of excellent fielders to wear the "A" for coach Landy Faedo.
"We've been lucky to have some great players in the infield here at Alonso," Faedo said. "Chris Freshcorn, Sherman Johnson, Tito Martinez and Tyler Ding, we've had a lot of good ones."
Indeed, past Ravens like former FSU standout and current Los Angeles Angels of Anaheim prospect Sherman Johnson (who has 15 RBI in 18 games for the Angels AAA team in Salt Lake this season); former All-County infielder Chris Freshcorn, who played for the University of Florida; former University of Tampa, career .351 hitter Tyler Ding who, coupled with Tito Martinez, helped the Alonso capture the 2009 state title, started a rich tradition in the infield for the two-time state champion, and four-time region championship program.
Hoping to continue that championship legacy for the 2017 Ravens are senior shortstop Jose Ciccarello and junior second baseman Nick Gonzalez.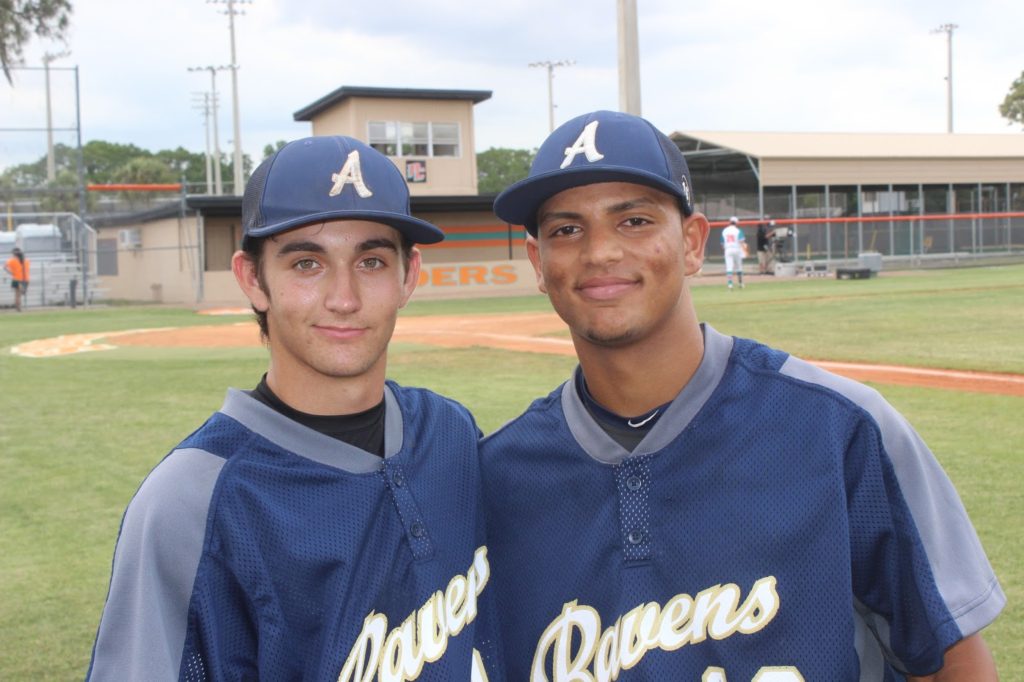 Nick Gonzalez and Jose Ciccarello
The duo look like they've been on the field together since
diapers, but in reality it is the first year on the field for the double-play combo.
Ciccarello, a University of Florida commit since he was a
sophomore, is a flashy glove and arm, with a good bat and some speed, which has led to 35 career doubles at the plate. He said there was an instant chemistry on the field between he and Gonzalez, who have known each other since middle school.
"We both have that Hispanic thing going on, so we just try
and be smooth and try and make things look good," Ciccarello said. "But Nick and I have that focus to get the job done, and that allowed us to work well together right away."
Gonzalez held off playing high school baseball until his junior season, working instead on his defense with private instructor Jose Ortega, who he's had as a coach since he was six years old.
"I just wanted to develop myself a little better my first two years of high school and then come out here and show what I'm capable of," Gonzalez said. "Coach Ortega has been with me since I was six, every single day I go there, work with him and grind."
Gonzalez is a model of consistency who in his first season playing high school baseball has committed just one error in 81 chances and turned 10 double-plays.
"It's an honor to be out here at Alonso," Gonzalez said. "I love being out here with these guys – every single second."
For Faedo, the differences in personality are noticeable, but the skill-set on the field is a perfect combination.
"Jose is one of our big cheerleaders on the team, he's full of energy and life and he gets us pumped up," Faedo said. "Nick is kind of quiet and more reserved, but on the field they both bring the same thing – that fire inside to compete all the time."
The move has also helped the Ravens defense in an ancillary fashion as it has allowed senior Jared DeSantolo to move a steady glove and strong arm from second base (where he played last season) to third. DeSantolo, signed at Florida Atlantic, is also a solid hitter posting a .316 average with 15 RBI and two homers this year."Nick has allowed us to move Jared from second to third, and Jared is probably going to play a corner position in college," Faedo said. "So having Nick at second has really worked to shore up the rest of our infield."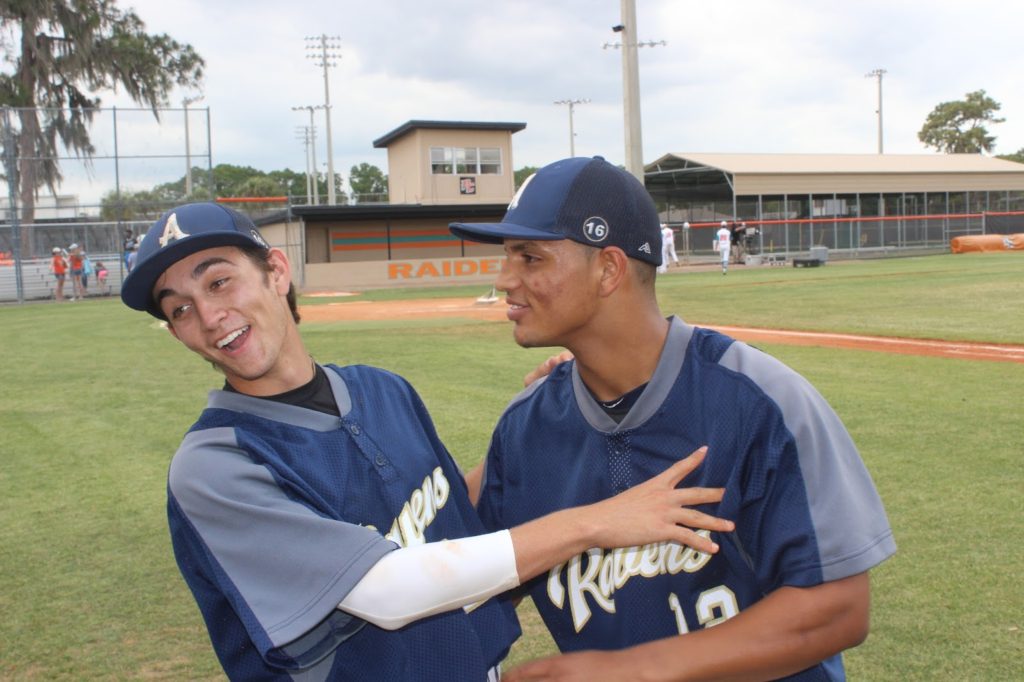 Some other gloves to watch: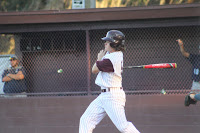 Brandon SS Nico Saladino
Nico Saladino,
Brandon: The Eagles sophomore is another prime example of putting in the effort needed to vastly improve your game. The shortstop stuck to a weight-training program, added 12 pounds since the fall season, and hasn't let up on the extra training while the season has been going. He's also getting it done at the plate with a .422 average, 22 runs scored, and good patience that has resulted in 17 walks. Coupled on the field with second baseman Teddy Flynn, Saladino has been a part of 16 double plays.
Terriers SS
Ryan Romano
(from 2015)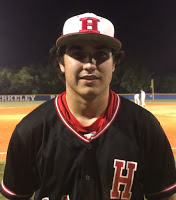 Hillsborough 3B Nick Romano
Ryan and Nick Romano, Hillsborough: The
fraternal twins man the left side of left side of the Terriers infield and are
fun to watch. Four-year starters in the infield for Hillsborough, both brothers
have different skill-sets, but skill is the key word here. Slightly older by a
few minutes, shortstop Ryan Romano (signed with Hillsborough Community College),
who in the past has served time at second base, has quick hands and makes some
of the sweetest flips to the base a coach could ever ask for, while third
baseman Nick (a St. John's River State College signee) is a hard charger with a great glove and big arm. Both
are also clutch at the plate as Ryan at leadoff is hitting .329, with a
team-leading 27 runs scored, and cleanup man Nick has posted a .429 average,
with five homers and 26 RBI.
Austin Hessinger and Sevas Cardona, Cambridge Christian: The
up-the-middle tandem for the Lancers is pretty slick as well. Both juniors,
Hessinger at second base hasn't committed an error in 83 total chances this
season, while Cardona in his first season at shortstop has made a quick leap at
the position in just one year. The Lancers defense coupled with a
pitch-to-contact staff on the mound posted a 20-5 regular season record.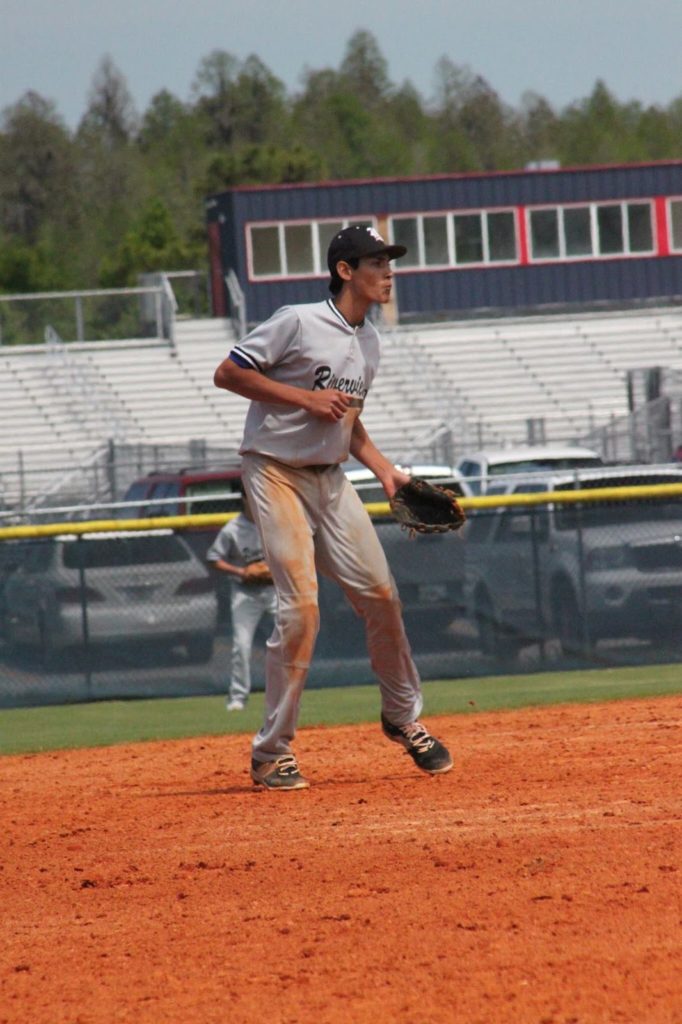 Riverview SS Freddy Tarnok
(photo by Mary Steinbeck)
Freddy Tarnok and
Josh Rulli, Riverview: Stick with us
here as we talk about the Sharks defensive duo of the shortstop Tarnok and
catcher Rulli. Tarnok, at 6-foot-4 may not be a prototypical SS, but the range
he has at the position coupled with a pitcher's arm (he also throws a fastball
in the 92 mph range, with an 0.54 ERA) make the University of Tampa signee a
weapon whether on the mound or manning short with just one error in 63
attempts. Note to base runners – DON'T RUN ON RULLI. The senior backstop has
gunned down 19-of-25 runners this season, making them more base
go-back-to-the-dugout-and-sit-downers, than base stealers. Rulli earned
defensive player of the tournament honors during spring break at the annual
Tony Saladino Tournament in March.
Nate Chevalier,
Bloomingdale: A four-year starter for the Bulls in centerfield, the Nova
Southeastern signee, Chevalier has great range and speed and a plus arm. Due to
some injuries on the team, he had to spend some time at second base for the
Bulls this season, and the different position did slightly affect his hitting
according to coach Kris Wilken. But now back at his natural position he locks
up a solid outfield with a great arm – having committed just five errors in 101
games for Bloomingdale in his career – and is back at it at the plate with a
.309 average and 23 runs scored this year.
McGuire Weaver and Alex Mocny, Jesuit: The key cogs up the middle provide nearly foul-line to foul-line coverage for the Tigers. Either have the ability to play shortstop well providing peace of mind for Jesuit's pitching staff, but usually it's Weaver on the left side and Mocny manning second. Weaver, a junior and FSU commit, is hitting .403, with 23 runs scored, seven doubles and 11 stolen bases. Mocny has committed just 11 errors in 71 career games for Jesuit.
Hillsborough Co. Baseball District Schedule
Tuesday, May
2
(3) Newsome
at (2) Sarasota Riverview, 7 p.m.
(4) Palm
Harbor at (1) Alonso
Thursday, May
4
Championship
hosted by highest seed, 7 p.m.
Tuesday, May
2
(3) Wiregrass
Ranch vs. (2) Wharton, 4 p.m.
(4) Freedom
vs. (1) Strawberry Crest, 7 p.m
Thursday, May 4
Championship
Tuesday, May
2
(3) Sickles
vs. (2) Steinbrenner, 7 p.m.
Wednesday,
May 3
Sickles/Steinbrenner
winner vs. (1) Plant, 7 p.m.
At Bloomingdale and Riverview
(5) East Bay
vs. (4) Bloomingdale, 5:30 p.m.
Tuesday, May
2
(3) Plant
City vs. (2) Riverview, 5:30 p.m.
East
Bay/Bloomingdale winner vs. (1) Durant, 5:30 p.m.
Championship,
7 p.m.
Tuesday, May
2
(5)
Chamberlain vs. (4) Leto, 7 p.m.
Wednesday,
May 3
Chamberlain/Leto
winner vs. (1) Hillsborough, 4:30 p.m.
(3) King vs.
(3) Gaither, 7 p.m.
Championship,
7:30 p.m.
(5) Tampa Bay
Tech vs. (4) Armwood, 7 p.m.
Tuesday, May
2
TBT/Armwood
winner vs. (1) Braden River, 4 p.m.
(3) Lennard
vs. (2) Brandon, 7 p.m.
Thursday, May
4
Championship,
7 p.m.
Monday, May 1
(5) Blake vs. (4) Spoto, 4 p.m.
(6) Middleton vs. (3) Jefferson, 7 p.m.


Tuesday, May 2
Blake/Spoto winner vs. (1) Jesuit, 4 p.m.
Middleton/Jefferson winner vs. (2) Robinson, 7 p.m.


Thursday, May4
Championship, 7 p.m.
Tuesday, May
2
(4) Tampa
Catholic vs. (5) Brooks DeBartolo

 

4:30pm
(3)Berkeley
Prep vs. (6) Tampa Prep

 

7:30pm
Thursday, May
4
(2) CCC vs.
Berkeley Prep/Tampa Prep

 

4:30pm
(1) Calvary
Christian vs. Tampa Catholic/Brooks DeBartolo

 

7:30pm
Monday, May 1
(7) Lakeland Christian vs. (2)
Cambridge Christian, 4 p.m.
(8) Bell Creek vs. (1) Bishop McLaughlin,
7 pm.
(5) Lakeland Santa Fe vs. (4)
Seffner Christian, 4 p.m.
(6) All Saints vs. (3)
Carrollwood Day, 7 p.m.