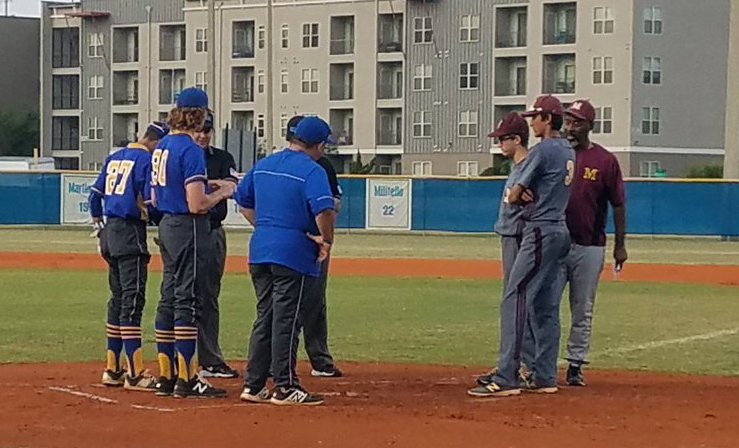 Pregame meeting between Jefferson and Middleton at Jefferson High School. (Photo courtesy of Jay Recher)
Class 8A-District
6
At Bloomingdale
Play-in game
Bloomingdale 10, East
Bay 0 (five innings)
Bloomingdale senior right-hander Vladimir Zavala said
heading into his first career post-season start he was a little nervous, and
once on the mound he found his off-speed stuff wasn't working the way he
wanted.
"My emotions heading in were a little hectic knowing this
was my first post-season start," Zavala said. "Early on I was having some
issues with my off-speed stuff, and I didn't really start feeling like myself
until like the second or third inning. But my fastball was working pretty
well."
Zavala leaned on that fastball and needed just 62 pitches to
complete a five-inning, no-hitter as the Bulls defeated East Bay via
mercy-rule, 10-0 in 8A-6 action Monday.
Zavala scattered three walks and had four strikeouts and
improves to 4-2 on the season.
The Bulls offense supported Zavala with six runs in the
third as Nate Chevalier had an RBI single and Jackson Hobbs doubled in three
runs.
"Those runs actually calmed me down, because before that I
was worried any little mistake, or an error on my part could cost us," Zavala
said. "So when we got up 6-0, I was able to calm down, really focus and lock
in."
Bloomingdale (13-10) added four more as Brock Wilken doubled
in a pair and Jett Davis hit a two-run single the next inning.
The No.4-seed Bulls will carry the momentum of four straight
wins into Tuesday's district semifinal against top-seeded Durant at
Bloomingdale at 5:30 p.m.
"Coach told us to really, really focused on momentum and
getting the basics down," Zavala said. "Toward the last few games, our sticks have
gotten hot and our pitching started pounding the zones, so I have a good
feeling about the post-season."
Class 7A-District
9
At Brandon
Play-in game
Tampa Bay Tech 6,
Armwood 0
A pair of doubles, one from Fred Myles, Jr. and a two-run,
two-bagger by Joe Lewis led the Titans offense as TBT defeated Armwood on
Tuesday. Josiah Lara added an RBI single to TBT's night, while senior Freddy
Drayton allowed just five hits in a shutout win on the mound. TBT will face No.
1 seed Braden River at Brandon, Tuesday at 4 p.m. in the district semifinal.
Class 6A-District
8
At Jefferson
Quarterfinals
Spoto 13, Blake 6
A back-and-forth game was broken open by a Spoto six-run
fifth inning as the Spartans defeated Blake in a quarterfinal meeting. Down a
run in the bottom of the fifth the Spartans offense took control, keyed by an
Adrian Rodriguez RBI singled and a two run Juan Lopez triple. Daryl Flintroy
went 2-for-2, with a pair of walks and three runs scored, while Ralph Kirk (two
runs) and Dwayne House (three runs) each collected two hits. Elyjah West had a
two-run double for Blake. Spoto will face No. 1 Jesuit in the 4 p.m. semifinal
at Jesuit on Tuesday.
Jefferson 15, Middleton
0 (four innings)
The Dragons put up 13 runs in the first inning and cruised into the 6A-8 semifinals with a mercy-rule win over Middleton. Sophomore Isaiah Gonzalez was 3-for-3, including a pair of RBI singles in the opening frame Jefferson (15-8), Andrew Mathis had a triple, two runs scored and two RBI, Oscar Galves doubled in a run, and Robby Martin drove in a pair. Andrew Ortiz worked three scoreless innings to earn the win on the mound, striking out four. Jefferson will face No. 2 Robinson Tuesday at 7 p.m.
Class 3A-District
4
At Winter Haven All
Saints
Quarterfinals
Cambridge Christian
5, Lakeland Christian 3
The Lancers took a 5-0 lead into the fifth before allowing
three runs, but escaped with the win as Lakeland Christian had the winning run
at the plate in the seventh. Austin Carter worked five innings to earn the win,
while Alex Smith tossed two innings to pick up the save. Carter, Austin
Hessinger and Tilden Agee (two doubles) had multi-hit games for Cambridge
Christian (21-5). Zack Stein and Sevas Cardona also had doubles for CCS.
Cambridge Christian will play in the district semis on Thursday at 4 p.m.
facing the winner of Wednesday's All Saints/Carrollwood Day game at All Saints
Academy.
Bishop McLaughlin 6, Bell Creek 0
* Stats compiled by coaches contact as well as information provided on Twitter, MaxPreps.com and GameChanger. 


* If you like what you have seen from us and are a local business owner, why not click on the "Support Us" button in the top menu to see if you'd be interested in joining the 813Preps team.


* Coaches: If you would like to provide further information after your games please contact editor Jarrett Guthrie via: