Newsome 2, Sarasota Riverview 1
Dan Neely and Joey Raffaele
had RBI singles in the top of the first and Newsome held on in a pitching duel
to top Sarasota Riverview. Senior Beau Nichols worked 6.2 innings before
allowing a Rams run, and junior Will Ohme came in for the final out and notched
the save.
— Newsome HS Baseball (@NWolvesBaseball) May 3, 2017
Jordan Butler tossed a
complete-game allowing two unearned runs and striking out seven as the Ravens
defeated PHU at home on Tuesday. Jared DeSantolo (RBI) and Butler each chipped
in doubles, and Jose Ciccarello hit a leadoff home run to the winning effort. 
Wharton 8, Wiregrass Ranch 0
Freedom 2, Strawberry Crest 0
* For more on these district semifinals, check out our game coverage by clicking HERE!
Steinbrenner 7, Sickles 4
A home run from Jordan Lala
to right tied the game at 1-1 in the first, and the Warriors got a pair of
three run innings highlighted by a Cam Coakley two-run double and a Patrick
Morris two-run homer to put things out of reach for Sickles, and earn
Steinbrenner a spot in Wednesday's district final against top-seeded Plant. For
the Gryphons, Trey Bacon had a pair of doubles and two RBI, and Dylan Eskew had
an RBI double in the first.
Riverview 6, Plant City 1
Riverview busted a scoreless
game wide open in the fifth as Tyler Roschfska led off with a single up the
middle, and the Sharks piled on six runs keyed by RBI doubles by Garrett
Thompson and Justin Farmer. Sharks senior Freddy Tarnok worked five, shutout
innings, striking out six, and is now 7-0 on the season. Manny Martinez worked
the final two innings of relief for the Sharks.
Jacob Hedgpeth and the Bulls
defense allowed just two Durant hits, as Hedgpeth earned a complete-game win
for Bloomingdale at home. Nate Chevalier doubled home the eventual game-winner
in the third, and the Bulls added two insurance runs in the fifth on a Bryce
Hazzard RBI single and a RBI double from Cody Wilson.
Senior Felix Rosario pitched
five innings, allowing just a single hit as Leto defeated Chamberlain in the
district play-in game. The Falcons will now face top seed Hillsborough
Wednesday at 4 p.m. at King High. Rosario also went 3-for-3 at the plate, with
three RBI, Andreas Morales drove in a pair with two hits, and Jorge Carrero had
a two-hit, two-RBI performance with the bat. Chamberlain's Daryl Mitchell had a
double in the loss.
Brandon junior BJ Carter
picked an opportune time to toss his best game of the season, in a no-hit
effort with eight strikeouts. Eagles hitters got Carter the runs he'd need
early as a balk and a Jermaine White single gave Brandon a 2-0 lead in the
first. Teddy Flynn was 2-for-3 for Brandon with an RBI as the Eagles had six
hits.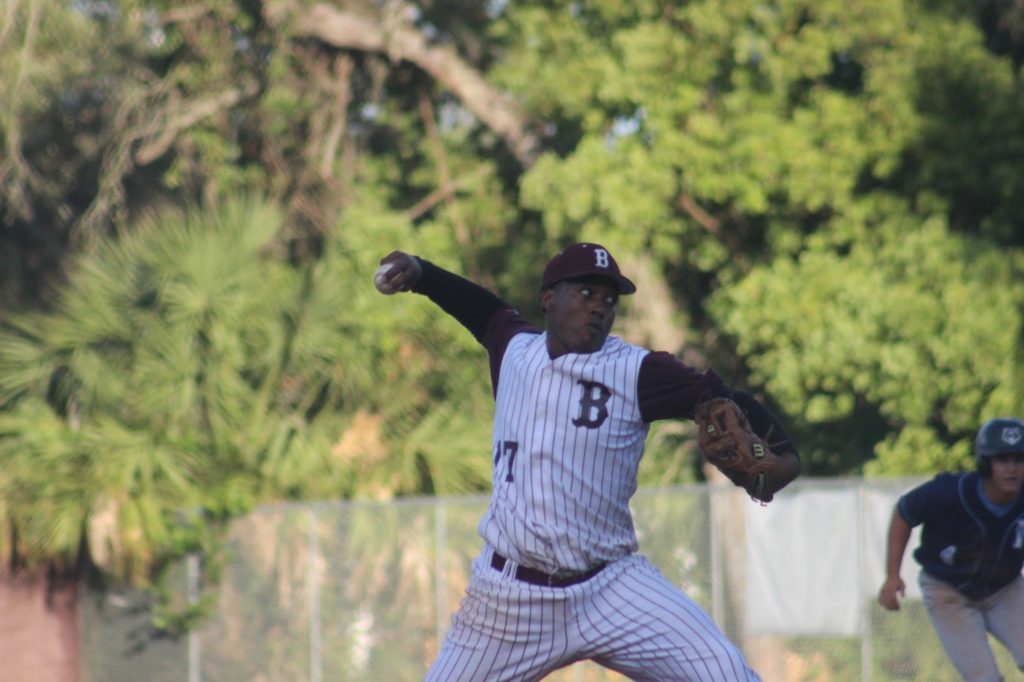 Brandon SP BJ Carter tossed a no-hitter topping Lennard in the district semifinal (file photo).
Braden River 11, Tampa Bay Tech 1
Jesuit 10, Spoto 0 (five innings)
Drew Martin allowed a single
hit over five innings, while striking out nine as top seed Jesuit defeated
Spoto by mercy-rule Tuesday afternoon. Thomas Bencivenga singled in the game's
deciding run in the first, and the Tigers added six in the second highlighted
by a Mitchell Thrower RBI double. Jake Jones and Duncan Hunter also had RBI
doubles in the win.
— Jay Recher (@jayRecher) May 2, 2017
— Jay Recher (@jayRecher) May 2, 2017
Nick Perez had an RBI sac fly
and a run-scoring single to give Jefferson just enough to get by Robinson in
the district semifinal Tuesday. Jake Coleman was 2-for-3 with a double and a
run scored in the Dragons' win. Michael Dominguez earned the win on the mound
tossing 5 1/3 innings and striking out eight, before Robby Martin entered in
relief with the bases loaded and finished out the save. Andrew McMillan scored
Robinson's lone run in the third on a double steal.
— Jay Recher (@jayRecher) May 3, 2017
— Jay Recher (@jayRecher) May 3, 2017
— Jay Recher (@jayRecher) May 3, 2017
* Big thanks to our friend Jay Recher at 620WDAE for his continued efforts of giving prep baseball a voice the WHOLE season, not just for the playoffs. 


Tampa Catholic 10, Brooks DeBartolo 4
A big five-run first keyed by
RBI doubles by Conor Grady and Christian Docobo put Tampa Catholic on the path
to a win against Brooks DeBartolo. Docobo added another double to his two-RBI
game, while Jonathon Rodrigues was 3-for-3 with three runs scored in the win.
Calvin Rucker and Julian Pichardo (two) added RBI to the Crusaders totals.
Berkeley Prep 4, Tampa Prep 3
Berkeley Prep saw a three-run
lead disappear in the sixth, but a Gordon Stetson RBI sac fly pushed the
Buccaneers to a quarterfinal win over Tampa Prep. Carson Weekley was 3-for-4
and Stetson had a home run to center to get Berkeley Prep ahead early. A
two-run double from Aaron Muench and a Charlie Vari RBI groundout even things
for the Terrapins in the top of the sixth, but Khalib Bayona was able to lock
down the seventh inning and make Stetson's sac fly the winner.
Seffner Christian 4, Lakeland Santa Fe 3
Winter Haven All Saints 3, Carrollwood Day 2
* Stats compiled by coaches contact as well as information provided on Twitter, MaxPreps.com and GameChanger. 

* If you like what you have seen from us and are a local business owner, why not click on the "Support Us" button in the top menu to see if you'd be interested in joining the 813Preps team.

* Coaches: If you would like to provide further information after your games please contact editor Jarrett Guthrie via: