Plant senior AJ Hubbard went 2-for-3, with two RBI and scored twice as Plant defeated Steinbrenner to
claim the Class8A-District 5 championship.
TAMPA – Twice Plant took an early lead on Steinbrenner in the Class 8A-District 5 championship and twice with fireworks the Warriors answered.
But the third time – a four-hit, four-run fourth inning – proved too much as the Panthers claimed the district title with a 7-4 win over the Warriors.
Plant (19-5) took control of the tie game with one out in the fourth. The Panthers loaded the bases setting up an RBI sac fly by Brock Fagler. One batter later, Chase Sanguinetti belted a double to the left-center gap to drive in two more, and was immediately cashed in as Mike Pelaez bashed a major league pop fly into the night sky, before above the lights and out of the view of the Warriors left fielder falling for a double and pushing the Plant lead out of reach.
"We all do this for each other, no one is an individual we're all playing for each other," Sanguinetti said after the win, "that makes a big difference."
— Jarrett Guthrie (@JGuthrieTampa) May 4, 2017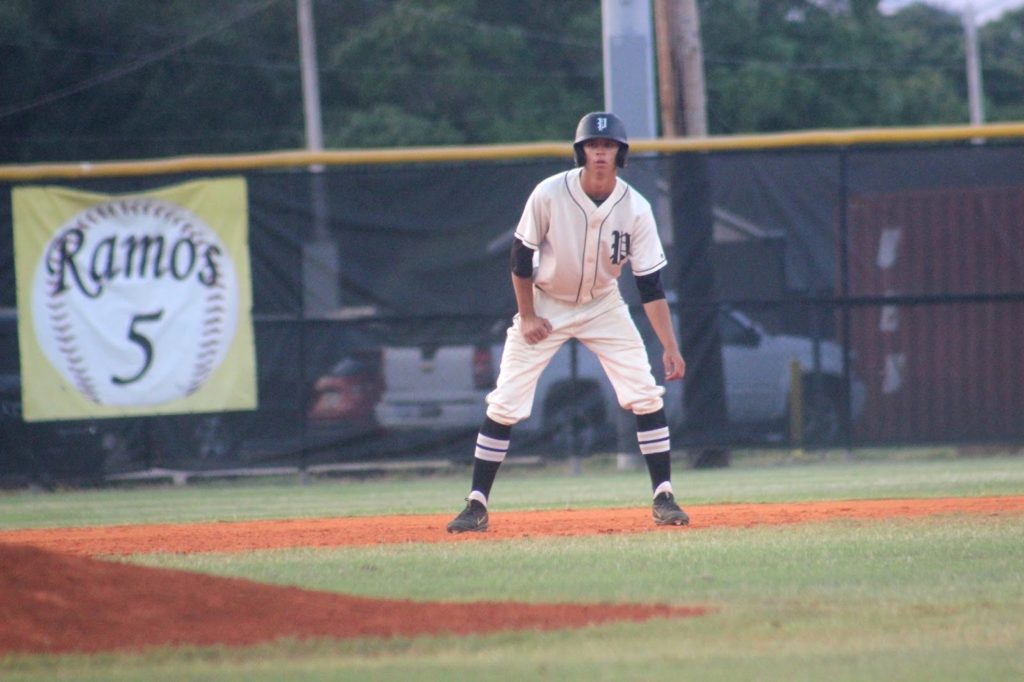 Plant junior Connor Scott off of second in the fourth inning. Scott
had two hits and scored twice in the Panthers win.
From there Connor Scott (2-for-3, two runs scored), who moved from center to the mound in the top half of the fourth inning, cruised through the
Warriors lineup allowing just two hits in 3 2/3 innings of work. Scott, a
junior and University of Florida commit, came into the season as a feared
hitter posting a .311 average as a freshman, and hitting .408 last season. And
although he posted a 4-2 record on the mound as a sophomore, his work this
season has been outstanding, pushing Scott to the top of left-handed arms in the
county. He improves to 5-1 on the year, with a 1.13 ERA after 37
innings. Coupled with his 49 strikeouts in that timeframe, Scott also has
impressive range off the mound, on display Wednesday as he fielded his position for the
first out of the seventh and started a double play coming off the mound to end
the game.
"We play a lot of second baseman up the middle, and we've
talked about not doing that anymore because he's on the mound," Plant coach
Dennis Braun said, a bit tongue-in-cheek. "He's kind of like what (current Baltimore Orioles pitcher
and Plant alum Mychal) Givens was, we had the Givens rules where we didn't charge
bunts and he had the whole field. It's kind of the same thing now we have the
Connor rules."
Plant started things off in the bottom of the first as AJ
Hubbard singled to right to drive in the game's first run. Sanguinetti followed
two batters later with an RBI sac fly.
Steinbrenner (16-9) tied things in the second as Noah Luke
sent a ball over the fence in right-center for a two-run homer.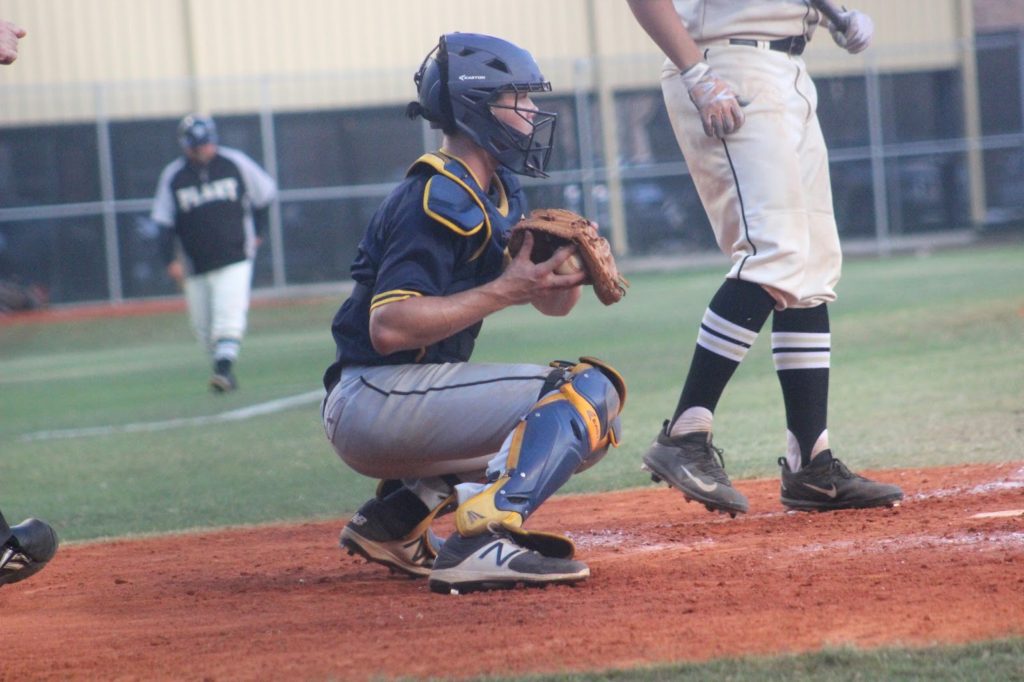 Steinbrenner C Noah Luke was 2-for-3 with a two-run home run for the Warriors.
Hubbard again added an RBI single in the second to tilt
things back in Plant's favor, but the next inning junior and Miami commit
Jordan Lala picked himself out a good one to put out to right for a solo shot of his own.
Fagler, who started on the mound for the Panthers, struck out
six in 3 1/3 innings allowing three earned runs.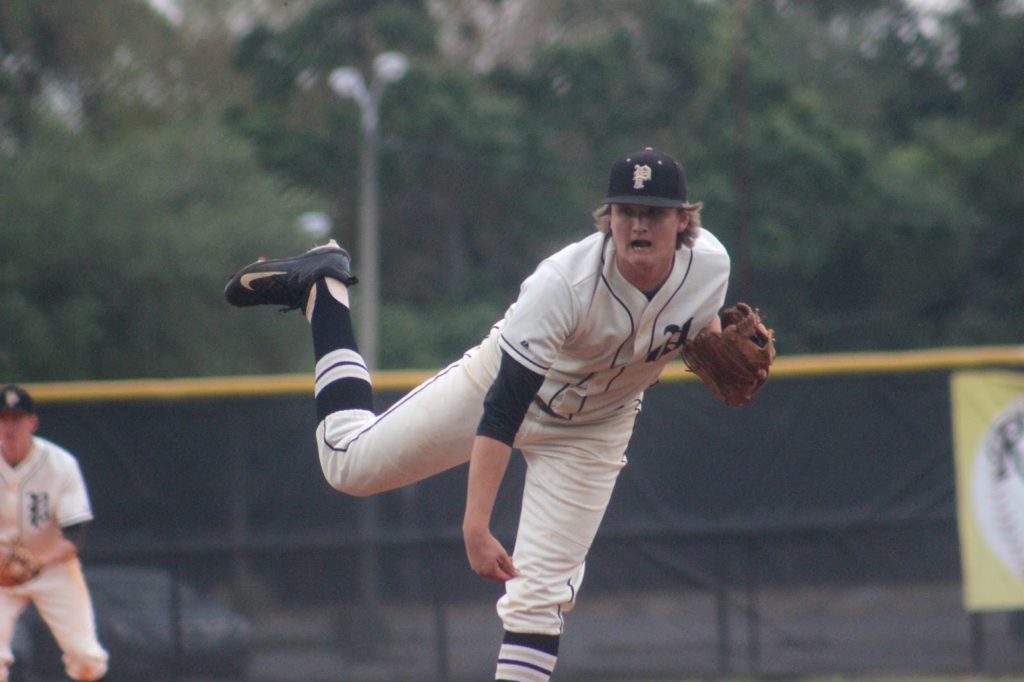 Plant pitcher and third baseman Brock Fagler.
Patrick Morris took the
loss for Steinbrenner allowing six runs, on eight hits with three strikeouts.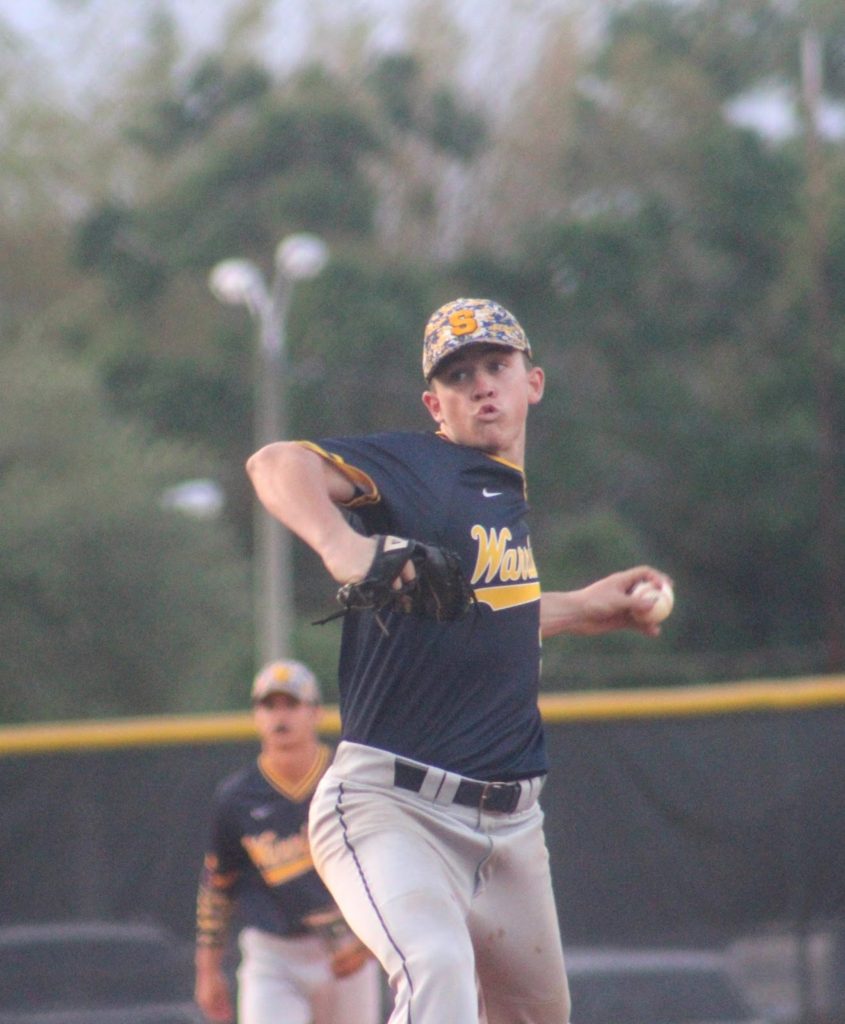 Steinbrenner SP Patrick Morris.
The Panthers got nice defensive showings from second baseman
Michael Haydak and Scott's replacement Carson Richards in center, who chased
down two fly balls on opposite sides of his position in the sixth inning. Matt
Coker had a double in the win for Plant as well.
The title is Plant's first since 2014 and comes after
defeating the reigning Class 8A state champion Warriors.
"Winning a district title game is always difficult any year
and we talked aboutthem having the chance to do that," said Braun, now in his
13th year at Plant. "Not every team has that chance, and I thought
they played well and battled, went back-and-forth, and I thought it was good
character from our guys."
Plant head baseball coach Dennis Braun talks about the Panthers district title win against Steinbrenner on Tuesday.

pic.twitter.com/ZEHIYs0kNz

— Jarrett Guthrie (@JGuthrieTampa) May 4, 2017
Hubbard, a senior, said that the third victory over a
defending champion showed the depth of the talented teams in Hillsborough
County, and added he's excited about where he and his Plant teammates fit into
that group.
"In Hillsborough County, we don't think anybody can out hit us," Hubbard said. "So
we just stay with it, stay true to what we know and what we believe, and nobody
can beat us."
— Jarrett Guthrie (@JGuthrieTampa) May 4, 2017
Plant stays at home next week facing the loser of Friday's
Class 8A-District 6 final between Bloomingdale and Riverview, while
Steinbrenner travels to face that districts champion.
* If you like what you have seen from us and are a local business owner, why not click on the "Support Us" button in the top menu to see if you'd be interested in joining the 813Preps team.
* Coaches: If you would like to provide further information after your games please contact editor Jarrett Guthrie via: 
e-mail – jarrettguthrie@813Preps.com – or – by text – (813) 951-6865.