Class 9A-District
8
Championship
A Jordan Butler 3-run home run over the scoreboard in center
in the fourth gave Alonso all it would need for the come-from-behind victory at
home against Newsome and earn Alonso a third-straight district title. Newsome
had taken a 1-0 lead in the top of the inning as an error allowed Zach Benson
(double) to score. The Ravens got another run later as Ryan Drumheller singled
and eventually scored on a wild pitch. Butler finished the game 3-for-3, and
Jared DeSantolo had two hits including a double. Franco Aleman worked a
complete-game on the mound for the Ravens, allowing just four hits, a walk and
striking out four. Next Tuesday, Alonso will host Port St. Lucie Treasure coast, while Newsome travels to Vero Beach for the region quarterfinals.
— Jarrett Guthrie (@JGuthrieTampa) May 5, 2017
*Special thanks to Alonso assistant coach Pete Toledo for sharing this video and photo with us. 


Class 8A-District
4
Championship
Wharton 11, Freedom 1
(5 innings)
Wharton senior pitcher Aaron Cohn, a Fairleigh Dickinson
signee, worked a five-inning win on the mound allowing just one hit and struck
out six. The Wildcats got clutch RBI hitting from Zach Sirois (two doubles, two
RBI), Brian Baughman (single, two RBI) and Ricky Nieves, while senior Drew
Ehrhard had a single, a pair of walks and scored three times.
— Wharton Baseball (@Whartonbaseball) May 5, 2017
— Alan Cohn (@AlanMCohn) May 5, 2017
Class 7A-District
9
Championship
Braden River 4,
Brandon 2
Brandon got ahead early but couldn't hold on falling in the
district final to Braden River. Gabriel Rosado and Zach Pommier had RBI singles
in successive innings, but Braden River battled back for the win.
— BHS Eagles Baseball (@BHSEaglesBB) May 4, 2017
Class 6A-District
8
Championship
Jesuit 10, Jefferson
0 (6 innings)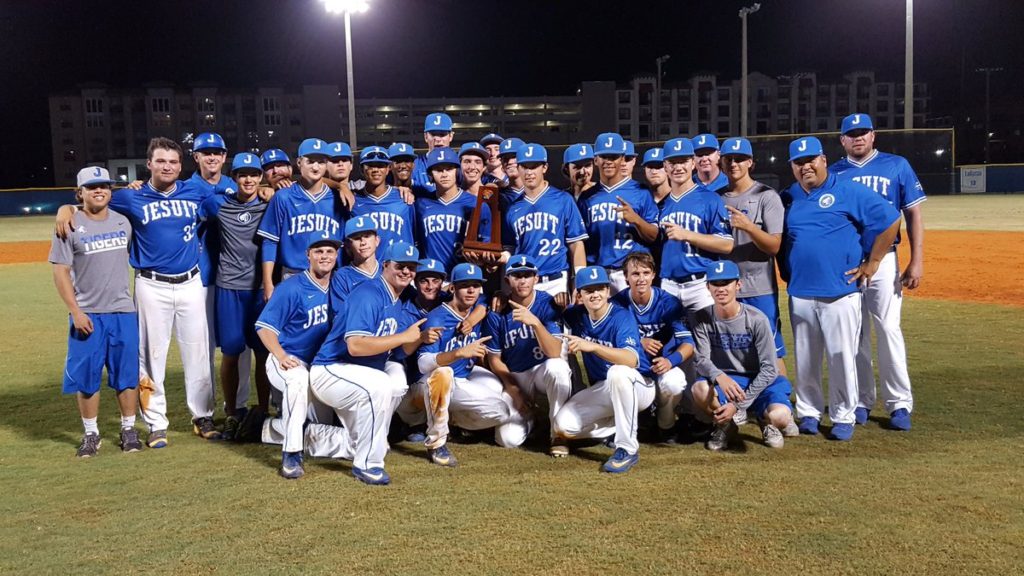 Jesuit Baseball 2017 Class 6A-District 8 champions.
(Photo courtesy of Jesuit High School)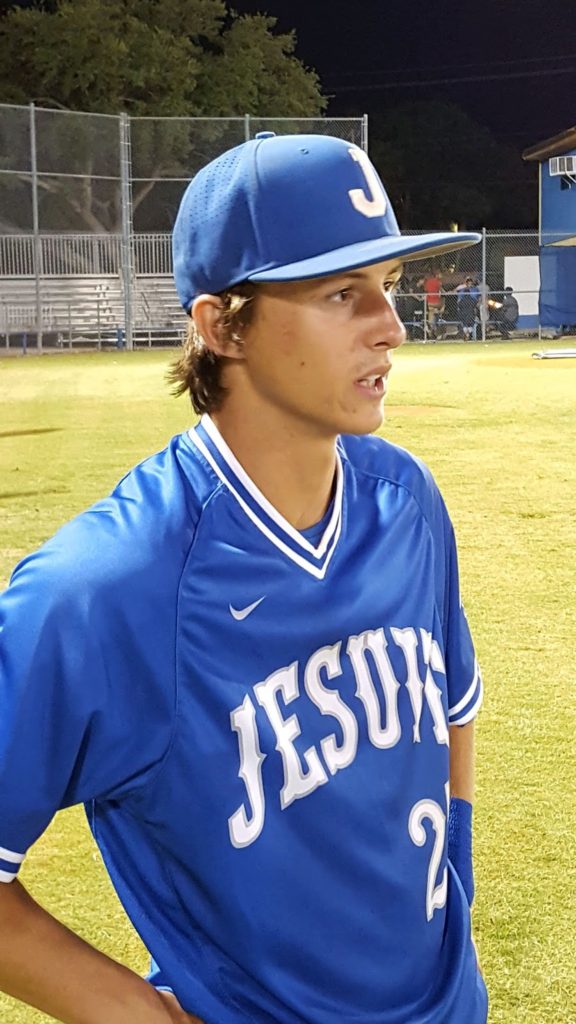 Jesuit's McGuire Weaver
(photo courtesy of
Jesuit High School)








Jesuit junior and Florida State commit McGuire Weaver had a
championship-level game at the plate going 4-for-4, with a two-run homer to
center in the first, an RBI double in the third, a run-scoring single in the
fourth, and the walk-off RBI single to key the mercy-rule victory as the Tigers
claimed a 6th-straight district title defeating Jefferson. Joel Brewer had
three hits including a pair of doubles, two RBI and scored three times in the
win. Senior Alex Mocney went 3-for-3, with a double and two runs scored, while
Charles Clark doubled, singled, scored twice and drove in a run. FSU commit,
junior RHP Jack Anderson worked four scoreless innings, striking out six to
earn the win, while senior and Cornell signee Price Sartor worked the final two
scoreless frames, each allowing just one hit.
Class 4A-District
4
Semifinals
Clearwater Central
Catholic 3, Berkeley Prep 2
Berkeley Prep season came to a close as CCC won on a bases
loaded, hit-by-pitch in the seventh inning. In the second inning, Khalib Bayona
and Jacob Hines singled, before Michael Hill's single to center plated the
first run. A Tucker Fine single in the fourth plated Hines (2-for-3). CCC got
one back in the bottom of the fourth on a solo home run by Michael Bessell, and
tied the game in the sixth as Bessell scored on an error. Carson Weekley and
Gordon Stetson each had two hits for the Buccaneers, and Julian Bosnic struck
out 11 hitters in six innings of work in a no-decision.
Calvary Christian 1,
Tampa Catholic 0
In a tough challenge against still undefeated Calvary Christian
(25-0), Tampa Catholic senior and FSU signee Conor Grady put up a tremendous
fight working 6.2 scoreless innings, allowing just three hits and striking out
eight. However, the Warriors starting pitcher Nolan Hudi was not to be denied,
tossing a one-hit (a single by Grady) complete game striking out a dozen and
coming through with a walk-off single in the bottom of the seventh to give
Calvary the win.
Class 3A-District
4
Semifinals
Cambridge Christian
8, Winter Haven All Saints 2
Cambridge Christian (22-5) got a complete-game win from Alex
Smith, and Caleb Faris supported Smith's efforts with a double, a single and
four RBI. Austin Carter added a pair of hits and two RBI in the win. The
Lancers also got doubles from Tilden Agee and Sevas Cardona in the win.
Bishop McLaughlin 14,
Seffner Christian 2
— SCA Baseball (@SadersBaseball) May 4, 2017
Class 2A-District 5
Semifinal


Keswick Christian 6, Bayshore Christian 5


* Stats compiled by coaches contact as well as information provided on Twitter, MaxPreps.com and GameChanger. 

* Coaches: If you would like to provide further information after your games please contact editor Jarrett Guthrie via: 
e-mail – jarrettguthrie@813Preps.com – or – by text – (813) 951-6865. 


Friday's District Final Schedule
Class 8A-District
6
At Bloomingdale
Bloomingdale vs. Riverview, 7 p.m.
Class 7A-District
8
At King
King vs. Hillsborough, 7:30 p.m.
Class 3A-District
4
 At Winter Haven All Saints
Cambridge Christian vs. Bishop McLaughlin, 7 p.m.