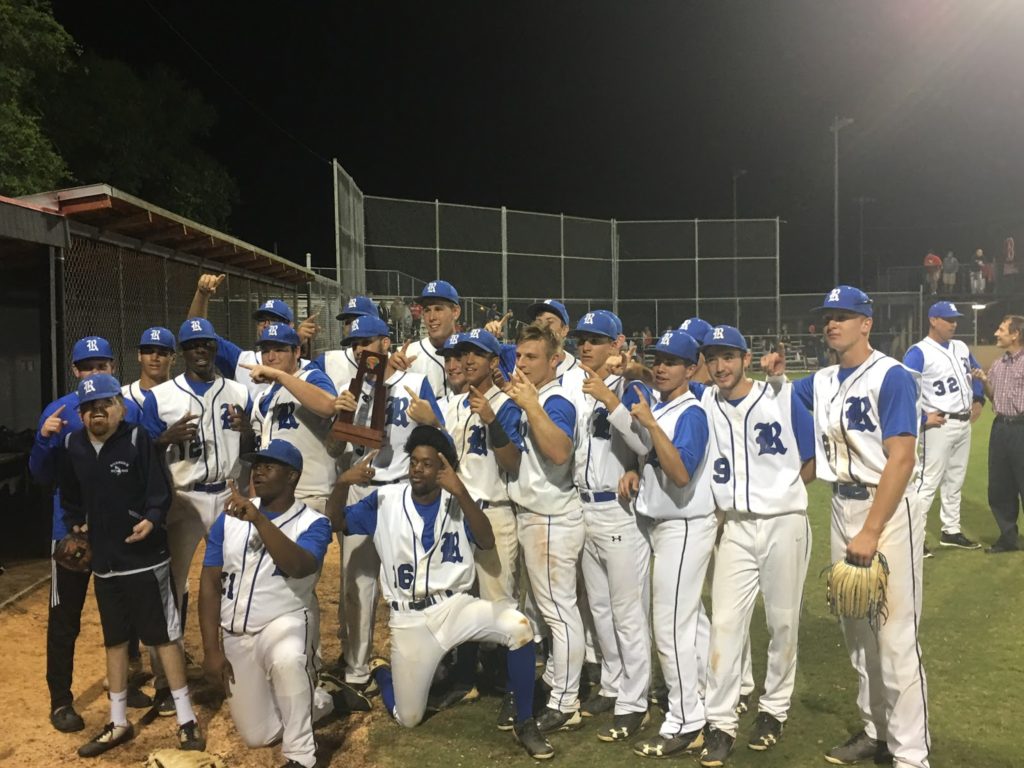 The 2017 Class 8A-District 6 Champion Riverview Sharks
VALRICO – Riverview sophomore Dillon Besnier said he felt the off-and-on rain again picking back up as he walked to the plate in the fifth inning of Friday's Class 8A-District 6 championship was a sign.
"I stepped up to the plate and it started raining and I kind of saw it as a sign that maybe this is my time to shine, my time to do
something good," Besnier said. "My mom passed away last summer, and I felt like that rain was a sign of her telling me that I had to go up there and do something."
Besnier, whose mother Tonya Boyt passed away in a carbon monoxide accident, said he watched a first-pitch fastball tail just outside and when he spotted another fastball, he pounced putting a shot through the five-six hole and plating what would be the deciding run as Riverview defeated Bloomingdale 4-3 for the district crown.
— Jarrett Guthrie (@JGuthrieTampa) May 6, 2017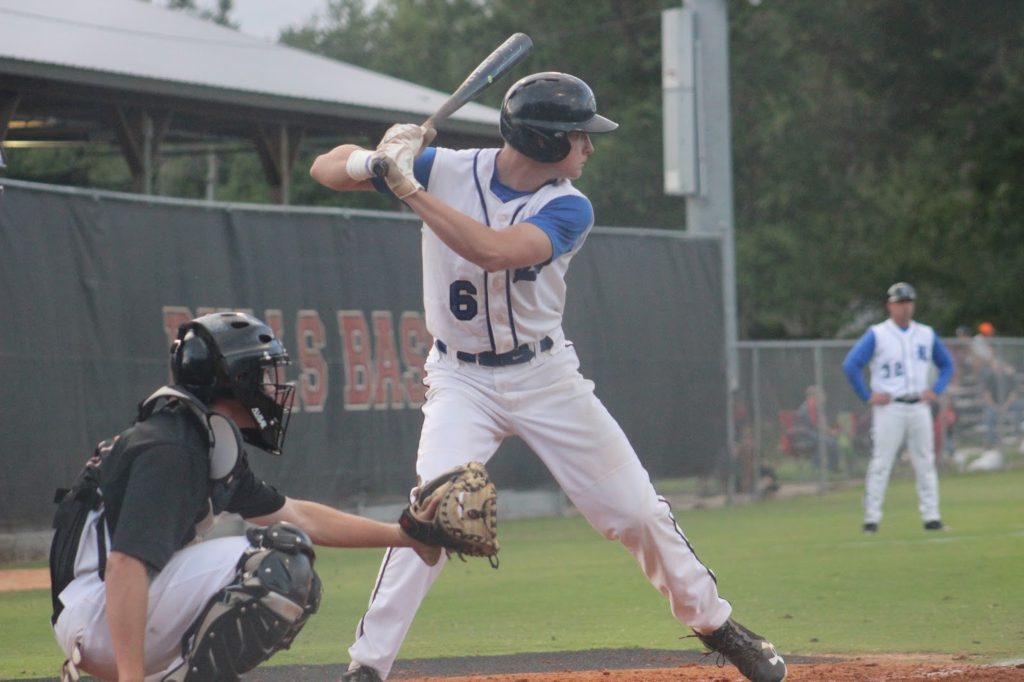 Sophomore Dillon Besnier gave the Sharks the deciding run with an RBI single in the fifth inning, as
Riverview defeated Bloomingdale 4-3, to claim the Class 8A-District 6 championship.
Riverview (20-6) also got a solid relief outing from senior Manny Martinez, who entered with runners on the corners in the fifth and immediately saw a sac bunt tie the game, but worked out of any further damage and tossed two more scoreless innings to earn the win.
— Jarrett Guthrie (@JGuthrieTampa) May 6, 2017
Riverview jumped out to a solid early lead as Tyler Salomon doubled to leadoff the bottom of the first, followed by a Javier Rosario
single, and an RBI single by University of Tampa signee Freddy Tarnok to center plated the first run. The Sharks added two more
as Justin Farmer doubled to left.
— Jarrett Guthrie (@JGuthrieTampa) May 6, 2017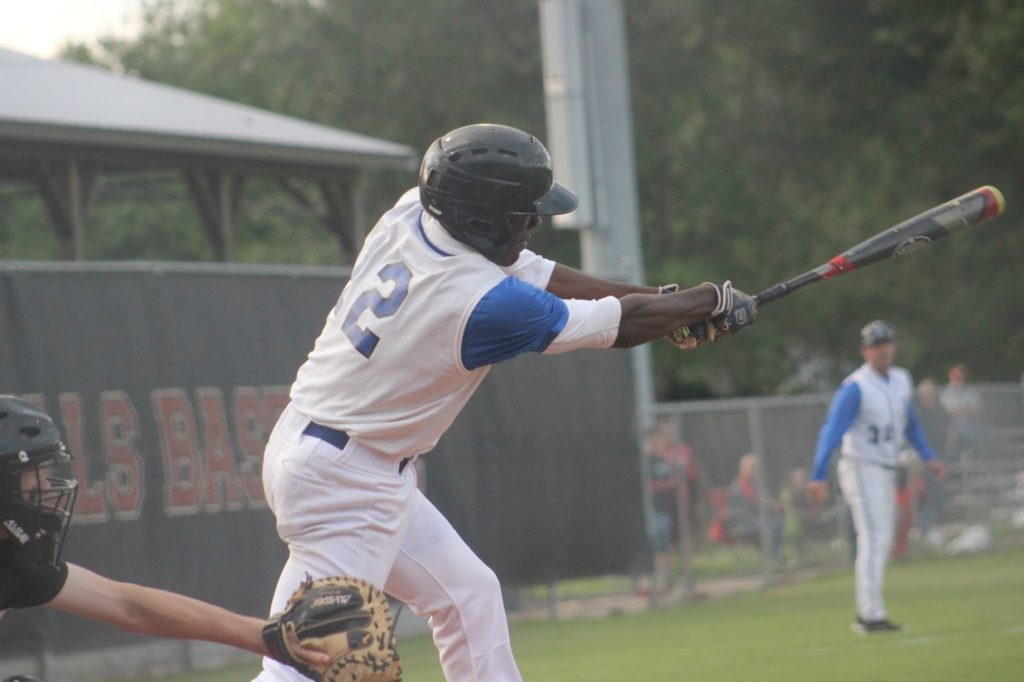 Riverview CF and Florida signee Justin Farmer.
"(Bloomingdale) has really been hitting the ball as of late and we knew that coming in," Riverview coach Bill Leiby said. "We knew this was going to be a good game."
"You almost hate to jump out to that big lead then try and sit on it, so we were a little nervous."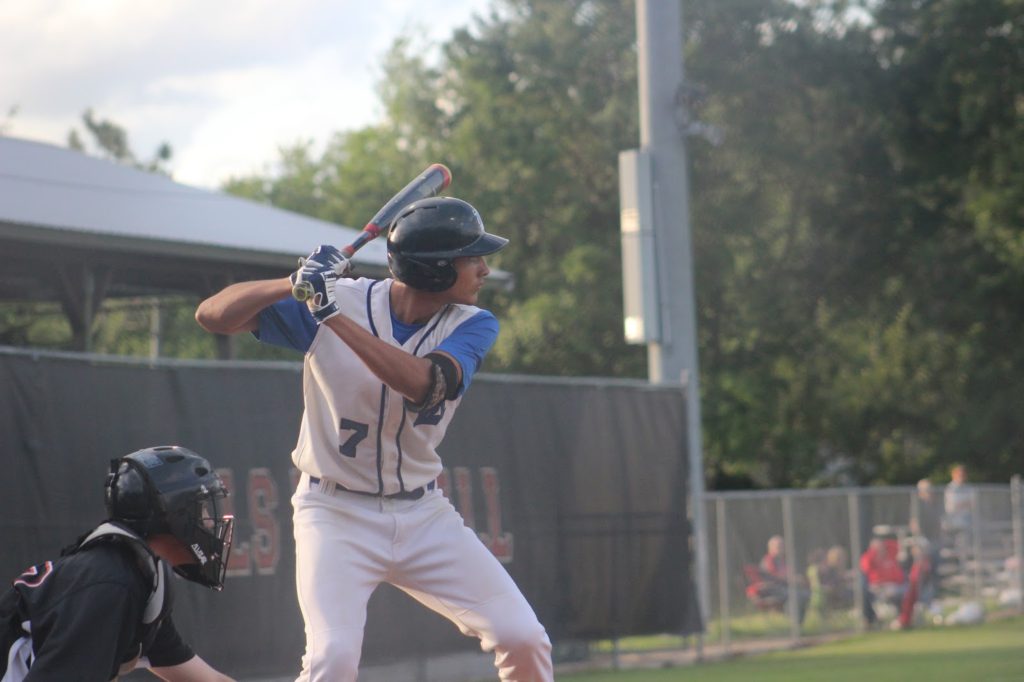 Riverview SS and University of Tampa signee Freddy Tarnok.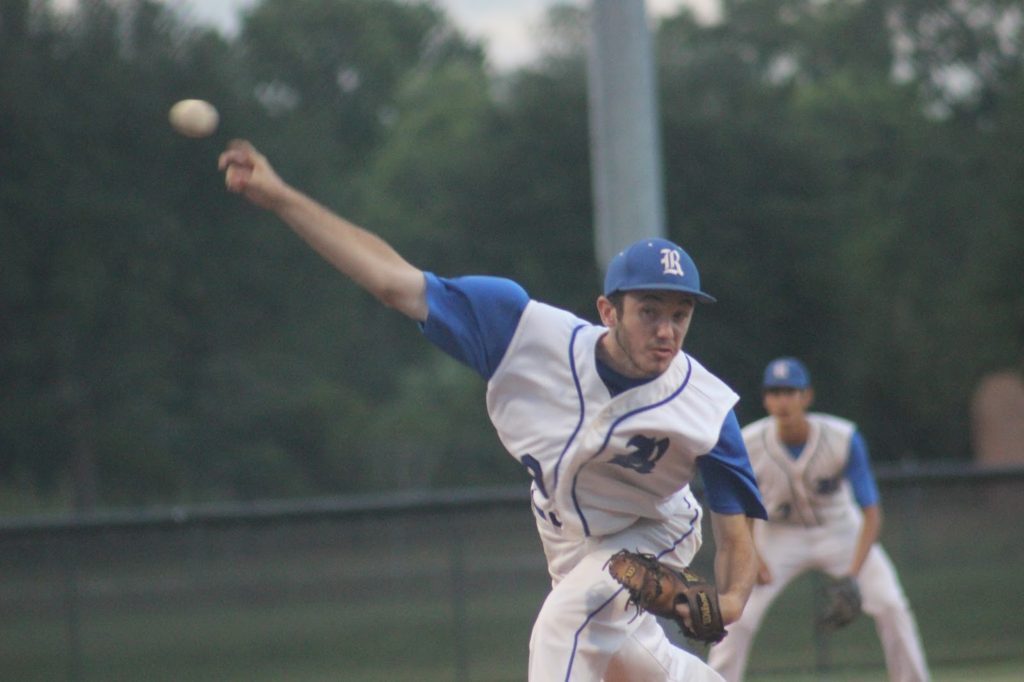 Riverview SP Matthew Yates.
Sharks starting pitcher Matthew Yates worked out of a couple
of jams in the first three innings, but Bloomingdale's offense finally got to the senior in the fourth with four hits, as Jett Davis and Jackson Hobbs got singles to start the frame, followed eventually by a two-out, RBI, pinch-hit double by Sam Gonzalez and a Nate Chevalier RBI single.
Bloomingdale tried to stretch the Chevalier single for more by attempting to score a second run, but right fielder Tyler Roschfska threw a laser to the plate where catcher Josh Rulli applied the tag to a leaping runner.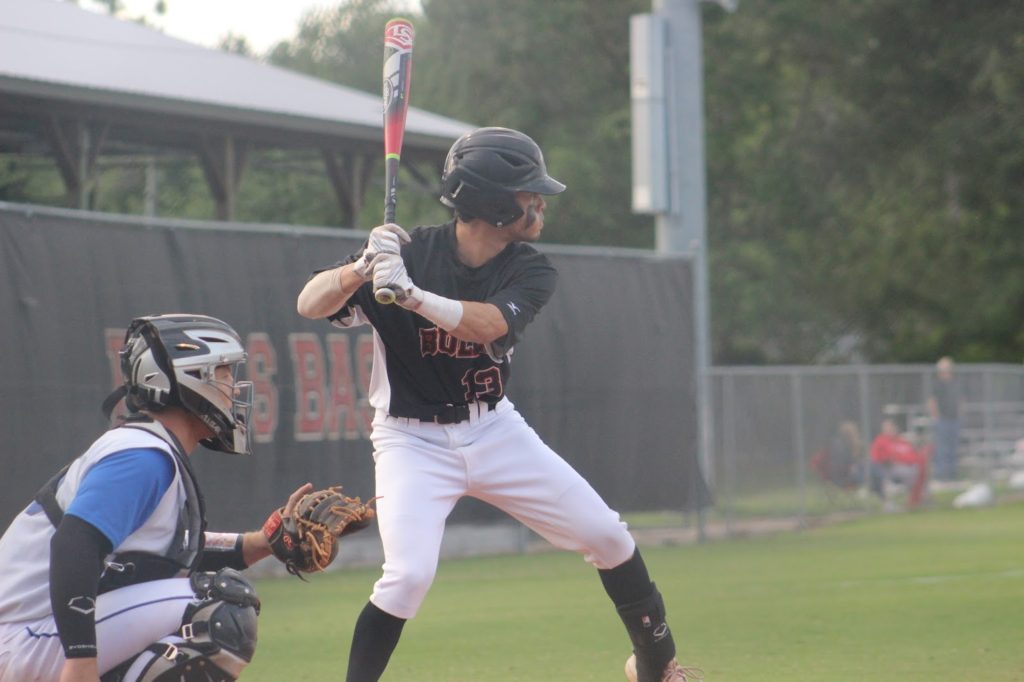 Bloomingdale CF and leadoff Nate Chevalier.
Chevalier made perhaps the best defensive play of the night pulling back in a would-be Garrett Thompson homer in the first inning to dead center for an out.
Bloomingdale (14-11) got two, one-out singles from Cody Wilson (3-for-4) and Brock Wilken (2-for-4) off of Yates in the fifth, before Martinez was called on in relief. The Bulls tied the game at three apiece as Jett Davis put down a solid suicide squeeze that scored the run, but the bunt was
fielded nicely by Martinez, who threw to first for the out.
"I just knew I had to get us out of the inning, because I knew my team was going to get us another run," Martinez said.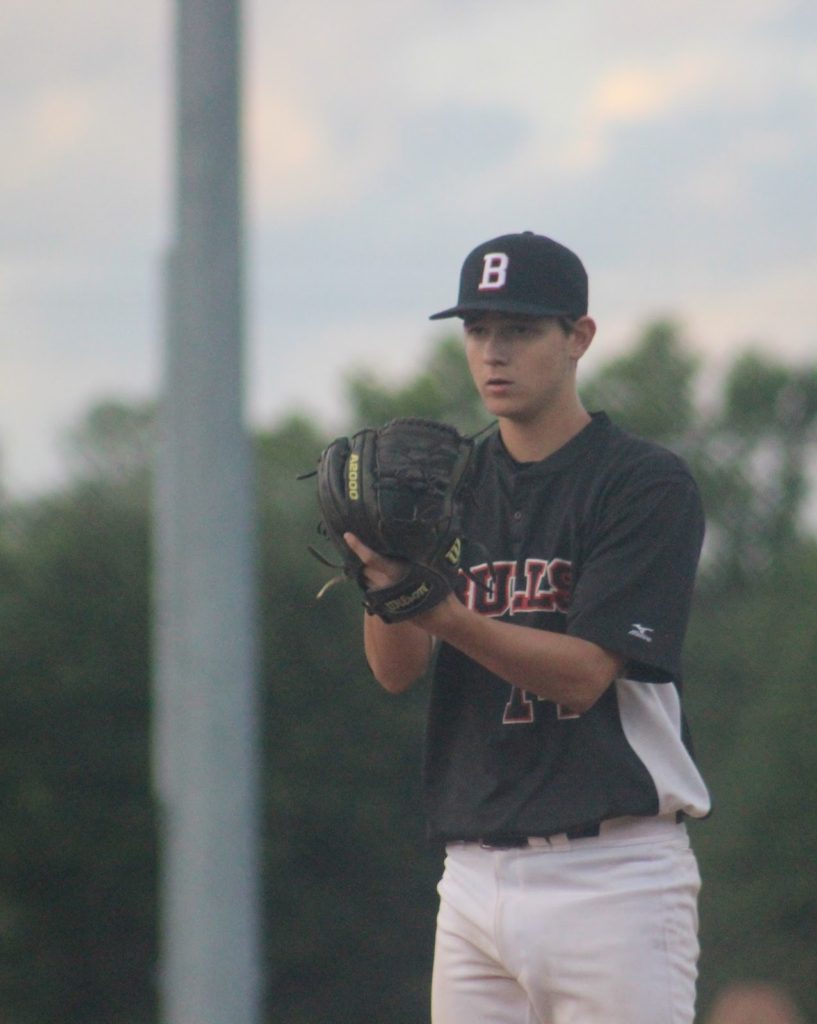 Bloomingdale RHP Jesse Hunter.
The Bulls got four steady innings of relief from Jesse Hunter, who struck out four after entering in the second.
But eventually Besnier came through off of Hunter in the bottom of the fifth, before Martinez finished things allowing a walk and a hit, but no further damage, while striking out three.
"(Manny) has been huge for us," Leiby said. "He's a
different kid when he comes on in relief, I think he's actually better in
relief."
The win marks Riverview's first district title since
2012.
— Jarrett Guthrie (@JGuthrieTampa) May 6, 2017
Bloomingdale will travel to Plant next Tuesday (May 9) for
the 8A Region Quarterfinals, will Riverview will host Steinbrenner, both games
will be at 7 p.m.
* If you like what you have seen from us and are a local business owner, why not click on the "Support Us" button in the top menu to see if you'd be interested in joining the 813Preps team.

* All photos taken by Jarrett Guthrie (unless otherwise noted) and copyright remains with 813Preps.com.