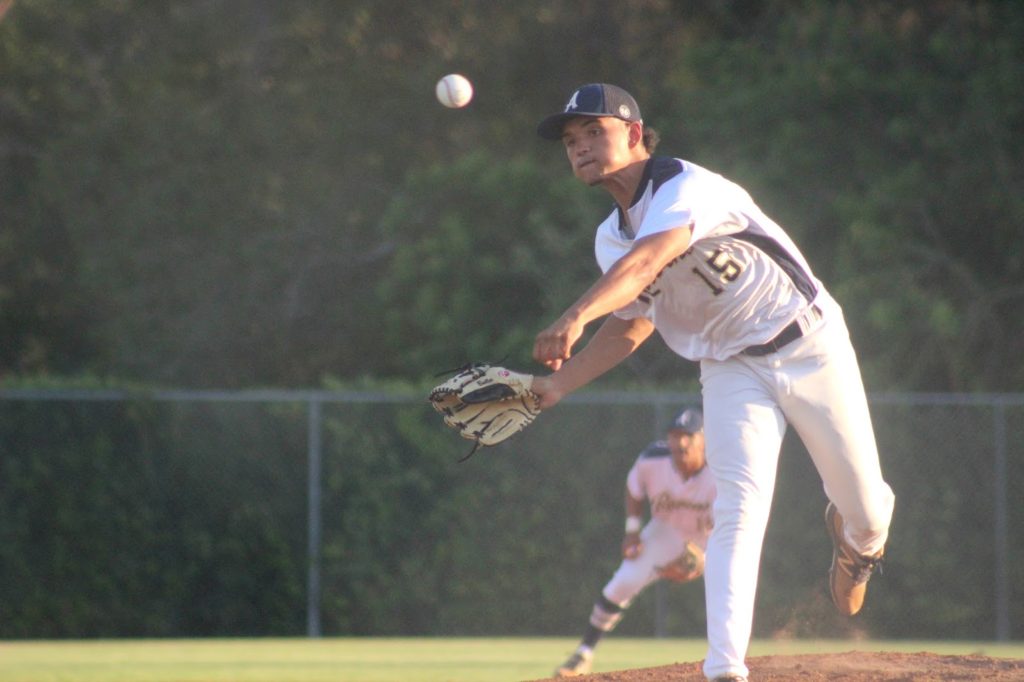 Alonso ace Jordan Butler allowed just one hit to Treasure Coast, facing the minimum as the Ravens
won 10-0 in six innings in Tuesday's Class 9A region quarterfinal.
TAMPA – Alonso senior Jordan Butler at times made Port St. Lucie Treasure Coast hitters look uncomfortable at the plate – and those were the good at-bats against the Ravens lefty.
Butler cruised through 3 2/3 innings before Titans' hitter
Terrence Williams drove a single down the third base line in the fourth.
However, Williams was quickly erased trying to take second base a few pitches
later as Butler cruised through six innings, facing the minimum and striking out
nine.
The Ravens bats showed up with a ton of support for him on
the mound crushing 14 hits, including a six-run sixth inning to end things
early via mercy-rule 10-0, in Class 9A region quarterfinal win.
Butler struck out the side in the top of the first and the
Ravens offense responded early.
"I feel like if I set the tone in the first inning my team
will just feed off that," Butler said. "Then we just keep going like we did
tonight."
— Jarrett Guthrie (@JGuthrieTampa) May 10, 2017
The Ravens got on the board with a run in the first on a
sloppy play in the outfield, which allowed Nick Gonzalez to score from third.
Two innings later, Gonzalez pushed things out of reach, belting a home
run into the woods in left field.
"As soon as I hit it I didn't know that it was gone,"
Gonzalez said. "Last week I hit one that I thought was gone … and he caught it
at the fence."
— Jarrett Guthrie (@JGuthrieTampa) May 10, 2017
"I'm just happy I got a good pitch and just drove it."
Gonzalez finished 3-for-4 in the win scoring three times in
the win. Sophomore Conor McNair also added some fireworks to the win with
two-run homer of his own to left in the sixth inning.
Senior and Florida Atlantic signee Jared DeSantolo chipped
in a two-run double in the sixth, part of his three-hit effort.
— Jarrett Guthrie (@JGuthrieTampa) May 10, 2017
Ryan Drumheller followed DeSantolo's double with a walk-off
hit to center to end the game early.
Ryan Drumheller ends the game in the bottom 6th with an RBI walk off hit. Alonso tops Treasure Coast 10-0

pic.twitter.com/7uVKsiXO9b

— Jarrett Guthrie (@JGuthrieTampa) May 10, 2017
"I was seeing the ball well, got one and put it back up the
middle," DeSantolo said. "I got (myself) in position for Ryan Drumheller to get
me in on a walk off, and he did it."
"That's what we like."
— Jarrett Guthrie (@JGuthrieTampa) May 10, 2017
Alonso will host Vero Beach, winners 2-1 against Newsome in the region semifinals, next Tuesday (May 16) at 7 p.m.
* If you like what you have seen from us and are a local business owner, why not click on the "Support Us" button in the top menu to see if you'd be interested in joining the 813Preps team.