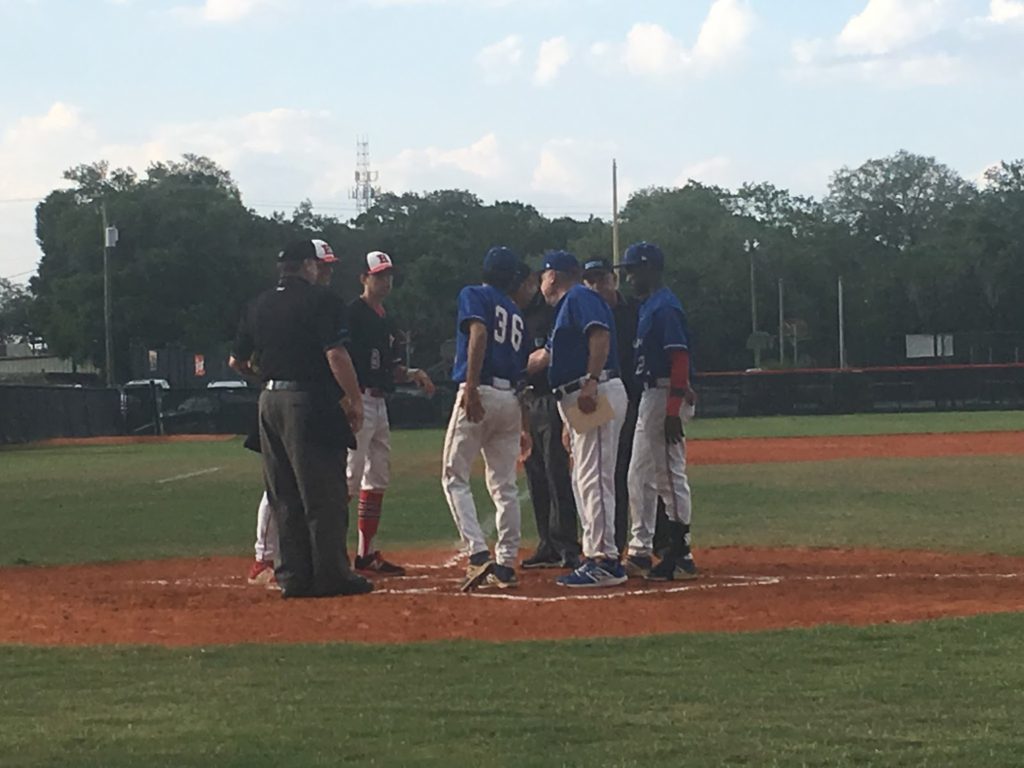 9A: Alonso 1, Vero
Beach 0 (eight innings)
Alonso finally found a breakthrough run in the bottom of the
eighth as Jordan Butler singled in the walk-off winner earning the Ravens a
spot in the 9A region final. The senior and Florida signee pitched seven
shutout innings allowing just two hits, two walks and striking out nine in a
no-decision, before Franco Aleman came on in relief to toss a scoreless eighth
inning and get the win. Alonso will host Timber Creek in the region final, next
Tuesday at 7 p.m.
8A: Wharton 6, Ocala
Forest 5
— Alan Cohn (@AlanMCohn) May 17, 2017
Falling behind 3-0 early, Wharton clawed back to hold a 5-3
lead as the seventh inning began only to see Ocala Forest tie things up in the
top half. The game looked headed to extra-innings as Duncan Pastore found
himself down to a 0-2 count, with two outs. But the junior took control of a
pitch that caught a little too much of the plate and belted a double off the
fence, setting up Ricky Viloria to play hero with a shot to right to drive in
the game winner. Aaron Cohn earned the win holding things down in relief with
four strikeouts to earn the win.
8A: Steinbrenner 3, Plant
2 (nine innings)
Tyler Lala started things off for the Warriors with a
solo-shot home run, and the Warriors got some late luck in the ninth as Lala
got a one-out base hit, moved to second on a bounce out, third on a CJ Van Eyk single,
and scored as a Cam Coakley hit found earth lost in the nights sky for a RBI
single in the book. Plant's runs came courtesy of the bat of John Shields, who belted his fourth home run of the season and second against Steinbrenner, to plate a pair of runs. The Warriors hung on from there getting out of a bases
loaded jam in the bottom half with a double-play ball to beat Plant for the
first time in four tries this season.
7A: King 4,
Hillsborough 2
6A: Jesuit 1, Jefferson
0
— Jesuit Tampa (@JesuitTampaFL) May 17, 2017
A pair of pitching gems as Jesuit just squeaked by Jefferson
in the Class 6A region semifinal. The Dragons got an excellent start from
Michael Dominguez, who went six innings allowing just one run, scattering six
hits and striking out five. For the Tigers, Jack Anderson did what has become
his trademark of coming through in the big games, working 6 2/3 innings of
shutout baseball, allowing just three hits and striking out six to earn the
win. In seven playoff appearances, Anderson is now 6-1 over 39 2/3 innings,
with 35 strikeouts, 21 hits, 11 walks and four earned runs allowed, which is an ERA
and WHIP each under 1.00 (stats from Jesuit media relations director Pete
Young. Thanks Pete!). Senior Thomas Bencivenga came through in the sixth inning
singling in Joel Brewer (3-for-3) for the deciding run. Jeff Hakanson closed the game out with a strikeout to earn the save.
— Jesuit Tampa (@JesuitTampaFL) May 17, 2017
3A: Bishop McLaughlin
3, Cambridge Christian 2
For the 2nd time in 3 years we are headed to the State Final 4! Great job to all involved in our program.

pic.twitter.com/vDxmVQODKQ

— BMCHS Baseball (@HurricaneBaseB) May 17, 2017
A tight game went the way of Bishop McLaughlin as the
Hurricanes claimed the region title and advance to the state final four in a
win over the Lancers. Cambridge Christian finishes the year 23-7, as Austin Hessinger
went 2-for-4 with a stolen base, Caleb Faris hit a double in the loss. The win
marks the second trip to the state final four for Bishop McLaughlin in the last
three seasons. Lancers coach Stephen Piercefield said the Hurricanes played a
tremendous game in a text to us after the loss adding: "Huge congratulations to
Coach Jeff Swymer and Bishop McLaughlin on their great season and moving on to
the final four."
We echo those sentiments. Good luck to the Hurricanes in
Fort Myers!
* Stats compiled by coaches contact as well as information provided on Twitter, MaxPreps.com and GameChanger. 
* Coaches: If you would like to provide further information after your games please contact editor Jarrett Guthrie via: 
e-mail – jarrettguthrie@813Preps.com – or – by text – (813) 951-6865.