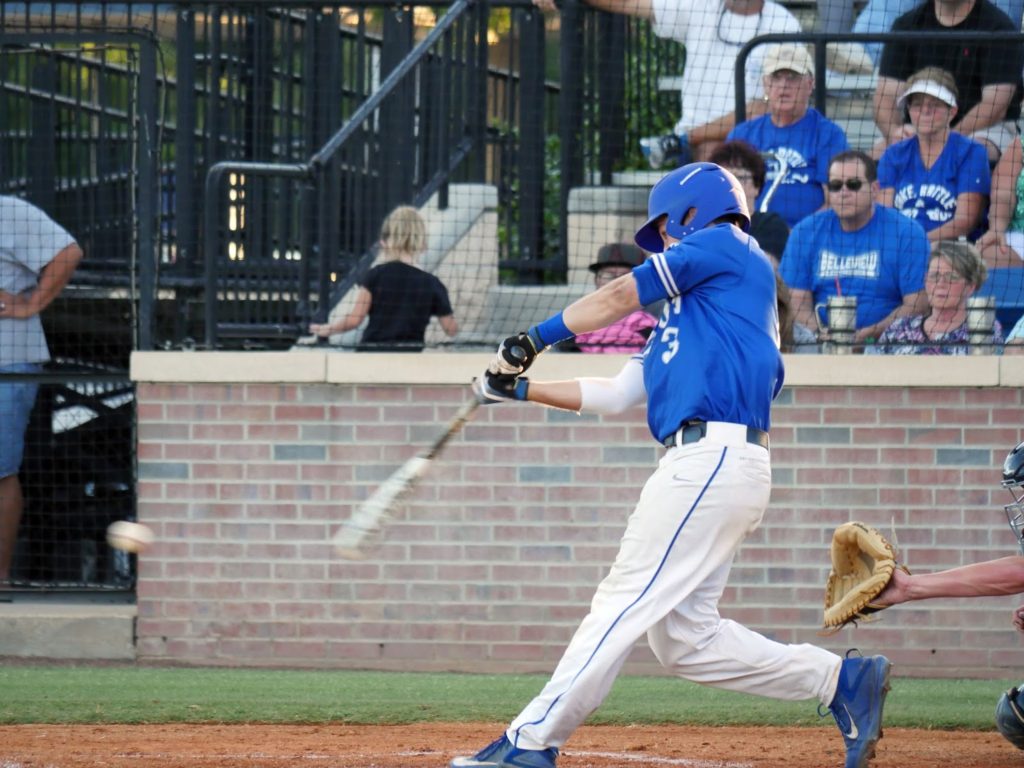 Senior Mitchell Thrower had a pair of hits in Jesuit's 9-4 region final win against Belleview, including
a two-run double in the first that proved to be the game winner.
(Photo courtesy of Jesuit High School)
TAMPA – Any coach who has spent any length of time on the
field will have a stockpile of second guess scenarios at the ready, but that
same coach will also have a wealth of stories about a gut feeling baring fruit.
With a number of talented players to pick from at designated
hitter, Jesuit's Mitchell Thrower had been on the bench the previous three
games dating back to the Tigers district semifinal game. But Friday night in
the Class 6A region final, Tigers coach Miguel Menendez said he had a gut
feeling about his senior.
That feeling paid off as Thrower's two-RBI, line drive
double to right capped a big five-run first inning for Jesuit and keyed a 9-4
win over Belleview, Friday night.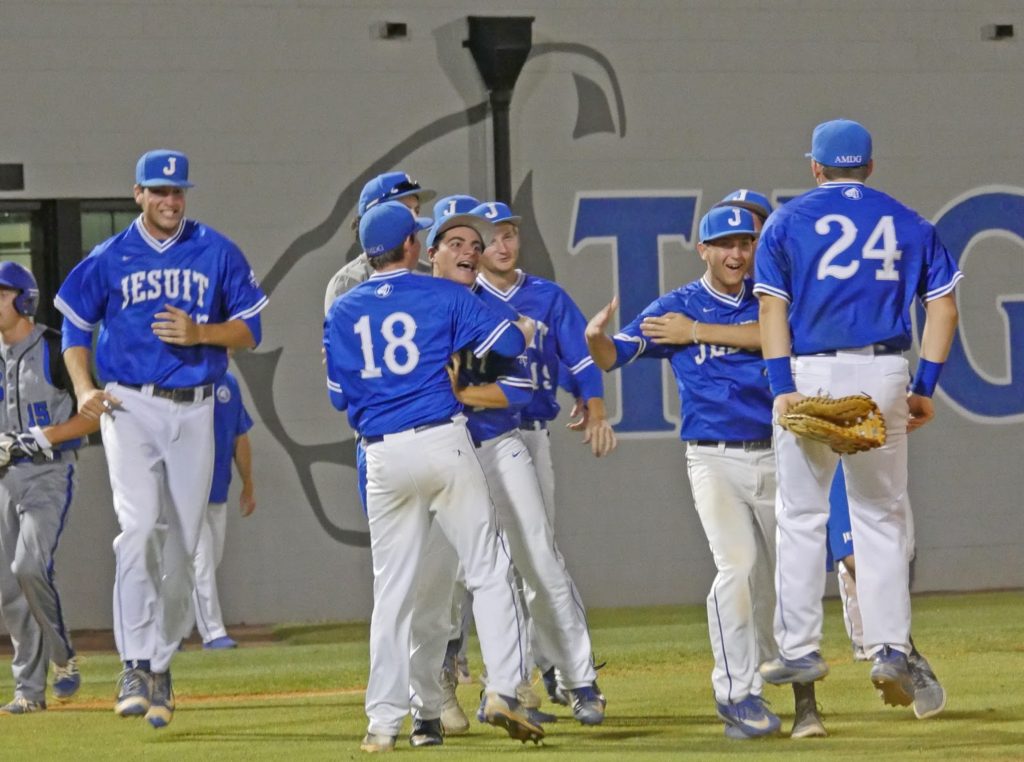 Jesuit players celebrate after the Tigers clinched a Classs 6A final four berth with a region final win over Belleview.
(Photo courtesy of Jesuit High School)
"Mitchell with that big hit right there was so timely for a
guy who hadn't been in the lineup the last couple of games," Menendez said. "I
just had a hunch and he made me look like a genius, and any time you get a
five-spot in the first is huge for your team and your pitchers."
Thrower talked after the win about how important it was to
jump out quickly and take the pressure off of the Tigers pitchers.
"It was huge … we came out and jumped on them and got going real
quick," Thrower said. "It really helped our pitchers – relaxed them – the rest
of the way."
Menendez said coming in he knew Belleview was going to bring
left-handed pitcher Gage Warren at the Tigers, so the coach brought in one of
his former University of Tampa teammates, Erik Mirza to throw batting practice
this week – including an afternoon session on Friday.
"We knew we were going to see the lefty, so I had a friend I
played with in college come out and throw BP to the guys this week, he actually
came to throw some today," Menendez said. "The hope was to get to (Belleview's
pitcher) early."
The game plan worked rapidly and efficiently as Joel Brewer
walked to start the game, before McGuire Weaver tripled in the first run,
followed by a Jake Jones RBI single and a walk to Thomas Bencivenga, which
chased Warren from the mound before he recorded an out. An RBI double by Mocny
and Thrower's two-run hit did all the damage Jesuit would need from there.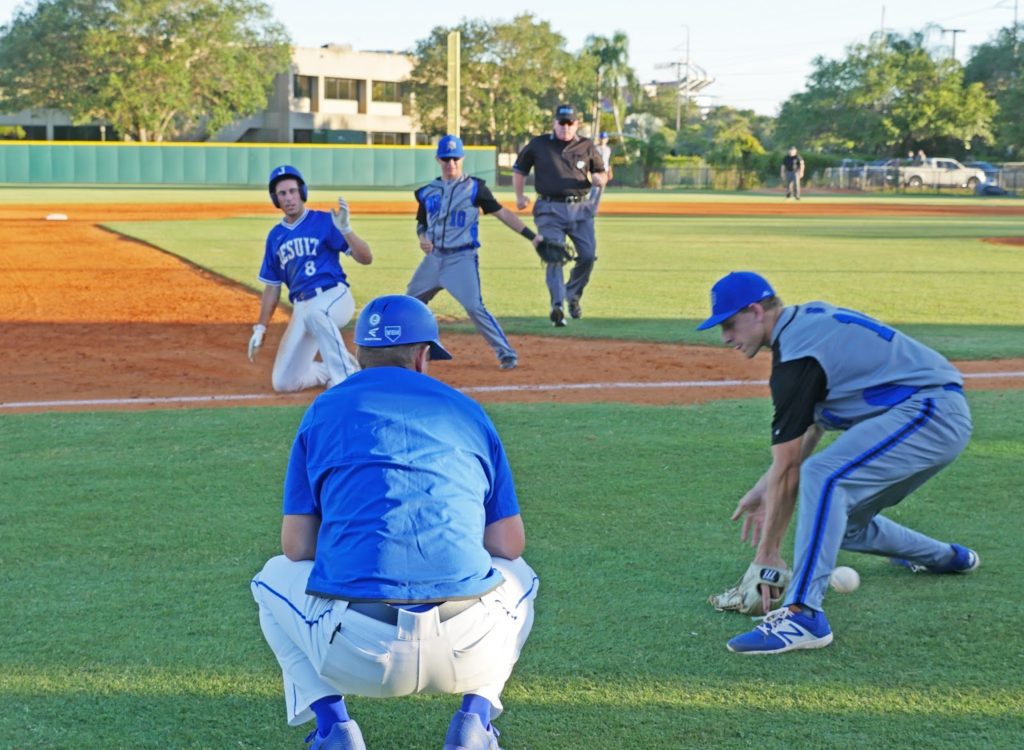 Brewer slides in for a triple as the ball
gets away from Belleview and allows him
to score in the second inning.
(photo courtesyJesuit High School)
Jesuit (24-6) kept applying the heat though, as Brewer led
off the second inning hustling his way around the bases for a triple and was
awarded home after an errant relay throw went into the third base dugout.
Duncan Hunter would add to the Tigers lead with an RBI single in the frame as
well.
Brewer hit a two-out double in the third and Weaver singled
him in during the third inning for some insurance.
"It was very crucial to get those first runs and bring the
other teams momentum down," Weaver said. "But you also have to keep the
pressure up and keep things going your way from there."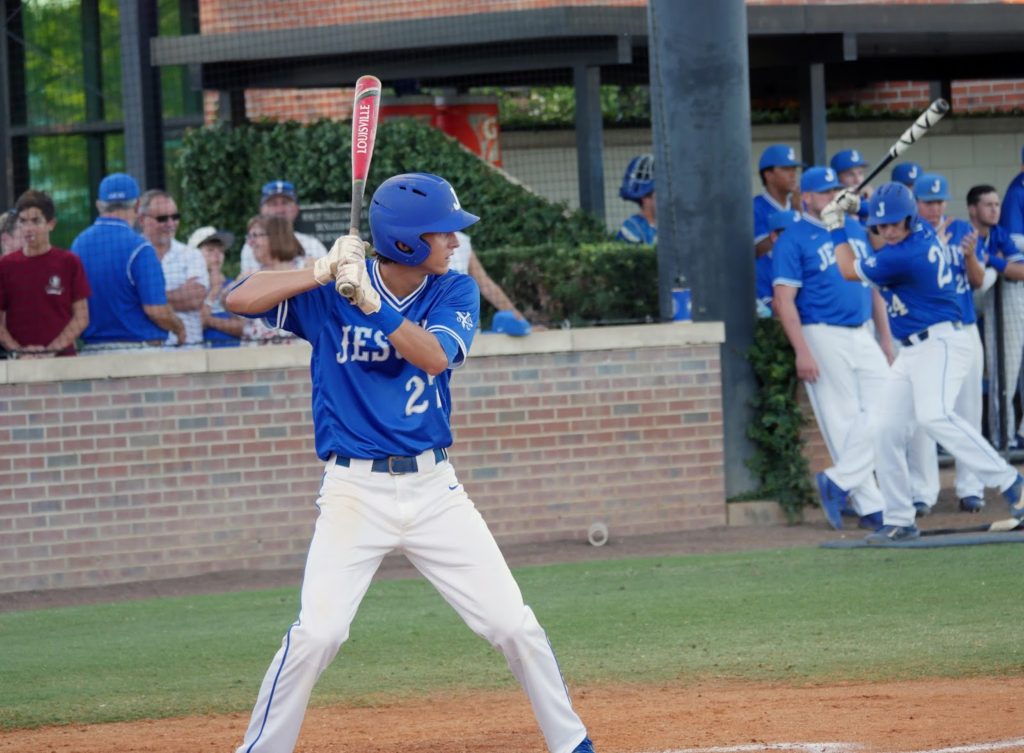 Jesuit's McGuire Weaver drove in the game's first run with an RBI triple and added a run-scoring single to
the Tigers region final win. (photo courtesy of Jesuit High School)
Brewer, a junior who said his focus was split this week with
underclass finals taking place, was 2-for-3 with three runs scored in the win.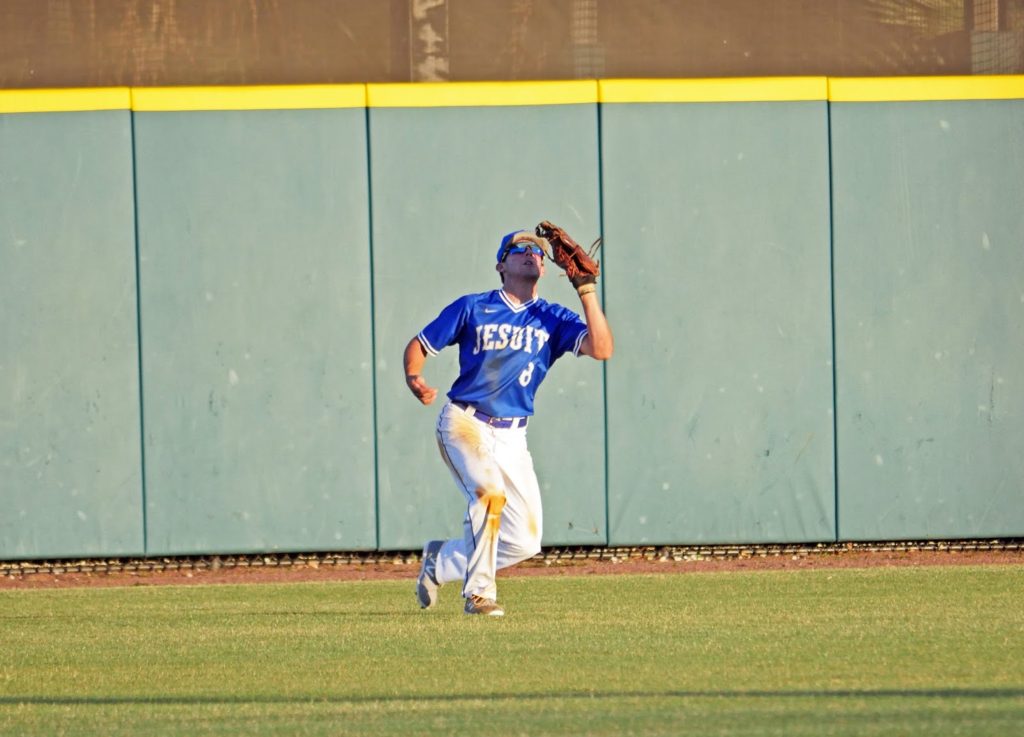 Joel Brewer scored three runs in Jesuit's 9-4 region final win over Belleview. (Photo courtesy Jesuit High School)
"We had exams this week so I came in a little mentally
drained, so really I wasn't thinking about anything except seeing the ball and
hitting the ball," Brewer said. "It seemed to work out pretty well."
Charles Ethan Clark doubled to start the bottom of the fifth and
eventually scored on a wild pitch for the Tigers.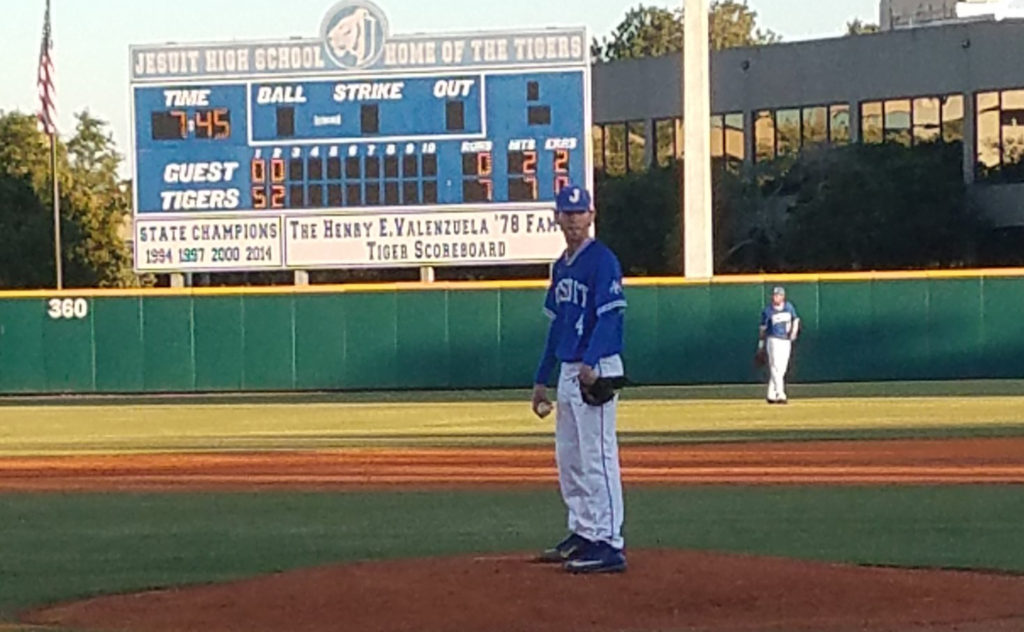 Jesuit SP Jack Anderson.
(photo courtesy of Jay Recher, 620WDAE)
Senior Jack Anderson (6-4, with an 0.88 ERA this season) earned the win going 4 1/3 innings and
striking out four, however the righty ran into some trouble to start the fifth
inning as Belleview scored a pair off of him, and two more off of reliever Jeff
Hakanson (one earned) in the inning. Anderson has had an impressive run throughout his career now 7-1 in post-season games.
Hankanson worked out of jams the next two innings stranding
three Rattlers runners in scoring position to finish out the game.Jesuit reaches the state semifinal for the 20th
time in school history, and the first time since winning the Class 5A state
title in 2014 for the program's fourth state championship. The Tigers will play
Dunedin at 1 p.m. next Thursday in the Class 6A state semifinals at Hammond
Stadium in Fort Myers.
— Jarrett Guthrie (@JGuthrieTampa) May 27, 2017
* Big thank you to Jesuit High School and its director of communications Pete Young for the great photos he provided for this story.