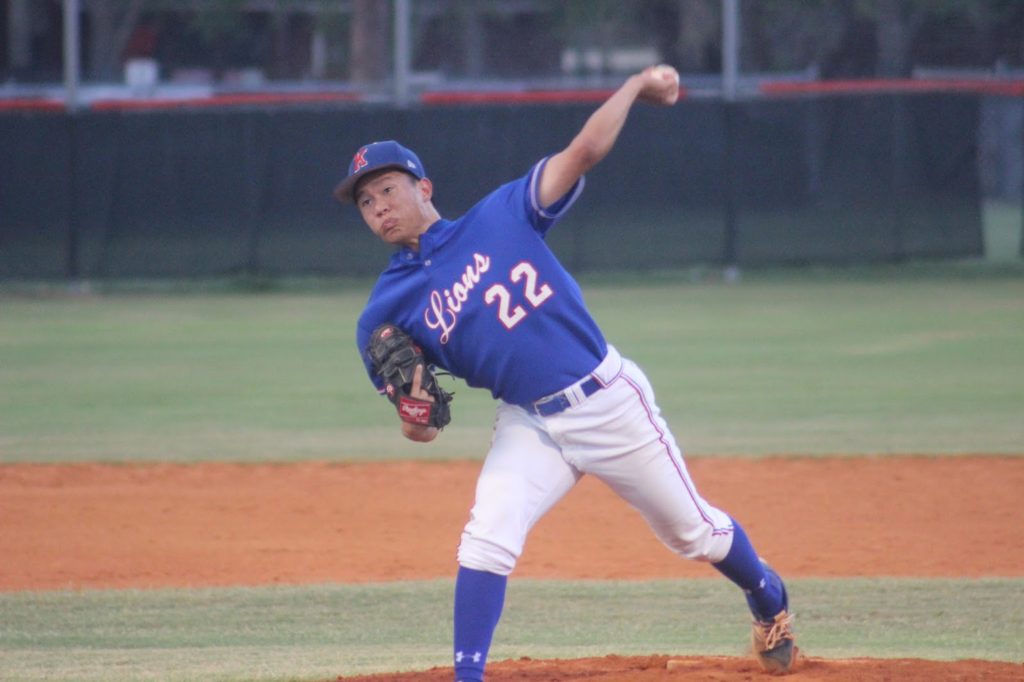 King senior pitcher Brian Lee. (file photo)
FORT MYERS – Bri-an Le-e, clap, clap, clap-clap-clap. Again and again, the King faithful chanted the name of the little-lefty-who-could as the Lions came away with a 3-1, Class 7A state semifinal win over Naples Gulf Coast late Wednesday evening at Hammond Stadium.
Offensively, King jumped ahead in the first inning as Dehreon Pressley (single) and Addison Barger (double) both came around to
score.
Then Brian Lee punched the clock.
The King senior, in most likely his last ever competitive start, did his job with workmen-like efficiency, throwing to contact and letting the Lions defense get his back.
"When we get two runs and have Brian Lee on the mound, we have full faith in him," Pressley said. "Because we know he is going to pull us through."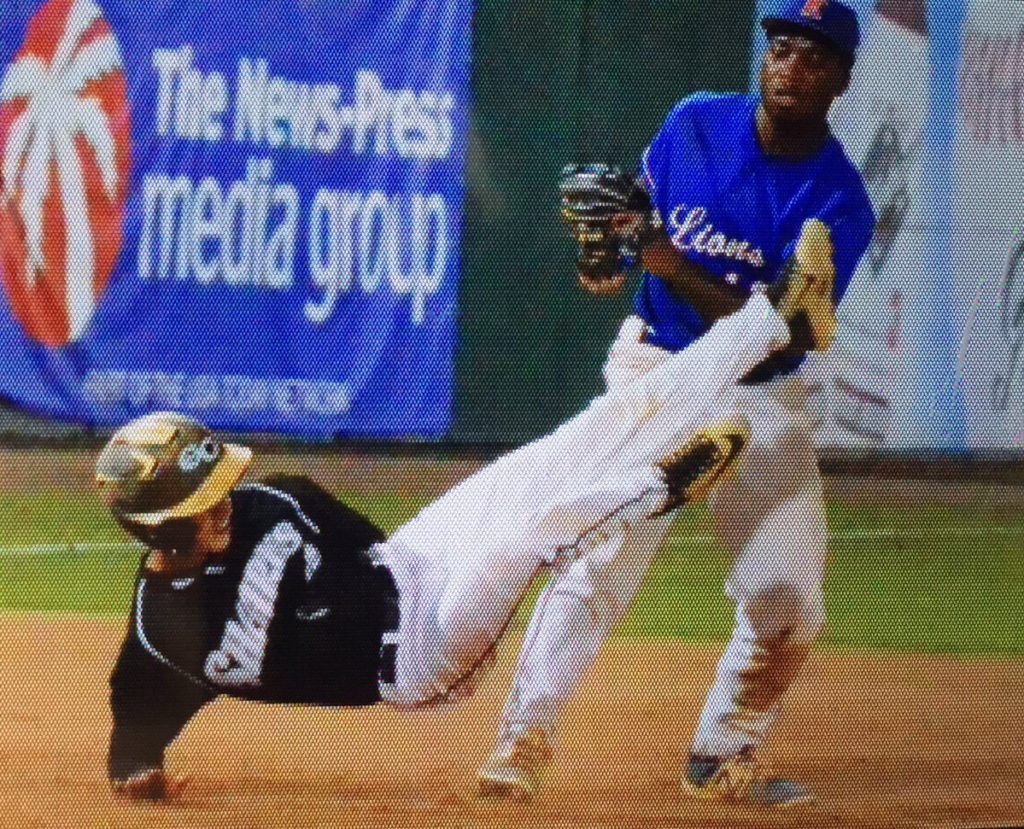 A crazy slide by a Gulf Coast player in King's state semi
win. (photo courtesy of Margie Terp)
Even an hour and a half weather delay didn't shake Lee's
efforts.
"It was nerve-racking," Lee said. "I was just down there in the tunnel pacing around because I just wanted to be back out there."
Lee's catcher, senior Matthew Jernigan said catching Lee doesn't even feel like work.
"It's amazing catching Brian," Jernigan said. "You just have to be there behind the plate. He's going to hit that spot, he's going to strike guys out, he's going to just get outs."
Lee, who will head to Boston University in the fall for academics, picked up just a single strikeout through six innings and scattered seven Sharks hits.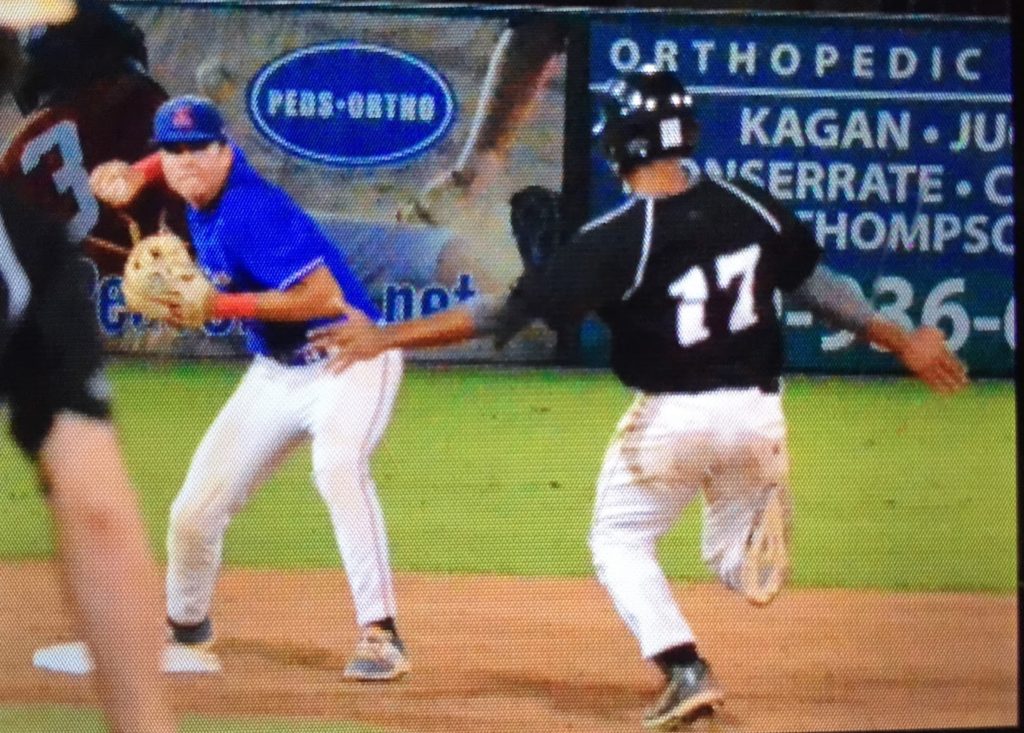 King 2B Addison Barger makes the turn after making
an out in the Lions 3-1 Class 7A state semifinal win.
(Photo courtesy of Margie Terp)
Then as he has done a number of times this season, Lee
decided it was time for the game to end. He capped the seventh with a pair of
punch-outs and a groundball out.
"He kind of gets to a point in the fourth, fifth inning where you can see he has it in his mind that he's just going to take over the game," Pressley said. "We trust him and we believe he's going to get outs."
Lee admitted he thrives in pressure situations: "When they get base hits, it's time to strap in and just get those outs," he said. "Our defense is incredible," Lee said. "All positions I know I just have to throw it up there, and they are going to have my back with the play.
Gulf Coast picked up an unearned run after the weather delay ended as Emil Valenzuela singled in Weston Boling.
King added some insurance in the fourth as Zarrian Brinson took a bases-loaded, hit-by-pitch to earn an RBI.
King, a district runner-up, has come to enjoy the road-warrior, underdog status.
"We are underdogs, but you can never count us out," Lee said. "This was huge, but we've got one more win to go."
King will face Ponta Vedra Nease in the 7A final, Thursday at 7 p.m. at Hammond Stadium in Fort Myers.
*Thanks so much to Margie Terp for sending us some photos. 
*Check back tomorrow as Jesuit plays in the Class 6A state semis Thursday at 1 p.m. and King goes for a first-ever state championship at 7 p.m.