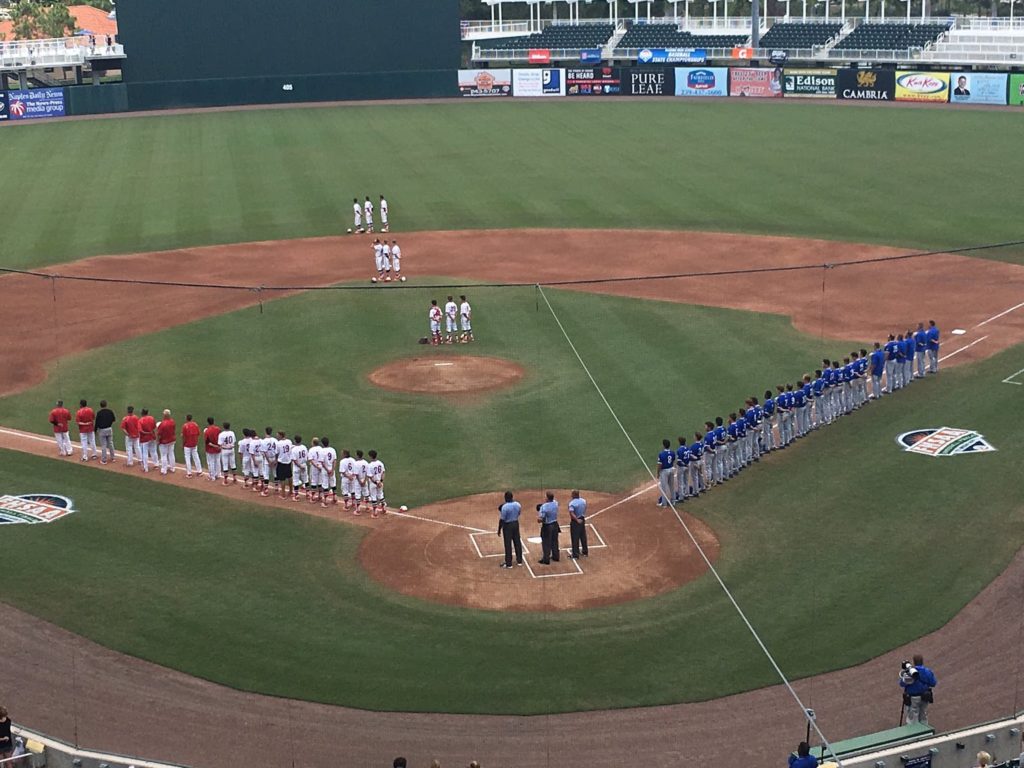 FORT MYERS – A speedster at the bottom of the order can be a huge weapon for a coach, creating the feel of having two leadoff-type guys once the lineup has turned over. Jesuit got to see this theory in action in Thursday's Class 6A state semifinal as junior Charles Ethan Clark put on a nine-hole hitters clinic.
The Tigers opponent at Hammond Stadium, Dunedin looked sharp defensively in the onset, but things unraveled for the Falcons starting in the fifth.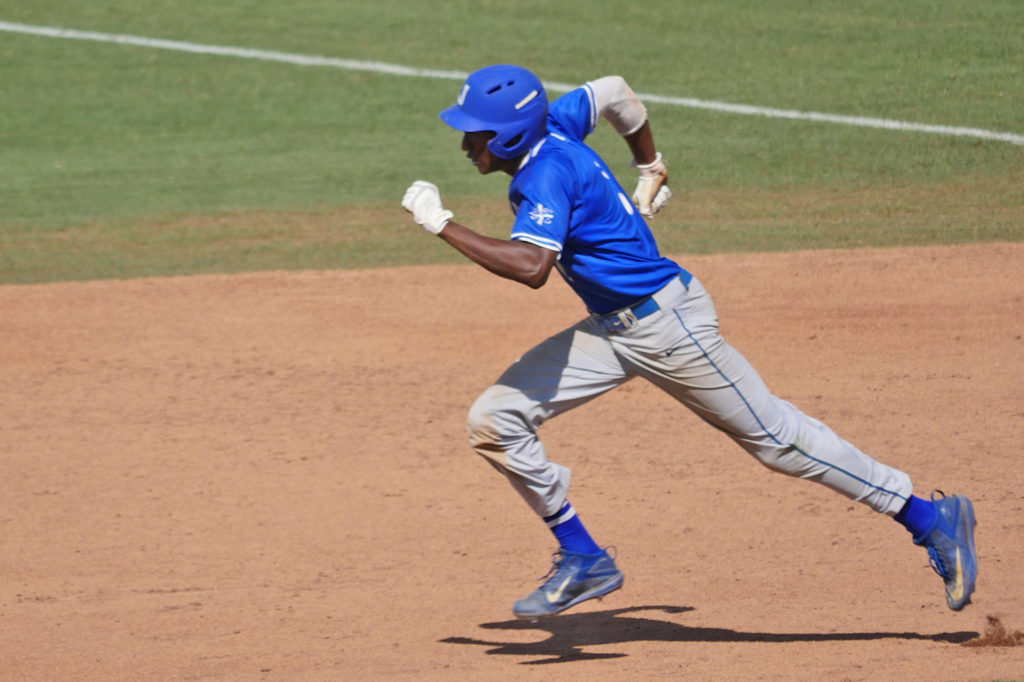 Jesuit junior Charles Ethan Clark proved the spark that started the Tigers offensive show in the 7-0
Class 6A state semifinal win against Dunedin in Fort Myers on Thursday.
(photo courtesy of Jesuit High School)
Clark hustled out his second infield single of the game with two outs in the top of the fifth. And as he did all three times he reached base in the game, he immediately stole second base, setting up Joel Brewer to play hero with an RBI double to give the Tigers all they would need in what eventually ended as a 7-0 victory.
"I know being the second leadoff, that I have to get on base, wreak havoc out there so my team can score me in," Clark said. "I know this is a team sport and I have to do my best for the team, and getting on base is what's best for this team."
Jesuit (25-6) added one more in the inning as Brewer scored
when Dunedin dropped a ball in the outfield, but the sixth saw three more
Falcons errors and the Tigers capitalized with three more runs; highlighted by
a two-run single by Mitchell Thrower.
"That two-out rally in the fifth where Chuck gets the
two-out single, steals second and then Joel hits the double broke the ice,"
Jesuit coach Miguel Menendez said. "Then everybody relaxed a little bit more
and we were able to finish it off."
Clark (2-for-3, four stolen bases) used his speed to reach
three times (two singles and an error) and Menendez credited him with being the
spark the offense needed.
"(Clark) hits three balls that don't leave the clay of the
infield and gets hits, and steals four bases and it puts so much pressure on
the other team so our guys at the top see much better pitches," Menendez said.
"They're so worried about him (on the bases), he did a great job and was a big
key in what we did offensively."
On the mound the fifth inning support seemed to energize
Jesuit starter Jack Anderson, as the junior and Florida State verbal commit
faced the minimum the final three innings.
"It's the best feeling when you are having a pitching duel
and finally you come out on the mound (with runs) – it's a different feeling
out there," Anderson said. "Everyone is more comfortable, everyone is still
trying to stay sharp, but you know if you miss a spot or make a mistake it's
not the end of the world."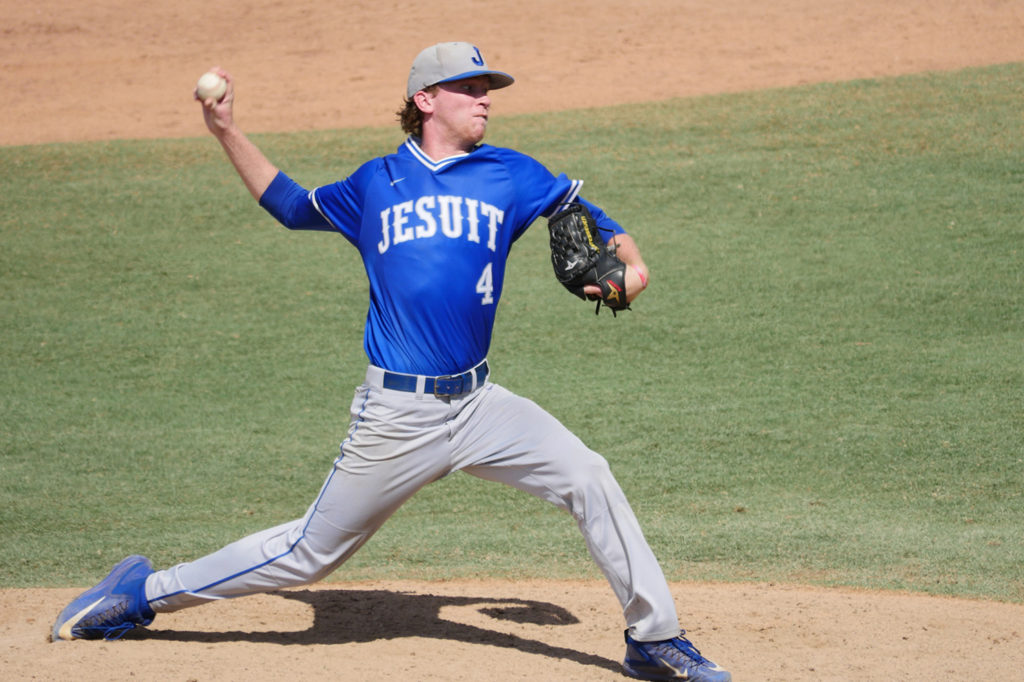 Jesuit RHP Jack Anderson worked a complete-game shutout win to put Jesuit in Saturday's Class 6A state final.
(photo courtesy of Jesuit High School)
Anderson scattered five hits, striking out five and walking
none, while needing just 80 pitches to work a complete game and improve to 7-4
on the season. More remarkably however, is Anderson's career post-season
record, which improves to 8-1.
"This year I was thinking about how I couldn't get us here
last (year)," Anderson said. "So my only goal was to get them to Saturday, do
my job and make sure I get us in the best spot to succeed."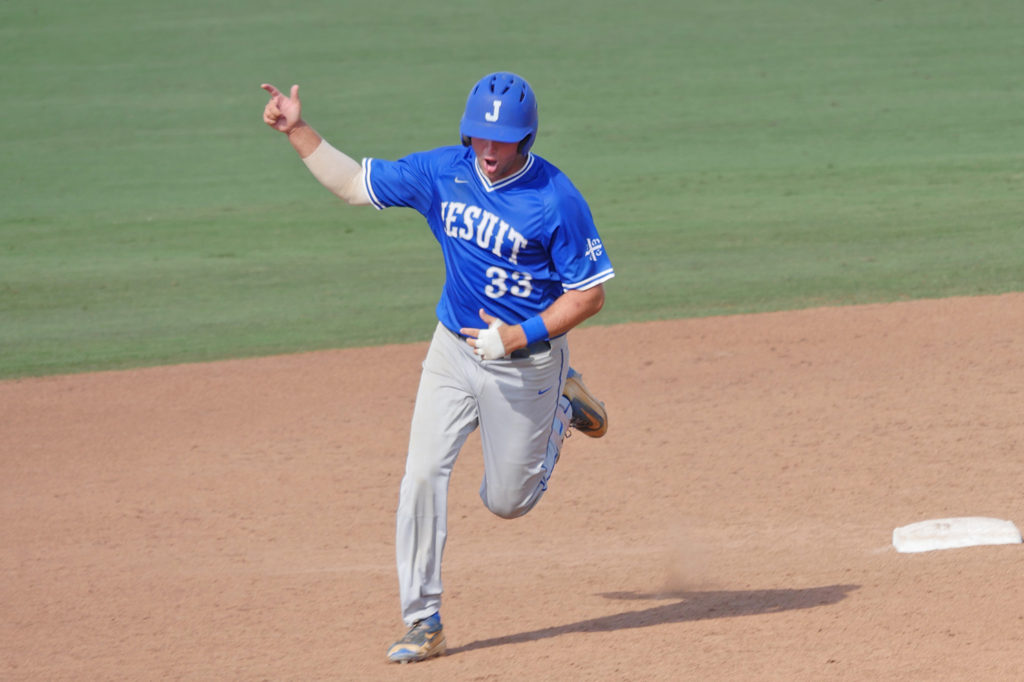 Jesuit senior Thomas Bencivenga rounds second after his homer to left.
(photo courtesy of Jesuit High School)
Adding some insurance and some fireworks late was senior
Thomas Bencivenga, who belted a two-run home run over the left field wall for
the first round tripper of the entire slate of state tournament games in Fort
Myers the last two weeks.
"Before the game, we knew they were going to pound us away
and so I knew if they threw me one (inside) I was going to try and hammer it,"
Bencivenga said.
The complete-game effort by Anderson means Jesuit has
options on the mound for Saturday's state final with No. 2 Price Sartor
available as well as usual late inning guy Jeff Hakanson. Menendez said after
the game he hadn't made a decision yet on who would start the game, but liked
that he had all but one pitcher fresh to choose from.
Whoever, gets the starting nod will face a tough challenge
in defending state champion Archbishop McCarthy, ranked No. 2 in the nation. In
the postgame press conference Menendez called upon the sage wisdom of pro
wrestling great The Nature Boy Ric Flair stating, "To be the man, you've got to
beat the man."
— Jarrett Guthrie (@JGuthrieTampa) June 1, 2017
Jesuit will make its bid for a 5th state title in
school history at Hammond Stadium in Fort Myers on Saturday at 12:30 p.m.