Wharton's Ehrhard named 2017 Saladino Award winner
BRANDON – A baseball coach never knows what a new year is going to bring you, and four years ago Wharton Wildcats baseball coach Scott Hoffman was on the lookout for a player to fill the hole at shortstop.
What Hoffman and the Wharton's coaches got in Drew Ehrhard was not just an infielder, but a leader, a player with the ability to take coaching and implement it with ease, in short – the Wildcats got a perfectionist.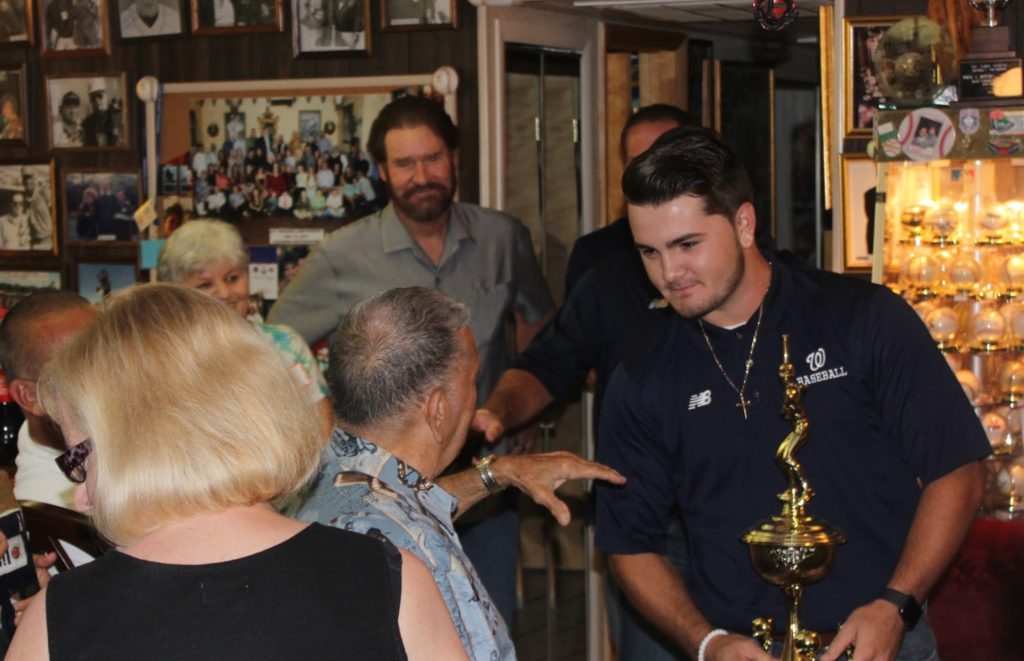 "He has a work ethic that was just absolutely amazing," Hoffman said of Ehrhard. "He's a perfectionist and when you're a perfectionist in a game that is built on repetition, success finds you."
"He always wanted to figure things out. He'd hear it, but with him throughout the years, it seemed to always click right away."
Sunday evening, Ehrhard and his coaches arrived at a home in Brandon under the ruse he was visiting an out-of-town reporter who wanted to interview a Wharton player about Wildcats assistant coach and Major League Baseball Hall of Famer Wade Boggs.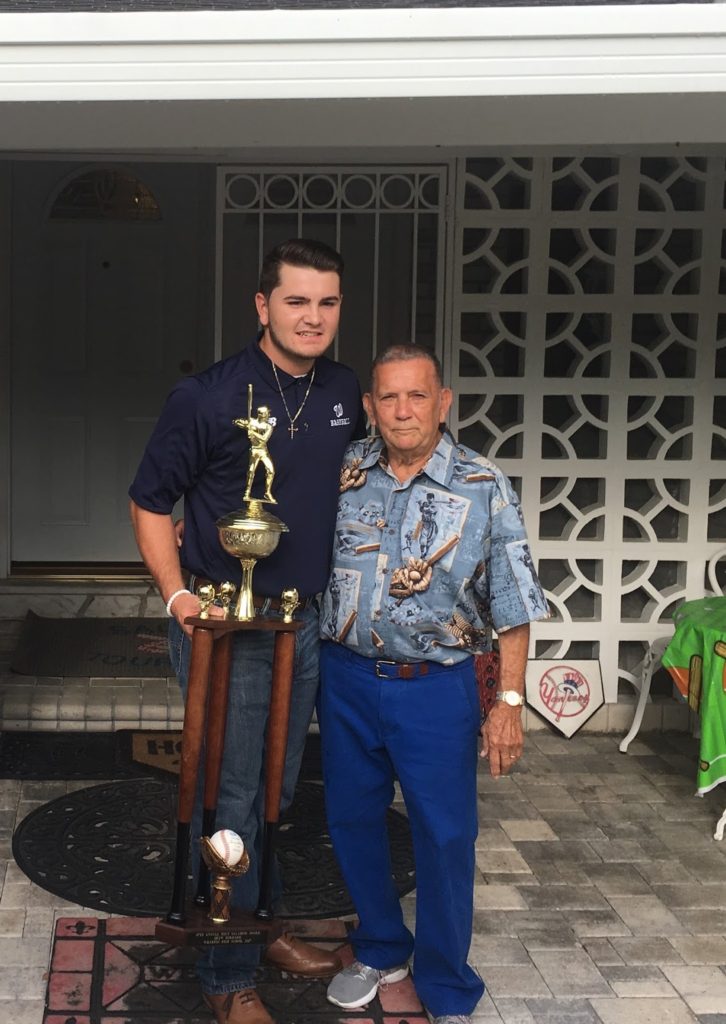 Drew Ehrhard poses with Tony Saladino after being
surprised with the Saladino Baseball Award.
Instead, the recent high school graduate found himself
entering the home-meets-baseball-shrine of longtime Hillsborough County baseball ambassador Tony Saladino, Jr. and was surprised
to learn he was named the 47th recipient Saladino Memorial Baseball Award winner, dedicated to the Tony Saladino, Sr.
"They told me a story that there was a reporter down from Boston doing a story on Coach Boggs or something," Ehrhard said. "I realized it when I saw everyone … I honestly didn't think I would win this."
"I always hoped, but I always knew there was some great competition, so I honestly didn't think this would happen."
The University of Tampa signee had an across-the-board quality senior campaign for the Wildcats, leading Wharton's hitters with a .422 average, 24 RBI, nine doubles and four home runs. He also ranked second on the team with 24 runs scored and had a career .380 average playing in 95 games.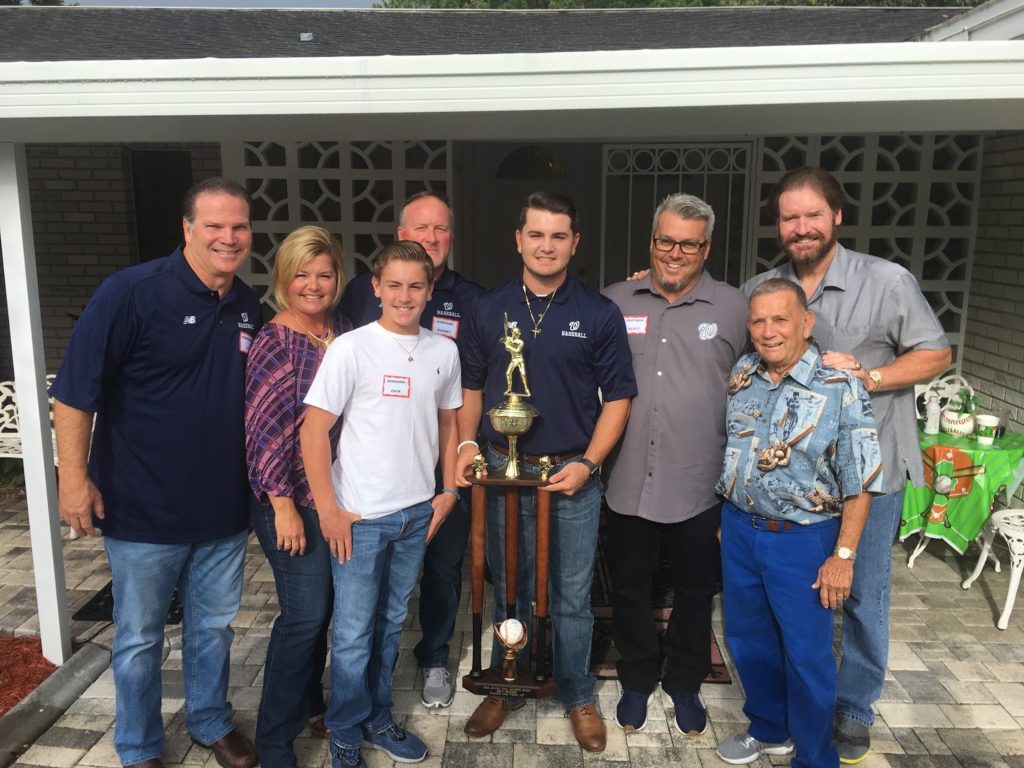 Drew Ehrhard (center) poses with Wharton baseball's coaching staff, his family and Tony Saladino.
Academically, Ehrhard carried a waited 6.1 GPA and was also named the Wade Boggs Award winner last month, given annually by the Hillsborough County Public School Board. He was named a first team All-Western Conference selection for three seasons.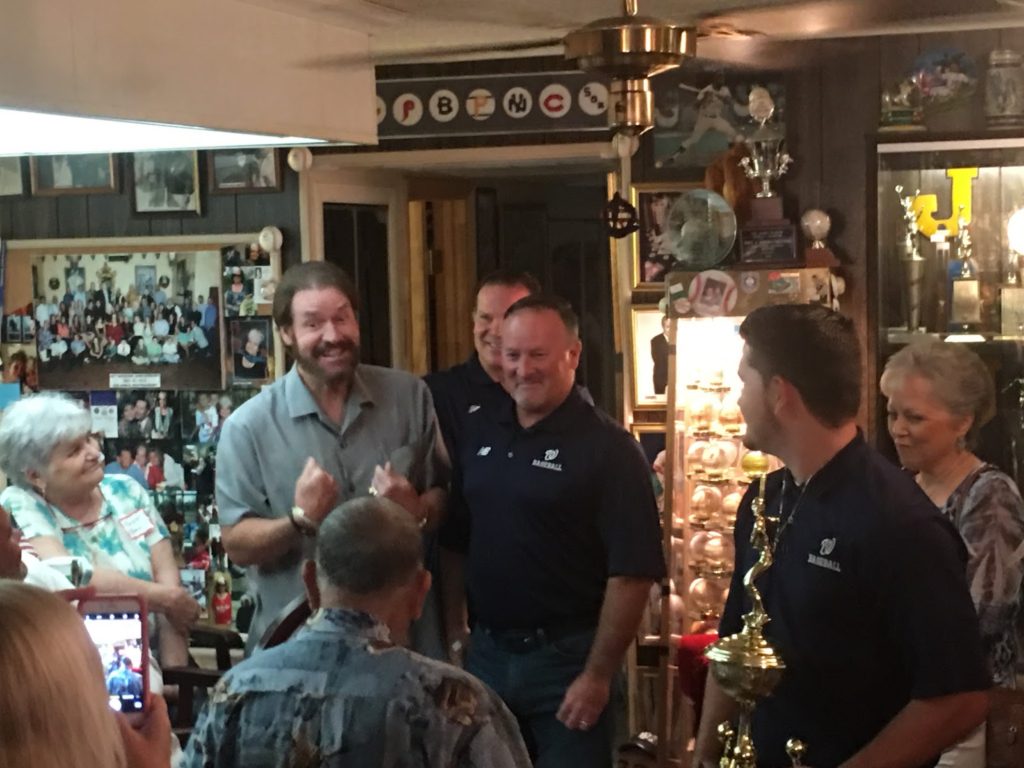 Wharton assistant coach Wade Boggs, a Plant alum, playfully reminds
Tony Saladino, the MLB Hall of Famer was not named the Saladino
Award winner in 1976.
Boggs, in his 17th year as an assistant coach at
Wharton, had high praise for the Wildcats recent grad, stating that he thinks
Ehrhard has the skills needed to make in impact at the professional level right
now.
"(Drew is a) a stellar fielder and his baseball IQ is off
the chart," Boggs said. "The University of Tampa has a jewel coming their way, but Major League Baseball come (draft day) needs to put his name out there in one of those rounds."
Ehrhard helped Wharton claim back-to-back district titles
the past two seasons, and reached region play the previous three years. This season, the Wharton advanced to the region final, falling 2-0 to eventual Class
8A state champions Tallahassee Lincoln.