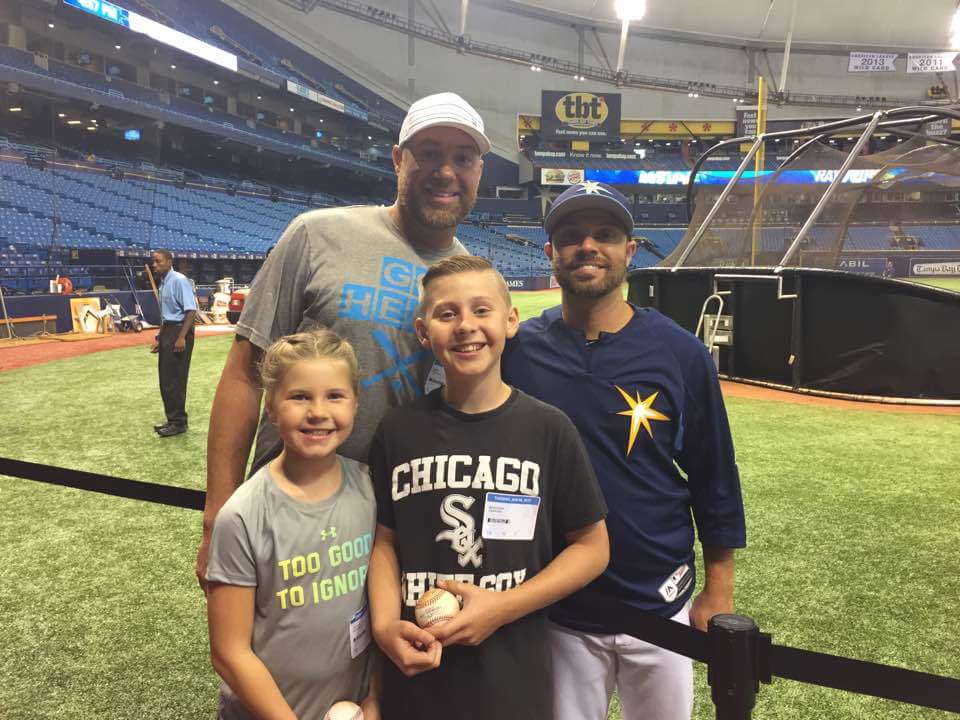 Silverman (in uniform at right), with former Gaither teammate Rick Permuy and his kids Brayden and Taylor.
(Photo provided)
ST. PETERSBURG – A young kid's dream of someday making the "Big
Leagues" isn't a rare one, but actually seeing it come true in any form is a shot in a
million.
Todd Silverman certainly had that dream, and the Gaither
alum, who played infield at the college level at Hillsborough Community
College, the University of Central Florida, and the University of South
Florida, chased it as best as he could.
However, after a few attempts to catch on at the independent
level after college didn't pan out, Silverman settled into his life in Tampa, earning a
degree in Exercise Science & Wellness from USF.
But the hold baseball had on him never let go.
"I've always had a passion for baseball, and I tried to
catch on in pro ball – tried out for some independent league teams – it just
never stuck," Silverman said. "But I still wanted to be around the game."
"I got that so-called nine-to-fiver job, and I quickly
realized it wasn't for me."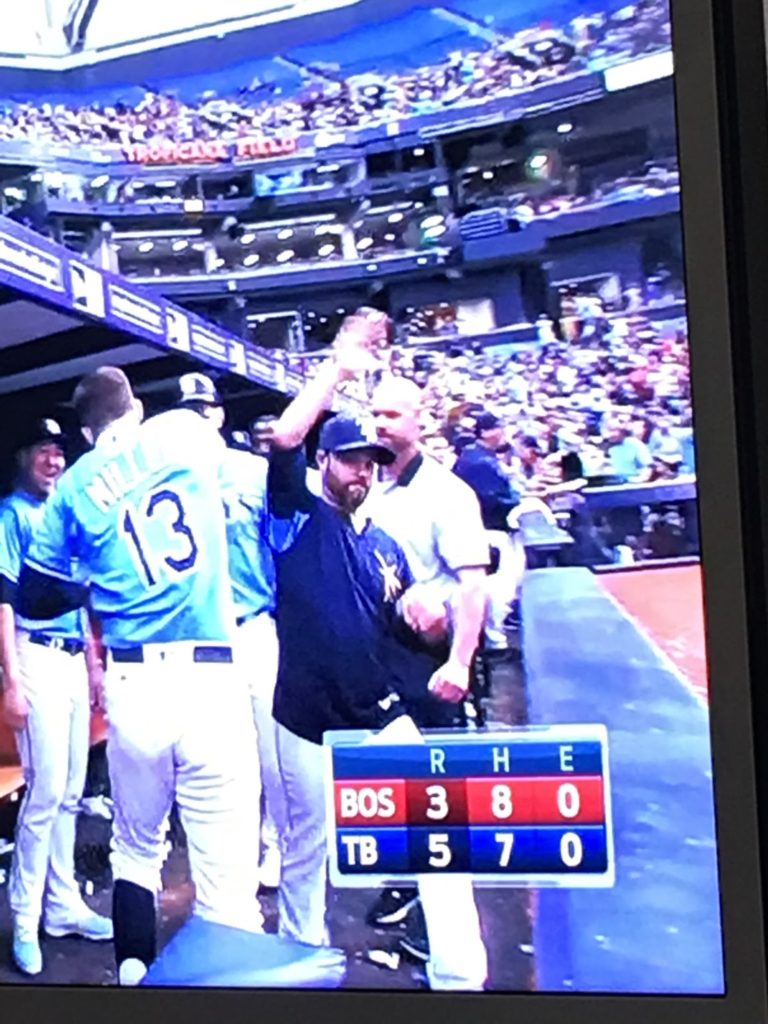 Silverman in the Tampa Bay Rays dugout.
(Photo provided)
Silverman started to try his hand at the training side of
the game, throwing to college, or professional hitters when they were in town
in the offseason, and he began working with young hitters at Chuck LaMar's
Strike Zone in Lutz.
When his friend James Rowson (current hitting coach for the
Minnesota Twins) took a position with the Los Angeles Angels of Anaheim organization,
Silverman took over his lessons and his work as a hitting instructor took off
from there.
Silverman continued to conduct private lessons and along the
way joined the staff of one of his high school coaches at Gaither, Landy Feado
who launched the baseball program at Alonso High.
He quickly found himself becoming a baseball renaissance
man: a former player, turned instructor, turned coach, and sometime scout
(working for the Kansas City Royals). He then caught on in Hollywood working as
a stunt and sports actor, serving as a body double in the 2006 Sony Pictures
film "The Benchwarmers". He also worked on the 2006 Warner Bros films "Superman
Returns" and "We Are Marshall", on the ESPN mini series "The Bronx is Burning"
(the 2007 eight-part series about the 1977 New York Yankees), and in Disney's
"Million Dollar Arm" in 2014.
On his own working as an instructor, coaching at the high
school level (which included a move last season to the staff at Berkeley Prep),
and making movies, baseball had taken Silverman to some interesting places.
However, the game at its highest level had a circuitous way of finding him.
Silverman had continued to find himself throwing batting
practice to pro players from time to time – including Tampa Catholic alum and
current San Fransisco Giants outfielder Denard Span, former Cincinnati Reds,
Texas Ranger, and Angels outfielder Josh Hamilton, current Oakland Athletic Jed
Lowrie, and a number of minor league players.
In May according to Silverman a string of dominoes started to
fall into place, and a former teammate at Gaither and another former Major
League player he'd thrown batting practice to – current Tampa Bay Rays manager
Kevin Cash – reached out to him.
Cash and the Rays were in need of an arm he could trust to
throw batting practice.
Silverman jumped
at the chance and has spent the last two months serving as one of three
pre-game pitchers for the Rays this season.
"This is such a surreal experience and very quickly you just
become one of the guys," Silverman said. "I couldn't find myself in a better
spot if I had dreamt this up."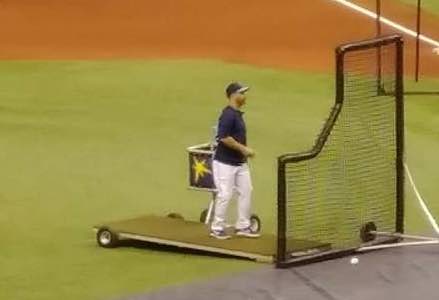 Silverman is one of three batting practice coaches for the Rays this season.
(Photo provided)
His first week, he found himself throwing very little,
watching and learning. But again he found himself in the right spot as the Rays
invited Tampa Bay Buccaneer first-round draft pick OJ Howard to a game. The
tight end, who was a former prep baseball player, wanted to take some swings
during warm-ups and Silverman took to the mound behind the L-screen.
"I didn't even start throwing on the field for a week or
two," Silverman said. "Actually the first time I threw on the field was to OJ
Howard. Someone asked if he wanted to hit some and I just happened to be out
there."
He said it put him at ease to just be out there throwing to anybody, and having
it be Howard removed some of his reticence when it came to working with the
Major Leaguers.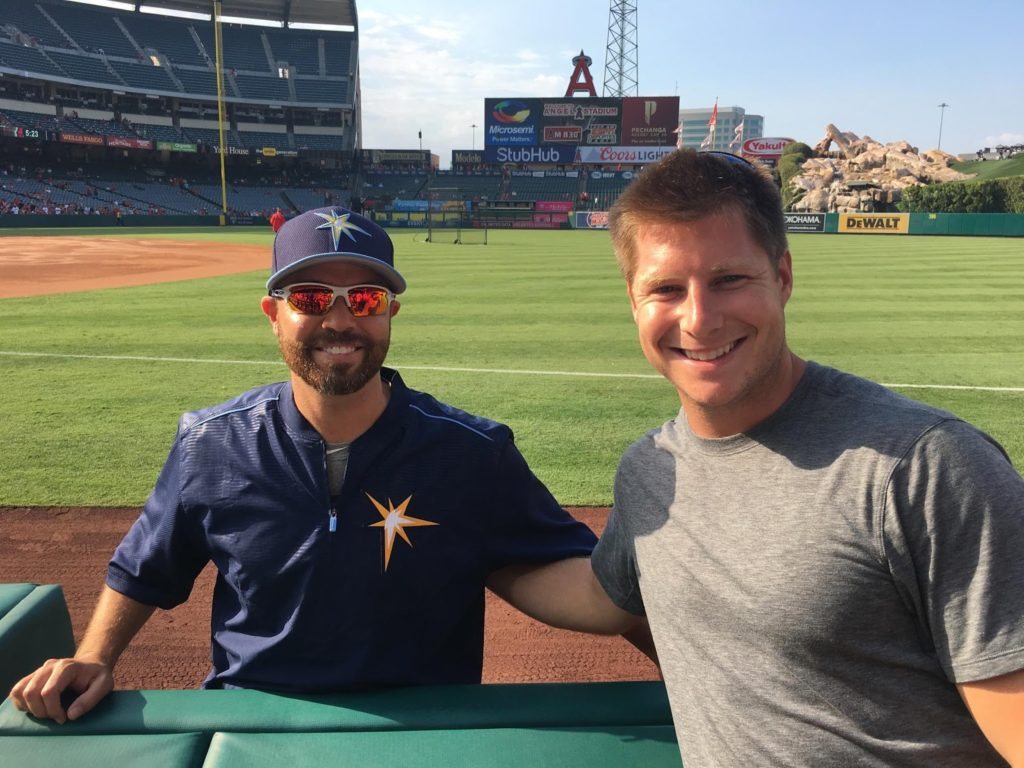 Silverman with friend Spencer Clevenger in Anaheim. (photo provided)
Included in his new position came hitting pregame fungo to
the players, working during the game in the cages with the designated hitter or
in-game substitutions. Silverman admitted he was a little nervous to start,
knowing the mix of rhythm, comfort and even superstition that goes along with
the game, and took to his next challenge of winning over the players to whom
he'd be throwing.
"It took a few weeks," Silverman said. "The main guy whose
trust I wanted to gain was Evan Longoria, obviously a captain of the team,
all-star, gold-glover and a guy the other players have the utmost respect for,
and obviously he had his routine with the guy who threw to him before me. It
didn't happen over night, but it came together pretty quickly and everyone
involved in the organization really tries to make everyone else involved feel
at home."
"It's such a well-knit organization, a real family
experience, I couldn't be happier. It's a dream come true that's for sure."
The Rays (49-44) are currently in second place in the
American League East, three games behind the Boston Red Sox, and are in the lead in the Wild Card race.
* If you like what you have seen from us, please click on
the "Support Us" button in the top menu to see how you can become a part of the
813Preps.com team.