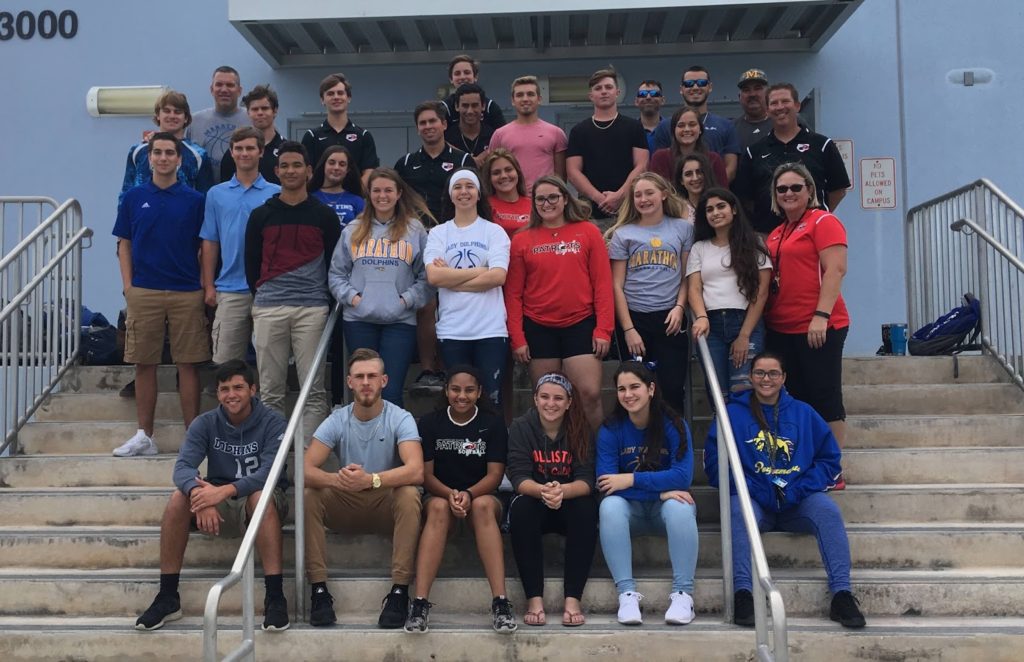 Members of Carrollwood Day School's baseball and softball teams meet with Marathon High's players
while bringing supplies down to the programs devastated by Hurricane Irma.
(photo courtesy of Tracy Hooker)
Editor's note: A special thank you to Tracy Hooker for allowing us to use the photos from Carrollwood Day School's trip to Marathon. 
CARROLLWOOD – A few weeks ago, when Carrollwood Day School
baseball coach Ken Akins was working on securing opponents for next year's
spring break baseball tour. He was hopeful he would find the teams and coaches the Patriots had faced on previous trips excited to host his team again this season.
However, Akins focus on planning the trip quickly changed
when he got in touch with Marathon High's baseball coach Luis Leal and heard
news of what the players, coaches and students were facing after the impact of
Hurricane Irma this past summer.Marathon, Fla., a collection of 13 small
islands in the Florida Keys, known for beautiful beaches and its barrier reef, and is breeding ground for loggerhead sea turtles, was devastated by Irma's
impact, and Marathon High's outdoor athletic facilities, as well as the homes
of a number of students and coach Leal were completely destroyed.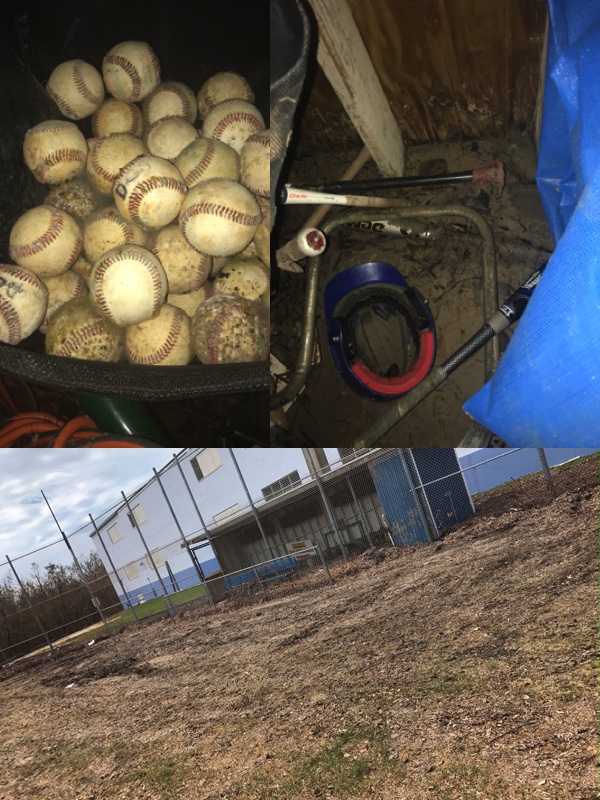 "I was calling to check in and I hoped it would be good
news," Akins said. "But the moment I heard about how much Luis and his players lost, I knew what really mattered was helping them."
Akins knew he had to help out, but didn't want to reach out
to parents from his school to dip into their pockets, especially knowing so
many had already dedicated efforts after events in Puerto Rico, Houston and
other areas hit by recent storms.He said he really wanted the help to be from
teams to teams. So along with CDS softball coach Kimberly Coffin, Akins went to
work.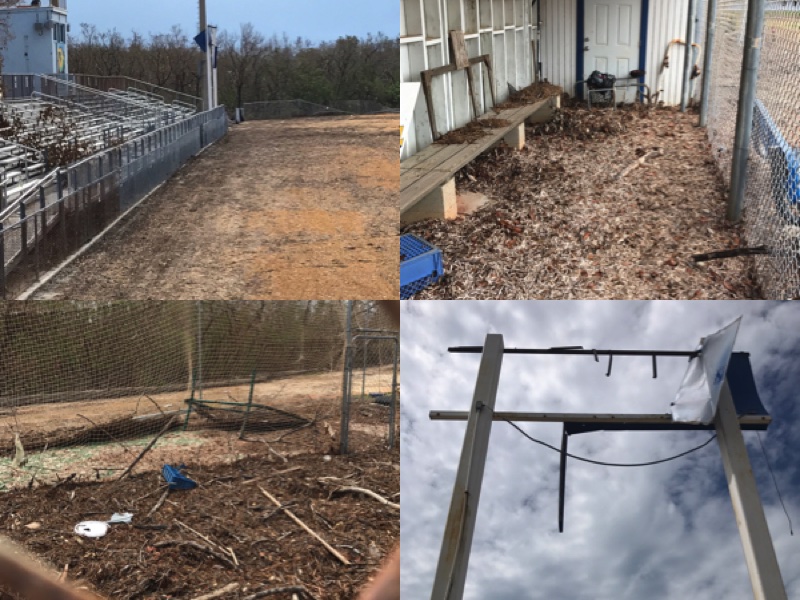 Some of the results of Hurricane Irma's impact on Marathon High's baseball and softball facilities.
(Photos courtesy of Marathon High Athletics)
They found support in the local baseball community when a former
Major League Baseball player (who preferred to remain anonymous) and his
business partners donated 15 brand new baseball and softball gloves (each), to
go along with bat bags, softballs and baseballs, and other equipment collected
by the CDS teams for Marathon's programs.
Akins said both CDS teams' players were quick to get excited
when they heard about the idea, but he said he knew that the best lesson would
be for the players to see the impact directly. So Akins and Coffin got approval
from the school's administration to take a contingent of players down to
hand-deliver the equipment to Marathon on Wednesday, November 15th.
The idea served to further inspire players from the both the
baseball and softball teams in their efforts.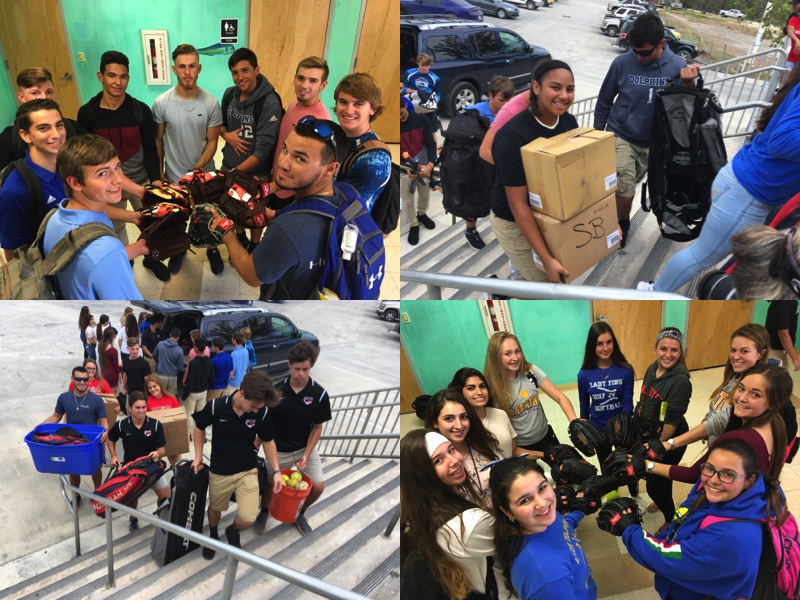 A contingent of CDS softball and baseball players were welcomed by Marathon High players as
they brought new equipment to the Florida Keys school. (photos courtesy of Tracy Hooker)
Noah Torres, a senior catcher for the Patriots baseball
team, remembers a previous baseball trip to the Keys area as an eighth grader.
He said the thing that stuck out to him was what has made the area such a
popular vacation destination, its hospitality.
"The people and those programs we played against down there
were just so nice to us," Torres said. "If we needed anything, a room, a place
to eat, or whatever, they were there for us. I remember it wasn't like we were
traveling down there, it was like we were a part of their family."
Softball will be joining the baseball team for the first
time next spring on a trip to play teams in South Florida. And although they
haven't been before, that didn't mean they weren't impacted by the suffering of
another team involved in the sport that means so much to them.
"I really hope this helps them play the game they love
again," sophomore Kylie Coffin said. "I was devastated for them
… I know if those things happened to me, it would be the end of my world. So, I
hope our efforts can help them get back out on the field doing one of the
things they love."
"We are all like one big family, because we all play the
same sport," said sophomore Kacey Akins. "Even though we live
far away from each other, whether we play softball or baseball, we connect
through that love of those sports."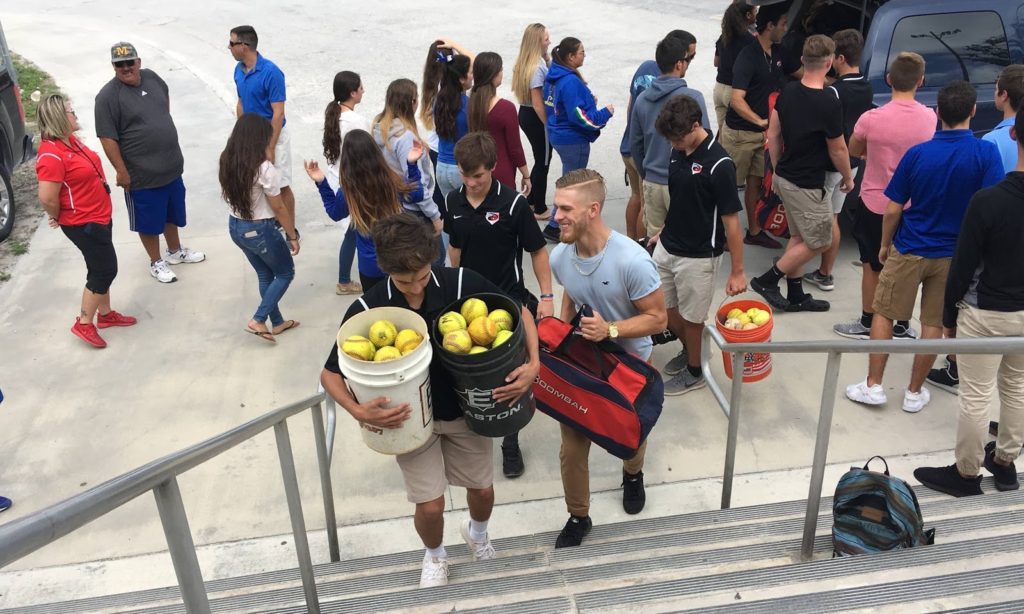 Kacey joined in the efforts to collect the donations, but
was unable to make the midweek trip as she also competes a varsity volleyball
player at CDS and was a part of the Patriots FHSAA Class 4A state championship
victory on Thursday, November 16th. But in past seasons she has traveled
to the Key West area with her father and the Patriots' baseball team, and said
it was very emotional to see the destruction in photos to a place she remembers well.
"I was heart-broken because I have been down there and have
seen how beautiful those locations were before," Kacey said. "So as teams (both
baseball and softball) we all wanted to do as much as we could for them."
Coach Akins said the event went better than expected, and
saw the Marathon baseball and softball players come alive as both schools'
athletes unloaded the equipment and spent some time together. The passing off
of the equipment he said was a small gesture in a giant recovery effort for the
Marathon program, but one he feels his players will never forget and one that
had a great impact on him personally.Speaking with 813Preps on the return trip
to Tampa, Akins said things could not have gone any better.
"There are moments when life feels really, really good," he
said. "I'm driving and it feels like I'm six-feet off the ground right now."
"It was unbelievable. The reaction of the players, listening
to the stories of many of the kids who still don't have a house to stay in, it really
hit home for us. This deed was 100% the right thing for us to do."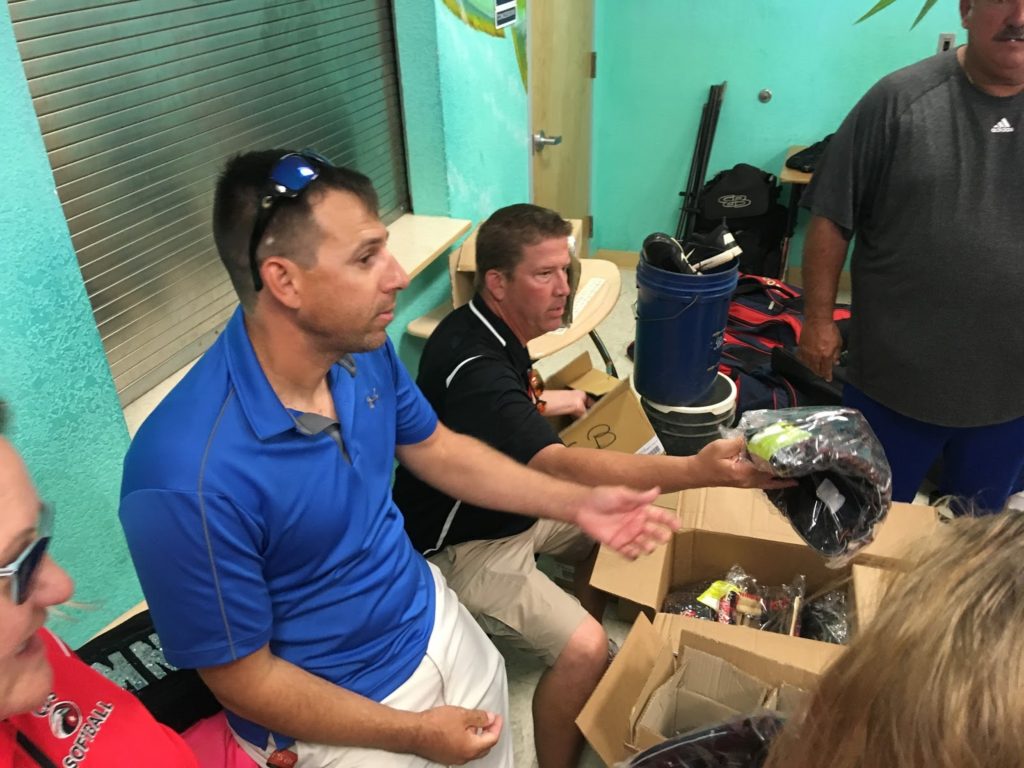 Marathon baseball coach Luis Leal (blue shirt) and Carrollwood Day baseball coach Ken Akins (black shirt)
hand out gloves to the Dolphins baseball and softball players.
Marathon's baseball coach Luis Leal said the immediate
future for the baseball and softball programs are uncertain, and as far as the
upcoming spring season, the team may have to travel 45 minutes away to a park
with community fields to practice and play. However, he said efforts like those
on the part of Carrollwood Day have gone a long way to bring back some normalcy
for his student-athletes.
"We are still trying to get our lives back together, but
when Coach Akins called he just wanted to see how we were doing, and I just
appreciated that so much on its own," Leal said. "Just saying, 'hey, we are
thinking about you," that meant so much."
"But to come through for us with the equipment, but more
importantly the emotional support, the willingness to help, just means the
world to us. When they handed the goods and equipment to our kids today, it was
like watching five or six-year-olds open presents on Christmas. That right
there, was a tear-jerker."
The Patriots spring baseball trip last season only went as
far south as Miami, but for seniors like Gabriel Partridge this season's trip
back to the Keys will now have much more added emotions.
"Specifically, I hope this can help kick-start Marathon's
program again," Partridge said. "I know we are going back down there to play
them this spring, so I really hope to see them recover and come back stronger
than before."
* If you would like to reach out to the Marathon High
baseball and softball programs with support please contact Coach Luis Leal at:
luis.leal@keysschools.com