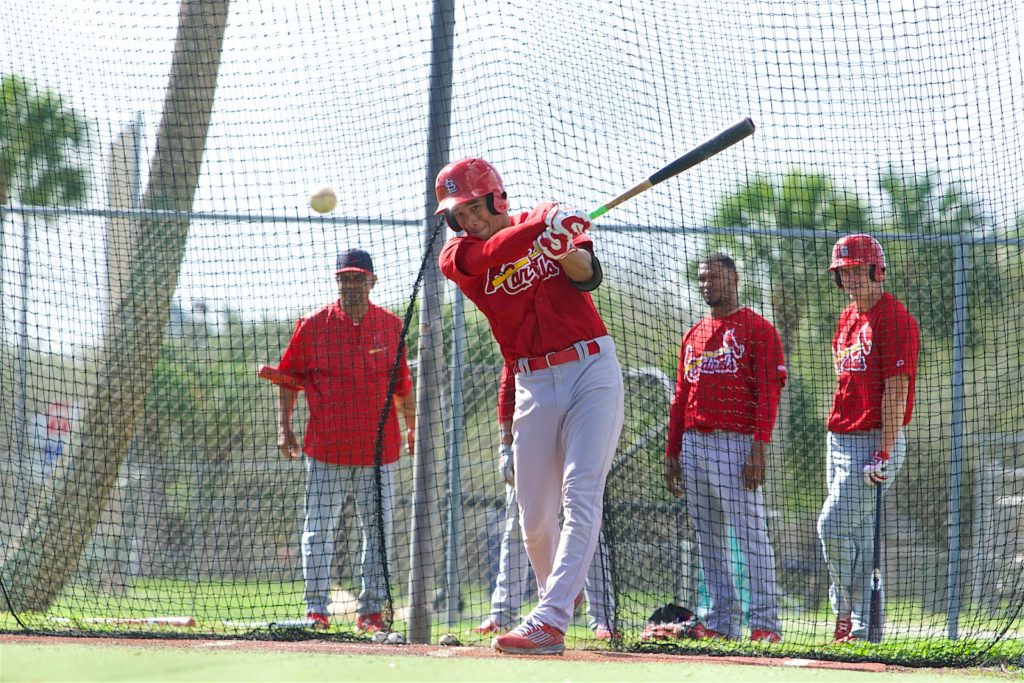 Gaither High alum Oscar Mercado (class of 2013) was named to the St. Louis Cardinals
40-man MLB roster in November. 
(photo provided by Taka Yanagimoto, photography manager for St. Louis Cardinals)
Oscar Mercado
 was able to count one more thing he was thankful for during last week's Thanksgiving Holiday.
As the Gaither High alum and 2013 St. Louis Cardinals draft pick was picking up luggage at the airport returning home from a trip to Dallas last Monday, he received a call from his organization informing him that St. Louis added Mercado to its40-man Major League Baseball roster.
"This organization has provided me with a lot of learning experiences," Mercado said in a message to 813Preps.com. "It has taught me to be extremely mentally tough; and it has taught me the value of staying positive and persevering."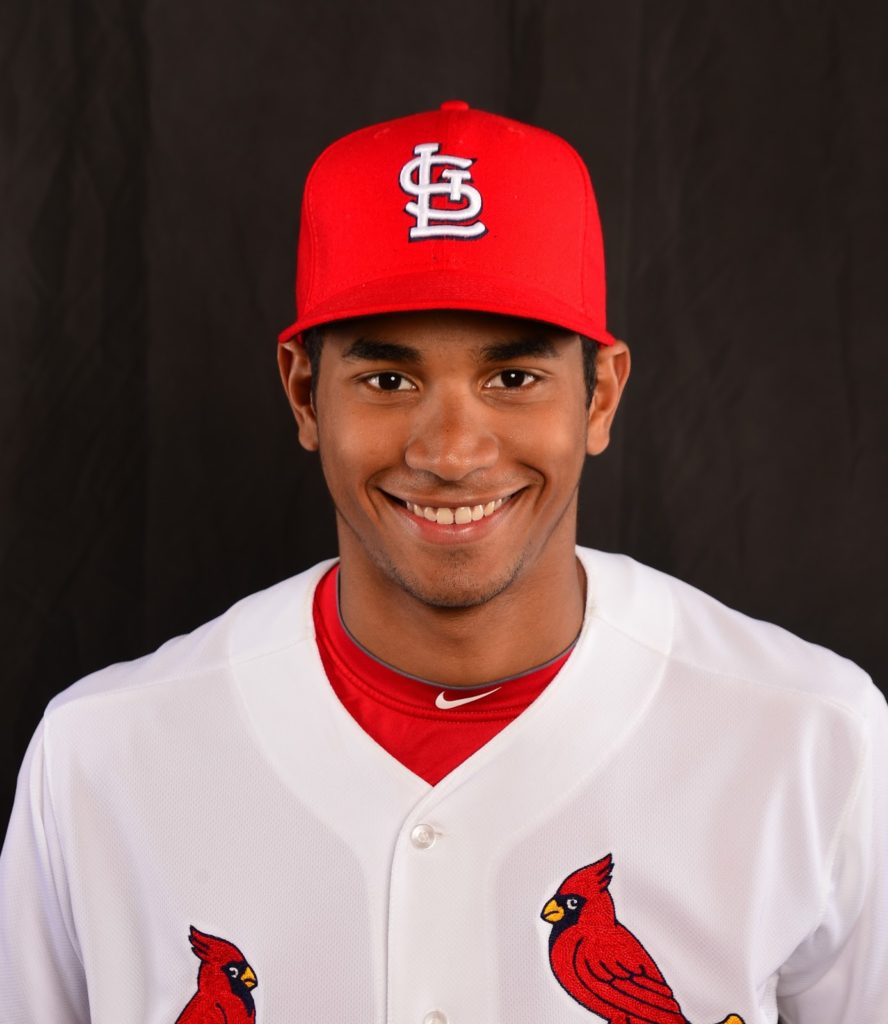 St. Louis Cardinals
OF Oscar Mercado
(photo courtesy of the St. Louis Cardinals
photographer: Scott Rovak)
Mercado, who was a four-year standout at shortstop for
Gaither, hitting a career .331, with 81 runs scored and 74 RBI with the Cowboys,
was selected out of high school in the 2013 MLB First-Year Player Draft in the
second round (57th overall). He spent his first three seasons at the
Rookie and Class A levels at shortstop, but things didn't exactly click at the
next level.
However, during the 2016 off-season Mercado made the move to centerfield and things jumped off for him. He was assigned to St. Louis' Double A Springfield Cardinals affiliate, where he posted a .287 batting average, scored 76 runs, had 13 homers and lead the Texas League in stolen bases with 38.
His speed (with 159 career stolen bases including leading his respective league three times) made for a seamless transition to the outfield, one his former high school coach Frank Permuy said he saw coming in his preps days.
Permuy said during one summer's American Legion season, the team's coaches played Mercado in centerfield and he was a natural there.
"I've always thought Oscar had the talents to one day make the majors," Permuy, who coached Gaither from 1984 until 2014. "You know as coaches, we always talk amongst ourselves about where guys might fit best at the next level … and we always thought with his incredible speed he'd make a heck of a centerfielder. So in Legion one summer we stuck him out there, and I think he really took to it, so I'm not surprised."
Permuy added: "I'm so incredibly pleased for Oscar and what he has accomplished. I really hope he does well this year."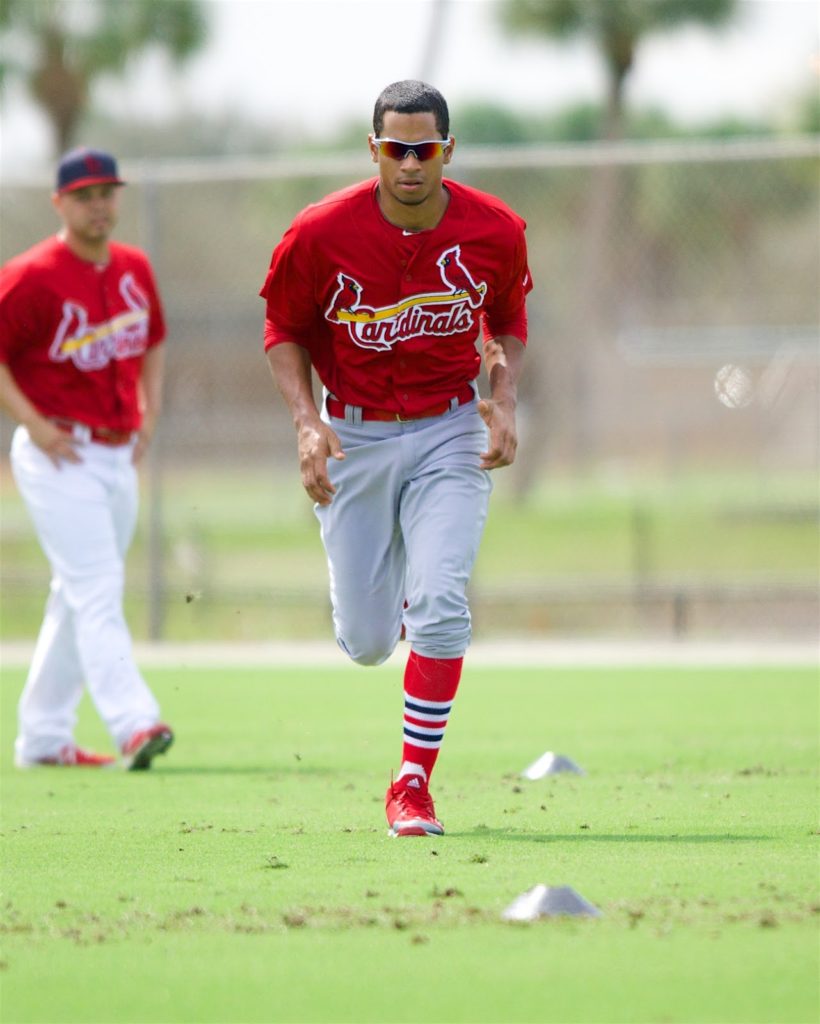 (photo provided by Taka Yanagimoto,
photography manager for St. Louis Cardinals)
Under MLB Rules, the 40-man roster is a list of all players
eligible to be activated to the active (25-man) roster. It can be used for
players in the minors for less than six years (which includes Mercado),
protecting them from Rule 5 selection by another team. For the players though,
it creates a likelier chance of promotion to the majors and can help in their
future free agency. The Cardinals currently have a number of talented
outfielders with a lot of experience at the Double A level and have a logjam at
the MLB level with Dexter Fowler, Randal Grichuk, Jose Martinez, Tommy Pham and
Stephen Piscotty, so there are still many hurdles for Mercado to climb.
The 22-year-old said he is very excited about this new opportunity, but knows there is a lot of work to be done to reach his ultimate goal of becoming a Major League Baseball player.
"Not many people get this opportunity and it brings me one step closer to my ultimate goal," Mercado said.
Adding later: "In my opinion, I haven't totally accomplished much and I'm just now on the stepping-stone of my ultimate goal, which I hope to accomplish very soon!"
If Mercado gets the call-up next season he would join Kevin Cash (the current Tampa Bay Rays coach, who played eight seasons in the MLB and debuted with the Toronto Blue Jays in 2002) and Chad Zerbe (who came up with the San Fransisco Giants in 2000) as former Gaither Cowboys to join the MajorLeagues.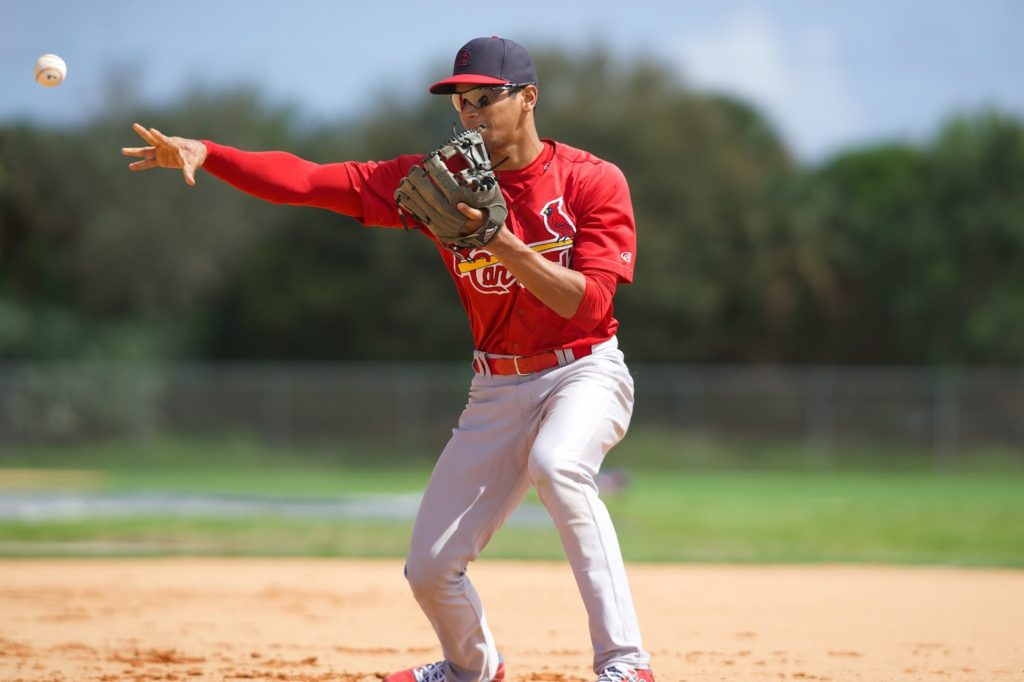 (photo provided by Taka Yanagimoto, photography manager for St. Louis Cardinals)
Editor's note: A very special thank you to the St. Louis Cardinals and their photography manager, Taka Yanagimoto, for finding and allowing us to use his great photos of Oscar Mercado!
——————————————————–
Unlike many independent news organizations, we haven't put
up a paywall – and we hope to be able to keep bringing you the great stories
from high school athletics in the 813 area free of charge. But we are still a small business with just a handful of people involved, so there are costs including travel, equipment, and other costs associated with running this business. We are looking for advertising partners, but we also need to count on our
readers for support. If everyone who reads our reporting, who likes it, helps
fund it, we will be able to continue covering these athletes' endeavors.
Support 813Preps.com for as little as $1 by clicking "Donate" button below.