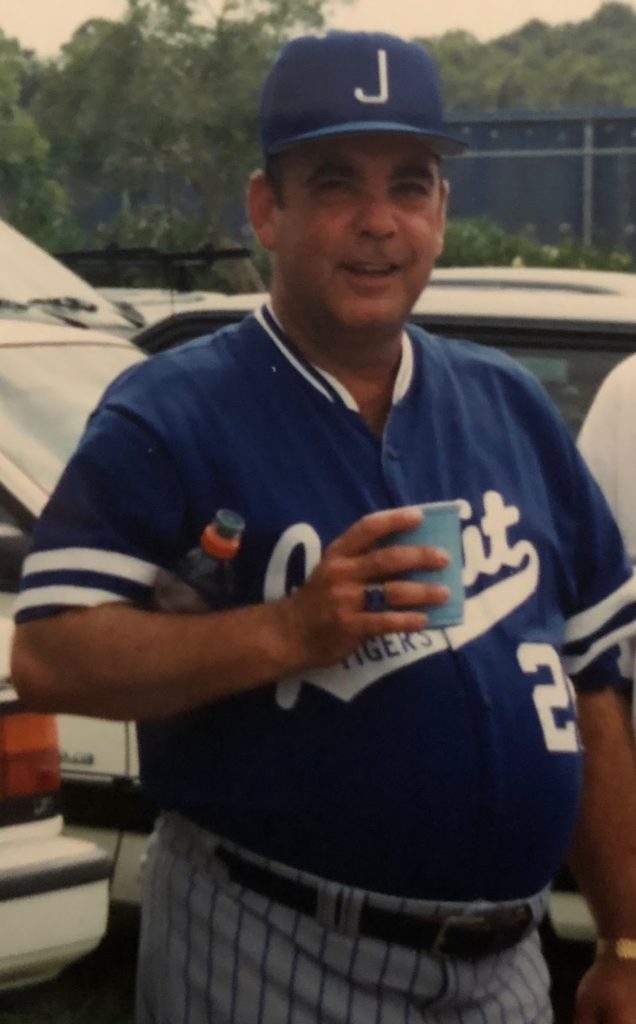 John Canfield, who spent more than 30 years as a high school baseball
coach in Tampa and a mentor and advisor to generations of players and
coaches, passed away Monday, January 29, 2018. (Photo provided.
TAMPA – For more than 30 years, John Canfield stood outside
batting cages, in dugouts and in the first base coaching box of Tampa-area
baseball fields. He was a dedicated coach and mentor to players and colleagues before retiring from coaching in 2004.
Throughout his career and in the years following he found a
way to have an influence on the game he loved, serving as a calming voice and
good ear to many, including his longtime friend, former player and coaching partner John Crumbley.
"He was my sounding board through all of my tough
decisions," Crumbley said. "He was that must-have guy who I trusted to tell me
what he thought, not just what I wanted to hear."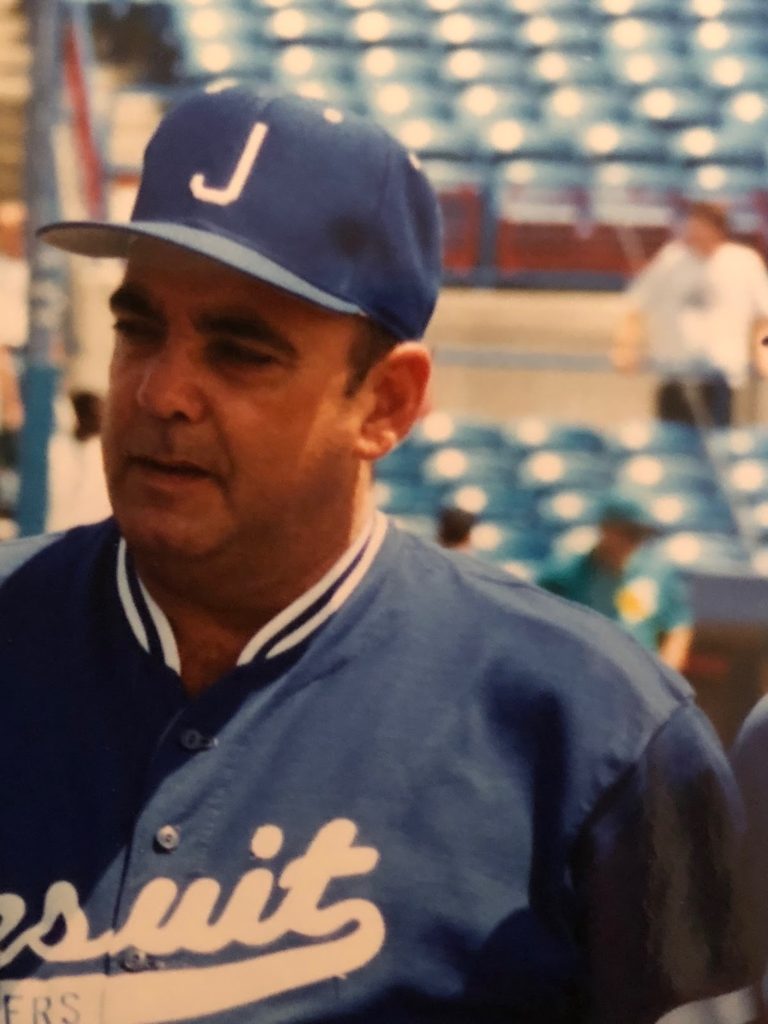 Coach Canfield at Jesuit. (Photo provided)
Mr. Canfield had been suffering from failing health recently
and Monday, passed away in his sleep at home. He was 71 years old.
Hailing from Lancaster, Ohio, Mr. Canfield was drafted into
the United States Air Force in 1966, training in Texas before being stationed
in Anchorage, Alaska and serving for four years. He played baseball in the Air
Force, even earning All-Air Force first-team honors.
After his stint in the Air Force, he moved to Florida in
1970 and eventually began his lifelong career working in insurance, but he still wanted to find a
way to be involved in baseball. He caught on as an assistant coach at Leto High
School running the summer ball team where among others, he coached Crumbley.
When Crumbley left Elon College and returned to Tampa to
play his sophomore season at Hillsborough Community College, his parents had
moved out of state, so Mr. Canfield offered up a room for his former player.
In 1985, when Crumbley took over the baseball program at
Jesuit, he turned to Mr. Canfield to join as an assistant and run the winter
ball program for the Tigers. In 1992, Mr. Canfield became the Tigers first base
coach and helped guide Jesuit to the region tournament each of the next 14
seasons, along with nine state semifinals, three state championships, and
earning a National Championship from Baseball
America in 1997.
He retired from coaching in 2004 to spend more time with his
wife Miriam, but never stopped being a mentor and a friend to his one-time
player.
"Since I was 15-years old, I've considered him family,"
Crumbley said. "He was always there for me, even after he retired if I ever
needed help with something."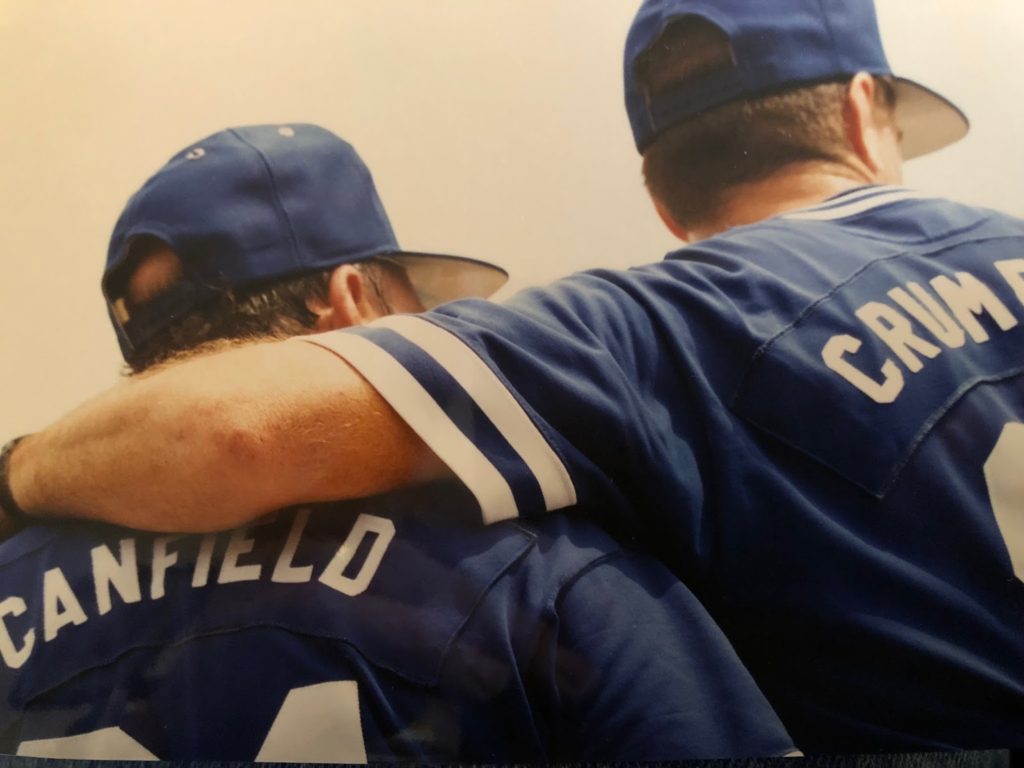 Coach Canfield went from coach to colleague, but always remained a mentor according to longtime
friend John Crumbley. (Photo provided)
Mr. Canfield had a habit of assessing the person first,
before addressing their talents as a player. Robert Weiner, who worked as a
pitching coach and assistant football coach at Jesuit, before becoming a state
champion football coach at Plant High, said how his former colleague reached a
player on a personal level was something he uses many areas of his life today.
"I remember John would come to the bullpen often and help me
assess pitchers and what the best way to approach getting them to a place where
they could be the best they could possibly be," Weiner said. "One of the things
John really imparted on me was to not try and fit any player, or really any
person, into any predetermined mold."
"He really did a great job understanding the person he was
working with, and as you do that you are able to have the most impact as you
try to help them as a coach. That's something that has really gone into not
just my coaching, but all areas of my life when it comes to working with
someone else."
Tim Nalls, a member of Jesuit's state and national
championship team in 1997 and current Tigers assistant coach, remembered Mr.
Canfield for being as much an emotional rock for the team as he was a coach.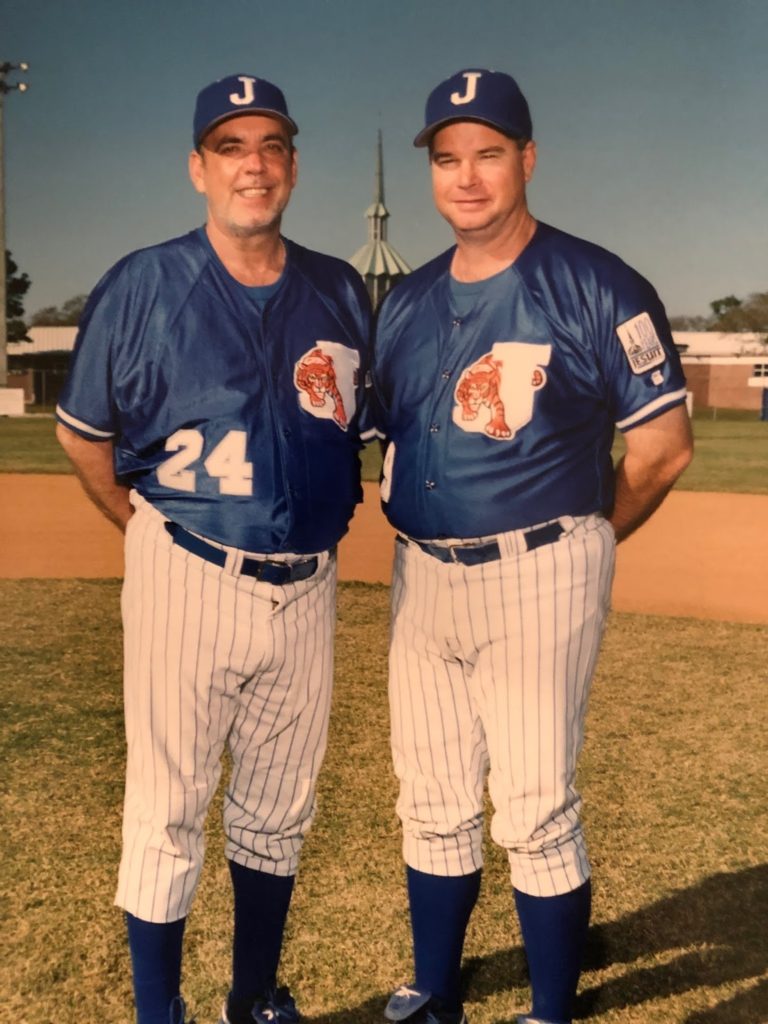 Coach Canfield (left) and Coach Crumbley at
Jesuit. (Photo provided)
"Coach Canfield possessed a childlike affection, with hugs
in moments of great triumph or great failure," Nalls said. "Through his arms
you could feel the absolute emotion that he was experiencing … (he) had a
simplicity about him that could be summed up as there was one (only) way to do
things, the right way."
Mr. Canfield is survived by his wife of 34 years, Miriam,
his daughter Lee Ann Jespersen, and one grandson Robby Garcia.
Garcia's successes on the football field, first at Jesuit
where he played both offensive and defensive line and continuing his education
and athletic career at Iowa State, while earning All-Big 12 Academic first-team
honors and starting 13 games at left guard in 2017, was a big point of pride for
Canfield according to Crumbley.
"We had lunch two weeks ago and he told me about the trip
Miriam, Lee Ann and he took to watch his grandson play in a bowl game last
month," Crumbley said. "That was the big part of our conversation, how proud of
Robby he was, and happy he got to go up and see him play. Family was everything
to him."UPDATED: Services for Mr. Canfield will be held Monday, February 5 at Blount & Curry Funeral Home, 6802 Silvermill Drive, Tampa, FL 33635. The family will be accepting friends and loved ones from 5:30-7:00 p.m. and the service will begin at 7 p.m.