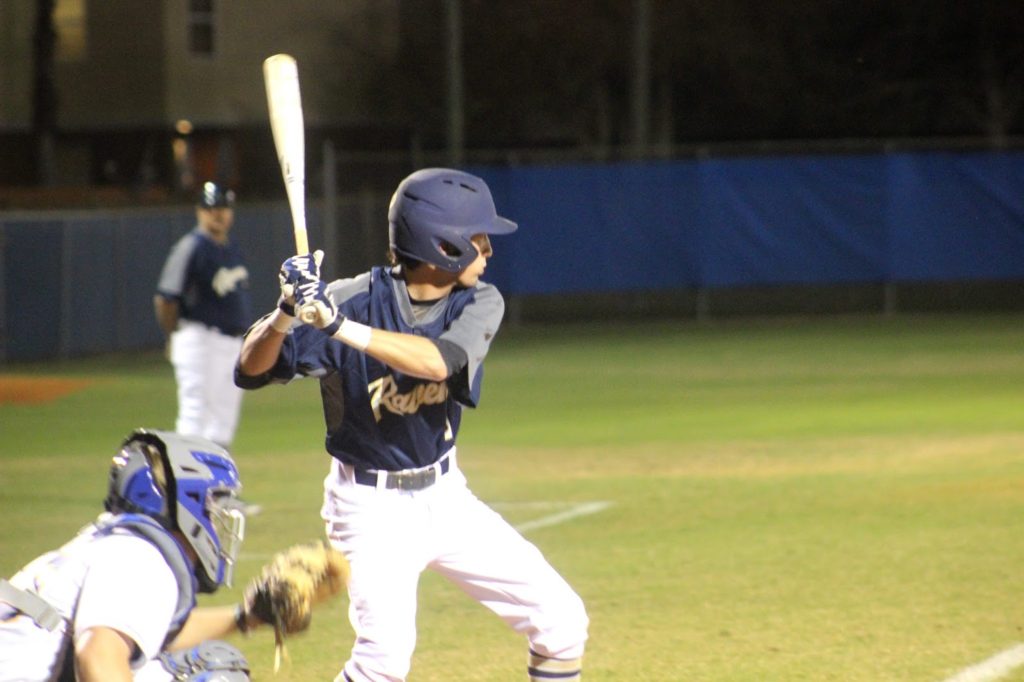 Alonso senior Ryan Drumheller went 4-for-4, with an RBI, two runs scored and two stole bases. (Photo J. Guthrie)
TAMPA – Alonso senior leadoff hitter Ryan Drumheller said he experienced the normal first-game nerves as the Ravens traveled to Jefferson for Tuesday's regular season opener, but his teammate Franco Aleman told him to focus just on getting that first run and the 6-foot-6 right-hander would take it from there.
"Franco said before the game that all he needed was one run," Drumheller said, "and I believed him."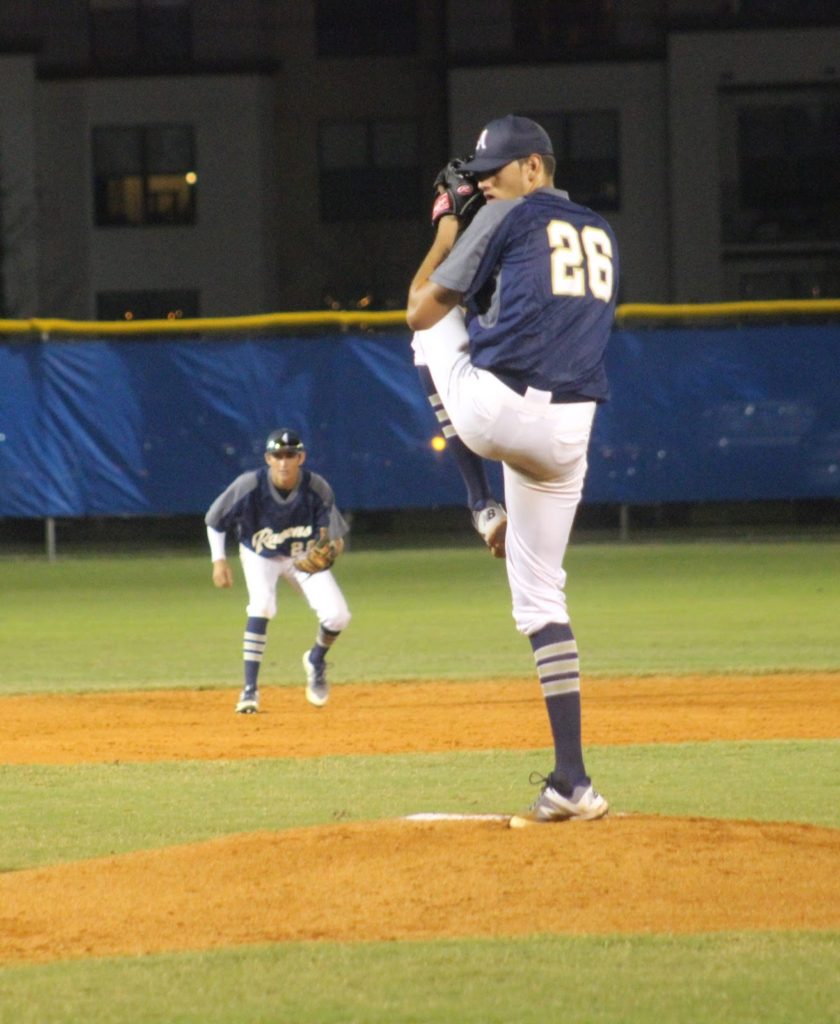 Alonso SP Franco Aleman struck out 11 in five innings
to earn the win over Jefferson. (Photo J. Guthrie)
Drumheller did his part with a line drive single to center
and got Alonso on the board in the first, scoring two hitters later
on a Jefferson error. From there Aleman proved good to his word, working five
shutout innings, striking out 11 as the Ravens topped Jefferson 5-0.
"I've been preparing mentally and physically for this game
since coach told me I was getting the start about a month ago," Aleman said. "I have been working on my curveball – throwing it in any count and to both sides of the plate – and it worked well for me tonight."
Jefferson had some chances against the Ravens pitcher, and looked poised to tie things in the fourth as senior Robby Martin hit a laser single to open the home half of the inning, then moved to third as a pickoff attempt went wide of first. However, Aleman (a Florida International signee) made up for his throwing mistake by striking out the side to strand runners on the corner. He struck out the side in the fifth as well.Martin, a Florida State signee, finished the night 2-for-2, with a walk.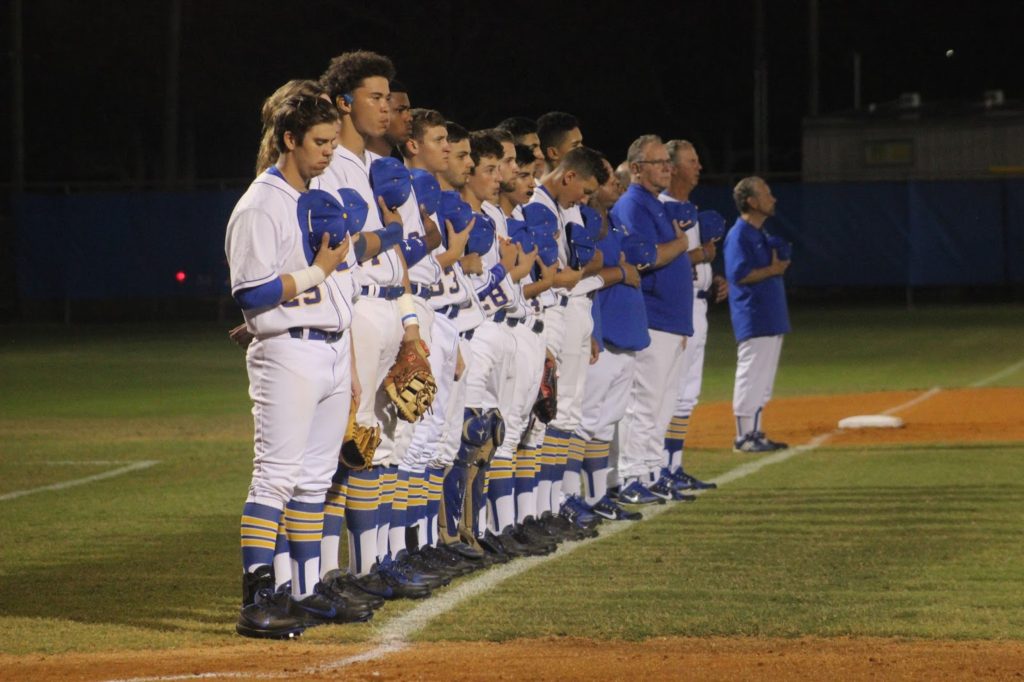 Jefferson players on the line for the pregame National Anthem. (Photo J. Guthrie)
The Dragons got a strong start on the mound as well as University of Tampa commit, Mike
Dominguez punched out nine in his five innings. Both teams finished with 12
strikeouts each, but 10 of the dozen strike threes for Jefferson went down
looking and any eliminated any chance to score.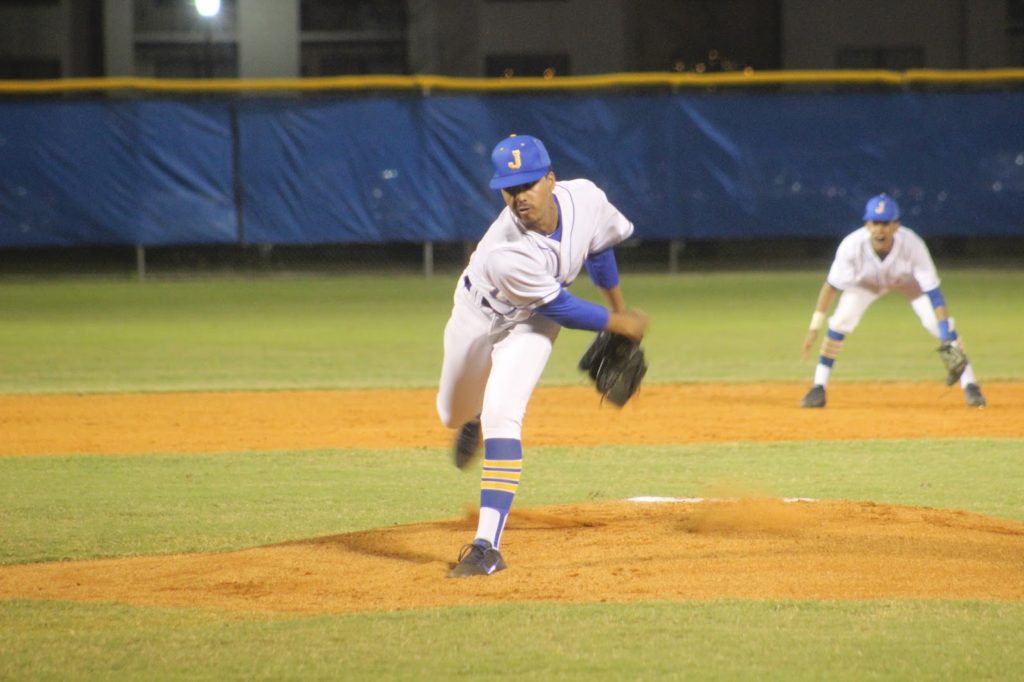 Jefferson SP Mike Dominguez struck out nine in the loss. (Photo J. Guthrie)
Drumheller wasn't finished helping out his pitching staff as
he followed up an Andrew Lara double in fifth with an RBI single. Finishing the night 4-for-4, with a pair of runs scored and two stolen bases, Drumheller said his initial nerves evaporated after his first hit and he felt at ease for the rest of his ABs.
"I was pretty nervous at first, but once I got that first
hit and stole second base the butterflies went away," Drumheller said. "After that, I was feeling confident during my next three at-bats."
Aleman, echoed his teammates sentiments on those opening day jitters, but said once the game started he found a groove quickly.
"Before the game, you get a whole feeling in your body," Aleman said. "You just can't wait to get out there and let it loose."
Sam Drumheller got in on the offense as well, with an two-run single cashing in on hits from Renzo Gonzalez and Sehjin Daley, before he took to the mound to pitch the final two innings of the Ravens win.
Senior and USF signee Nick Gonzalez (2-4, RBI) gave Alonso a little more cushion in the top of the seventh singling in Ryan Drumheller with a liner to center. Gabe Montagna also picked up his first hit of the season with a single in the final fram.
Jefferson got singles from Marc DeGusipe, Jake Coleman and Sal Vega in the loss, and the Dragons got a nice relief appearance Jorge Pinango, who recorded the final two outs of the top of the seventh with strikeouts.
Alonso continues its season on Thursday hosting Freedom, while the Dragons travel to Durant on Friday.

——————————————————–
Unlike many independent news organizations, we haven't put
up a paywall – and we hope to be able to keep bringing you the great stories
from high school athletics in the 813 area free of charge. But we are still a small
business with just a handful of people involved, so there are costs including travel, equipment, and other costs associated with running this business.
We are looking for advertising partners, but we also need to count on our
readers for support. If everyone who reads our reporting, who likes it, helps
fund it, we will be able to continue covering these athletes' endeavors.
Support 813Preps.com for as little as $1 by clicking "Donate" button below.