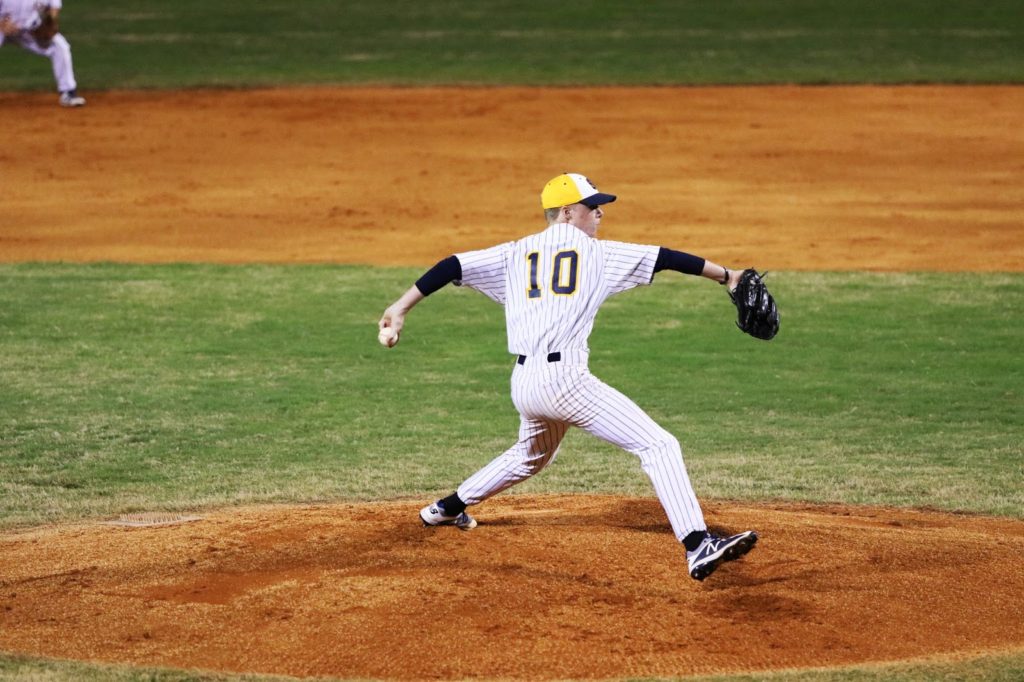 Steinbrenner LHP Huston Richter pitches in the season opener as the Warriors topped Gaither. (Photo by Will Turner)
LUTZ – Backed by stellar relief pitching and a couple of big sacrifice flies, Steinbrenner opened the 2018 campaign on a high note on Tuesday night as the Warriors defeated Gaither, 7-3.
In an early-season battle between the last two Hillsborough County programs to win state titles (both were 2016 State Champions in their respective classes), Steinbrenner senior pitcher Huston Richter picked up where he left off in the second half of last season.
The St. Leo commit previously pitched in big moments before – including starting in each of Steinbrenner's appearances in the 8A-Region 2 tournament – so he certainly brought a lot of experience into his opening night start. He showed poise in a four-inning stint against the Cowboys, where Richter pitched around six hits and gave up three runs (one earned).
On the other side, a new face took the mound for the first time, as freshman Austin Grause stuck around for five innings in his first varsity start.
The Warriors quickly jumped out to a 1-0 lead when a ball leaked past Gaither catcher Danny Gutcher's legs, allowing Miami commit Jordan Lala to race home. The Cowboys fired right back with a pair of runs, coming on Chase Ali and Jordan Williams RBI singles to score Brandon Driscoll and Grause.
Steinbrenner would have the first of two three-run innings in the third. Dalton Raeckers beat out a play at the plate after Noah Luke forced a fielder's choice, immediately after getting an RBI double to score Donovan Garcia. Jesse O'Rorke knocked a sacrifice fly to left field, scoring Tommy Malouf, who came in as a pinch runner to put the Warriors up 4-2.
"We like to put pressure on people, we've got some good team speed," Steinbrenner head coach John Crumbley said. "We had some good base-running tonight, taking the extra base and we read the ball in the dirt real well tonight."
Ali would continue a big day at the plate for Gaither, knocking an RBI triple over the head of Daniel Delgado in right field and getting Driscoll (who reached on one of three Steinbrenner errors on the night) home in the fourth.
Even with the poor defense, Ali's knock would be the last time the Cowboys would get past second base.
Chase Campolong relieved Richter in the fifth, and would play shutdown baseball throughout the rest of the affair. A tricky curveball helped contribute to five strikeouts over three innings.
"I've been struggling with my curveball lately, so it was really a big part of tonight's game, really trying to bring that back and throw strikes with it," Campolong said.
While Campolong just kept on dealing, the rest of the Warriors just kept hitting. Garcia would score on a wild pitch in the sixth, while Eric Sennott and Lala added two more sacrifice flies to put the finishing touches on the offensive night.
Garcia finished 2-2 with a pair of runs scored and a RBI, while Lala went 2-3 with a run scored and RBI. For the Cowboys, Ali finished 2-3 with his triple and a pair of RBIs.
Campolong finished the night giving up just one hit and a walk among his three innings of work. Richter struck out three in his season debut.
"(Richter) left with the lead," Crumbley said. "He made some good pitches to get us out of situations that could have gotten worse. He was solid tonight." 
– Will Turner is a student at USF majoring in mass communications, with a focus in news and editorial journalism, and a minor in history. You can follow Will on Twitter:@TBTurner813