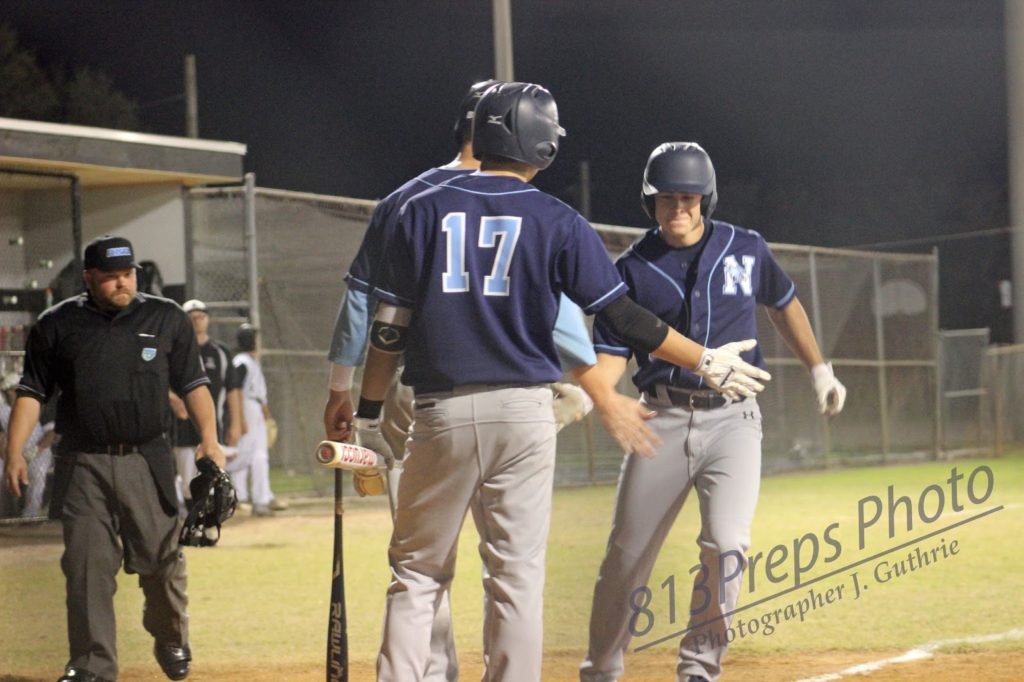 Newsome senior Josh Costlow greeted at home plate after hitting a home run to left in the
first inning of the Wolves win.
TAMPA – Newsome opened its season with some fireworks, belting four home runs while getting a strong effort from a pair of pitchers to defeat Robinson, 15-4 on the road.
The Wolves got a little two-out cooking going right away as junior Tyler McKenna belted a line-drive screamer over the right field fence,
before a pair of costly errors allowed another run to score and gave Josh Costlow an at-bat with a runner on, as he went to left with a fence-skirter of his own to spot Newsome (1-0) to a four-run lead.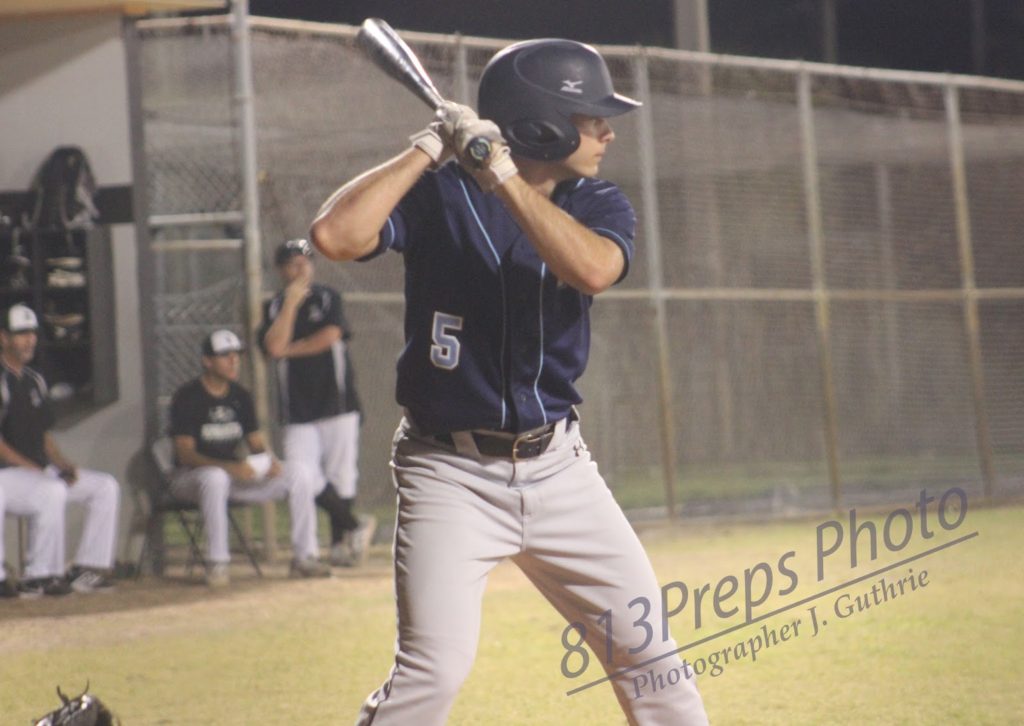 Josh Costlow was 3-for-4, with a double and three runs scored.
McKenna, who started off last year with a home run in his first at-bat before missing a majority of the season due to a ligament injury to his finger, said he was looking for a ball up and got it.
"I don't even know how to explain it," McKenna said. "I was injured almost all of last year, so to come out like that was pretty great."
Senior righty Will Ohme went to work on the hill for Newsome and pitched well in his four innings of work to earn the win. A North Florida signee, Ohme struck out six, allowing two unearned runs on three hits. Ohme said the run support early made for an easier night for him on the mound.
"With our offense working like it did tonight, it's an easy job for the pitcher," Ohme said. "You just have to do your job, go out there and throw strikes and with 15 runs of support, you should win that game."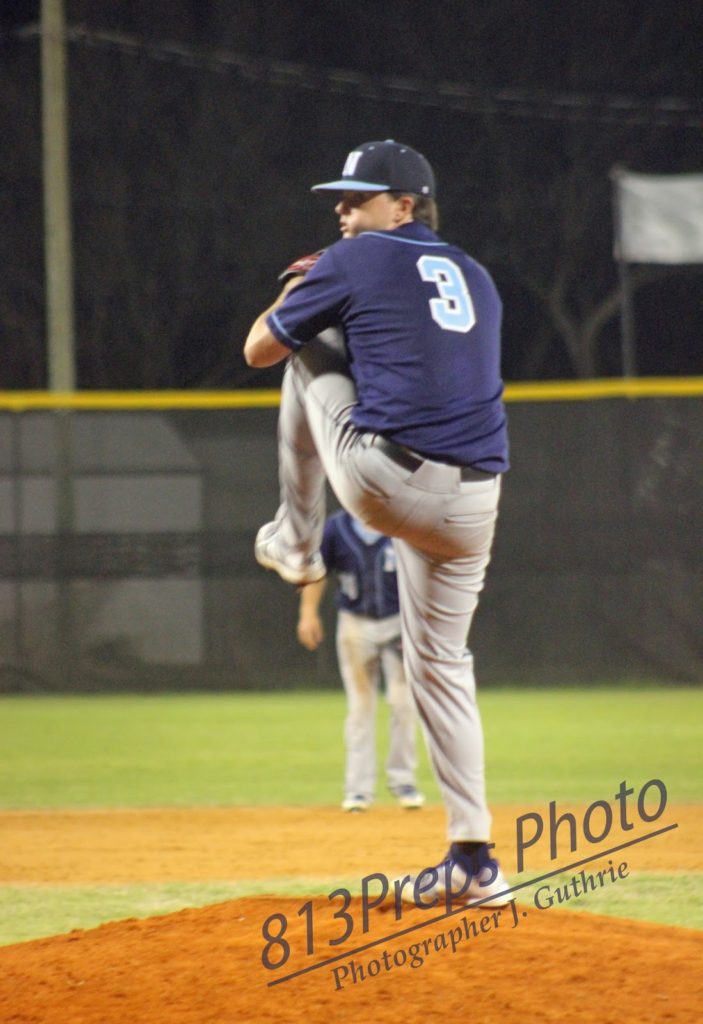 Newsome senior RHP Will Ohme struck out six
in four innings and earned the win on the
mound for Newsome.
Newsome added another run in the second as an Auston Spires double plated Kelsen Johnson, who had singled.
Robinson (0-2) answered in the home half as Chase Volpi doubled to leadoff the frame and scored on a misplayed ball at first base. It was a tough outing for Knights senior Jake Granese as he lasted just two innings.
Newsome welcomed the Knights next pitcher with a leadoff double from Costlow, eventually scoring on an RBI from Jensen in the third. The Wolves continued to steadily pull away aided by a pair of jacks by Zach Benson (the first two of his high school career), who had four RBI in the win, Jacob Phelps scored three runs, had an RBI and a double and Donald Cruz had three hits and drove in a pair.
A scrappy Robinson showed some fight throughout scoring a run in each the fourth, fifth and sixth inning, the last of which prevented an early mercy-rule ending. Volpi had a pair of doubles in the loss, while Evan Watts had a double and a run scored, and Isaiah Tosado and Austin Glasgow had RBI for Robinson.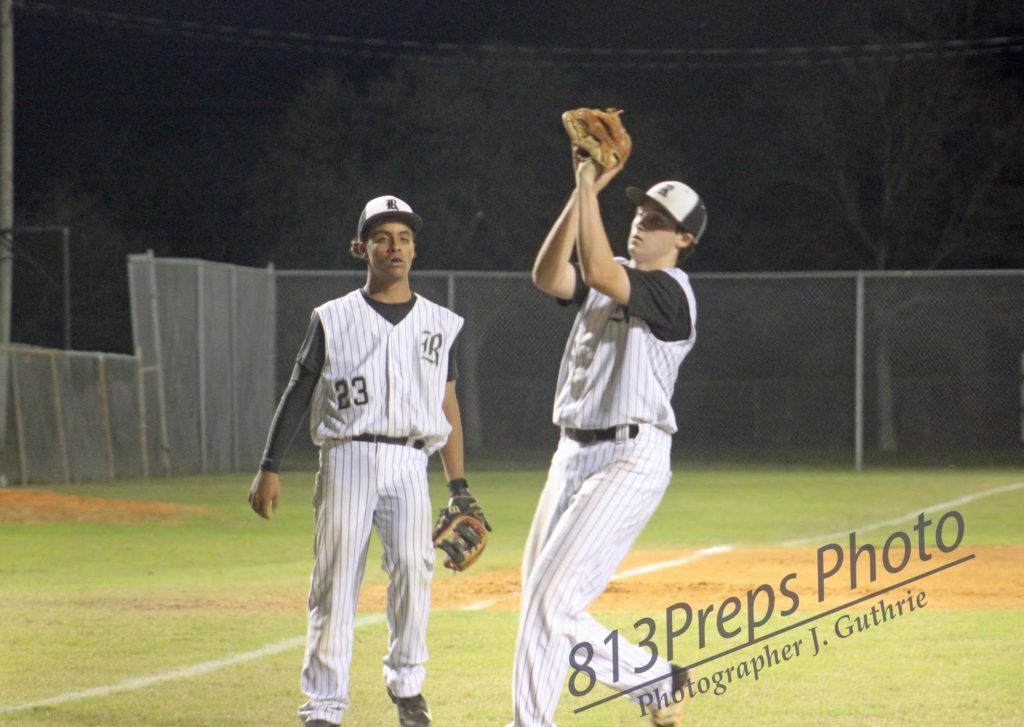 Robinson SP Jake Granese makes a nice catch on a high pop fly tailing away from him in the first inning.
Sophomore Cole Stallings earned the odd three-inning save for Newsome in an 11-run difference game with five strikeouts to his line.
McKenna made some nice stops behind the plate, keeping the ball in front of him on Ohme's curveballs in the dirt and some pitches that missed their mark for Stallings.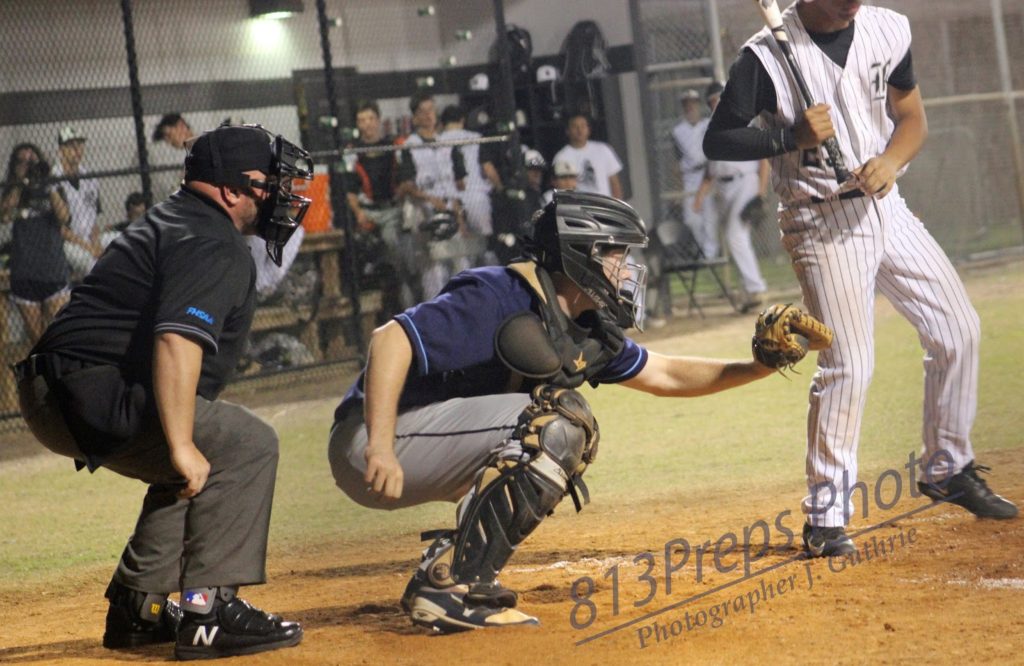 Newsome C Tyler McKenna started the offense off with a solo shot in the first and did some solid work behind
the plate in the Wolves win.
Ohme credited his catcher's effort with much of the success in the win.
"Tyler (McKenna) is great and he's always back there working hard like that," Ohme said. "He knows what I'm thinking and his hard work
really helps me when I'm out there on the mound."
Newsome
15, Robinson 4
W
— Ohme (1-0).
L –
Granese (0-1).
S –
Stallings (1). 2B – Spires,
Costlow, McKenna, Phelps
(N); Volpi 2, Watts (R).
HR –
Benson 2,
McKenna, Costlow
(N).
Records
— N 1-0; R
0-2.
——————————————————–
Unlike many independent news organizations, we haven't put
up a paywall – and we hope to be able to keep bringing you the great stories
from high school athletics in the 813 area free of charge. But we are still a small
business with just a handful of people involved, so there are costs including travel, equipment, and other costs associated with running this business.
We are looking for advertising partners, but we also need to count on our
readers for support. If everyone who reads our reporting, who likes it, helps
fund it, we will be able to continue covering these athletes' endeavors.
Support 813Preps.com for as little as $1 by clicking "Donate" button below.