High School Baseball Roundup 2/22/18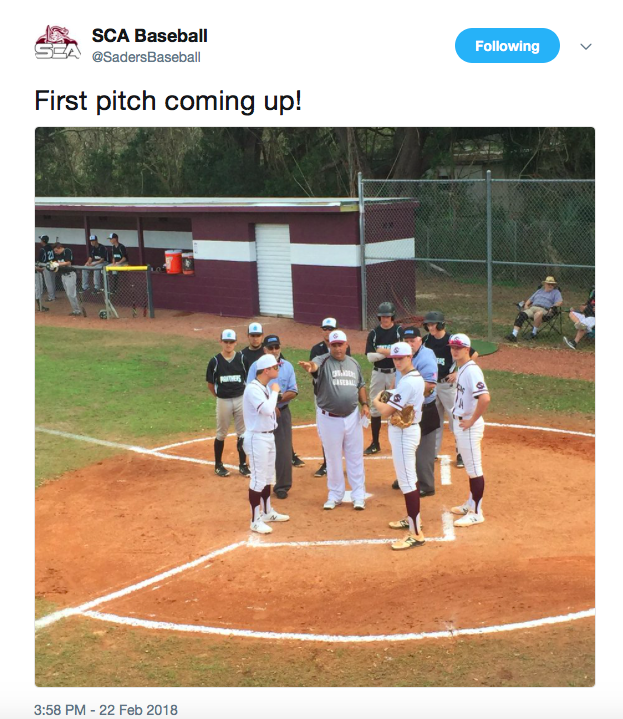 Seffner Christian opened its
season with a bang scoring five runs in the first two fames to cruise to a
mercy-rule win over Bell Creek Tuesday afternoon. After scoring two runs quickly,
Dean Collins (2-for-3, 3 RBI) broke things open in the first with a two-run
single to right. Colby Leduc had a double and a pair of RBI for the Crusaders,
and Andrew Rodriguez plated two on offense and earned the win on the mound
tossing three innings, allowing one hit and striking out three. Brendan
Gerena-Lee went 2-for-2 with a double for Bell Creek, and Dean Holtz and Dante
Portillo had an RBI apiece.
W— A. Rodriguez (1-0).
L – Toledo (0-1). 2B – Leduc (S). Records— B 0-0; S 0-0.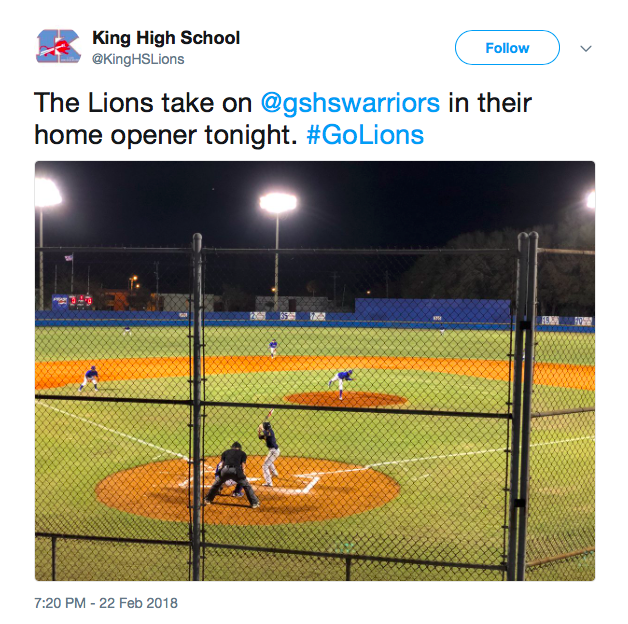 King weathered an early storm
from visiting Steinbrenner, including a two-run double by Grant Walford and an
RBI single by Donovan Garcia. But the Lions roared back with a four-run fourth
keyed by a two-run single by Addison Barger and an RBI single from Justice
Thompson (who also earned the win on the mound) to take the victory.
W— Thompson (1-0). L – Walford (0-1). 2B – Walford,
Garcia (S).
Records— S 1-1; K 1-1.
Alonso senior Jorge Oleaga struck out nine over
five innings to earn his first win of the season, helped by Sehjin Daley and
Drew Lara's RBI singles. The Ravens ended the game on a double play as freshman
Joey Johnston made a running catch, then doubled a runner with a throw to first
in his first varsity appearance. Freedom's Hunter Kniskern had an RBI double to
drive in the Patriots lone run.
W— Oleaga (1-0). 2B – Kniskern
(F); S.
Drumheller, N. Gonzalez, Montes (A). 3B – R. Gonzalez(A). Records— F 1-1; A 2-0.
Dylan Robinson's two-run bomb to right field
gave Plant City a lead in the second and the Raiders held of Gaither's late
comeback attempt. Starting pitcher Parker Messick struck out eight in six
innings of work allowing three runs and also added a pair of RBI on offense to
the Raiders win. For Gaither, Danny Gutcher and Orlando Arevalo had doubles and
three RBI apiece.
— T.J. Messick (@TJMessick) February 23, 2018
W— Messick (1-0). L – Morales (0-1). 2B – Gutcher
2, Arevalo (G); Eldridge (PC). HR –

 

(G); Robinson (PC).
Records— G 0-2; PC 2-0.
Plant 17, Chamberlain 0 (five innings)
— Jay Recher (@jayRecher) February 23, 2018
Jay does great work sheading
light on these kids and is a tremendous friend to 813Preps.com
Tampa Prep 3, Lakeland Prep 2
W— Schabes (1-0). 2B – Relin (TP). Records— TP 2-0.
Leto 12, East Bay 0 (five innings)
Leto senior Jakob Riley tossed
a five inning shutout, while Joshua Cruz went 3-for-3 at the plate and drove in
three runs to lead the Falcons to a road win.
W— J. Riley (1-0). Records— L 2-0; EB 0-2.
W— Gustafson (1-0). L – Montgomery (0-1). 2B – Gustafson
(H). 3B –

 

(H); (B). Records— H 1-1; B 0-2.
Tampa Catholic 6, Shorecrest Prep 2 
| | | | | | | | |
| --- | --- | --- | --- | --- | --- | --- | --- |
| SP | 101 | 000 0 | — | | 2 | 6 | 1 |
| TC | 400 | 100 1 | — | | 6 | 7 | 1 |
W
— Del Rio (1-0). 
L – 
Forsyth (0-1). 
2B – 
Seoane (TC). 
Records
— SP 1-1; TC 2-0.
North Gwinnett (Ga.) 3, Berkeley Prep 1 (eight innings)
L – Christy (0-1). 2B – Childers (BP). Records— NG 4-0; BP 0-1.


Lakeland McKeel 2, Cambridge Chr 1
W – Gilbersten (1-0). L – Krueger (0-1). 2B – Kaul (CC). 3B – Hessinger (CC). Records— CC 1-1.

Strawberry Crest 10, Spoto 2


Lakeland Victory Chr 10, Citrus Park Chr 1
——————————————————–
Unlike many independent news organizations, we haven't put
up a paywall – and we hope to be able to keep bringing you the great stories
from high school athletics in the 813 area free of charge. But we are still a small
business with just a handful of people involved, so there are costs including travel, equipment, and other costs associated with running this business.
We are looking for advertising partners, but we also need to count on our
readers for support. If everyone who reads our reporting, who likes it, helps
fund it, we will be able to continue covering these athletes' endeavors.
Support 813Preps.com for as little as $1 by clicking "Donate" button below.