Sickles starting pitcher Dylan Eskew set the bar pretty high for himself in his first start of the season, tossing a
five-inning, no-hitter as the Gryphons defeated Armwood, 11-0 at home Thursday night.
"From here, I'm going try and keep going with the no-hits I guess," Eskew joked in a call with 813Preps after his feat.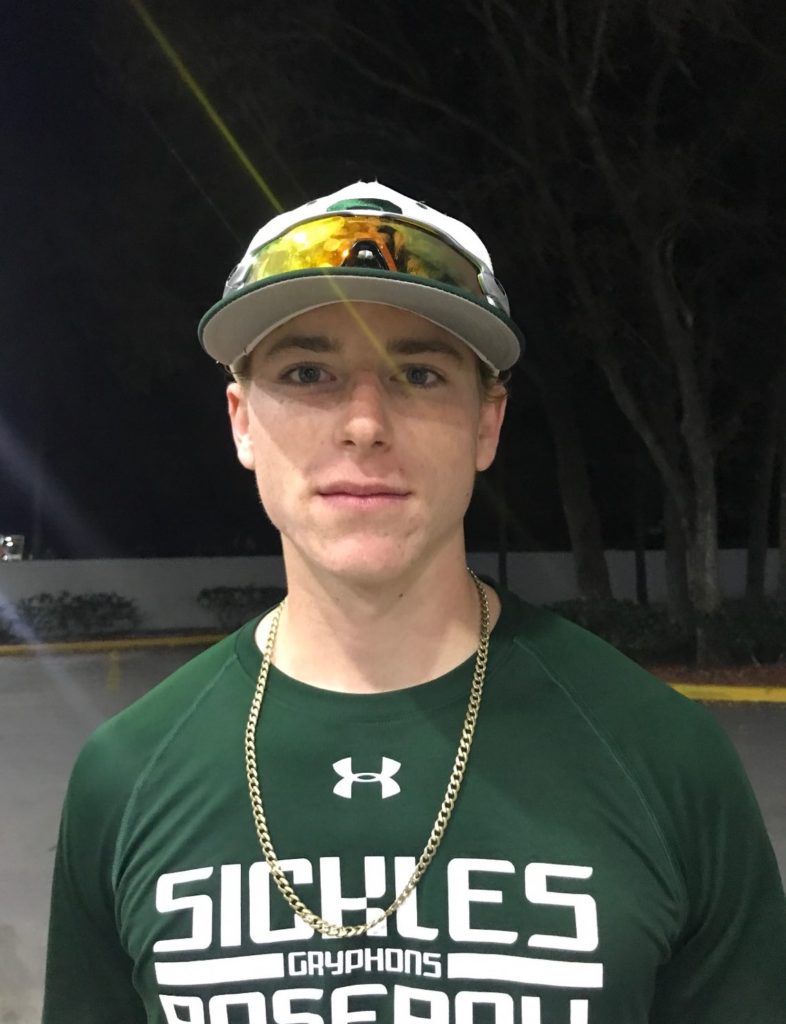 Sickles junior RHP Dylan Eskew
(photo provided by Sickles High Baseball)

Eskew, a junior and University of Miami commit, struck out eight and walked just two in his dominant performance. The right-handed hurler credited an escalated weightlifting and workout schedule since last season with increased velocity, and said his coaches really pushed him to improve in the offseason. 
"I give most of the credit to my coaches, because they really brought me a long way from where I was last year," Eskew said. "I tried to keep getting stronger, lifting a lot and doing band work to get my arm stronger."
Eskew helped his own cause in the win with a pair of doubles and five RBI as Sickles scored 10 runs in the opening frame. Connor McTeer homered (his second of the year) and drove in a pair, Danny Bernstein had two RBI and a double, and Zane Terrance scored a pair and drove in one for the Gryphons.
Eskew joked that his success in the no-hit bit saved teammate Trey Bacon (who was 3-for-3, with two runs scored) some future ridicule from the team after the Sickles shortstop broke the unwritten rule of mentioning the no-hitter to the pitcher in the fourth.
"I didn't even know I had a no-hitter until Trey (Bacon) told me in the fourth," Eskew said. "Cardinal sin, yeah. I was like, 'c'mon man.'"
Sickles improves to 2-0 on the season after opening with a win against King on Tuesday, and Eskew was quick to put his game in perspective as the Gryphons take on the rest of the year.
"We have to keep grinding and have put in a lot of work," Eskew said. "But we can't let up. We have to keep pushing each other."
Sickles 11, Armwood 0 (five innings)
W— Eskew (1-0). L – Oliu (0-1). 2B –

 

Eskew 2, Bernstein (S). HR – McTeer (S). Records— A 0-2; S 2-0.