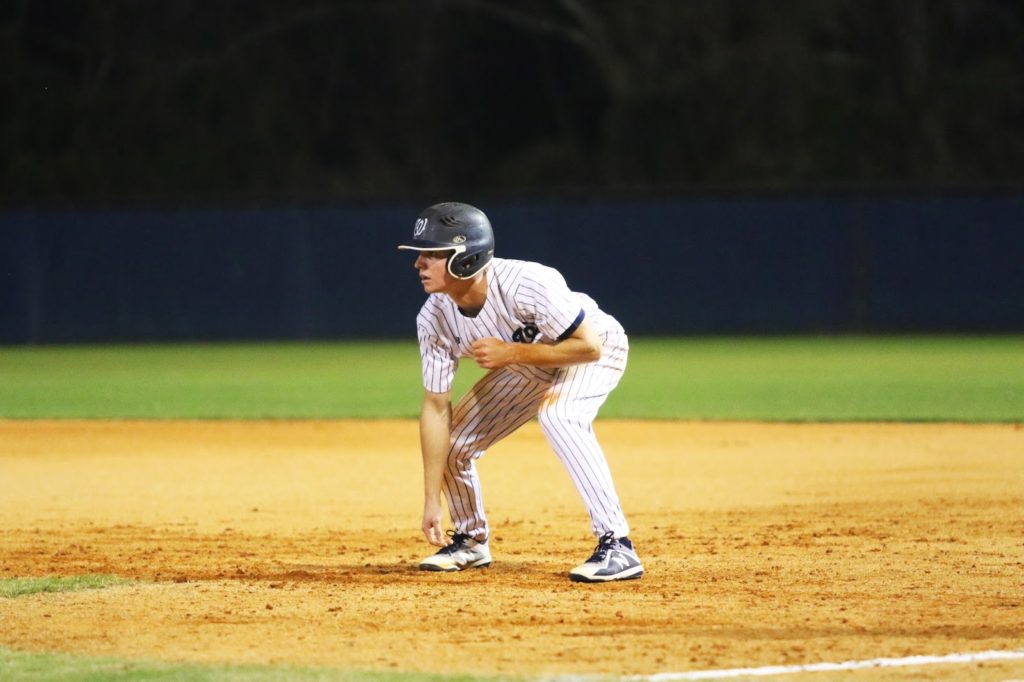 Wharton junior Brian Baughman was 2-for-3, with a double and three runs scored
in the Wildcats win. (Photo by Will Turner)
TAMPA – Wharton pitcher Duncan Pastore had pitched 15 innings over his three years on the Wildcat's varsity squad prior to Thursday night. The senior had started just one game, an 11-0 drubbing of Blake, where he compiled six strikeouts and gave up one hit in five innings of work.
Pastore nearly mirrored that start Thursday as Wharton topped a young Riverview, 10-0 in five innings.
Aside from allowing a leadoff double from MacAllister Jorgensen and a fifth inning base knock to Adam Hunt, the Nova Southeastern commit peppered in seven strikeouts among five innings.
Wharton (2-0) quickly jumped on Riverview (1-1) pitcher Ty Correa, who would only last two innings before giving way to Kyle Knees in the third.
Mike Hudson would draw a bases loaded walk to let Brian Baughman come home off Correa in the first. Grady Maguire would unclog the bases with a two-RBI single to score Leo Alfonzo and Steven Hotinski shortly after.
Alfonzo knocked a sacrifice fly to deep center to score Zach Ehrhard and Baughman cashed in on the next batter and rushed home when Correa threw a wild pitch that skipped past Cameron Vigh.
Correa would last three more batters before plunking Hudson with a pitch (his second of the night) that prompted head coach Bill Lieby to bring in Knees.
Meanwhile, Pastore struck out the side in the third, as the Wildcats kept on rolling.
"We broke him out here and there throughout last season, we put him in some bad positions, and it made starting in games a little bit easier for him," said Wharton head coach Scott Hoffman.
Three straight walks from Knees to start the fourth gave way to Hudson roping a double down the left field line, which would score Baughman and Alfonzo, yet again. Kipp Kochera came in to provide relief, but a bad bounce allowed a ball to hop into left field for a two-RBI single to send Pastore and Hudson home.
Hudson (who walked with the bases loaded to score Alfonzo and end the game) and Maguire would both finish with four-RBI nights out of the five and six spots in the lineup, respectively.
"[To get that production] helps a lot," Hoffman said. "You're always going be successful when the bottom half or the middle half of your lineup are successful. Right now, they're doing great and that's wonderful."
The Sharks would issue 12 free passes on the night – Alfonzo, Pastore, and Hudson all drawing two walks each – allowing the Wildcats to score their 10 runs on just five hits.
"We want our guys to have quality at-bats. If that's taking pitches, that means they take 
pitches. If their guy is going to pound the zone and be aggressive, then we'll be aggressive. It's a chess match. We always preach to have quality at-bats and for them to be a team player and take the walk when it's there," Hoffman said.
Pastore gets his second win of his high school career, while the Wildcats get their second ten-plus run win in the first two games of the season.
"Stacking up these wins kind of raises the bar for everyone and it makes us feel great," Pastore said. "We're in a 'building' season, per say, but coming in with these two ten-run rule win games really makes us feel like we're up there with some of the more dominant teams in years past."
Baughman and Alfonzo finished with three runs scored each, while all but one Wildcat hitter failed to reach base on the evening.
Wharton will travel to Chamberlain on Tuesday in the first game of a back-to-back as they try to keep the hot bats rolling against the winless Chiefs. Riverview will face Danny Gutcher and the Gaither Cowboys, who fell to 0-2 after a loss to Plant City on Thursday.
–
 Will Turner is a student at USF majoring in mass communications, with a focus in news and editorial journalism, and a minor in history. You can follow Will on Twitter:@TBTurner813