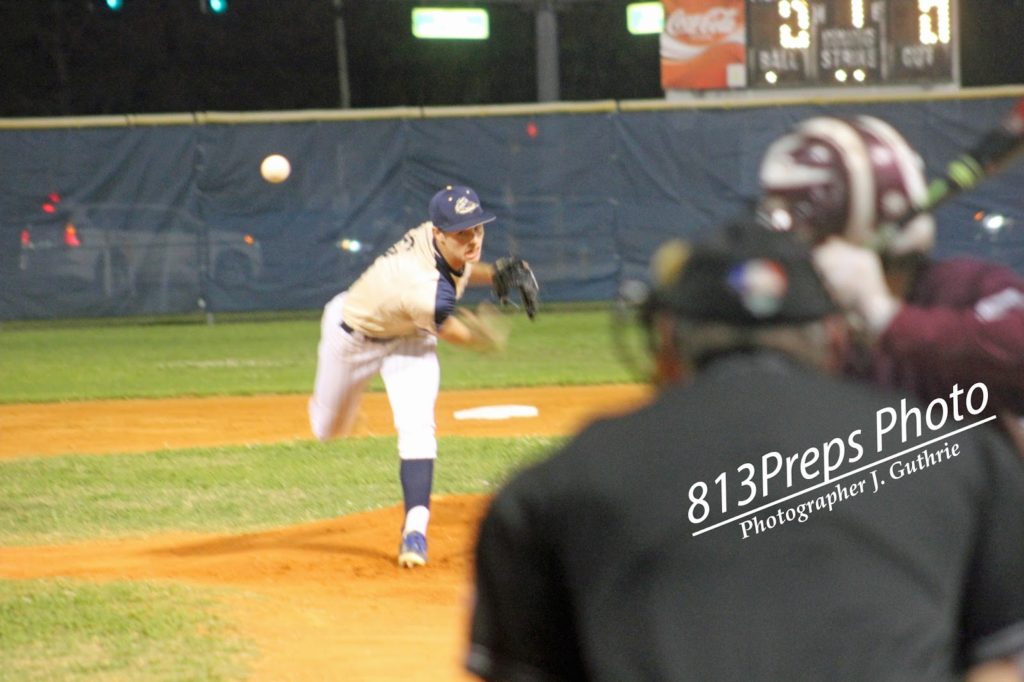 Cambridge Christian senior Austin Carter worked five innings allowing just one, unearned run and striking
out eight to lead the Lancers to a win over Seffner Christian.
TAMPA – A Michael McCarty sac bunt attempt in the second
inning yielded opportunity for Cambridge Christian and proved insurmountably
unfortunate for Seffner Christian, as the Lancers put up three runs in the
frame and held off the Crusaders, winning 5-2 at Skyway Park on Friday.
McCarty deadened a ball in front of the mound to advance two
runners, but a mistimed shift saw Seffner Christian's second baseman in the way
of a toss to first to try and record the out. The first error allowed a run to
score easily and an errant throw across the diamond allowed two players to move
into scoring position. The Lancers added another run on a bases loaded walk to
Nick Kaul, and a third run on a double-play ball giving Cambridge Christian
(2-1) starting pitcher Austin Carter all he needed.
Carter himself was a victim of an error in the first inning
which allowed Seffner Christian (1-1) to take the first lead when Will Gilbert
singled in James Peeler, who reached on a misplay at short to lead off the
game.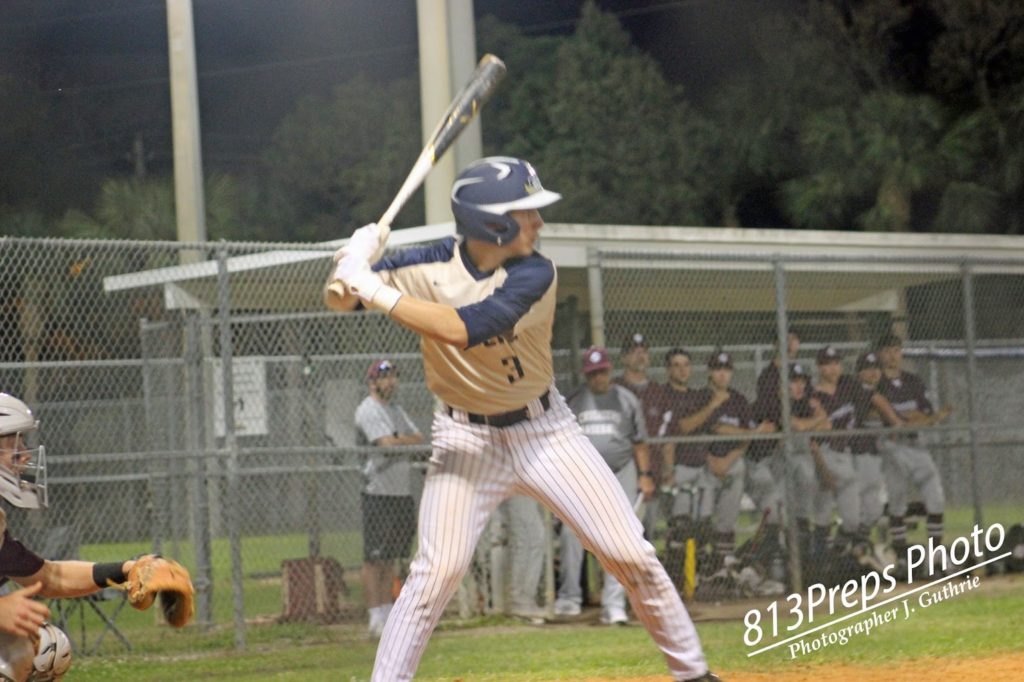 Lancers sophomore C Tilden Agee had a pair of RBI in the win.
Cambridge Christian answered in the bottom half as sophomore
Tilden Agee singled in Sevas Cardona to tie the game. From there, the
right-handed Carter was sharp, working five innings, striking out eight and
scattering five hits.
The two teams are district opponents in Class 3A-District 4,
but in the eight-team district, this game was not officially a district game.
Though, it did serve to give each team a fresh look at an opponent they could
face a few more times this season. Carter acknowledged as much after the game,
but said he'd keep specifics for himself.
"We definitely learned some things about a few of their guys
tonight for when the game matters for districts," Carter said. Adding with a
chuckle: "But I'm not going to say what we learned."
After the second inning, both teams went into a scoring lull
as Carter worked for CCS and lefty reliever Tommy Turkett tossed four innings
and struck out four after relieving Seffner Christian starter Bobby Wellen (who
took the loss) in the second.
Junior RHP Ben Block took to the mound working a scoreless
sixth, getting some solid work from senior second baseman Austin Hessinger, who
had his hand (and glove) in all three outs of the frame – fielding two ranging
ground balls in different directions before throwing to first, and tracking down
a pop fly in between.
The Lancers added some insurance in the home half of the
sixth as Agee doubled to centerfield to score Kaul to pick up his second RBI.
"Our coach has told us to focus on going back up the middle
with the ball and that was what I was able to do in my first at bat with two
strikes," Agee said. "My fourth at bat, the ball was over the plate and I was
able to put it out there (for the double)."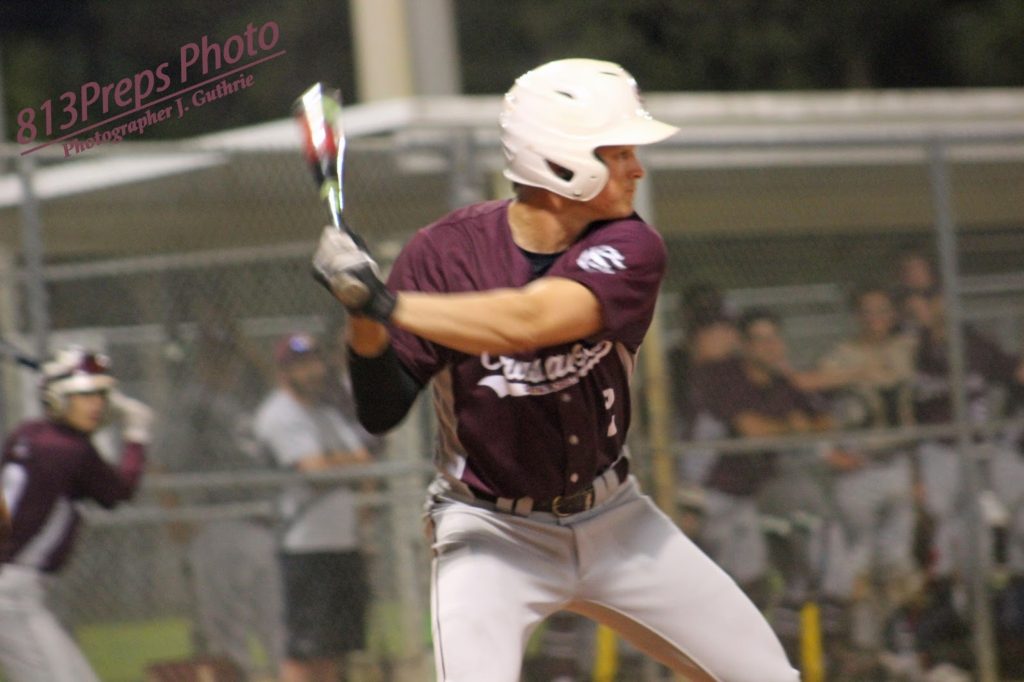 Seffner Christian senior James Peeler had three doubles and an RBI.
The Crusaders didn't find much success at the plate, except
for the leadoff man Peeler, who after reaching on an error in the first, belted
a trio of doubles in his following plate appearances. The last coming in the
seventh to plate Seffner Christian's second run.
"The kid can swing it a little bit," Cambridge Christian
coach Stephen Piercefield said of Peeler. "He really had some impressive
at-bats tonight."
Andrew Rodriguez also had a double for the Crusaders in the
loss.
Ethan McCoy worked the seventh for the Lancers, allowing an
earned run, but striking out the side to close the game. The senior, who started
the night in right, was 2-for-2 at the plate, with a double and run scored.
"Seffner Christian is a really good team," Piercefield said.
"Hats off to them; they never let up in this one and coach (Sal) Giardina, in
just two years has built a really good program. We'll need to play our best
each time we see them."
Cambridge Chr 5, Seffner Chr 2
W
— Carter (1-0).
L –
Wellen (0-1).
2B –
Peeler 3, A. Rodriguez
(S); Agee,
McCoy (C).
Records
— S 1-0; C 1-1.
————————————————————–
Unlike many independent news organizations, we haven't put
up a paywall – and we hope to be able to keep bringing you the great stories
from high school athletics in the 813 area free of charge. But we are still a small
business with just a handful of people involved, so there are costs including travel, equipment, and other costs associated with running this business.
We are looking for advertising partners, but we also need to count on our
readers for support. If everyone who reads our reporting, who likes it, helps
fund it, we will be able to continue covering these athletes' endeavors.
Support 813Preps.com for as little as $1 by clicking "Donate" button below.