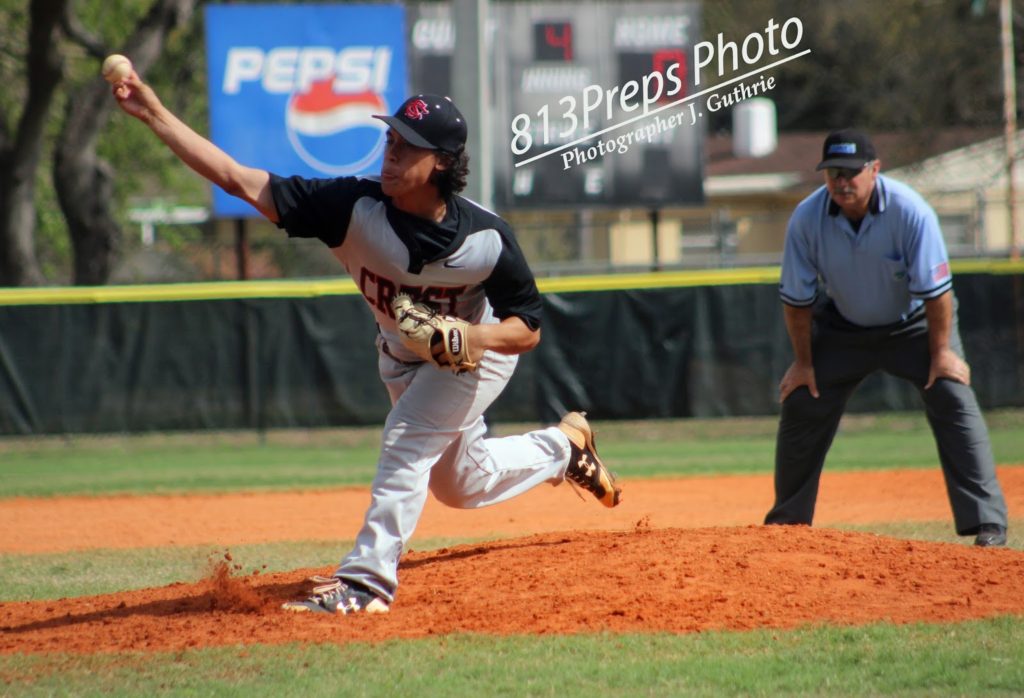 Strawberry Crest senior RHP Damien Torres came on with the bases loaded and worked three
perfect innings of relief with seven strikeouts in Chargers win at Chamberlain.
TAMPA – Strawberry Crest overcame a sluggish day at the plate, thanks in part to a strong relief outing from senior Damien Torres, to come away with a 4-0 win at Chamberlain on Saturday.
The Chargers were slow to pick up the timing from Chamberlain starting pitcher Sherwin Johnson who, though not a fire-baller, mixed his pitches well and kept opposing hitters a little off rhythm.
Strawberry Crest (2-0) finally got to Johnson in the third when freshman Alex Mussenden singled, stole second and third, and crossed the plate on a hit by junior Ryan Dell.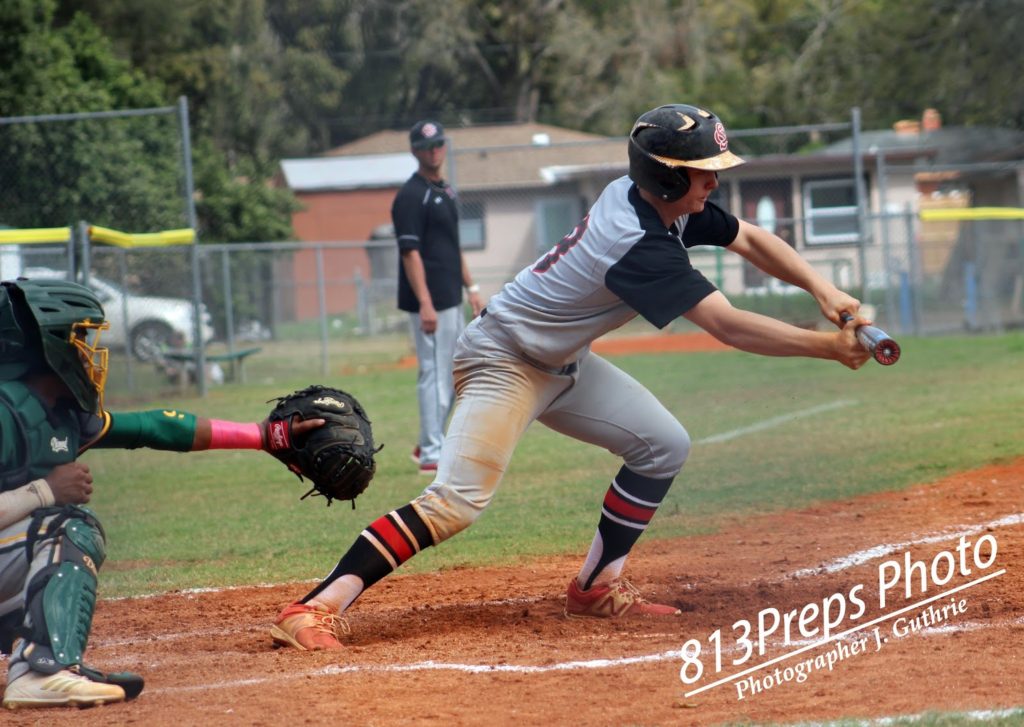 Junior Ryan Dell lays down a sac bunt in the fifth inning. Dell got the Chargers on the board in the third
with an RBI single and also had a stolen base in the win.
With the lead the Chargers pitchers did their part, as starter Alex Marshall worked out of a jam in the second and struck out two in his three-plus innings. Marshall got into a bit of trouble in the fourth allowing back-to-back singles from Chamberlain's Brayden Moyer and Greg Santana, before an error loaded the bases and forced coach Eric Beattie to make a switch on the mound.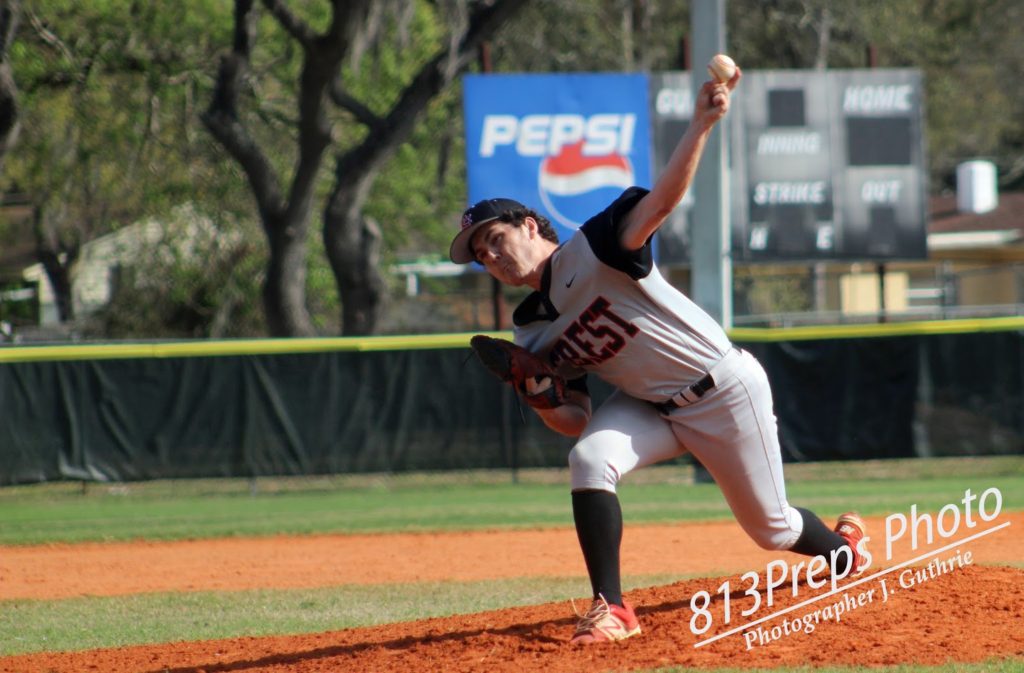 Lefty Alex Marshall made the start on the mound for the Chargers
working three-plus innings, striking out two and left with the lead
in no decision.
Torres then took to the hill for the Chargers and started breaking off a nasty curveball for which the Chiefs' hitters had no answer.
"We actually planned for Torres to start this game all week, and I told the guys, 'hey, he's going to throw hard and drop a curve on you like you haven't seen,'" Chamberlain coach Jason Smith said. "We planned for that, but we haven't seen a ball that breaks that sharp and comes at you that fast, and we don't have anyone who can mimic that in practice. He's a very good pitcher."

The right-hander struck out his first two batters before a missed hit-and-run attempt saw a charging Chamberlain runner upended at the plate by Crest catcher Joey Parrillo for the third out.
"I just came in knowing I had to get my team out of that situation so we could go in and try to get some hits and get some more runs," Torres said. "I just tried to do my job for my team."
Torres worked three perfect innings, striking out seven and earned the win in his first appearance of the year.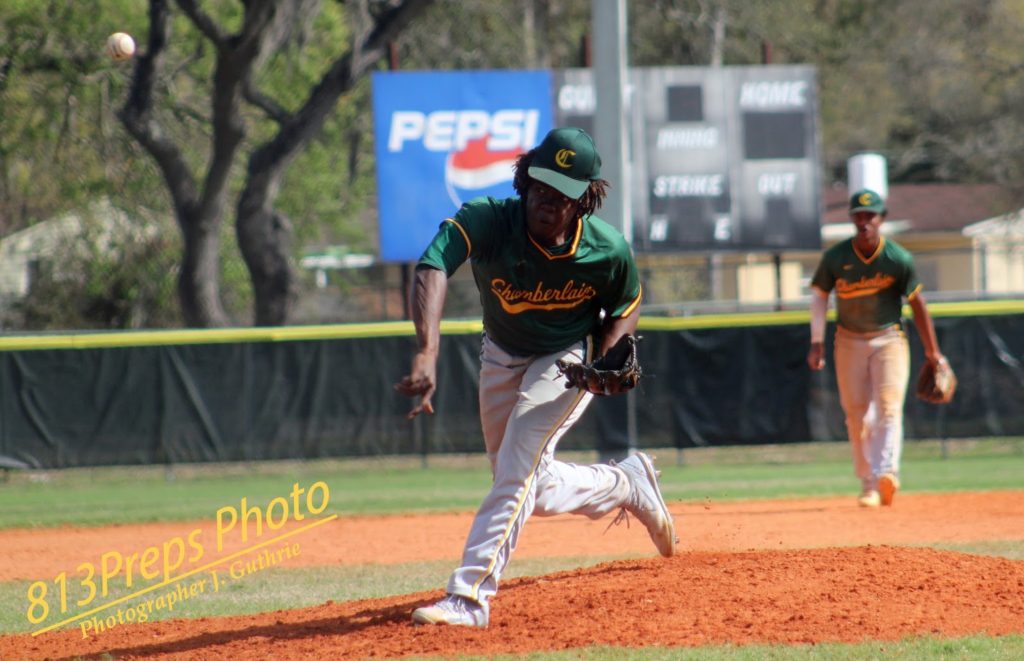 Chamberlain starting pitcher Sherwin Johnson allowed one earned run
in six innings for the Chiefs.
"My fastball command was really working right away," Torres said. "So mixing in my off-speed, I was happy with (my curveball) today. I made sure to stay on top more instead of hanging it and I buried it when I needed to.
For Chamberlain (0-3), Johnson had a nice outing on the mound in a losing effort, working six-plus innings, allowing four runs (one earned), while scattering five hits and striking out a pair.
"Sherwin has been a starter for me for three years and has really worked hard to develop," Smith said of his senior. "We told him to pound the zone and throw strikes. His fastball was doing that and his curveball worked
well, he spotted it well, and they weren't able to get hits off it today. He did a really good job for us."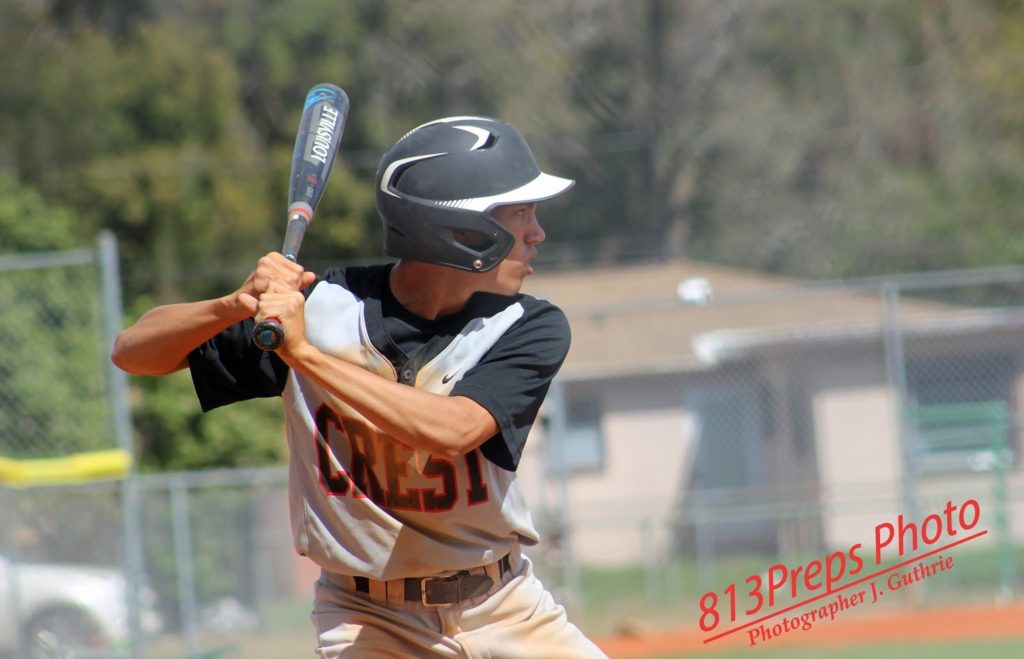 Strawberry Crest freshman Alex Mussenden collected a pair of
hits, stole three bases and scored twice in the win.
Any hopes for a Chamberlain rally in the seventh though, were hurt as a single ended Johnson's outing on the mound and a trio of errors allowed Crest to score three runs to pad the cushion. 
The scoring in the frame was keyed by another single from Alex Mussenden (2-for-3, two runs, three stolen bases) and a pinch-hit, RBI groundball by CJ Kirkland. 
Junior Tanner Kelley had a double, scored once and stole a base for the Chargers.
Chamberlain got two runners on in the bottom of the seventh on hit batters, but couldn't score off reliever Kade Manderscheid. Moyer manned first base for the Chiefs and tracked down three skied popups in foul territory in the game. 
Strawberry Crest 4, Chamberlain 0
W
– Torres (1-0).
L –
Johnson (0-0).
2B –
Tanner Kelley
(SC).
Records
– SC 2-0; C
0-3.
——————————————————–
Unlike many independent news organizations, we haven't put
up a subscription paywall – and we hope to be able to keep bringing you the great stories
from high school athletics in the 813 area free of charge. But we are still a small
business with just a handful of people involved, so there are costs including travel, equipment, and other costs associated with running this business.
We are looking for advertising partners, but we also need to count on our
readers for support. If everyone who reads our reporting, who likes it, helps
fund it, we will be able to continue covering these athletes' endeavors.
Support 813Preps.com for as little as $1 by clicking "Donate" button below.