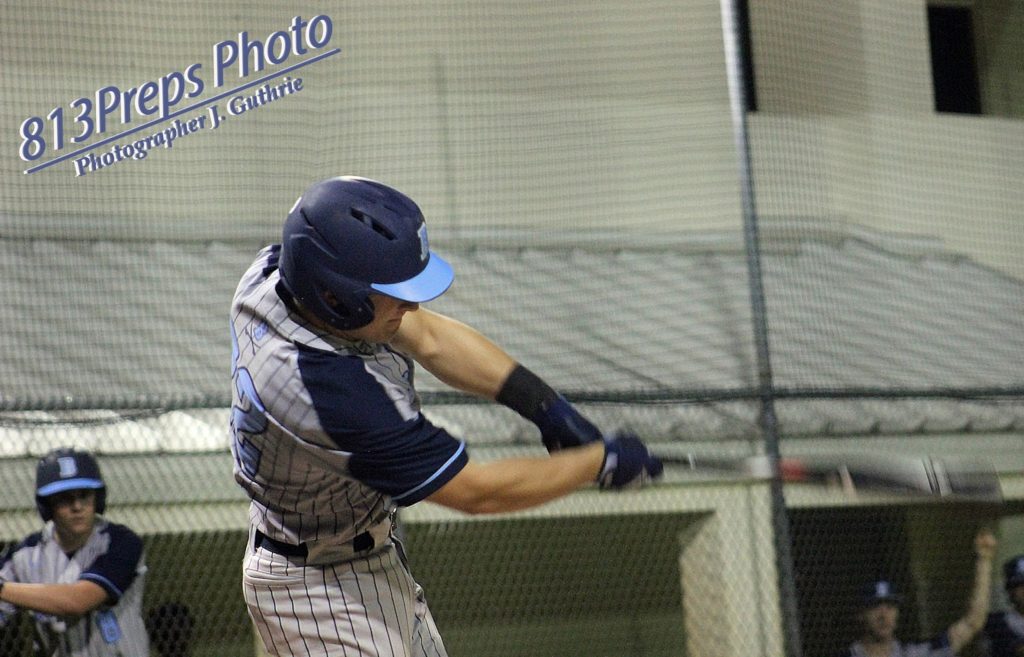 Berkeley Prep junior Jakob Hines singled in the game's first run as the Buccaneers held off a late comeback
by Tampa Prep on the road, Tuesday.
By Jarrett Guthrie 
TAMPA – When Berkeley Prep freshman Jac Caglianone drilled a full-count, fastball to right-center for a double to clear the bases in the sixth, it seemed the Buccaneers were in a comfortable spot with the game well in hand.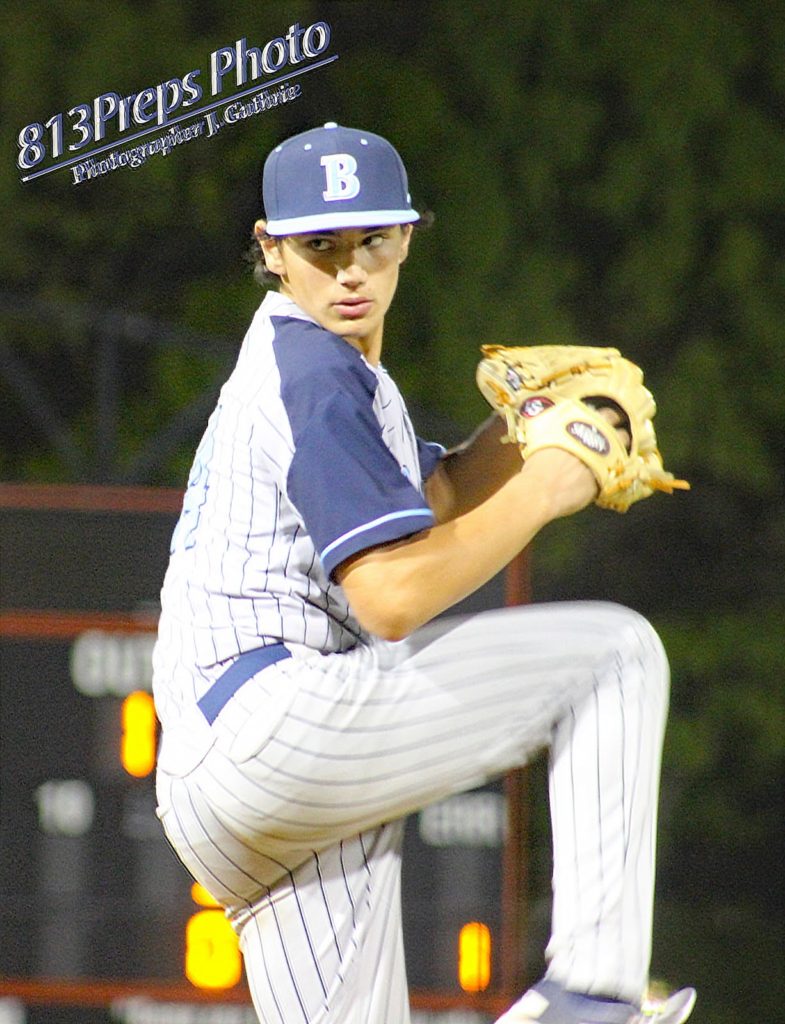 Berkeley Prep freshman Jac Caglianone came through
with a big bases-clearing double and also earned
the win on the mound for Berkeley Prep.
Instead, a sloppy bottom of the seventh saw Tampa Prep come bounding back and the Buccaneers barely came away with a 6-5, district win on the road.
"(At the time) I didn't really think they were necessary runs there," Caglianone said. "But we kind of gave them a shot to come back."
"Really you can't let those errors get to you, if it infects one person it'll just spread. But we had a lot of people out there talking each other up, keeping it positive and everybody energized."
With a five-run lead in hand for Berkeley Prep heading to the bottom of the seventh, three walks and two errors saw Tampa Prep cut the lead to a single run with two runners in scoring position before a strike three looking preserved the Buccaneers win.
"We continue to give away at-bats … too many strikeouts and not enough moving the ball around the yard," Berkeley Prep coach Richie Warren said. "For Jac to have that double was huge for us – it ended up being the game-winning hit, but really the game should have been put away by that hit."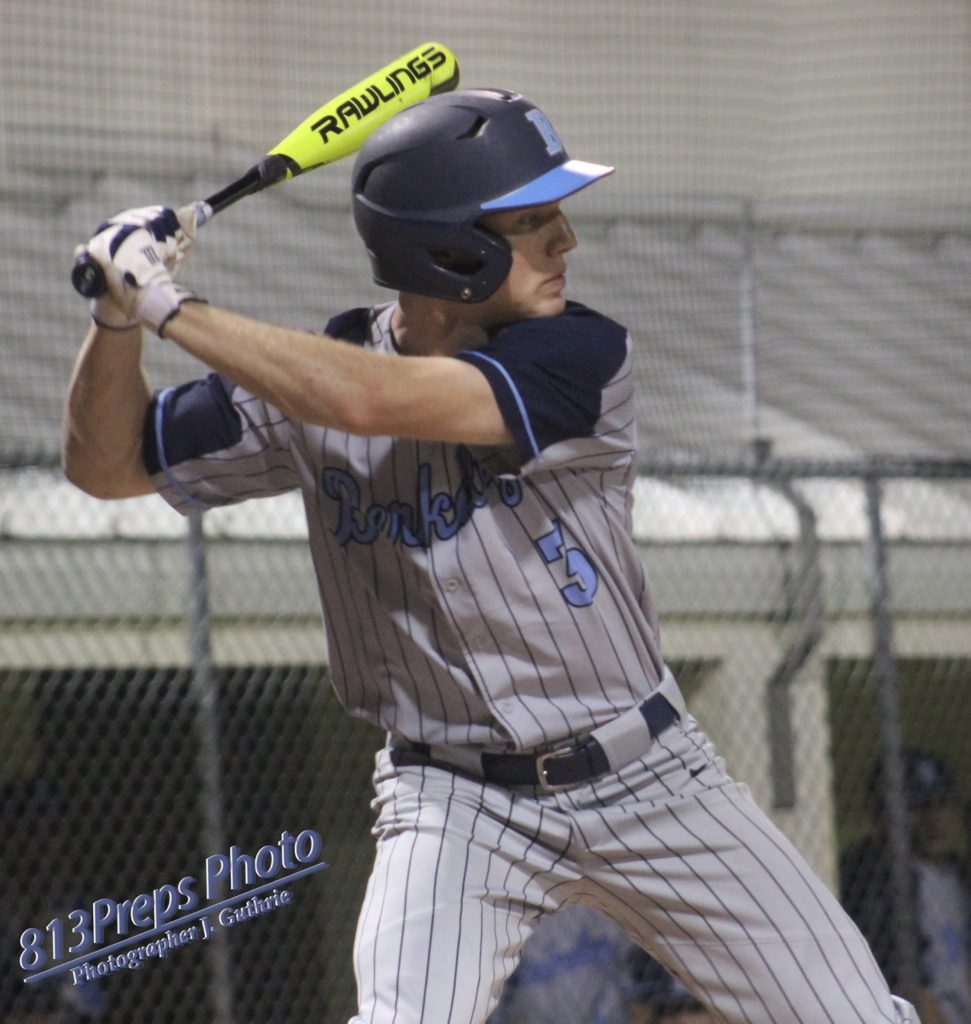 Senior Carson Weekley doubled in the first inning and scored a run.
Berkeley Prep (2-1, 1-0 in Class 4A-District 4) jumped out quickly as Tucker Fine worked a leadoff walk, followed by a Carson Weekley double and a RBI single by Jakob Hines drew first blood in the game. The Bucs added two more in the first inning on a wild pitch and a Johnathan Bruno sac fly to take the early lead.
Sophomore Ian Brown started on the mound for the Buccaneers and struck out five in 3 1/3 scoreless innings of work, before turning things over to Berkeley Prep's bullpen. Caglianone earned the win in relief working 1 2/3 innings and allowing one run.
Tampa Prep (2-2, 0-1 in 4A-4) struggled to cash in early opportunities leaving four runners in scoring position in the first three frames, and 10 total runners on base to end innings.
"I can't remember how many runners we left on base, but that really came backto hurt us," Tampa Prep coach AJ Hendrix said. "With our big hitters up, three, four, five hitters up and we don't come through. That's something we need to fix."
Senior Landon Schabes worked 4 2/3 innings of relief for the Terrapins, allowing just two hits (including the bases loaded double to Caglianone in the sixth) and struck out six in a no-decision.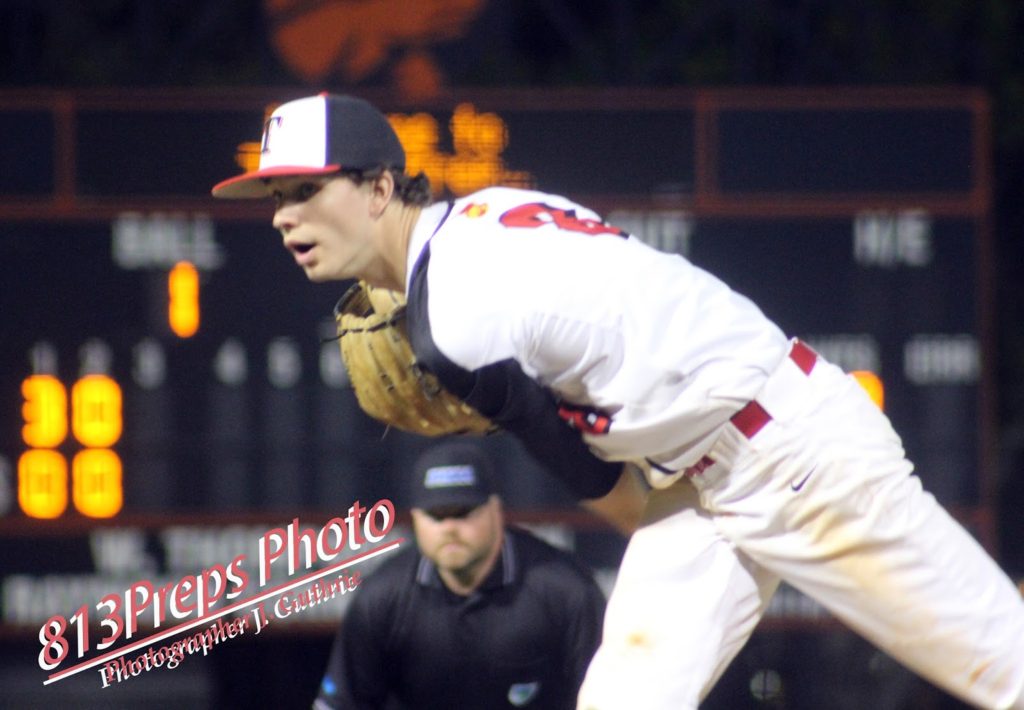 Tampa Prep senior Landon Schabes worked 4 2/3 innings of relief and struck out six in the Terrapins loss.
Berkeley Prep hosts Lakeland on Thursday, while the Tampa Prep travels to Carrollwood Day on Wednesday.
Berkeley Prep 0,
Tampa Prep 0
W –
Caglianone (1-0). L – Welch (0-1).
2B – Weekley, Stoyan,
Caglianone (BP). Records – BP 2-1,
1-0 in 4A-4; TP 2-2, 0-1.
Unlike many independent news organizations, we haven't put
up a subscription paywall – and we hope to be able to keep bringing you the great stories
from high school athletics in the 813 area free of charge. But we are still a small
business with just a handful of people involved, so there are costs including travel, equipment, and other costs associated with running this business.
We are looking for advertising partners, but we also need to count on our
readers for support. If everyone who reads our reporting, who likes it, helps
fund it, we will be able to continue covering these athletes' endeavors.
Support 813Preps.com for as little as $1 by clicking "Donate" button below.