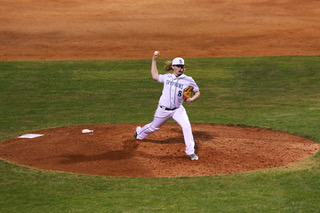 Sickles starting pitcher Chase Centala earned the win, tossing six innings and striking out six. (Photo by Will Turner)
By Will Turner 
813Preps correspondent
TAMPA – This time last spring, Sickles found themselves sitting at 0-3, which included a 5-3 loss to Bloomingdale on Opening Night. The Gryphons took six games to get their first victory in 2017.
What a difference a year makes.
Two games into the 2018 spring season, Sickles has yet to be defeated, one of its pitchers has thrown a no-hitter, and it has outscored its opponents 17-2 in the early going.
The trend continued on Tuesday night.
Sickles took down Bloomingdale, 5-2, to secure its first three-win start since 2006. Coming off of Dylan Eskew's no-hitter last Thursday, the Gryphons got another quality start, this time from Chase Centala in his second start of the season.
Both Centala and Bloomingdale pitcher Myles Caba looked sharp through each of their first two innings of work before either side broke through. That breakthrough came when Trey Bacon turned a soft hit to right into a double with some aggressive base-running in the third.
Zane Tarrance dropped a bunt down the first base side to score Josh Luther from third on the suicide squeeze. Bacon would make his way home off of a wild pitch on the at-bat to put the Sickles (3-0) up by a pair.
In the fourth, Connor McTeer ripped a two-RBI double down the left field line to score Eskew and Chris Chambers, who pinch ran after catcher Danny Bernstein walked. It would make for McTeer's fifth and sixth RBIs on the season, as the first baseman continued his hot start at the plate.
"I felt good coming in from the fall, I was seeing the ball really well and focusing a lot in the cages in the offseason," McTeer said. "I was just trying to help the team out, especially with two strikes, shorten up my swing and get the job done for this win."
Michael Lojacono singled to center to score McTeer two batters later.
Centala had his own no-hit bid going through the fourth inning, until Jett Davis sent a double of his own down the line and to the wall.
"I didn't even know I had the no-no going until after I gave up the hit," Centala said. "Knowing that I gave it up, I really just want to continue to work harder."
Bloomingdale (2-1) would fire back with a pair of runs in the seventh off of Jordan Montes. Bacon would come in with two after Montes walked Nico Saladino with the bases loaded. Facing Brock Wilken (who had three RBIs coming into Tuesday), the sophomore got him to swing at a fastball to strike him out and leave the bases loaded.
Bacon added a stolen base and a walk to a versatile day on the diamond.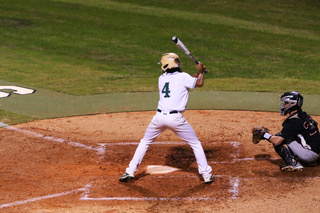 Sickles sophomore Trey Bacon. (Photo by Will Turner)
"He's just a gamer. He's just a Bacon. He can do anything that you ask him to do, if you need him to get a big out to end the game, he'll come out and deliver for you. If you need a big hit, he's the kind of guy that you want up. If you need a groundball, he's the guy you want fielding it. As soon as the lights come on, that kid really takes it to another level, which is really special to watch," said Sickles head coach Eric Luksis.
Centala pitched six solid innings and struck out six while allowing just two hits and a walk, as he earned his first win of the season. Caba struggled in three innings, allowing four of the five Gryphon runs and issuing four walks. He did, however, strike out five.
"Chase was great for six innings," Luksis said. "He had no-hit stuff for the first five innings, he worked ahead, he was mixing three pitches for strikes, and when you can do that, you're going to have a lot of success."
The Gryphons were helped out on the base-paths by three stolen bases on the night, as Sickles was particularly aggressive in that department. A nice double steal from Luther and Bacon in the sixth capped that off.
Saladino finished with the only RBI on the evening for the Bulls, as Jake Gilbert would score on an error in the seventh. Dominic Gonnella accounted for the other run scored for Bloomingdale.
Sickles will face off against Steinbrenner in its first Class 8A-District 5 matchup on Thursday night with a chance to stay undefeated. The Gryphons finished 0-5 last season in 8A-5 play, but have a chance to change their fortunes in the tough district.
"I think we're playing good baseball. That's what we need to do in order to play in our district, which is really one of the toughest in the Tampa Bay area. We're off to a good start, our confidence is high and I think our guys are really starting to believe that we do belong. The preparation has been done and I think our guys are ready for district play," Luksis said.
The Bulls will look to get back on track at home on Thursday night, against a tough Plant squad that also lost its first game of the season on Tuesday.
– Will Turner is a student at USF majoring in mass communications, with a focus in news and editorial journalism, and a minor in history. You can follow Will on Twitter:@TBTurner813