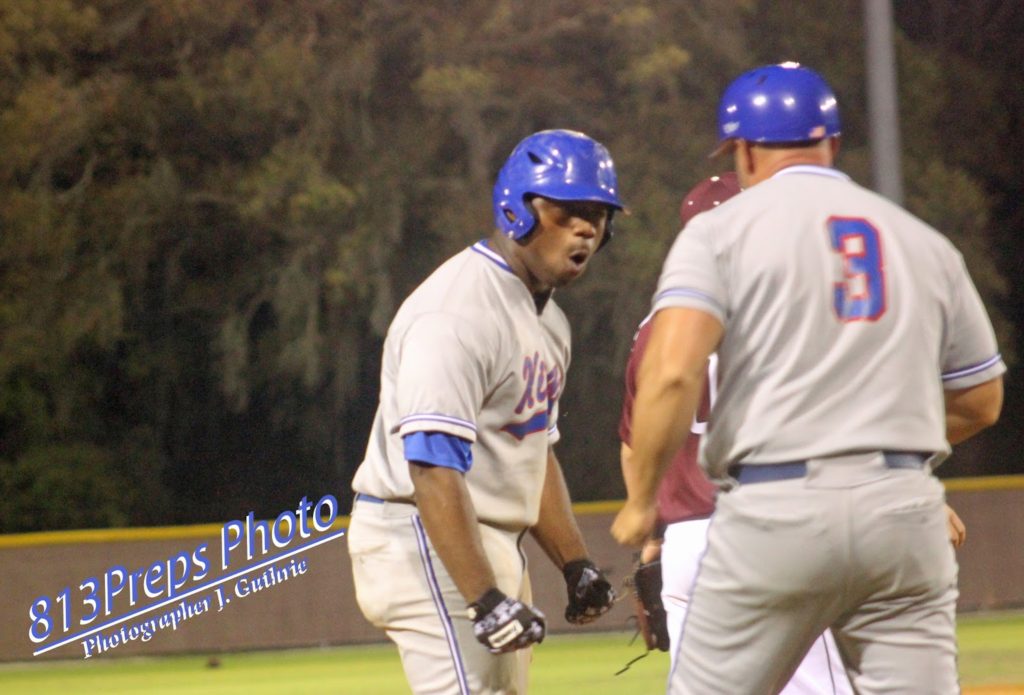 King senior Jamarcus Lyons lets out a yell after clearing the bases with a triple to put King up by four in the fifth inning.
By Jarrett Guthrie
TAMPA – Holding just a one-run lead in the fifth, King senior Jamarcus Lyons busted things open finding a gap in between the right and centerfielders to put the game out of reach as the Lions topped Brandon, 9-2.
Lyons cruised into third base standing and let out a yell as he had just cleared the bases.
"Bases loaded, and the game not anywhere near out of reach, it was one of those big hits that really excites everybody," Lyons said. "I was really pumped after that one."
Lyons had a huge night, going 2-for-2 with five RBI and two runs scored in the win, including getting things started in the first with an RBI sac fly to center to plate Addison Barger (2-for-2, two RBI, two runs).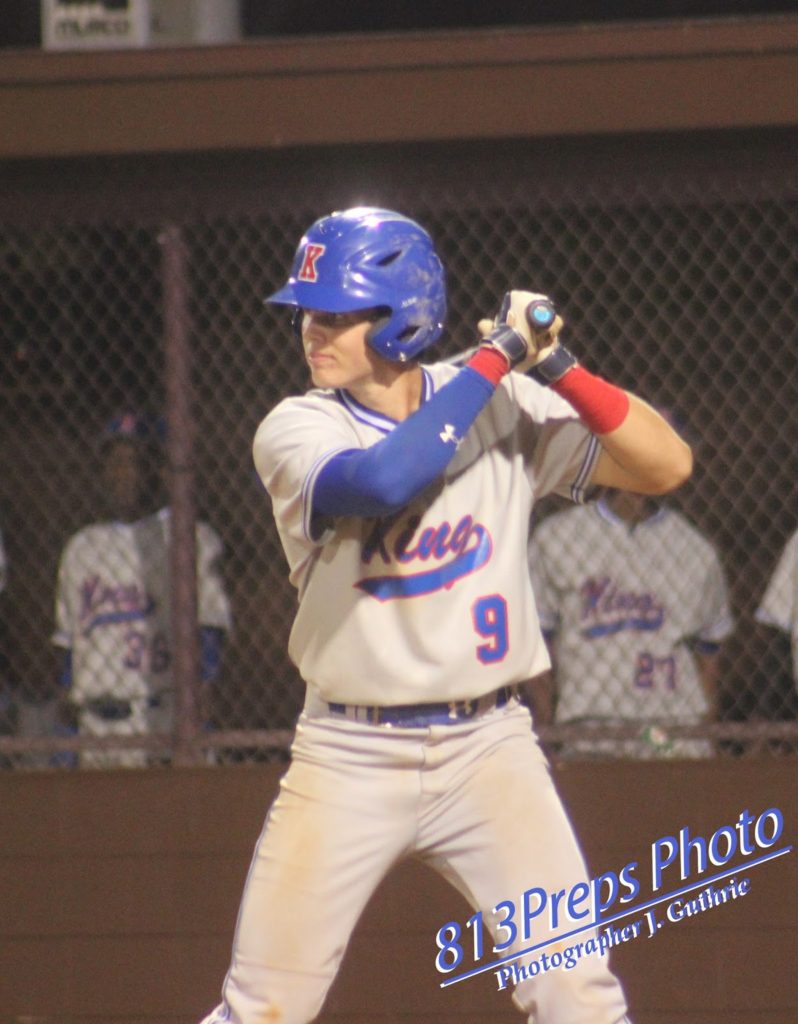 King's Addison Barger had a pair of hits, two runs
and two RBI in the Lions win.
King (2-1) added another run in the third as Barger cashed in a Josh Keding triple, with a single against a drawn-in infield.
Brandon (1-2) brought things back to even in the home-half of the third as Jermaine White (1-for-1, three walks, two stolen bases) and BJ Carter each chipped in RBI singles.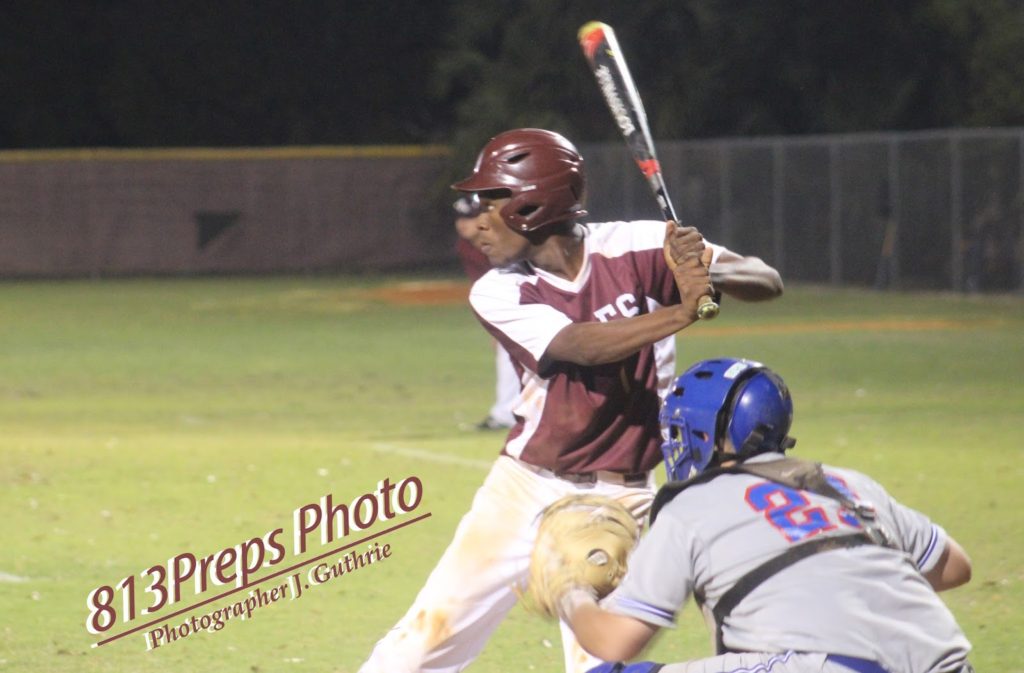 Brandon senior Jermaine White had an RBI single,
three walks, and two stolen bases in the loss.
However, the draw was short-lived as King senior Danny Terp drove in Lyons with a ground ball, scoring the deciding run. King's offense pushed Carter, Brandon's starting pitcher, to an early exit after four innings of work.
"It's really important to try and come out and jump on the other team's starter," Barger said. "It shakes them, can get them down, and gives us the momentum going forward."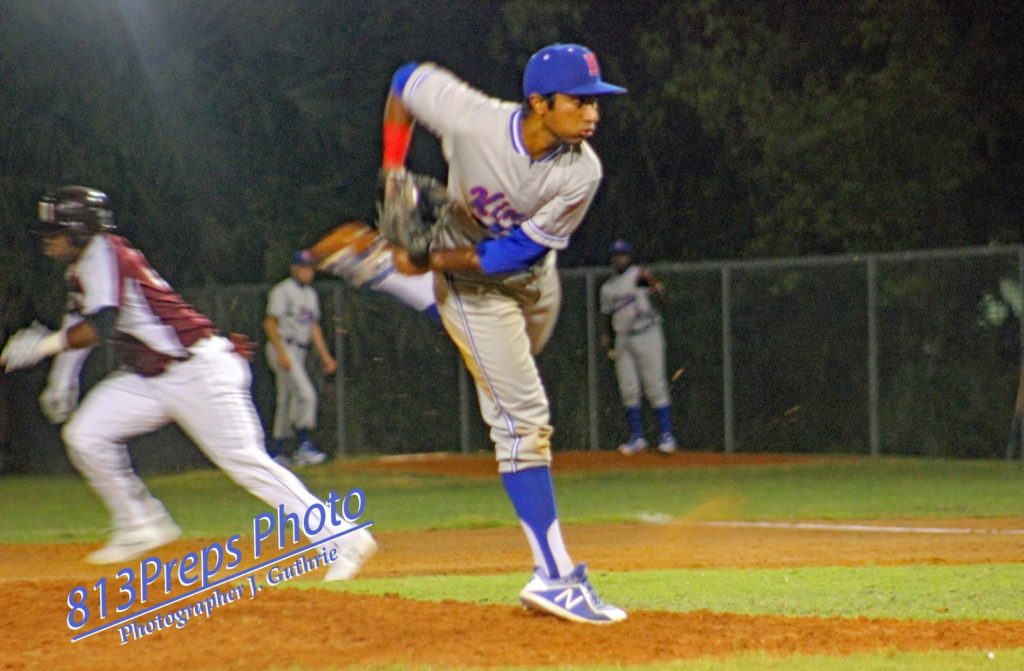 King pitcher Hishaam Shafiq worked two innings of relief to earn the win
on the mound, and added an RBI at the plate.
On the mound for the Lions, four pitchers combined on the win, allowing just five hits. Justice Thompson made the start, working two no-hit innings and striking out three, before turning things over to Hishaam Shafiq who earned the win, allowing two runs (one earned) and striking out three in his two innings. Shafiq also had a hit in the game, and added an RBI groundout to the Lions' big fifth inning.
King got two scoreless innings from Michael Russ on the mound and a scoreless final frame from Jose Ramos in the win.
"We pitched more strikes tonight, in high school baseball that's the key," Barger said. "You throw strikes and let your defense do the work and that's what we did tonight."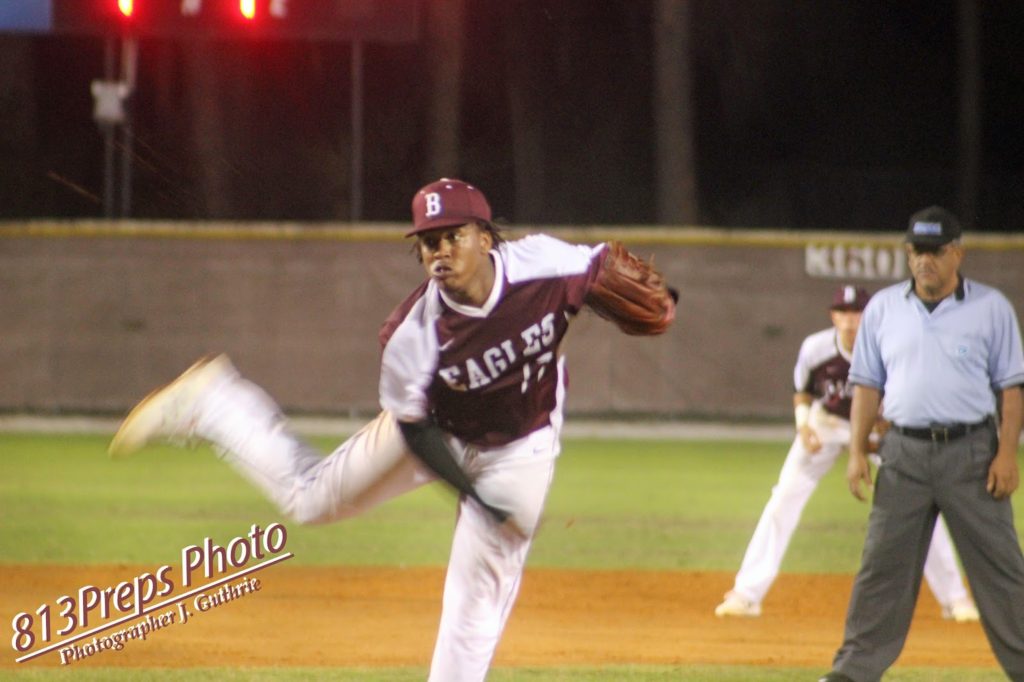 Brandon senior BJ Carter took the loss working four innings, but added an RBI single at the plate.
King got hits from seven of nine starters in the win and longtime Lions coach Jim Macaluso said he's expecting big offensive things from his team this year.
"I don't want to say we have a great offensive lineup, but its certainly got the potential to be," Macaluso said. "The first six or seven guys, we feel pretty good about them, and this is our fifth game (including two preseason games) and we really haven't had good innings where we hit the ball hard. Those kinds of innings are big for us and we have to keep doing that."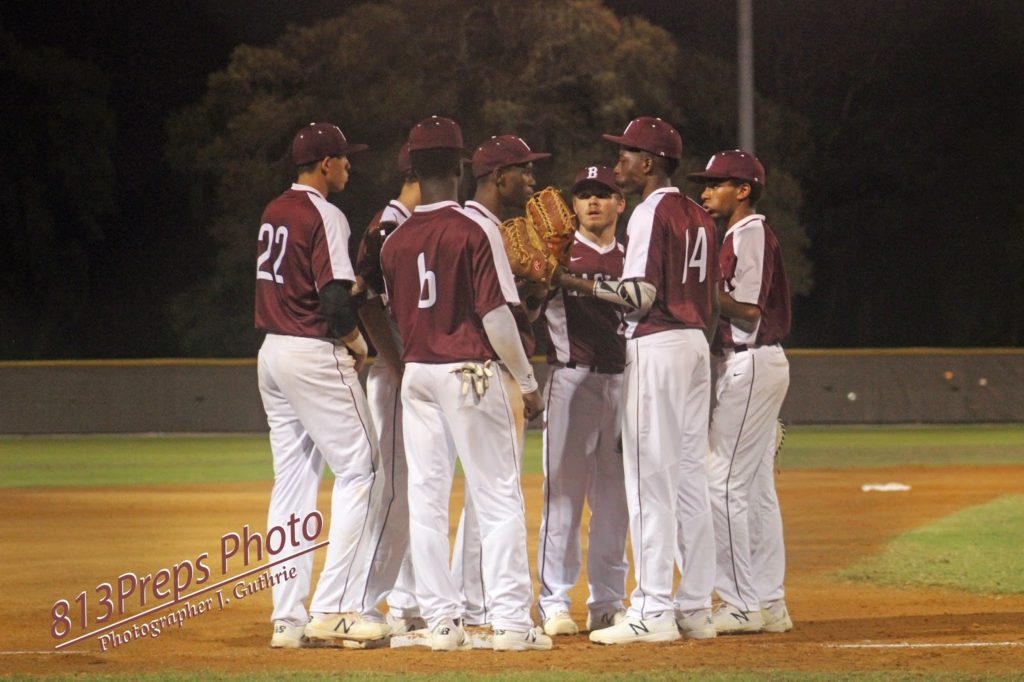 Brandon's defense meets at third base prior to the third inning.
Both catchers – King's Jacob Cordell and Brandon's Zach Pommier – each got a chance to show off their arms throwing out attempted base stealers in the first inning, and King turned a nice double-play in the sixth as Lyons flipped to Barger, who threw to Keyon Floyd (who had a double in the game) at first to complete the turn-two.
King 9, Brandon 2
K  101 142 0 — | 9 | 8 | 1 |
B  002 000 0 — | 2 | 5 | 2 |
W – Shafiq (1-0). L – Carter (1-1). 2B – Floyd (K). 3B – Keding, Lyons (K). Records – K 2-1; B 1-2.
——————————————————–
Unlike many independent news organizations, we haven't put
up a subscription paywall – and we hope to be able to keep bringing you the great stories
from high school athletics in the 813 area free of charge. But we are still a small
business with just a handful of people involved, so there are costs including travel, equipment, and other costs associated with running this business.
We are looking for advertising partners, but we also need to count on our
readers for support. If everyone who reads our reporting, who likes it, helps
fund it, we will be able to continue covering these athletes' endeavors.
Support 813Preps.com for as little as $1 by clicking "Donate" button below.