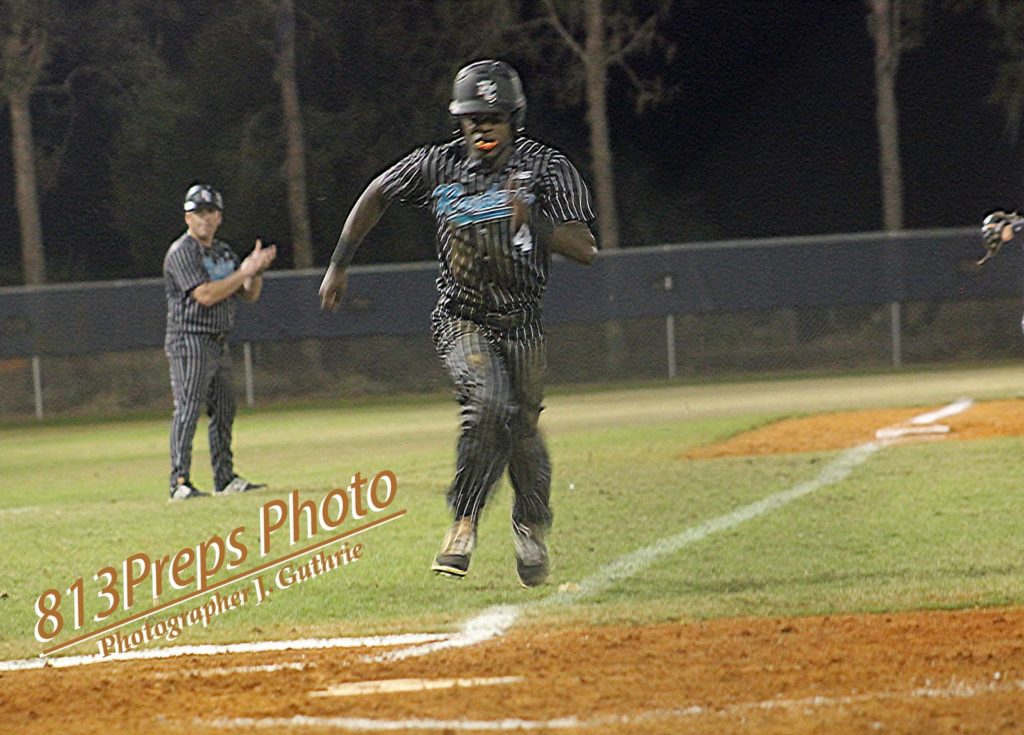 Plant City freshman Damario Williams scores the games first run as a speed-up runner for C Hunter Emerine,
who had a pair of singles in the win.
By Jarrett Guthrie 
PLANT CITY – It wasn't pretty, but rivalry games seldom are when emotions, jitters and usually, an in-depth knowledge of an opponent means the competitors can be a little out of sorts.
However, pretty or not, rivalries usually have a little something extra to them and often come down to the wire.
Friday's meeting between Class 8A-District 6 and neighboring programs Plant City and Durant came down to the last out, as the Raiders held off a charging Cougars' rally in the seventh to come away with a 2-1 win.
"This was a cat-and-mouse game," Plant City head coach Michael Fryrear (himself a Durant alum) said. "You know (Durant coach) Butch (Valdes) and (assistant coach) Donny (Scolaro) are great, smart coaches and it's a chess match every time we play. It's great to come away with a win in a game like this."
Plant City (5-0; 1-0 in 8A-6) remained undefeated on the season, due mainly to the performance of junior lefty Parker Messick, who worked a complete game, scattering six hits, striking out eight, while allowing a single unearned run.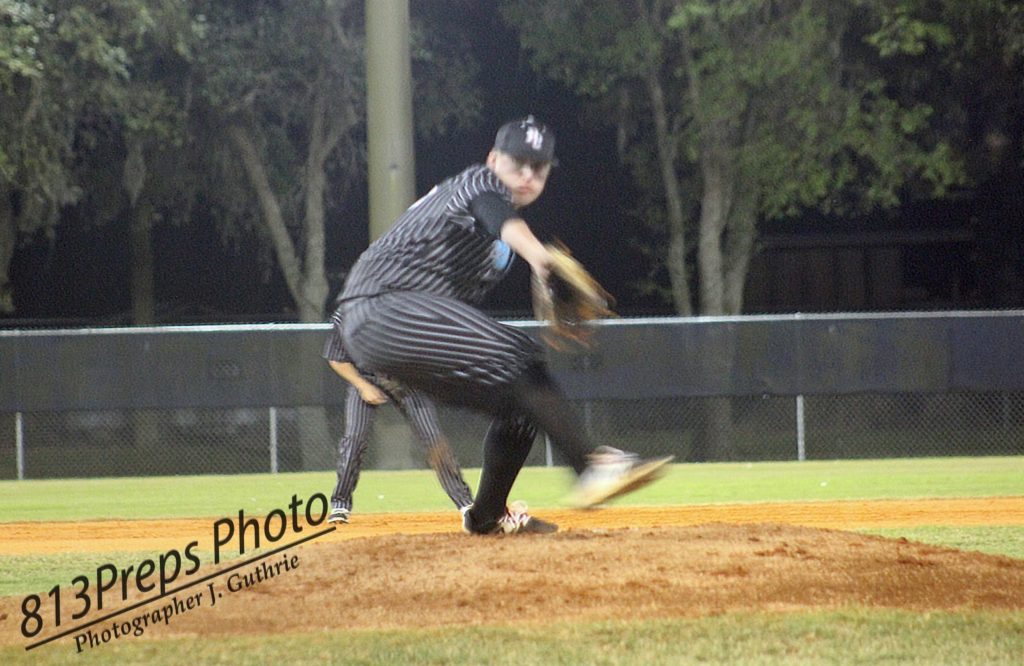 Plant City junior Parker Messick improved to 2-0 on the season
with a complete-game win with eight strikeouts.
"I had no doubt in my mind that Parker was going to get the job done," Fryrear said. "The bats weren't here for us, but Parker was on tonight and our defense was able to hold on."
Messick was solid through the first four innings and struck out the first two he faced in the fifth, before slight signs of wear showed themselves and Durant strung together three hits. But the Florida State verbal commit got out of the jam in the sixth with a ground ball out. The end of the inning drew emotion from Messick who shushed his opponents after leaving the bases loaded, a gesture he said he wished he could have back, but one he also knew was part of the competitiveness between the two programs.
"I've played football, basketball and soccer, but there is nothing like this baseball game between these two teams," Messick said. "Those are my best friends over there on (Durant) and the fact that I shushed them – I felt bad immediately, but I just got caught up in the moment."
Durant (1-2; 0-1 in 8A-6) tried to mount a comeback in the bottom of the seventh as Frank Martinez and Mathew Byars started things off with singles. Gage Young moved the two into scoring position and a two-out error allowed Martinez to cut the lead in half. However, the tying run would be left at third as Plant City recorded the last out and Messick improved to 2-0 on the mound this season.
"The intensity of this game is insane," Messick said. "It is always a great game between us."
The Raiders struggled at the plate as Durant employed a committee approach to the mound with Plant City only managing four hits in the win. Hunter Emerine, who had two of those Raiders hits, led off the fourth with a single to right. The catcher was replaced on the base path by speed-up runner Demario Williams, and the term was appropriate as Williams, who scored 10 touchdowns as a freshman last fall for the football team and has 10 stolen bases so far this year, motored to third base on a Casey Mawhinney single two batters later. Williams scored five pitches after that on a wild pitch, and Mawhinney extended the lead scoring on a dropped strike-three later in the same at-bat.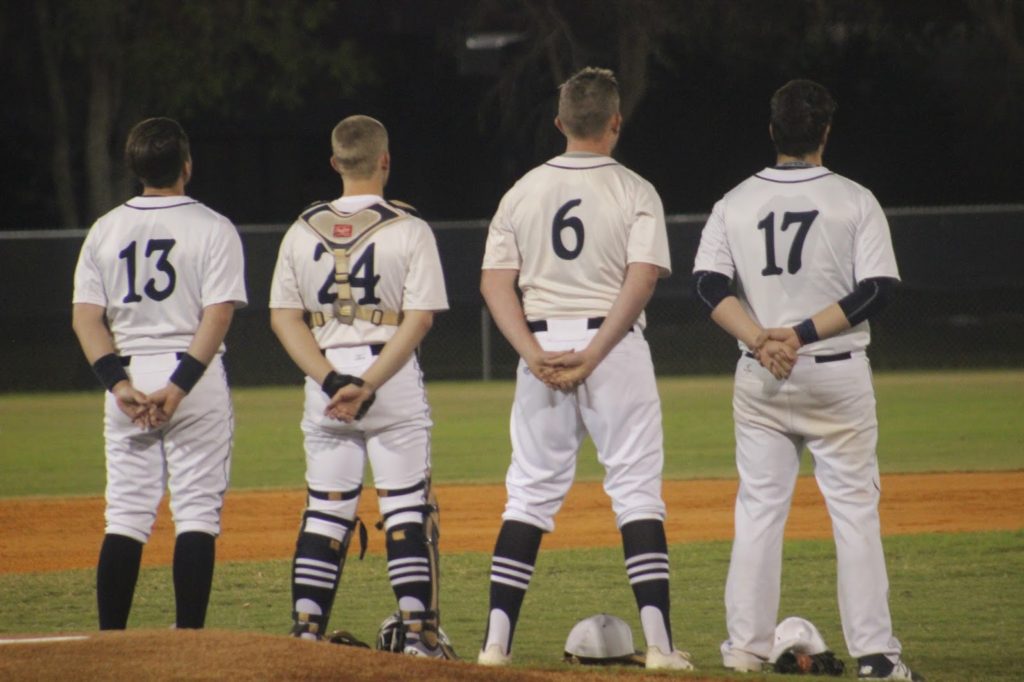 Durant players Braden Runey (No. 13), Gage Young (24), Reed Toney (6) and Mathew Byars (17) stand for the National Anthem prior to Friday's game against Plant City.
Four Durant pitchers combined for nine strikeouts in the game as Reed Toney (one hit, two strikeouts), Wyatt Hickey (L, two hits, two runs, two K's), Byars (one hit, four strikeouts) each worked two innings, and Trey Brown finished things striking out one in a clean seventh inning.
For the Raiders Cade Shissler had a single and two stolen bases in the win, while the Cougars got singles from Braden Runey, Bryar Christian, Coleton Brogden and Ahmad Fitts in the loss.
——————————————————-
Unlike many independent news organizations, we haven't put
up a subscription paywall – and we hope to be able to keep bringing you the great stories
from high school athletics in the 813 area free of charge. But we are still a small
business with just a handful of people involved, so there are costs including travel, equipment, and other costs associated with running this business.
We are looking for advertising partners, but we also need to count on our
readers for support. If everyone who reads our reporting, who likes it, helps
fund it, we will be able to continue covering these athletes' endeavors.
Support 813Preps.com for as little as $1 by clicking "Donate" button below.