Tampa Catholic senior Julian Pichardo smashed a pair of RBI doubles to the wall as the Crusaders defeated Jesuit, 4-3, at home Saturday afternoon.
By Jarrett Guthrie
TAMPA – In one of the longest-running rivalry games in Hillsborough County, emotions run high and bragging rights are earned. Saturday afternoon, Tampa Catholic earned the early-season nod defeating Jesuit, 4-3 in eight innings as a two-out, bases-loaded passed ball allowed the Crusaders to plate the deciding run.
Both teams gave the others opportunities as a high sky played havoc on pop flies and balls (especially foul balls) found earth to extend innings. However, perhaps the games biggest moment came in the sixth inning with Tampa Catholic down a run, when senior captain Julian Pichardo stepped to the plate with a runner on third and smacked his second RBI double of the game off the centerfield wall. Pichardo said he was expecting with an open base to be walked, but made the most of his chance.
"I was expecting the intentional walk, but in all my at-bats I just thought about being short and quick to the zone and drive the baseball up the middle, away," Pichardo said. "There is just a different environment when we get together and play. It's so exciting. I love it."
The teams battled through a scoreless seventh inning to push the game to extra innings, where Jesuit (3-2) loaded the bases in the top of the eighth. However, with two outs, senior Nick Lazzara entered in relief and struck out his batter to keep things tied.
The Tigers retired the first two TC batters in the eighth, before Anthony Lefler singled (later replaced by pinch runner Chris Shellman), and two walks loaded the bases and Tampa Catholic ended the game as Shellman scampered home after the ball squirted away from Jesuit catcher Bennett Lee.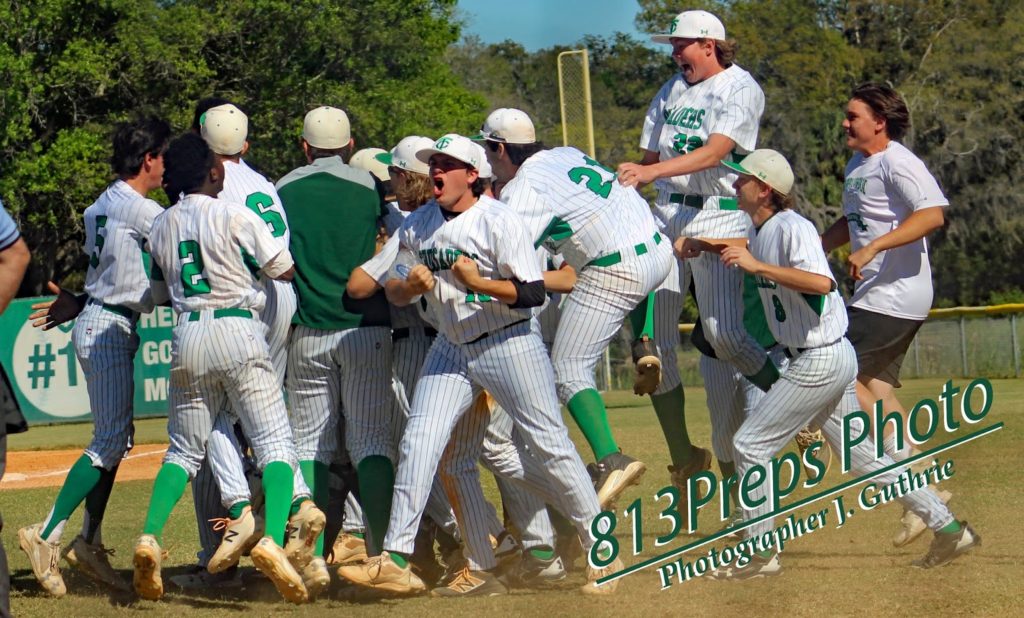 Tampa Catholic players celebrate after the deciding run scores in the eighth inning sealing the victory over Jesuit.
Tampa Catholic (4-1) senior righty AJ Inguanzo, making his first-ever high school start, pitched very well allowing just three hits and striking out four. Inguanzo worked 5 1/3 innings before a single and a walk chased him from the game in the sixth.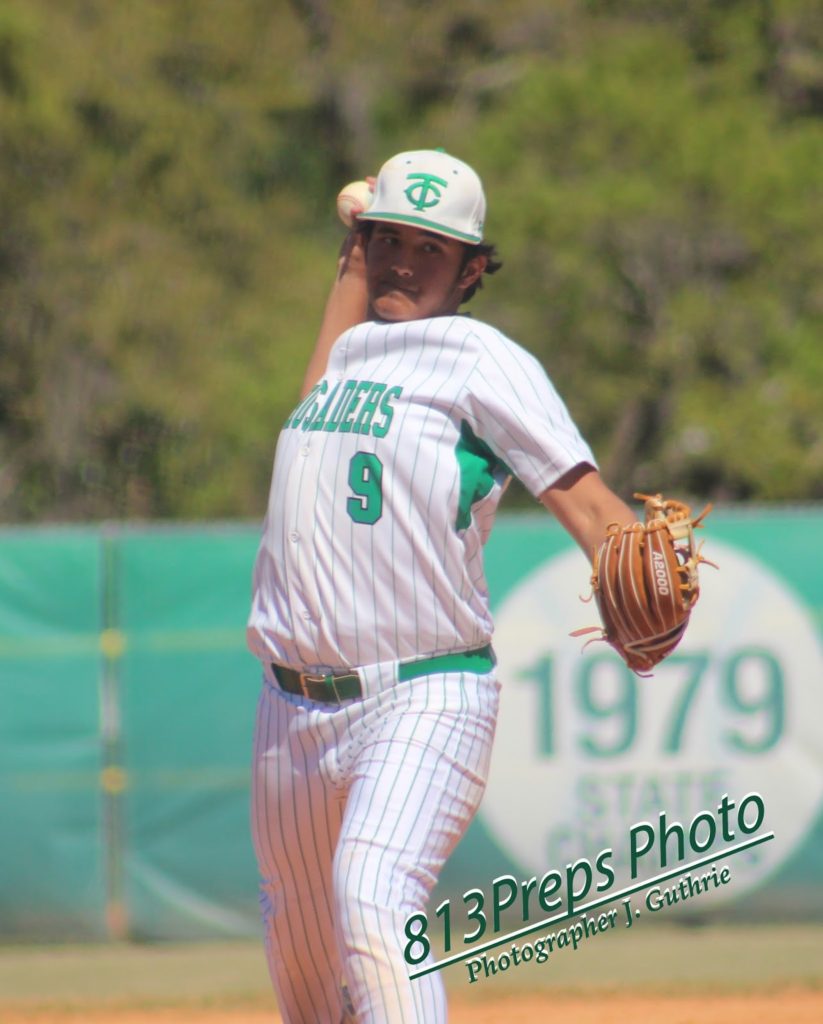 Tampa Catholic SP AJ Inguanzo.
"This is the first game in two seasons that I've started," Inguanzo said. "I just had a lot of confidence that if I hit my spots, I could get the ball by them."
Both of Inguanzo's runners ended up scoring as Carter Anderson doubled in one and Robert Hales drove in the other to give Inguanzo a no-decision.
Jesuit took the lead later in the inning as a wild pitch scored a third run.
Jesuit starting pitcher and FSU signee Jack Anderson worked six innings allowing three runs (one earned), while striking out seven in a no-decision.
Pichardo's two doubles highlighted the Crusaders offensive day, but Mitch Kandell was 2-for-4 with two runs scored, Lefler had a pair of hits, Victor Perez doubled, and Tony Watson had an RBI sacrifice.
Watson was also clutch at second base making some nice rangy plays and running down a pop fly toward the foul line and making an over-the-shoulder catch in the fifth.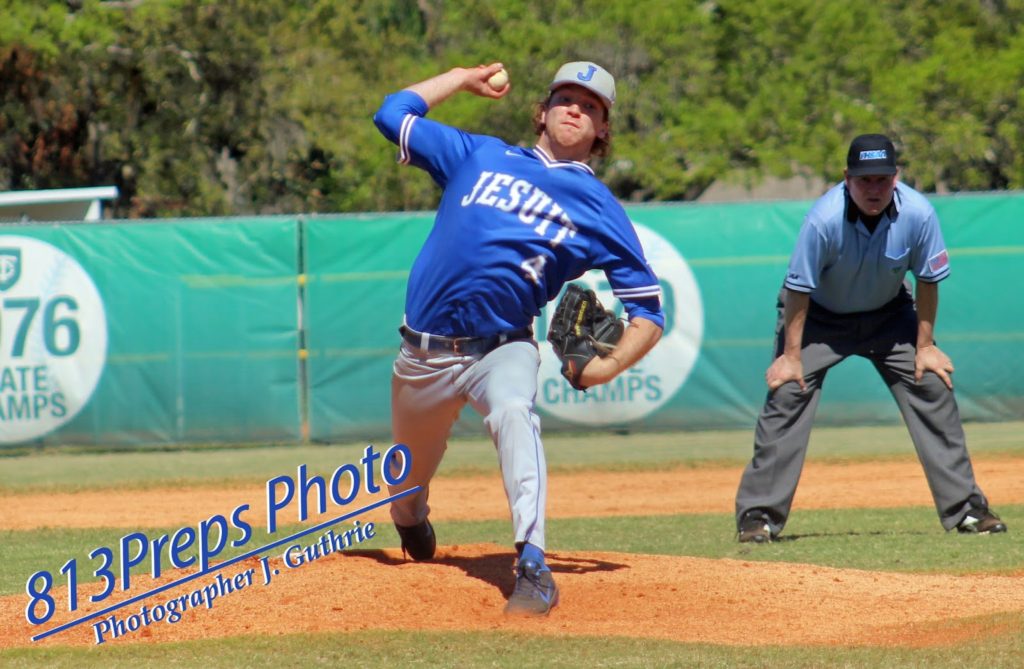 Jesuit SP Jack Anderson.
"It is intense every time, as the score changes and one team goes up, then down," Watson said. "The lead changes in this game were insane, and in this game you always have to be prepared to bounce back and never put your head down."
For Jesuit, Charles Ethan Clark returned from a hamstring injury to drive a ball to the outfield fence and ended up at second with a double in his only appearance of the afternoon.
Tampa Catholic head coach Ty Griffin said the game went down to the wire, just as he expects every time the two programs face off. He said it's a fun environment in any sport when TC and Jesuit are involved, but said the baseball battle is extra special because of the historical success of the two programs, with Jesuit claiing four state titles (last winning a championship in 2014) and the Crusaders with nine titles (last winning in 2001).
Check out our bonus photo gallery from Facebook by clicking here.
"Obviously this is a rivalry, and every sport between our two schools feels the way we do," Griffin said. "But baseball may bring a little bit extra flavor to the rivalry, because of the long tradition of how both teams have done over the year."
"So I tell our guys to get into it, be a part of it, and just be aware, feel the emotions and ride the waves … we always talk about the heat lamp. And that heat lamp really makes you shine or makes you fail. Today we got to shine."
The two rivals get to run this one back on March 23, when they square off again at Jesuit at 7 p.m.
——————————————————–
Unlike many independent news organizations, we haven't put
up a subscription paywall – and we hope to be able to keep bringing you the great stories
from high school athletics in the 813 area free of charge. But we are still a small
business with just a handful of people involved, so there are costs including travel, equipment, and other costs associated with running this business.
We are looking for advertising partners, but we also need to count on our
readers for support. If everyone who reads our reporting, who likes it, helps
fund it, we will be able to continue covering these athletes' endeavors.
Support 813Preps.com for as little as $1 by clicking "Donate" button below.