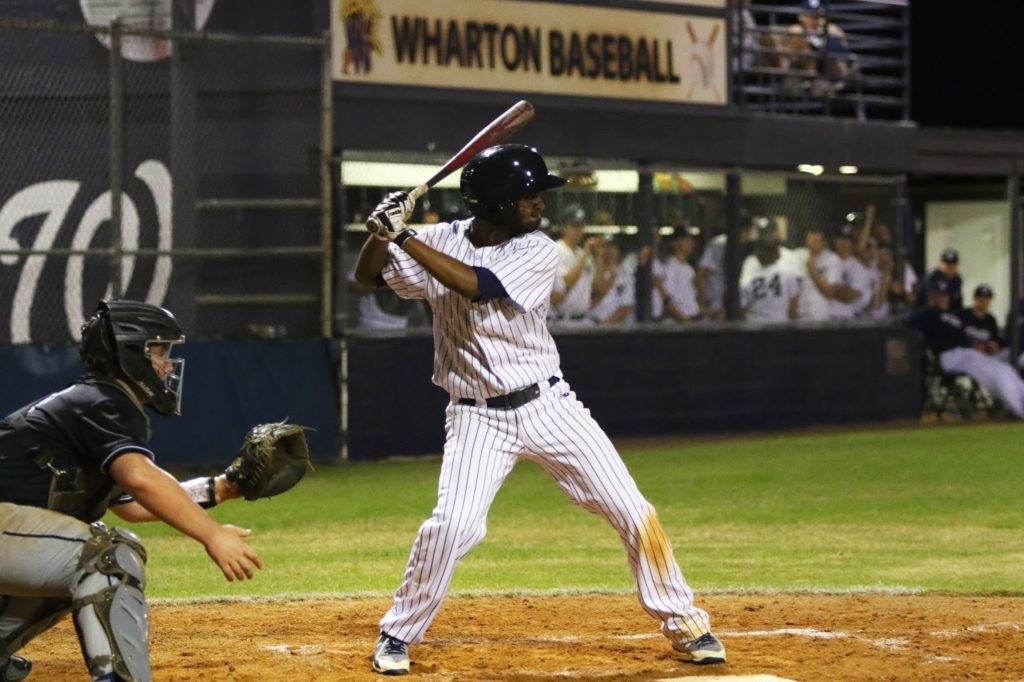 Wharton senior Leo Alfonzo went 3-for-3, with three RBI as the Wildcats got a district win over Freedom.
By Will Turner 
813Preps correspondent
TAMPA – Backed by a perfect evening at the plate from Leo Alfonzo and a solid starting pitching from Brian Baughman, Wharton continued their excellent start to the 2018 campaign with a decisive, 7-2, district win versus Freedom on Tuesday night.
The Wildcats netted their second win in Class 8A-District 4 play and their second-straight win after taking down Wiregrass Ranch last Thursday.
Baughman looked strong throughout his third start of the year, a nice rebound after allowing four runs against Plant City in just two innings of work last week. He sat down the first eleven Patriots he faced before hitting Hunter Kniskern with a pitch in the fourth.
On the flip side, Wharton continued to score runs in bunches, as it's done all year. Alfonzo hit his first of two doubles on the night in the second to send Steven Hotinski to third, and a batter later, Mike Hudson would send Hotinski home on a fielder's choice to open the scoring.
Freedom pitcher Matt Gaffney kept the Wildcats at bay in the second after that, striking out Frank Micallef and Baughman to keep the damage limited.
That all changed in the fourth. Hotinski singled home Dylan McDonald, which started a four-run inning for the Wildcats. Alfonzo got a two-RBI single through the infield to score Grady Maguire and Duncan Pastore in the next at-bat. Hudson delivered immediately after with another fielder's choice, which netted his 12th RBI on the budding season.
"I haven't been doing well in my last couple of games, but the RBIs just keep coming," Hudson said. "Wherever the runs are, I'm going to get them in."
Freedom wouldn't answer back until the fifth, when Andy Bates forced a fielder's choice of his own to score Andrew Wise from third. Eliel Martinez knocked in his first hit of the season, bringing home Gaffney to cut the lead to three.
Wharton however, wouldn't let up as Alfonzo hit a screaming liner to the left-center wall for his second double, which scored Pastore for the second time on the evening. The senior would finish with a 3-RBI night and would end up doubling his season hit total with three knocks against the Patriots.
"I was really trying to hit the pitch I knew I could do damage on," Alfonzo said. "I've been chasing a lot lately, so I tried to be a lot more successful tonight and it really paid off."
Ricky Villoria would dart home on a wild pitch in the sixth to cap off the scoring for the Wildcats, who cashed in with seven runs on nine hits.
Baughman finished his night allowing just two earned runs and three hits. He scattered seven strikeouts throughout the affair.
"Especially after struggling in my last start, it was really good to bounce back tonight against our big rival. I was really able to mix things up by getting ahead with the fastball and then I was able to break in my curveball when I was ahead, and luckily, I continued to throw it for strikes," Baughman said.
The Wildcats' offensive output was the fourth time in their first six games that they were able to score five-plus runs. Wharton has crossed the plate 65 times in the early going as the bats continue to stay hot.
"There's a lot of momentum right here, right now," Alfonzo said. "Everyone on this team can hit."
Wharton will face a non-district opponent in Newsome on Thursday, before entering pool play with those same Wolves, as well as Sickles and Spoto in the Saladino Tournament next week. Freedom will host Durant, in a non-district clash, before facing off against Chamberlain, Leto, and Bloomingdale in pool play next week.
– Will Turner is a student at USF majoring in mass communications, with a focus in news and editorial journalism, and a minor in history. You can follow Will on Twitter:@TBTurner813