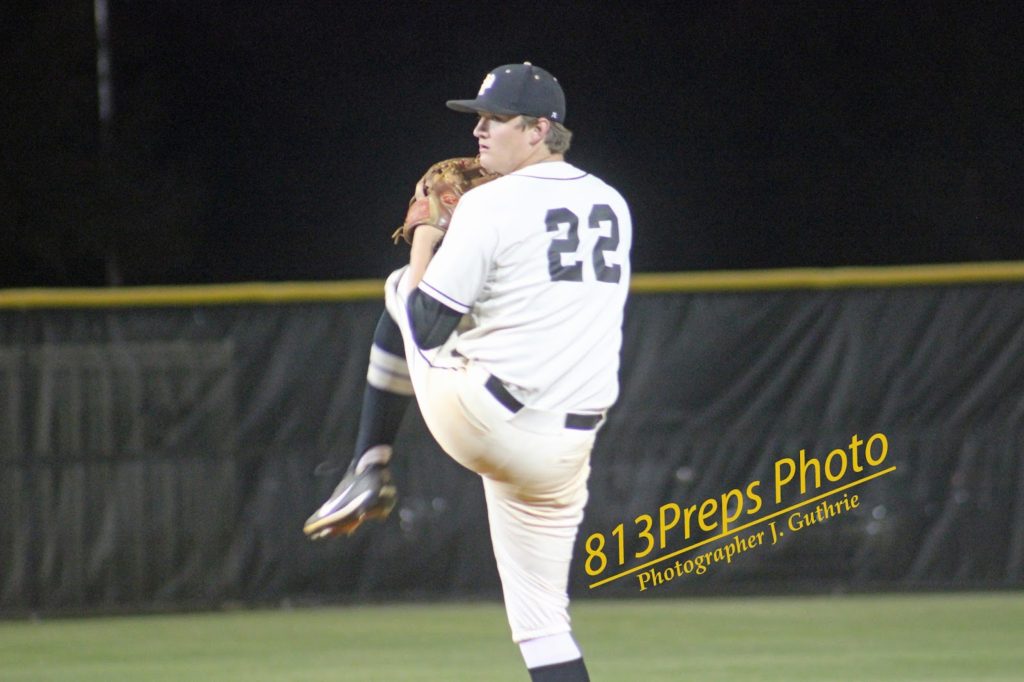 Plant senior Brock Fagler worked six innings, allowing just two hits and striking out 14 as the Panthers defeated district opponents Sickles, 9-0 at home.
By Jarrett Guthrie
TAMPA – Plant senior Brock Fagler did all the damage needed as the right-hander was outstanding on the mound, working six innings, allowing just two hits and striking out 14, then belted a solo home run to right-center in the second inning to lead the Panthers to a 9-0, Class 8A-District 5 win over previously unbeaten Sickles.
"It was a pretty short at-bat, just one pitch, and we always talk about getting the ball in the air and I did that," Fagler said, "and it carried for me."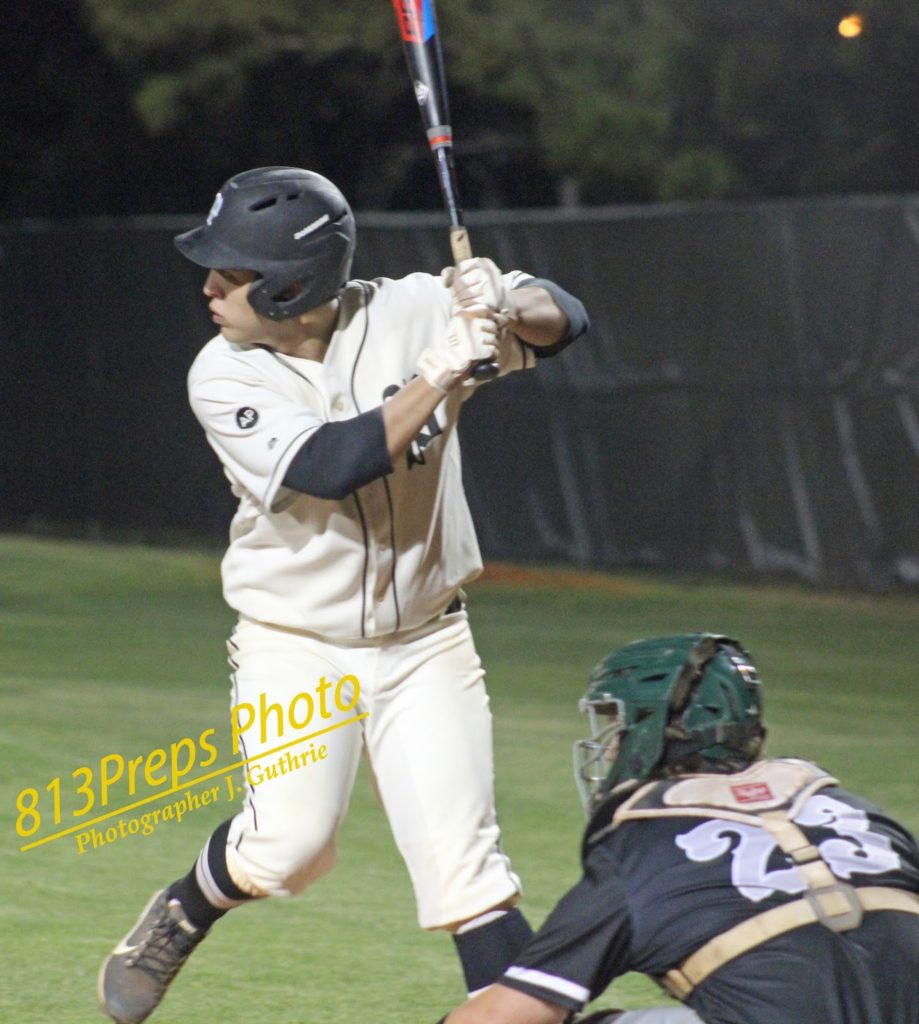 Plant senior Chase Sanguinetti added a solo home run to the win
in the third inning, his second long ball of the season.
But just because Fagler (a State College of Florida signee) was dealing on the mound and gave himself all the run support he would need, didn't mean the rest of the Panthers offense took the night off. Plant (5-1) pounded out 11 hits, including another long fly from FSU signee Chase Sanguinetti (his second of the season) in the third inning.
"They definitely made it easy on me getting all those runs," Fagler said. "It's way easier to go out there and do my job with a nine run lead, instead of a two run lead."
However, it was the fourth that truly put things away, as Plant batted around scoring five runs, including an RBI double from Florida signee Connor Scott, a two-run single by Fagler (3-for-3, 3 RBI), and RBI singles by Matthew Coker and J.D. Urso.
Sickles struggled at the plate giving in to a nasty curve from Fagler a number of times, especially on the outside corners of the plate.
Coker (2-for-3, run, two RBI) added a run in the sixth with an RBI sac fly plating Gabe Rincones, who had led off the bottom half of the inning with a stand-up triple. Rincones, a junior, also had a double and a pair of runs scored in the win recording his first two extra-base hits of the season.
"I was able to get my mind straight and think aggressively in my at-bats tonight," Rincones said. "My coaches have been telling me to get my bat out, because I was failing to do that in previous games. I don't want to jinx myself, but I think I found my rhythm today, so now I need to repeat that in the next game."
Coker worked the final inning for the Panthers, preserving the shutout on just 15 pitches, with a pair of strikeouts and then fielding a hot grounder in front of the mound and flipping it to first to end the game.
"I'm very appreciative that my coaches trusted me in that situation to come in and shut it out," Coker said. "So I just went out there and did my best to fill up the strike zone."
Sickles (5-1, 1-1 in 8A-5) hits came on a third-inning single by Trey Bacon and a double in the fifth by Tyler Green.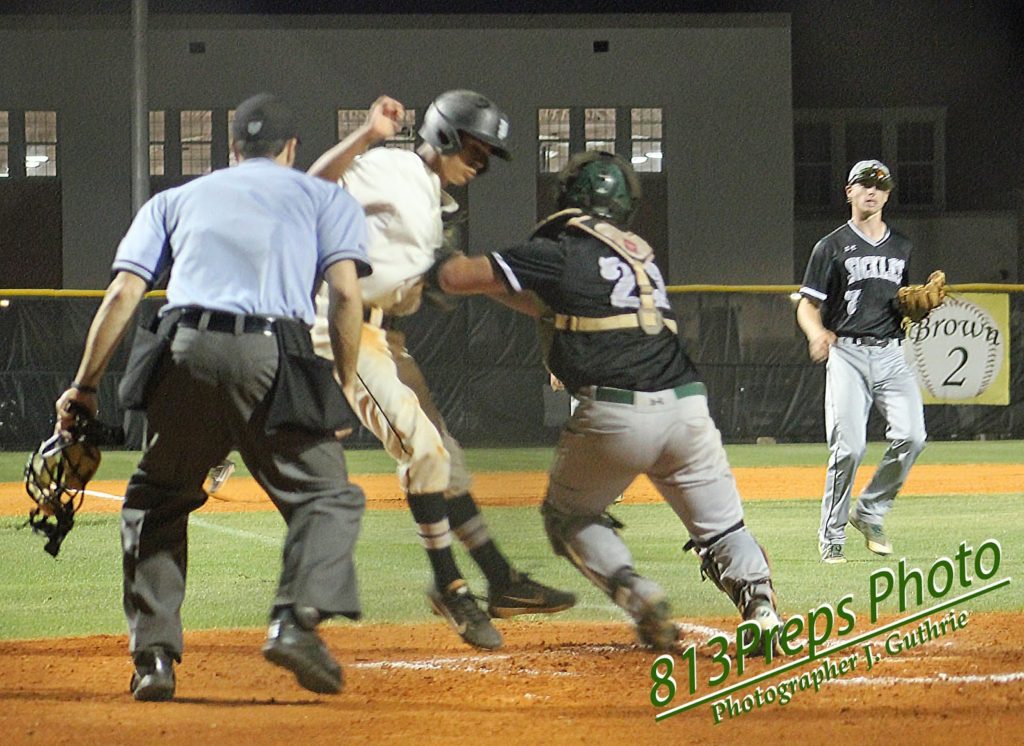 Sickles 3B Dylan Eskew (7) came home with a ball in the second inning and C Danny Bernstein (23) held his ground to record the out.
Standout defensive plays included a nifty pickle play by Sickles in the second inning started by Gryphons starting pitcher Chase Centala, over to third baseman Dylan Eskew, to catcher Danny Bernstein, to Trey Bacon, who ran down a Panthers runner on the third base line for the out. Eskew also made a good play on a ground ball later in the inning and went home with a throw as Bernstein held firm to his position to keep a run from getting through.
For Plant, a nice effort from Urso in the fifth as the junior shortstop came across second base and make a hard throw to first to record the final out and strand a Sickles runner in scoring position.
Plant next hosts Durant on Friday, while Sickles look to get back in the win column in its Saladino Tournament opener on Saturday against Spoto.
——————————————————–
Unlike many independent news organizations, we haven't put
up a subscription paywall – and we hope to be able to keep bringing you the great stories
from high school athletics in the 813 area free of charge. But we are still a small
business with just a handful of people involved, so there are costs including travel, equipment, and other costs associated with running this business.
We are looking for advertising partners, but we also need to count on our
readers for support. If everyone who reads our reporting, who likes it, helps
fund it, we will be able to continue covering these athletes' endeavors.
Support 813Preps.com for as little as $1 by clicking "Donate" button below.