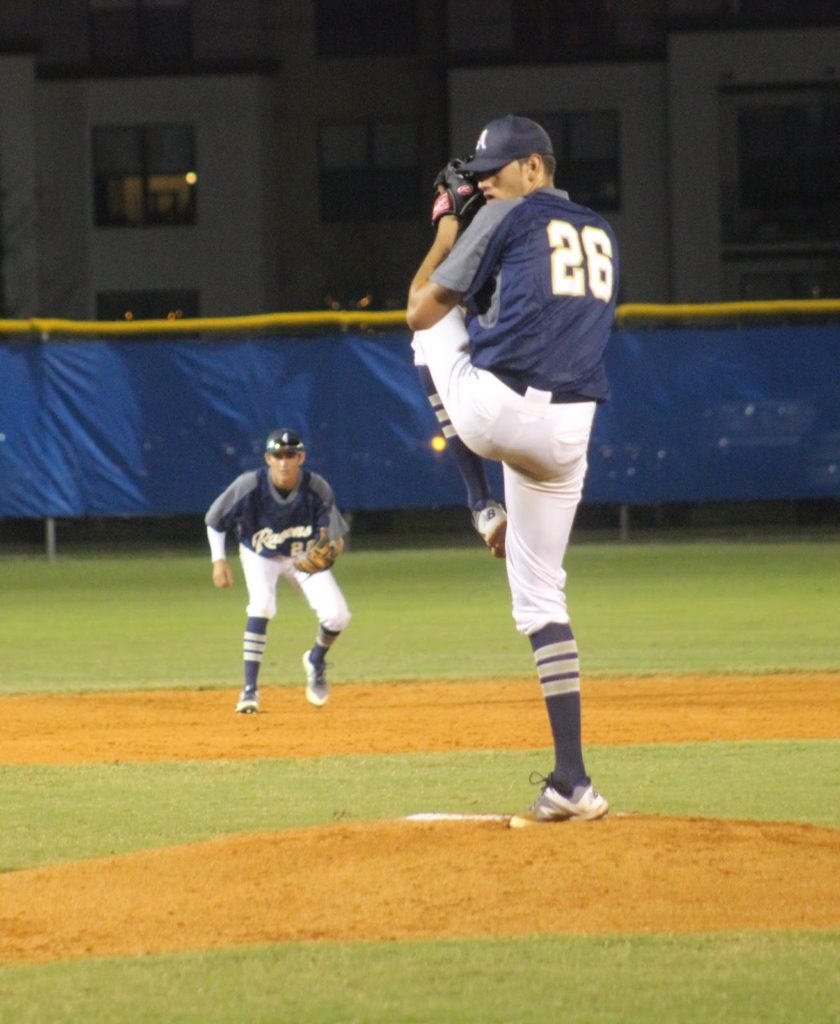 Franco Aleman had 13 strikeouts to lead Alonso to a 2-0 win over Gaither at the University of Tampa, Saturday night (813Preps file photo). 
By Jarrett Guthrie 
TAMPA – Gaither struggled to find a rhythm against Alonso ace Franco Aleman as the 6-foot-5, senior righty struck out 13 batters as the Ravens took a 2-0, pool-play win over the Cowboys at the University of Tampa, Saturday night.
Aleman, a Florida International signee, had the Cowboys' hitters either way out in front on his breaking stuff or struggling to catch up to his fastball, allowing just two hits over his six innings of work – the highlight coming in his final inning where he struck out the side on just nine pitches.
"I came in wanting to set the tone early for our team in the Saladino Tournament, knowing how important that first win is," Aleman said. "For our team the pitchers set the tone. We know if we do well, then our hitters are eventually going to get us some runs."
— 813Preps (@813Preps) March 11, 2018
The Ravens had a difficult time as well as Gaither senior Anthony Alvarez (HCC commit) cruised through his first four innings.
Alonso (5-2) had just a double from Joseph Villalta in the hit column through four, but finally got to Alvarez in the fifth. Ihoslean Montes started things with a walk, before a great sac bunt down the third base line by Ryan Drumheller pulled the third baseman in to make the play. The result left third base wide open and Montes motored around to reach third on the play. Renzo Gonzalez also walked, stole second and both he and Montes scored on a two-out Drew Lara single.
"Franco always comes in tough with those strikeouts," Lara said. "So I knew in the fifth that was one of my last opportunities and it was time to come through."
"I looked to get something into the gap, and (Alvarez) was working me away in my first two at-bats, so I looked for one away and poked it in the hole."
Gaither (3-3) stopped any further damage as Javier Deyan entered in relief of Alvarez and struck out three the rest of the way.
For Alonso, Sehjin Daley was 1-for-1, with two walks and a stolen base in the win, while Gaither got solid work behind the plate by senior captain Danny Gutcher, and freshman Austin Grause made the defensive play of the game making a diving catch off a full sprint in left field to save another potential Ravens' run in the sixth.
Sam Drumheller earned the save in relief, working the top of the seventh with a strikeout and starting a pickoff play to end the game.
——————————————————–
Unlike many independent news organizations, we haven't put
up a subscription paywall – and we hope to be able to keep bringing you the great stories
from high school athletics in the 813 area free of charge. But we are still a small
business with just a handful of people involved, so there are costs including travel, equipment, and other costs associated with running this business.
We are looking for advertising partners, but we also need to count on our
readers for support. If everyone who reads our reporting, who likes it, helps
fund it, we will be able to continue covering these athletes' endeavors.
Support 813Preps.com for as little as $1 by clicking "Donate" button below.