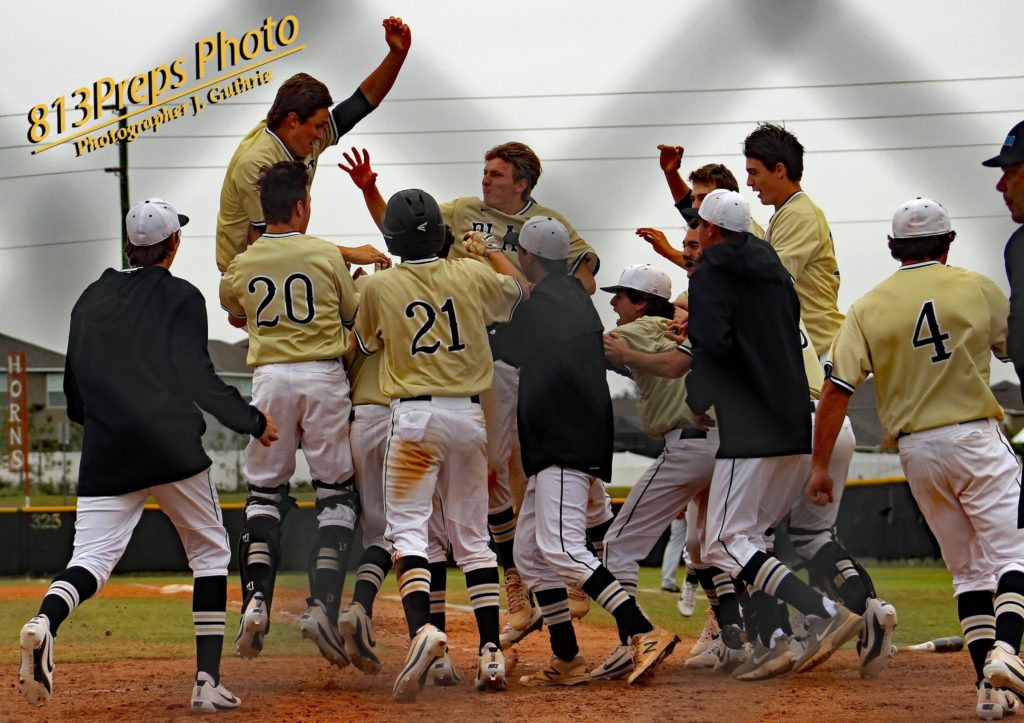 Plant's Brock Fagler leaps into the celebration after connecting on his second-straight, game-deciding, three-run home run of the week.
By Jarrett Guthrie
RUSKIN – The 38th annual Saladino Baseball Tournament opened play at Lennard High on Saturday morning with a seven-inning pitchers duel in the "Breakfast Game" before the lone, extra-inning frame yielded two huge long balls, and saw Plant rally in a big way to take a 3-2, eight-inning win.
Strawberry Crest finally broke the scoreless game open in the top of the inning as Ben Pues crushed a two-run homer to left field off of starting pitcher Connor Scott, however Plant responded in the home half of the inning as for the second-straight day, Brock Fagler ended the game with his third home run of the season – this time a three-run, game-ender over the left field wall.
"I've been in many of these early games, and you know this first game is always a little tougher, just like the quarterfinal games," Plant coach Dennis Braun said. "That's why Connor was on the mound and he pitched his butt off."
"Their kid (Pues) hit the ball well, and put them up 2-0, but we talked about grinding out quality at-bats and Brock is really starting to be a force for us in the middle of the lineup."
Fagler ended Friday night's game via mercy-rule with another three-run home run to top Durant 11-1 in five innings.
"It was like a rollercoaster from last night, then the home run by (Pues) on a slider, I got a change-up, up (in the zone), put a good swing on it and it went over," Fagler said. "I knew it was gone right away."
Braun, in his 14th season at Plant (7-1), said the back-to-back, game-deciders is a first for his Panthers during his tenure.
"I've never seen that," Braun said, "pretty special."
The ending of the game spoiled to impressive starting pitching performances that included each starter pitching into the eighth inning.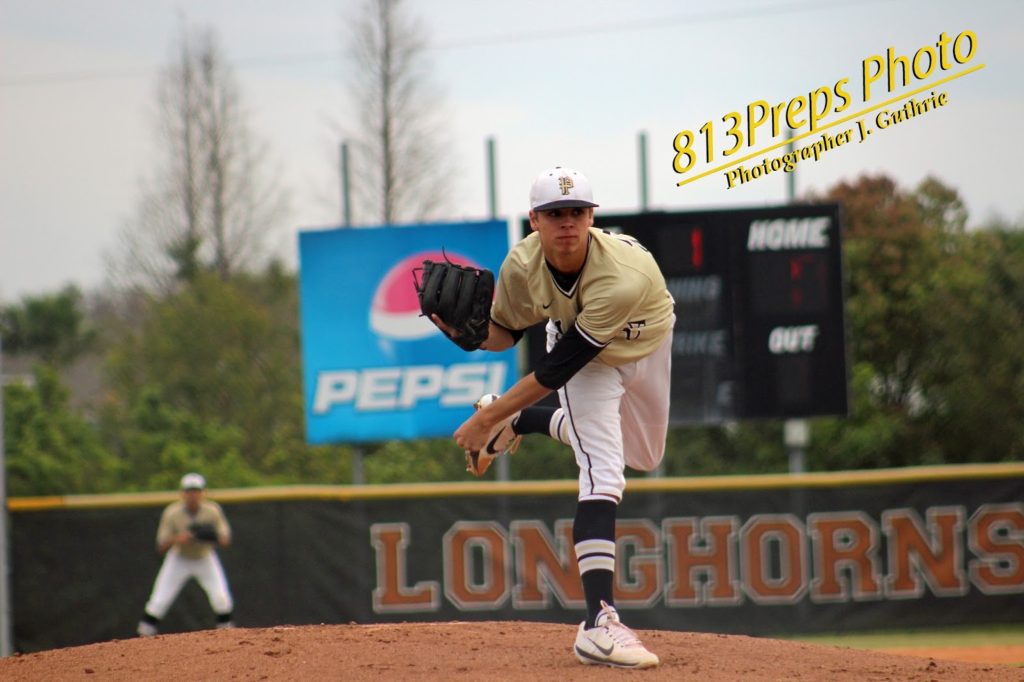 Plant starting pitcher Connor Scott earned the no-decision in working 7 2/3 innings in the Panthers' extra-inning win.
Scott worked 7 2/3 innings, allowing the two Chargers runs, while scattering five hits and striking out five.
For Strawberry Crest (4-3), sophomore Brent May worked his sinker well the entire game, striking out seven before giving up the home run to Fagler to end the game.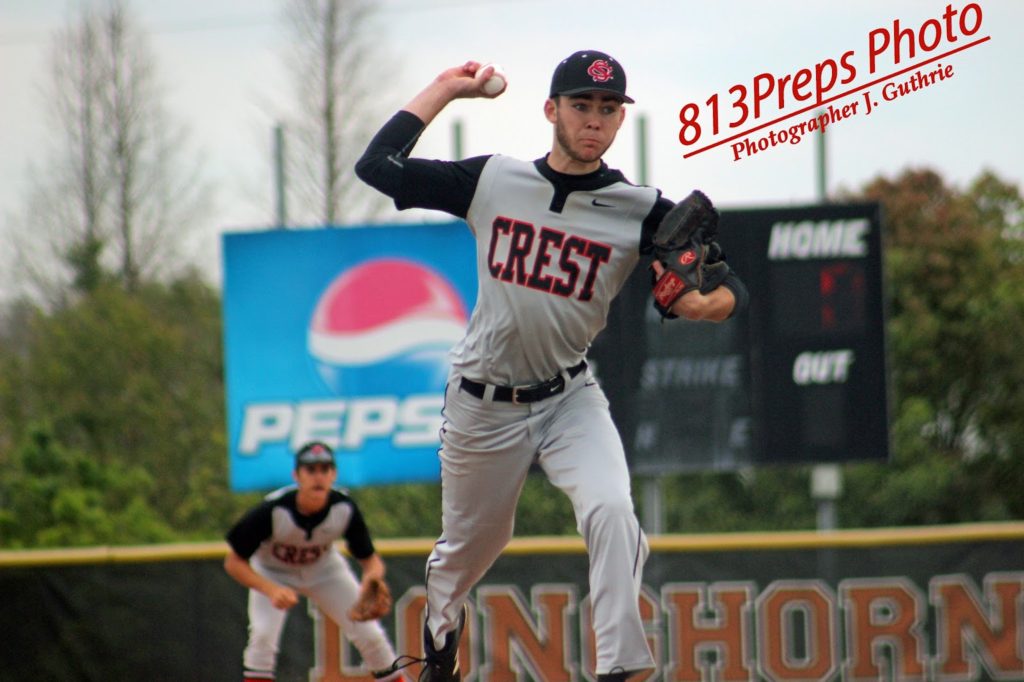 Chargers sophomore Brent May took the tough loss on the mound, pitching 7 1/3 innings of shutout baseball before yielding the home run to Fagler in the eighth.
In the top of the eighth, Chargers catcher Joey Parrillo (2-for-4) came up with a big two-out single, before Pues sent his home run out of the park.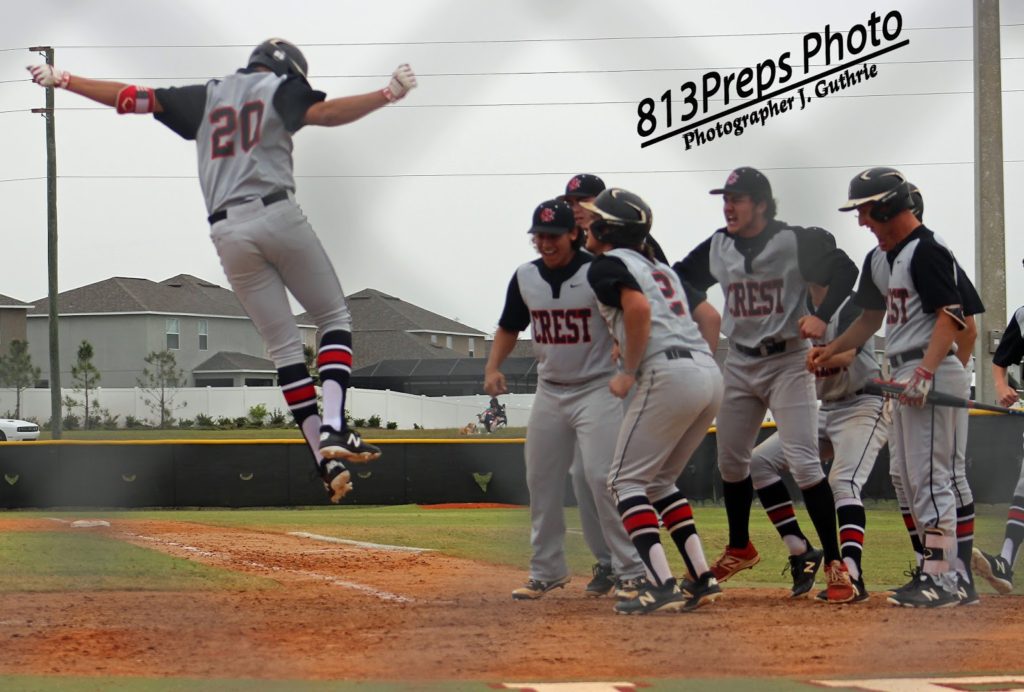 Strawberry Crest's Ben Pues had staked his team to a 2-0 lead in the top of the eighth, but Plant refused to go away.
However, Plant turned to Matt Coker for the final out and the junior got a quick pop-out to end the Chargers inning.
Plant started quickly in the bottom half as pinch-hitter Sam Nation wore one between the numbers on his back, then Mike Haydak singled through the five-six hole and a swinging bunt from Scott moved both into scoring position for Fagler's long fly.
——————————————————–
Unlike many independent news organizations, we haven't put
up a subscription paywall – and we hope to be able to keep bringing you the great stories
from high school athletics in the 813 area free of charge. But we are still a small
business with just a handful of people involved, so there are costs including travel, equipment, and other costs associated with running this business.
We are looking for advertising partners, but we also need to count on our
readers for support. If everyone who reads our reporting, who likes it, helps
fund it, we will be able to continue covering these athletes' endeavors.
Support 813Preps.com for as little as $1 by clicking "Donate" button below.