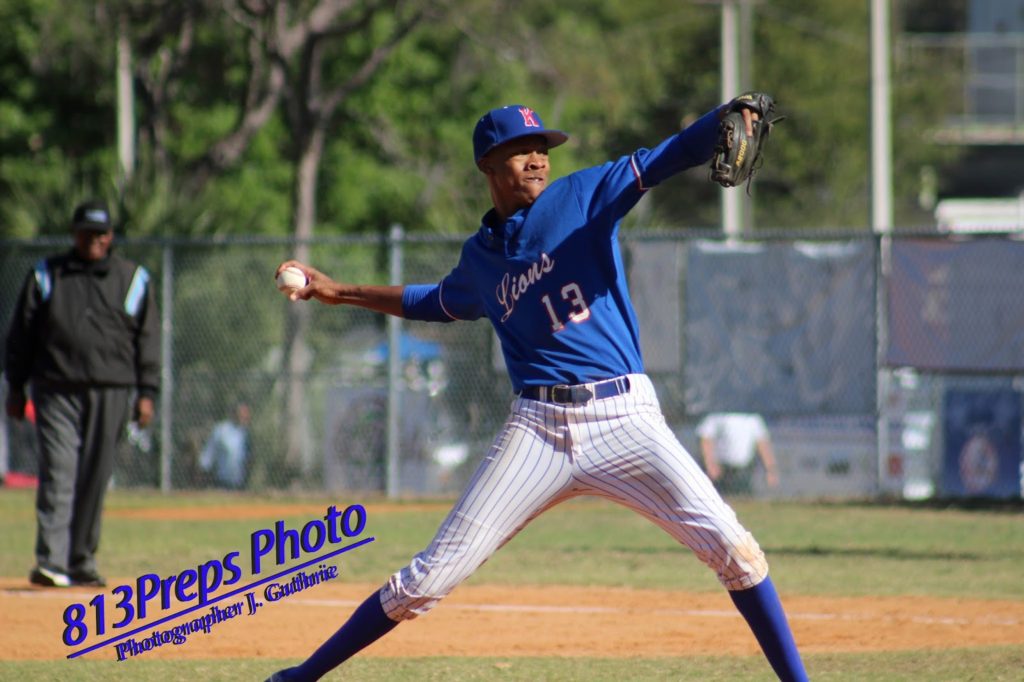 King SP Justice Thompson earned the win as the Lions defeated Plant City 6-1. Thompson worked six innings, allowing one run and striking out six, while also going 2-for-4 with two runs scored and an RBI at the plate.
By Will Turner 
813Preps correspondent 
BRANDON – After having an extra day to prepare for their showdown with Plant City, the King Lions handed the Raiders their first loss of the season after a 6-1 decision on Tuesday at Brandon High School.
With Monday's games being postponed due to inclement weather, the Lions seemed as energized as ever coming into their second day of pool-play at the 38th annual Saladino Tournament.
King (6-1) jumped on Plant City starter T.J. Gayner, in the first two innings, which would prompt an early exit for the senior.
Jacob Cordell would open the scoring for the Lions in the first, with a bases loaded infield single through the 5-6 hole to score Justice Thompson. Gayner struck out Bryce Pennington to end the inning, limiting the damage, temporarily.
To start the second, Gayner plunked Zarrian Brinson – his second hit batter in eight faced (both around the shoulders/head area) – which would give way to a multi-run inning for the Lions. Thompson notched a base knock into left field to score Brinson, increasing the lead to a pair of runs.
Jamarcus Lyons would force a fielder's choice as the Raiders gunned Addison Barger at the plate. On the next batter, Gayner would attempt to pick-off Lyons, who was already looking for the stolen base. Thompson broke for home, and a run-down between the catcher and third baseman would prove unsuccessful allowing him to dive home safely.
Gayner (3-1) would allow four hits and three earned runs, on 40 pitches in his shortest appearance of the season.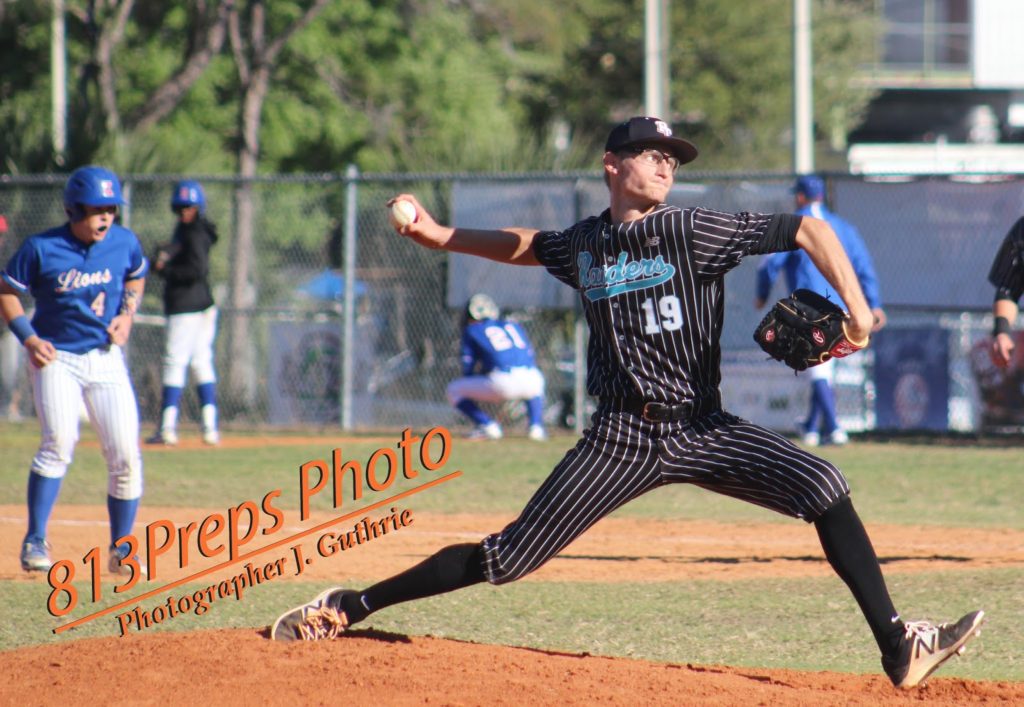 Plant City's Dylan Robinson worked five innings of relief, striking out six and allowing three unearned runs
A bright spot for the Raiders came in the third when Dylan Robinson came in to relieve Gayner. Robinson would immediately allow a leadoff single to Keyon Floyd, but would then follow it up by striking out the side.
He'd knock a leadoff double of his own in the fourth, but Thompson followed up with a pair of strikeouts to leave two Raiders stranded, keeping Plant City off the board.
"I knew we were going up against one of the top teams in the county. There was a lot of talk around this game, so I just knew to throw that fastball and to see how well they could hit it," Thompson said.
King would double its lead in the sixth with a trio of runs. Barger would loop an RBI double into right field to score Pennington, then a pair of wild pitches would allow Josh Keding and Barger to score.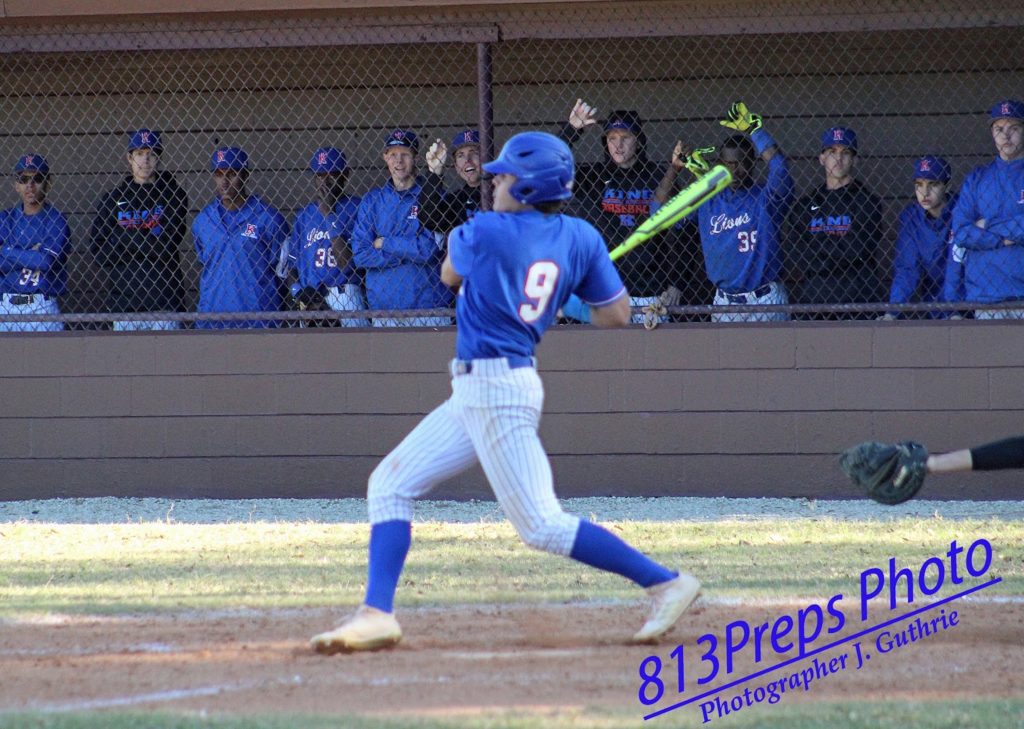 King's Addison Barger added some late insurance with an RBI
double in the sixth. He had two hits in the game and scored once.
Plant City (8-1) attempted to rally in the seventh, starting with Casey Mawhinney labeling a ball to the left-center wall off of Thompson, in his last pitch of the day. Hishaam Shafiq would swap with Thompson in relief.
Tyler Dowdy would knock a sacrifice fly to send Mawhinney home after advancing to third on a wild pitch for Plant City's lone run on the afternoon. Chris Rodriguez, Cody Cribbs, and Cade Shissler would load the bases with two outs and a weary Shafiq on the mound.
However, Shafiq would bear down and strike out Robinson to end the game.
Thompson finished in allowing five hits and being charged the Raider run. He peppered in six strikeouts in his six-inning stint.
"He [Thompson] just competes. His long, lanky motion is a little deceiving," King head coach Jim Macaluso said. "When he's around the strike-zone, he's just really tough."
Coming in, Plant City was the only remaining undefeated team in Hillsborough County through its previous eight contests. Even before the halfway mark of the season, the Raiders need three wins to match their season total from last year. The 8-1 start is the best in recent memory for Head Coach Michael Fryrear's 2018 squad.
"The past two weeks we've had a target on our backs. We ran into a team today that had a lot more 'want-to.' Plant City has never won a Saladino, or even a region semifinal or anything past that, so we've really had a different mentality and I think today we went back to the old mentality. I don't think it was the approach or the errors, I think it was the 'want-to.' It has to be there. It'll be back tomorrow," Fryrear said.
The Lions face one final test before moving onto the knockout rounds – the Brandon Eagles – who the Lions defeated 9-2, two weeks ago.
"We're going to talk as a staff and see where our pitchers are and make some decisions," Macaluso said. "We're not focused on Thursday or Friday, yet, we're focused on getting through tomorrow night."
The Raiders look to bounce back against Armwood on Wednesday, as they will need to look for the wildcard spot in order to advance to the knockout rounds.
– Will Turner is a student at USF majoring in mass communications, with a focus in news and editorial journalism, and a minor in history. You can follow Will on Twitter:@TBTurner813