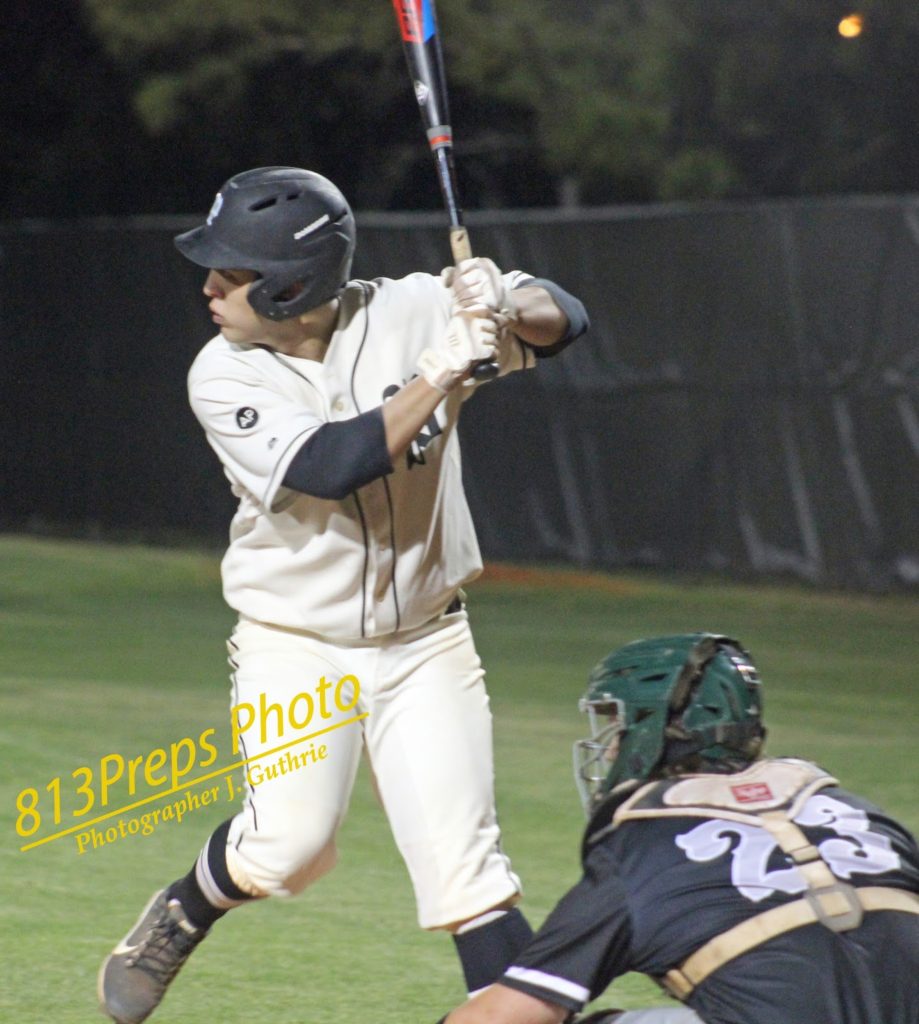 Plant senior Chase Sanguinetti tied the game late for the Panthers un a come from behind win over East Bay. Plant wins Pool 5 and advances to the quarterfinals on Thursday at Brandon High. (813Preps file photo)
Saladino Day 3 at Lennard

Pool 5 Standings 
Plant 3-0 (Pool 5 winners)
Lennard 2-1
Strawberry Crest 1-2
East Bay 0-3
Plant 5, East Bay 2
A Chase Sanguinetti double to right in the sixth drove in a pair and tied things for the Panthers, before a Brock Fagler RBI single gave Plant all it would need to wrap up a tournament quarterfinal slot. The Panthers added two more safety runs in the as Drew Powell and Connor Scott (3-for-3) had RBI singles in the final frame. Jorge Collado was 2-for-3 with a run scored and Sean Vega drove in both East Bay runs.
Plant takes on Steinbrenner at 10 a.m. in the Saladino Tourney quarterfinals at Brandon High.
P 000 003 2 — | 5 | 11 | 0
EB 000 200 0 — | 2 | 6 | 0
W – Richards (1-0). L – Zoeller (0-2). 2B – Sanguinetti (P). Records – P 9-1; EB 1-8.
Lennard 7, Strawberry Crest 0
Victor Schilling's two out double in the third inning was immediately cashed in by an RBI single by Yazael Nunez to plate the deciding run for Lennard in a shutout win against Strawberry Crest. Schilling would finish 3-for-3 in the game scoring two runs, while Nunez (double), Brendan Herrick (triple) and Edward Tarrant (double) had a pair of hits for the Longhorns. Tarrant also handled things on the mound earning the win in six innings of work, allowing just two hits and striking out four.
L 001 231 0 — | 7 | 11 | 2
SC 000 000 0 — | 11 | 10 | 4
W – Tarrant (2-1). L – Torres. 2B – F. Alaniz, Nunez, Schilling, Tarrant (N). 3B – Herrick (L). Records – L 5-6; SC 5-4.
——————————————————–
Unlike many independent news organizations, we haven't put
up a subscription paywall – and we hope to be able to keep bringing you the great stories
from high school athletics in the 813 area free of charge. But we are still a small
business with just a handful of people involved, so there are costs including travel, equipment, and other costs associated with running this business.
We are looking for advertising partners, but we also need to count on our
readers for support. If everyone who reads our reporting, who likes it, helps
fund it, we will be able to continue covering these athletes' endeavors.
Support 813Preps.com for as little as $1 by clicking "Donate" button below.