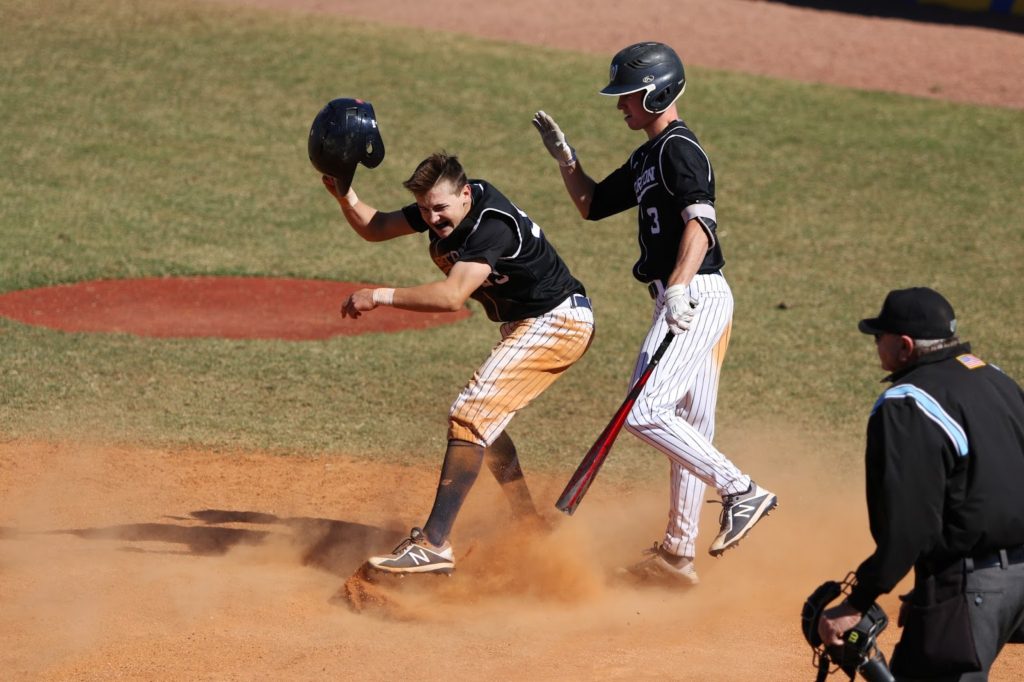 Zach Ehrhard celebrates after scoring a run in Wharton's win over Sickles. The freshman was 4-for-4, with three RBI (photo by Will Turner). 
By Will Turner
813Preps correspondent
TAMPA – The Ehrhard family, whether it be father Rodney, or brother Drew, has made their mark on Hillsborough County high school baseball for close to four decades. A third, Zach, made his presence known for the Wharton Wildcats on Wednesday at Jefferson High.
The freshman would make the biggest difference – knocking a game-tying RBI single and eventually, scoring the winning run – in the Wildcats' 8-7, win against Sickles on the final day of pool play in the 38th Saladino Tournament.
In the third, Wharton would notch the first run of the game, as Sickles' Tyler Green balked, allowing Grady Maguire to come home.
Danny Bernstein would notch a two-RBI double into left field to score Trey Bacon and Dylan Eskew in a four-run fourth inning for the Gryphons. Leandro Alverez knocked a single to center, scoring Nick Duran. Rolando Linares finished the scoring with a sacrifice bunt to get Alverez home.
It would force Brian Baughman to be pulled after just 3 1/3 innings pitched, giving way to Duncan Pastore. He would allow four earned runs off of four hits and three walks and at that point, be in line for the loss.
Ehrhard knocked his second hit of the affair in the bottom half, getting Mike Hudson home to trim the lead.
On the other side, Bernstein continued to have a productive day at the plate, with his third RBI to send Dylan Eskew home on a softly hit single. Connor McTeer would race home on a passed ball.
Then came the home half of the fifth.
Pastore knocked a fielder's choice to second base, allowing Baughman to cross the plate. Maguire would jet home after an error from Zane Tarrance, cutting the Sickles lead to a pair. Then, Ricky Viloria would ground into another fielder's choice, scoring Pastore. Ehrhard finished it off with a ground ball into right, scoring Steven Hotinski.
"We're not playing well right now," Wharton head coach Scott Hoffman said. "(The) last couple of games have been shaky; it was really encouraging to see these guys fight back."
Fighting back in the seventh, when things looked really bleak for the Wildcats after Bernstein collected his fourth RBI of the affair, sending Eskew home for the second time on a go-ahead sacrifice fly.
"We're a very young team, and we expected things like this," Hoffman said.
What Hoffman may not have expected out of his young squad: Ehrhard, a freshman, notching an RBI single – his third of the day – to score Hudson for the tying run, then scoring the winning run on Dylan McDonald's, another freshman, walk-off sacrifice fly to score Ehrhard and to give Wharton the 8-7 decision.
"It's pretty impressive. The young guys, they're handling things. They're not drowning. We've had some success with some of the younger guys and we have all the faith in the world in them," Hoffman said.
Ehrhard finished with four base knocks, a perfect day at the plate, with three RBIs and the game-winning run scored.
"Today means a lot. It really shows that I can keep up with all these high school guys. Today really builds Dylan and I's confidence, and we're a lot more comfortable in this high school environment, which is still really new to us," Ehrhard said.
He's currently batting .524 with eight driven in and nine runs scored on the year in his freshman campaign, following in the footsteps of the Ehrhards before him.
"[Keeping the family tradition] means everything to me," Ehrhard said. "It's all I've ever wanted since I was four years old and ever since I started playing baseball, just to follow in my brother and dad's footsteps."
The Wildcats knocked 15 hits on the day, including three from Grady Maguire, who has continued a very hot start at the plate. Leo Alfonzo also went 3-for-3 on the afternoon.
"We wanted to win today. We really did not play well in the last time out, it was probably as sloppy as I've seen, but they honestly bounced back well today. I'm proud of our guys," Hoffman said."
The Gryphons' Saladino run isn't over yet, as Sickles advances to the quarterfinals because of the runs-allowed tie-breaker. Sickles will face Bloomingdale at 1 p.m. at Brandon in the quarterfinals. Sickles took down the Bulls in their previous meeting on Feb. 27, 5-2.
Meanwhile, Wharton will take nearly a week off before traveling to Gibsonton to face East Bay.
– 


Will Turner is a student at USF majoring in mass communications, with a focus in news and editorial journalism, and a minor in history. You can follow Will on Twitter:@TBTurner813
——————————————————–
Unlike many independent news organizations, we haven't put
up a subscription paywall – and we hope to be able to keep bringing you the great stories
from high school athletics in the 813 area free of charge. But we are still a small
business with just a handful of people involved, so there are costs including travel, equipment, and other costs associated with running this business.
We are looking for advertising partners, but we also need to count on our
readers for support. If everyone who reads our reporting, who likes it, helps
fund it, we will be able to continue covering these athletes' endeavors.
Support 813Preps.com for as little as $1 by clicking "Donate" button below.