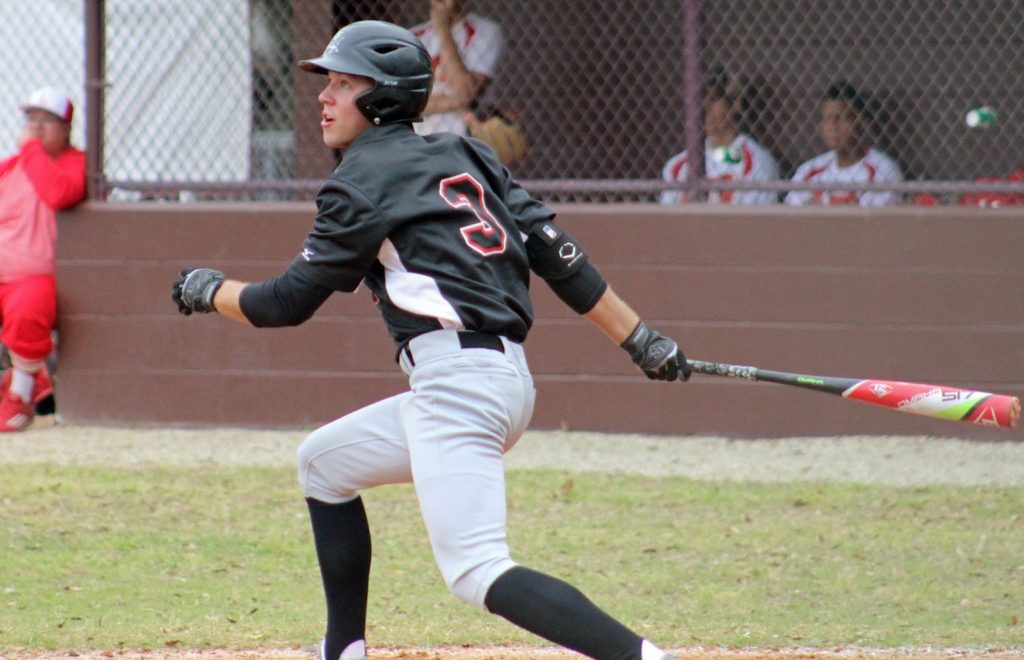 Bryce Hazzard hit a leadoff home run to get Bloomingdale going in a 7-0 win over Freedom. The Bulls advance as Pool 6 winners to the quarterfinal round. The photo of Hazzard above is from Saturday's win vs Leto.
Saladino Day 3 at Brandon

Pool 6 Standings
Bloomingdale 3-0 (Pool 6 winner)
Leto 2-1 (wild card advancer)
Freedom 1-2
Chamberlain 0-3
Pool 5 Standings
King 3-0 (Pool 5 winner)
Plant City 1-1
Brandon 1-1
Armwood 0-2

Leto 11, Chamberlain 0 (five innings)
Leto runners turned it loose against Chamberlain swiping a new Saladino Tournament record, 13 bases as the Falcons mercy-ruled Chamberlain on Wednesday morning with John Santos stealing five times and Tomas Lozano taking four bags. Javy Hernandez (double, two RBI), Jackson Alvord (triple, two RBI), Santos (double, two runs, RBI) and Lozano (two runs, two RBI) each had two hits in the win. Leto advances as the wild card allowing just three runs and finishing 2-1.
Leto faces Alonso at 4 p.m. at Brandon High on Thursday in Saladino Tournament quarterfinal play.
L 044 03x x — | 11 | 10 | 0
S 000 00x x — | 0 | 2 | 4
W – Diaz (0-0). L – D. Johnson (0-0). 2B – Hernandez, Santos (L). 3B – Alvord (L). Records – L 6-2; C 0-9.
Bloomingdale 7, Freedom 0
With a spot in the tournament quarterfinals pretty much already in hand, Bloomingdale got the best possible game it could to close out pool-play with a 3-0 record. Junior Bryce Hazzard crushed a full-count fastball for a home run to right-center to give the Bulls all the runs needed in the bottom of the first.
"We always want our pitchers to know (the hitters) have their backs," Hazzard said. "That's a big part of the game and as long as we do that we should be fine."
Hazzard said he wasn't sure the ball was gone off the bat.
"I hit it off the bat and I didn't think it was out," Hazzard said. "I guess it just happened to get caught in the wind, so I'm pretty happy."
Dominic Gonnella followed suit, muscling a two-run shot out later in the first to give Bloomingdale some cushion. The support was all junior Myles Caba would need on the mound as the 6-foot lefty tossed a complete-game, two-hitter striking out six.
"When they get you that early support, that's when you go back out and pitch to contact, because there is no reason to over-throw, just start pitching," Caba said. "My curveball was good for first-pitch strikes and my fastball was working well."
Jackson Hobbs (2-for-3) drove in a pair of runs in the fifth, while Hazzard picked up a single and later scored on a Freedom error in the sixth, and Brock Wilken had a pair of singles and scored twice.
Bloomingdale faces Sickles in the quarterfinal round at 1 p.m. at Brandon High.
F 000 000 0 — | 0 | 2 | 1
B 300 022 x — | 7 | 11 | 2
W – Caba (2-1). L – Gaffney. HR – Hazzard, Gonnella (B). Records – F 4-6; B 7-2.
Plant City 7, Armwood 3 
Hunter Emerine singled in a pair of runs in Plant City's four-run fourth inning to give the Raiders the advantage needed to top Armwood. Cade Shissler was 3-for-5 with two runs scored in the win, while Chris Rodriguez had two hits and an RBI. Amaury Quinones tripled and scored twice for Armwood in the loss.
PC 240 010 0 — | 7 | 9 | 1
A 100 020 0 — | 3 | 6 | 1
W – Gifford (1-0). L – Lawrence (1-2). 3B – Quinones (A).Records – PC 9-1; A 2-7.
King 8, Brandon 3
Four-straight singles by Jamarcus Lyons, Hishaam Shafiq, Keyon Floyd and Jacob Cordell accounted for a big comeback inning for King as the Lions topped Brandon to win its seventh game in a row. Addison barber scored three runs and Justice Thompson had a pair of hits and an RBI. For Brandon, Gabriel Rosado was 3-for-3 with an RBI, George DeLeon was 2-for-3 with a double and two runs scored.
K 001 031 3 — | 8 | 9 | 1
B 020 001 0 — | 3 | 8 | 1
W – Lyons (1-0). L – Carter (0-2). 2B – DeLeon (B). Records – K 7-1; B 3-5.