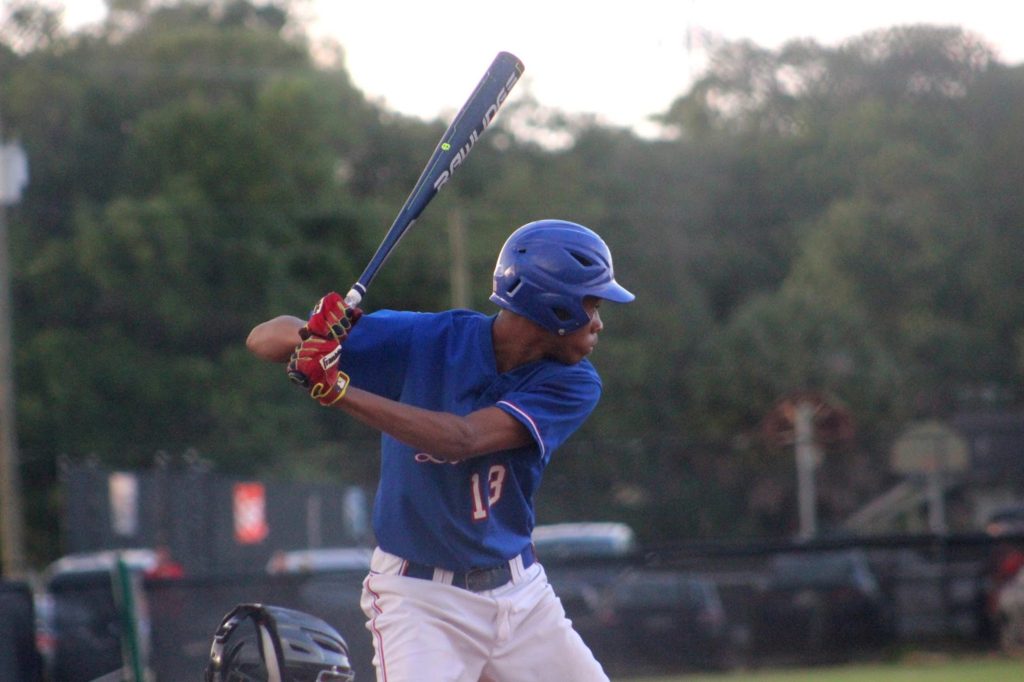 King's Justice Thompson had a 3-run homer to help the Lions reach the Saladino championship game. (813Preps file photo).
By Will Turner
BRANDON – Need a huge inning?
The King Lions specialize in that.
In just 24 hours, the Lions have placed 16 runs on the board in just two innings, including a nine-spot on the scoreboard that powered the Lions to a 12-8 win against Sickles, earning King a Saladino Tournament final berth on Friday afternoon at Brandon High.
King senior Justice Thompson jacked a three-run shot into left field to cap off the scoring in the seventh, which would keep the Lions safe from a late rally from the Gryphons, who tallied off five runs in the bottom half of the seventh.
"I had been in a slump today and in yesterday's game as well, so it was great to pick myself up with a home run today," Thompson said.
Zan Rose got the start for the Lions and pitched well over four innings, only allowing a hit and a pair of walks. He was charged two unearned runs in the fifth. Michael Lojacono struck out seven in six innings for work for Sickles.
Keyon Floyd, the hero of King's quarterfinal win on Thursday night, contributed again with three hits, including a triple, along with three runs scored. Jacob Cordell, Zarrian Brinson, and Josh Keding all drove in a pair for the Lions, who move onto Friday night's final against Alonso.
Sickles received a two hit, three RBI contribution from Dylan Eskew, who notched a bases-loaded double to unclog the bases and attempt to start a rally for the Gryphons. Trey Bacon added a pair of knocks.
All eight of the Sickles runs were unearned, with the Lions committing five errors on the afternoon.
The Gryphons advanced to the knockout rounds for the first time under Head Coach Eric Luksis, in his continued attempt to build the program back up from a 7-16 showing two years ago.
"It's something that we've talked about since day one. We've set team goals and our team goal was to advance. We were able to do that and then were able to advance to the final four. We've got a bunch of kids that just love the game that work really hard. They've really bought into the system and the results are starting to show," Luksis said.
With the win, the Lions advance on to the championship game, as King looks to win it's first title since 1992.
——————————————————–
Unlike many independent news organizations, we haven't put
up a subscription paywall – and we hope to be able to keep bringing you the great stories
from high school athletics in the 813 area free of charge. But we are still a small
business with just a handful of people involved, so there are costs including travel, equipment, and other costs associated with running this business.
We are looking for advertising partners, but we also need to count on our
readers for support. If everyone who reads our reporting, who likes it, helps
fund it, we will be able to continue covering these athletes' endeavors.
Support 813Preps.com for as little as $1 by clicking "Donate" button below.